Does anyone of you here love birds? Well, we are certain that most of us love birds because aside from their soothing chirping sounds, we also love looking at their soft colorful feathers. Seeing a bird soar to the sky is like looking at a bunch of flying colors especially if these are full of colors. But whether it is colorful or not, a bird would always be a delightful sight. Once you see a bird, it is also a sign that your place is free of pollution since birds still thrive in it.
Because of the bird's beauty, it has captured the hearts of many especially artists. One of those people who have fully embraced the pleasantness of birds is Diana Beltran Herrera. This Colombian artist creates exquisite paper sculptures of lovely and colorful birds. Seeing her works will really make you admire her craft and her excellent attention to details skills. She uses canson paper or other papers in 80 120 gr. She work using white or light colored paper and carefully paint each one with a special ink.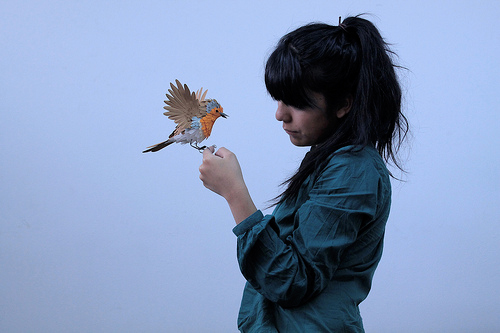 When asked why she creates birds, she said, "I think a lot in the landscape. In how other kinds of life develop in different conditions. Birds are a good subject for this because they are everywhere, they adapt easily and you might think they are all the same, but when you start to study them you find how particular they are." From a sketch drawing, she would create a structure of a bird, then start to cut paper piece by piece, later paint it and then paste over the structure. Then the wings, head and the legs are attached to it. The eyes are always the last detail to be added for the birds. One bird sculpture would take 5 days to 3 weeks in order to be finished. This means that one bird is really special because it isn't easy to create even just one!
Now, let us take a look at some of Diana's avian creations. Look into how detailed each one is. The birds that you are about to see were already showcased in exhibits like the Beers Lambert Contemporary last year and the Art and Soul of Paper this spring. She is currently preparing for an exhibit in Cornell Fine Arts Museum in Orlando this September.
Red Belied Woodpecker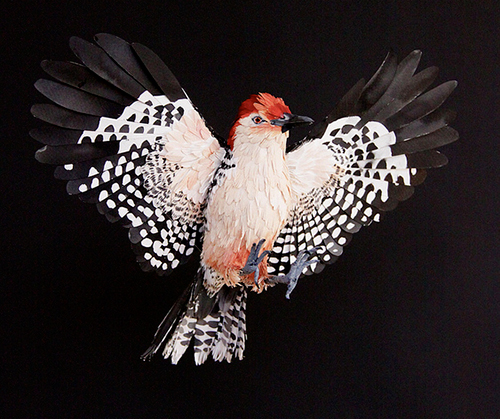 Isn't this a lovely bird? This woodpecker is pale and medium-sized. Diana did a great job in adding the details on its wings.
Belted Kingfisher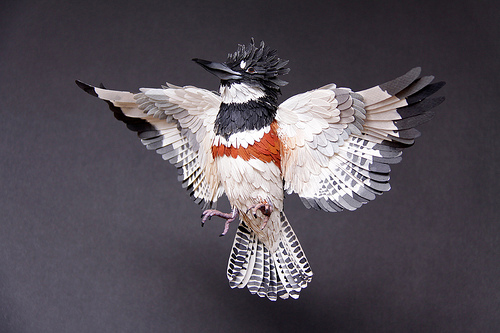 A large conspicuous water kingfisher with a top heavy physique and energetic flight.
Colibri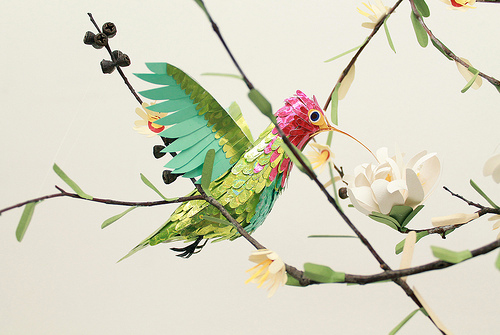 Glittery paper was used to complete this Colibri bird which is a genus of the hummingbird.
Paper Bird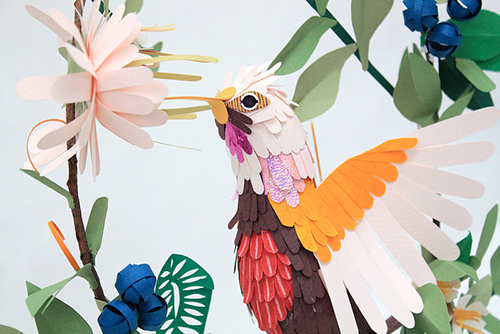 A beautiful bird of different colors with a great deal of details in it, even in its surroundings.
Mot-Mot Barranquero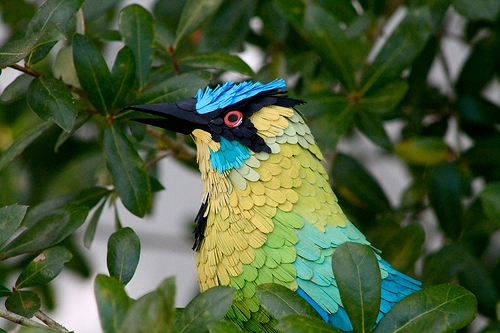 A blue crowned bird with a long blue tail- this bird looks alert and stunningly attractive!
European Bee Eater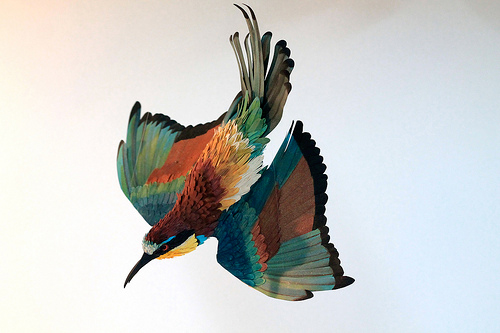 You would say wow in seeing the colors of this bird even if its shade are not that bright.
Gold Hummingbird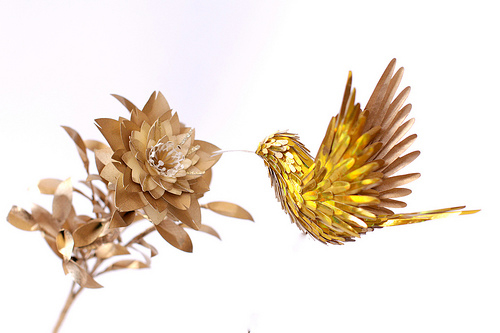 A hummingbird is already a beautiful bird but once it is done in gold, its beauty shine even more!
Crane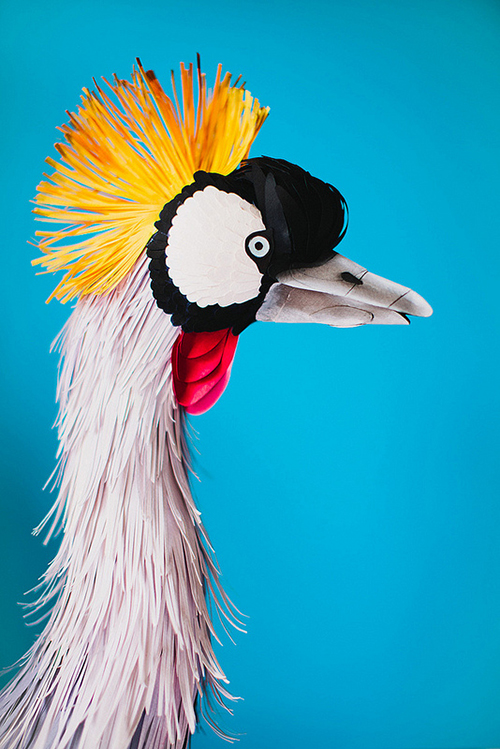 A large long-necked and long-legged bird in white. Seen here is the upper detail of the bird.
Bird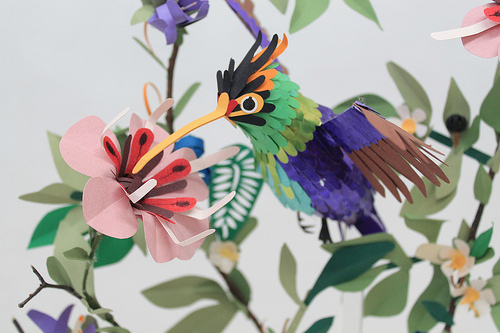 A distinctive bird that is full of lovely colors. The set-up is also well done with flowers and branches.
Hornbill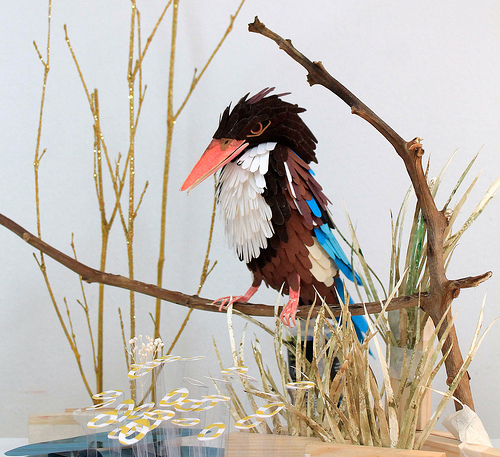 Looking strict and strong – a hornbill sits on its territory which no one dares to distract.
Situaciones Sentimentales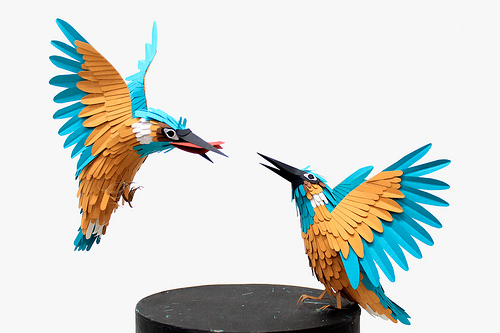 A male and female kingfish. You can see not just the lovely colors of the birds but also their interaction.
Red Breasted Sapsucker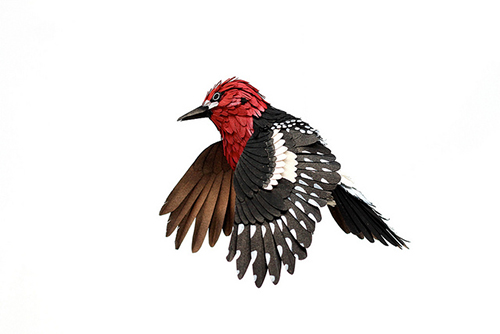 A flying Red Breasted Sapsucker with lovely wing details in it.
Western Meadowlark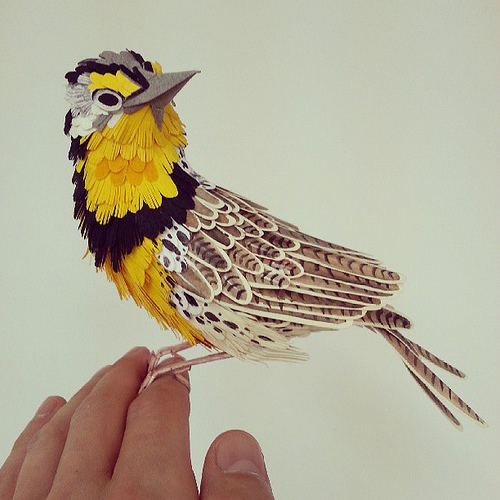 We are certain that you will agree with us that this bird is close to the real one because of Diana's good painting job on it.
Tesser Bird of Paradise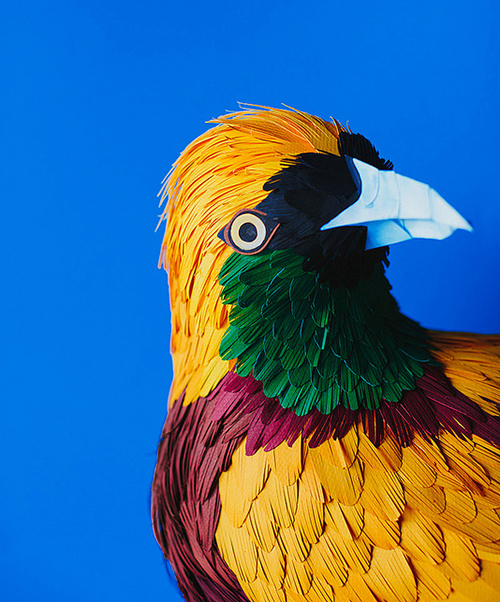 Meticulously done bird design in three colors- isn't this striking? One look at it would seemingly bring us to paradise!
Little Blue Heron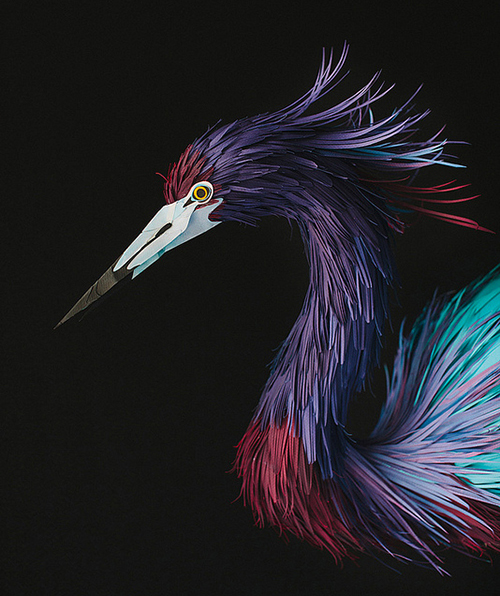 A heron that looks strong and resilient despite the fancy colors in it.
Find the Artist
So, did you like these feathered friends of Diana Beltran Herrera? We bet you did! Not everyone would have such great talent and skill in working with paper with so much detail in it. Aside from birds, she also has other artworks like some geometric paper arts. You can see more of Diana's work in her Flickr portfolio. Which bird is your favorite?