A book is one thing that people from all walks of life love. A book can be a great source of knowledge, entertainment and it has a great impact to every person who takes himself into every page of it. The effect of a book to its readers is amazing. That is why, even with the existence of advanced reading devices like kindles or iPads, books are still there in a form of an eBook. But then, hard copies of books whether they are hardbound, softbound or paperback are still patronized by many. The real physical experience of flipping a page is incomparable to a mere swipe of a smooth screen. Aside from the usual pictures and texts that we see in books, there are also some books that show creativity and artistry. Most of these are seen in children's books where textures, pop-ups, and many other styles are used. Today, we are going to show you a unique type of book called the Sandwich Book.
The Sandwich Book is based on the ingredients of a typical sandwich. The contents where creatively done with paper to make it appear like real eggs, real lettuce, real tomatoes and others. This is a masterpiece done by Pawel Piotrowski. At first glance, we were really impressed merely on the idea of creating a sandwich book but as we get to see the contents of the book, we were even more impressed with the accurate details in it. It was no doubt done with artistic flare.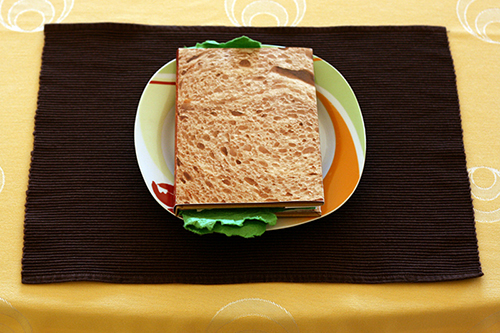 Pawel Piotrowski was born in 1986 in Olesnica (Poland). He is a freelance photographer, illustrator and graphic designer who seek inspiration from his everyday life. He developed his skills and passion for arts through his studies in Faculty of Graphics and Media Art at the Academy of Fine Arts in Wroclaw. After graduating in 2011, Pawel began his journey in the creative field of design and photography. We were given this opportunity to interview the man behind the sandwich book. Let us take a peep into a parcel of Pawel's life.
Naldz Team: Can you share with us a childhood memory that paved the way to your artistic career?
Pawel Piotrowski: When I was a little boy, I was fascinated by "American Ninja" movie. I sat and drew thousands of ninjas on every spare piece of paper. My mom said that when I was drawing I was extremely focused and quiet, there was no other reality for me than my work. She told me that she was afraid that I could have autism. These days, I'm off from reality when I'm focused on some work.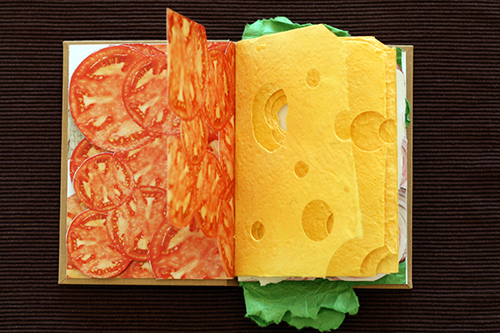 Naldz Team: What do you do as a designer?
Pawel Piotrowski: I am dealing with many things: reportage, documentary, street photography and portraits, also performs graphics, graphic design, illustrations and animations. I am very flexible and I like to do a lot of different things.
Naldz Team: What is your favorite work so far?
Pawel Piotrowski: Do not wonder about it; just try to always do something new.
Naldz Team: Where do you get your source of inspiration for your works?
Pawel Piotrowski: In every epoch in the history of mankind is something that a lesser or greater turns me on. Everyday life, people, pulse of city, reflections, books, movies, video games, music but also silence, peace, nature.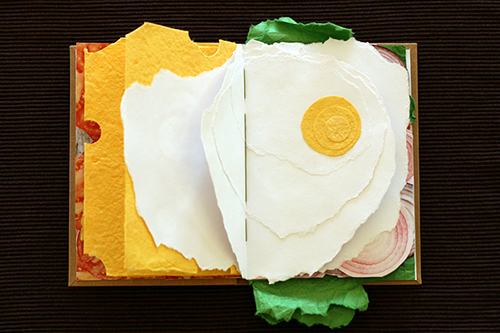 Naldz Team: How do you keep your creative juice flowing?
Pawel Piotrowski: I do what I like to do, do not try to make happy all around.
Naldz Team: Have you ever experienced "artist block"? What did you do to overcome it?
Pawel Piotrowski: When nothing goes right… go left. When some things didn't go way it should, I just leave it and focus on other things. It is good to draw breath and clear your head. After some time ideas would appear.
Naldz Team: What is your principle as a designer?
Pawel Piotrowski: I do not wonder about it, I just like to do things that are to me sincere and interesting.
Naldz Team: What sets you apart from other designers?
Pawel Piotrowski: I am an ordinary person who has a passion for photography and art, quite simple. I do not feel like someone unique and different.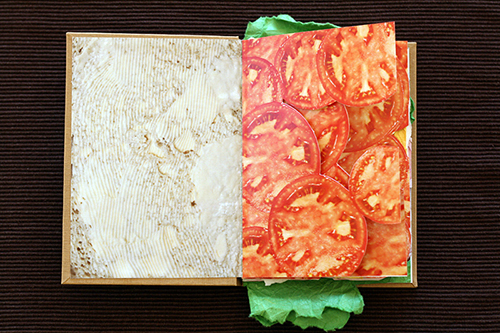 Naldz Team: Let us talk about your sandwich book. How did you come up with the idea?
Pawel Piotrowski: In 2010, I was 4th grade student at the Academy of Fine Arts in Wroclaw. I had Graphic design classes led by professor Jan Jaromir Aleksiun. One of the tasks that I had to do was to create an unusual book. For a long time I thought about it how to create something interesting and show it in unique way. I had few different ideas, but they were not good enough for me. I remember when the idea about sandwich book came to me. It was breakfast time with my girlfriend Irmina. We were making sandwiches and talked about how strange its form will be if it were a book. We always wind up and are inspired to do cool things. That's how it started.
Naldz Team: Can you share with us your work flow in creating the sandwich book?
Pawel Piotrowski: The main idea was that the book should look like a sandwich. It was necessary that layers must be different. Sandwich is hand-made book, with jacket. Its size is about 21X15X2,5 cm. Hardcover is "Smeared" by the butter from the inside. Then rewinds several different layers each one made from differing weights, and textures of paper: tomatoes, onions and ham are printed. There are some thick, rough slices of cheese with holes. To make lettuce I used fibrous paper. Each card very carefully crumpled up and then I formed so as to look like leaves of lettuce – that was the biggest challenge. Also there is fried egg I tore it from pieces of paper. I remember that laying it all together and sewing gave me a lot of joy.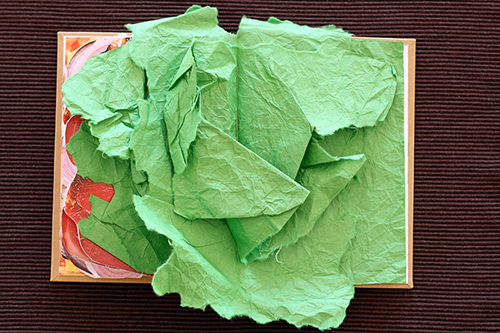 Naldz Team: What is your aim in designing the sandwich book?
Pawel Piotrowski: I do not like to use unnecessary ideology. I tried to make a book that would be unusual and will be able to draw people's attention through its unique form. To encourage people to think about the book in a different way than before. Not just like a set of pages filled by text or pictures.
Naldz Team: How do you expect the audience to respond/react towards this book?
Pawel Piotrowski: For last three years Sandwich book was displayed on my website and people wasn't interested. Few weeks ago, after presentation of Sandwich book on The Inspiration Grid website the situation has changed, my website looks very busy. I receive e-mails from people all over the world. They congratulate me for the idea and ask about the possibility of buying Sandwich book. I really wanted to thank all those people for their kind messages and sharing my work, may the force be with them. It's a very nice feeling when someone appreciates your work, but I'm saddened that I could not meet their expectations, book is not available to buy at this moment. I am looking for publisher, but in my country it's not that simple.
Naldz Team: Are you planning to work on other books like this? If you are, what kind of book do you have in mind?
Pawel Piotrowski: I have plans, sketches and concepts to do other unusual books, but I do not have access to a bookbinding workshop. A few days ago my friend asked me to design the album of his photographs from London, I have a few ideas in my head how to do it. I cannot say more about it at this moment.
Let us take a look at more details of the sandwich book that Pawel designed and created.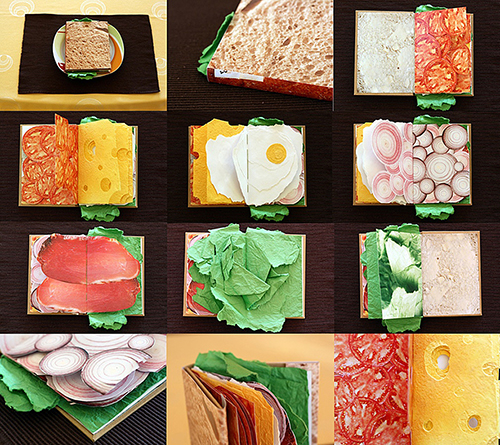 The complete look of the Sandwich Book as you flip through its pages.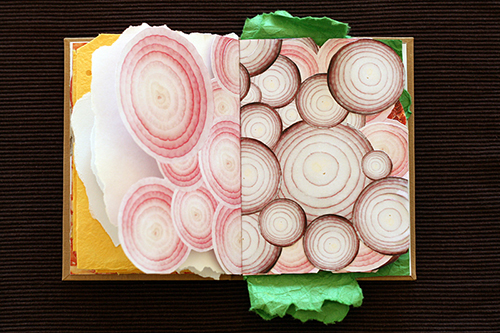 You can see the details of the onions which appear like real ones.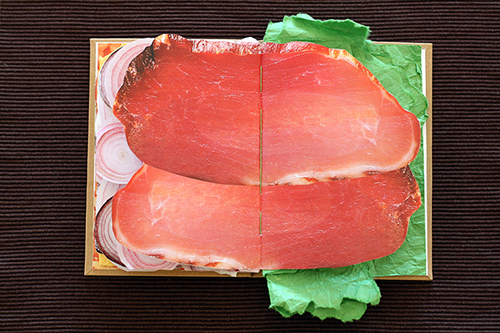 This is the center of the book where you can find the ham.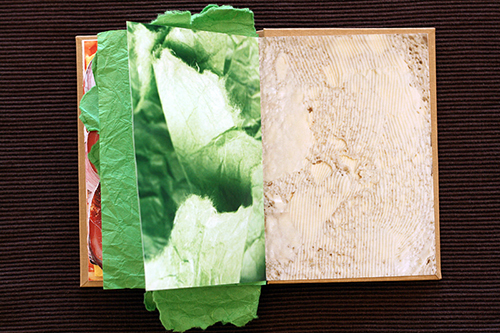 Aside from a picture of the lettuce, there is a fibrous paper under it to give it a seemingly leafy feel. On the other side, you can see the bread with some butter on it.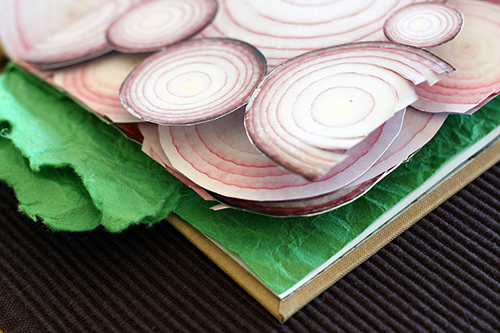 A closer look at the onions- even the cut was made to look like sliced onions.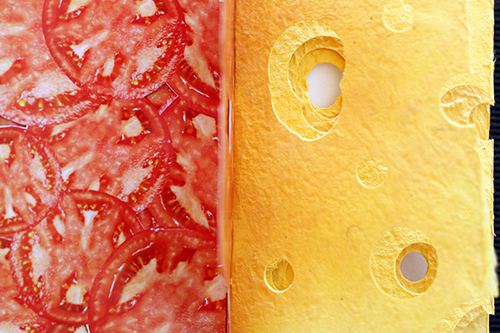 The details of the holes from the cheese with some texture on it and the tomatoes that looked fresh.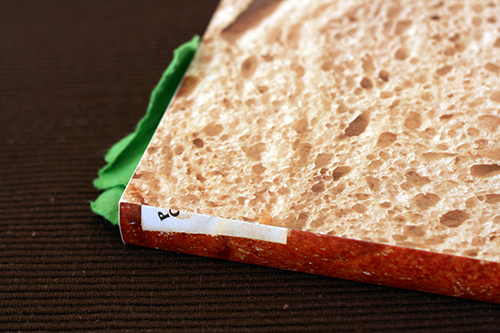 This is the book cover with the look of a real bread.
Find the Artist
Some of you might wonder what this book is for. Well, this can be great for kids because aside from learning about the contents of a sandwich or how to make a sandwich, it can also teach them textures. This might even urge them to love sandwich and its healthy contents even more. For adults, this can be a great addition to their bookshelves. But then, this book isn't printed yet at the moment. Well, if you want to be updated with the progress of the Sandwich Book's printing, you can check on his website.