Whenever we see artworks that are close to reality, we are left awe stricken. Whenever we see artworks that are very imaginative, we are left stunned with mystery. What if we combine both? Well, you would get a totally mind blowing result that would make you wonder how such magnificent works are done! Another digital artist will be featured today but instead of funny looking or weird characters, we will see portraits of humans who are in a bizarre setting.
Dan Dos Santos found his love for art and his talent in drawing when he was a child. He then developed it as a teenager and was even better when he attended School of Visual Arts finishing with flying colors. From his crayons, Dan has certainly gone a long way in his love for art and drawing. Today, Dan has done so many amazing artworks and illustrations that spans on a variety of genres, including novels, comics and film. He has worked for clients such as Disney, Universal Studios, Boeing Aircraft, Saatchi & Saatchi, Scholastic Books, The Greenwich Workshop, Penguin Books, Random House, Tor books, UpperDeck, Wizards of the Coast, and DC Comics.
Doppelgangster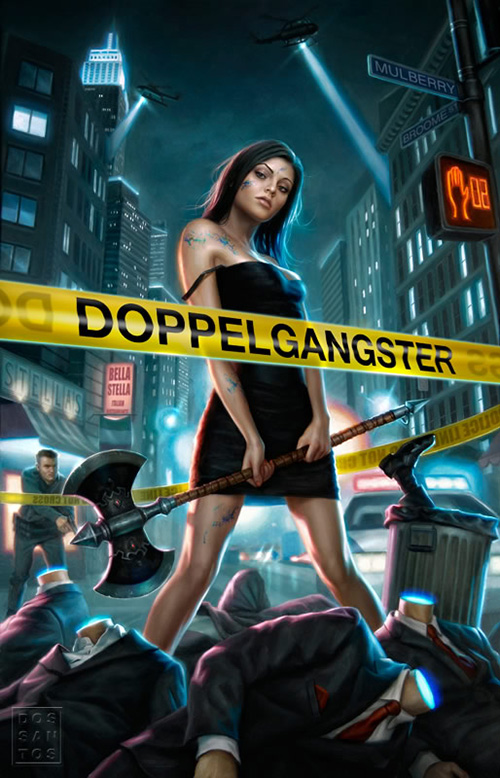 There is indeed more to the beauty that you can see from this girl and in this digital painting, her bad girl side is no longer a secret!
Rose Red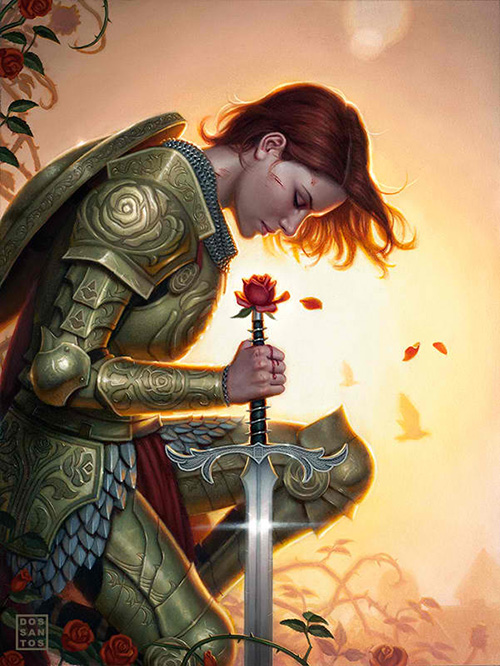 Just look at the details in her armor! Isn't it beautiful? It perfectly fits a pretty warrior like her.
Honeyed Words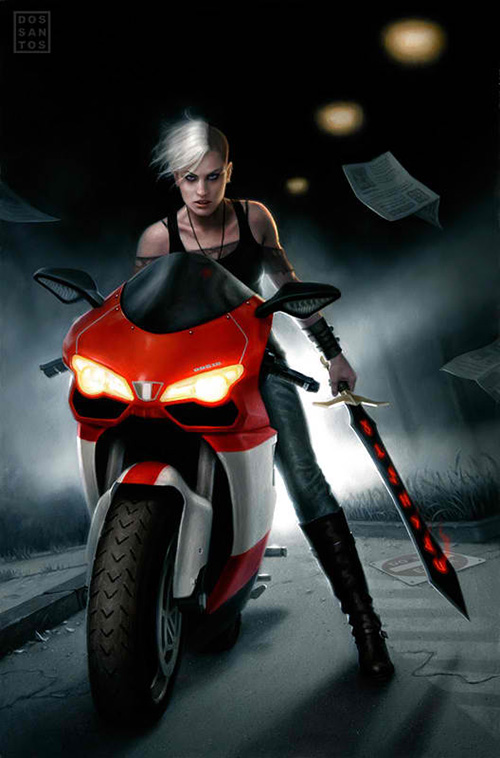 Aside from her cool red motorcycle, the look of this girl will not just drive a man crazy but might even send him running with fear because she sure looks fierce!
Touched By An Alien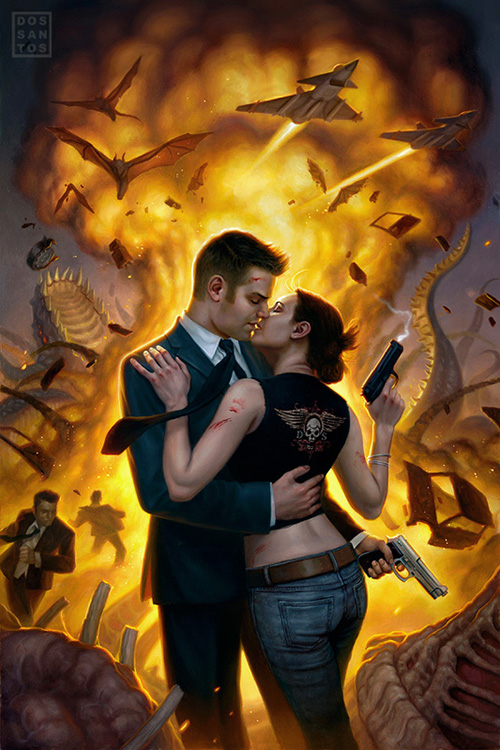 Talk about romance. Love in the middle of a war between men and aliens. Love knows no limits!
Endurance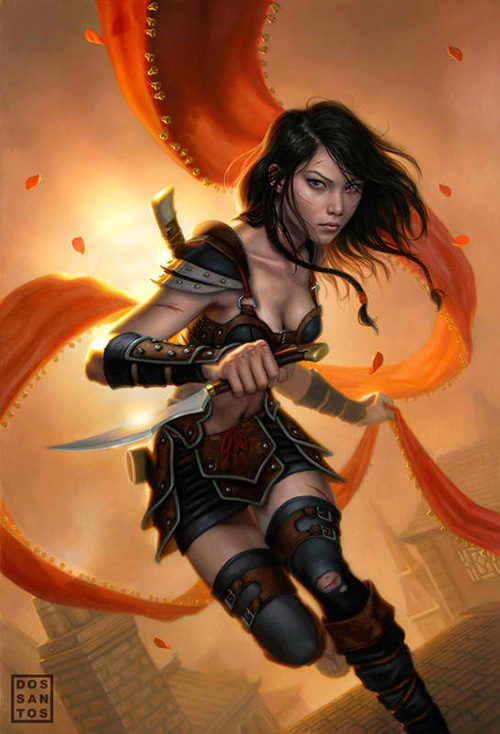 She looks like an Asian warrior and her suit isn't just sexy but also intimidating!
Alien Family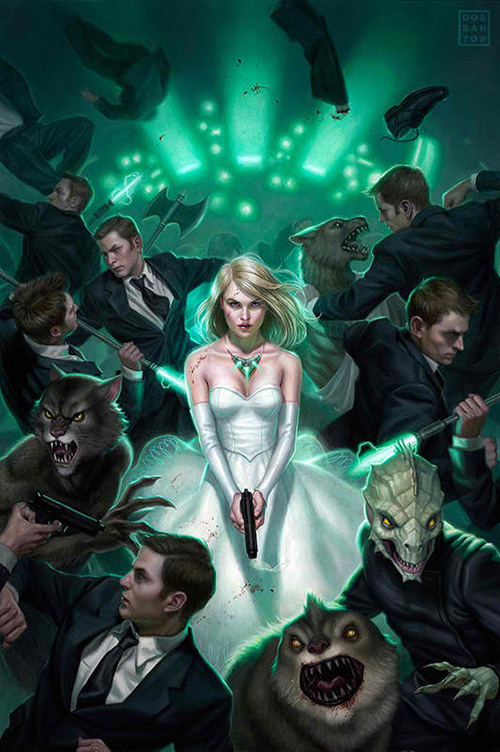 The woman seems to be in her wedding gown. Hmm…what do you think happened? Guess these aliens came uninvited.
Beautiful Friendship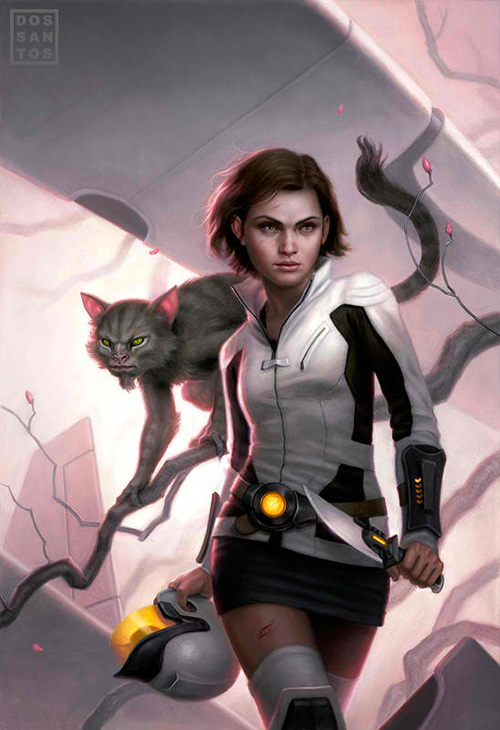 A bold sexy lady with her cat is ready for action. We think she is a modern cat woman version, but we are not sure though.
Alien Tango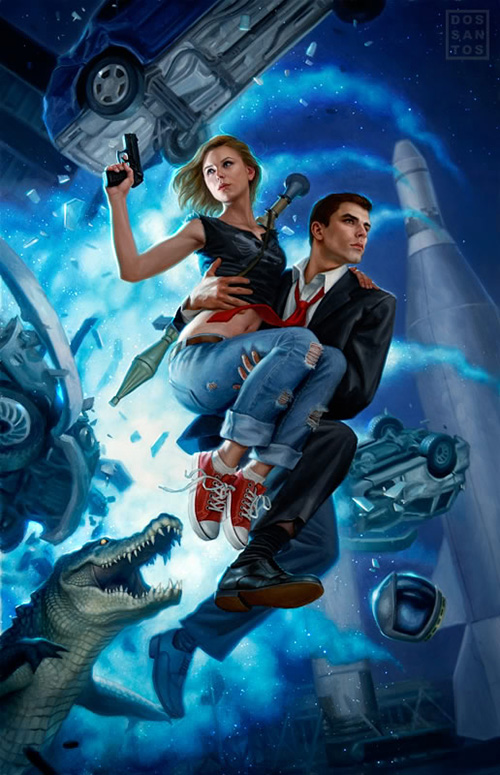 A man would always save his woman no matter how capable she is of fighting for herself. We love how the background was created as it show explosives in blue.
Fair Game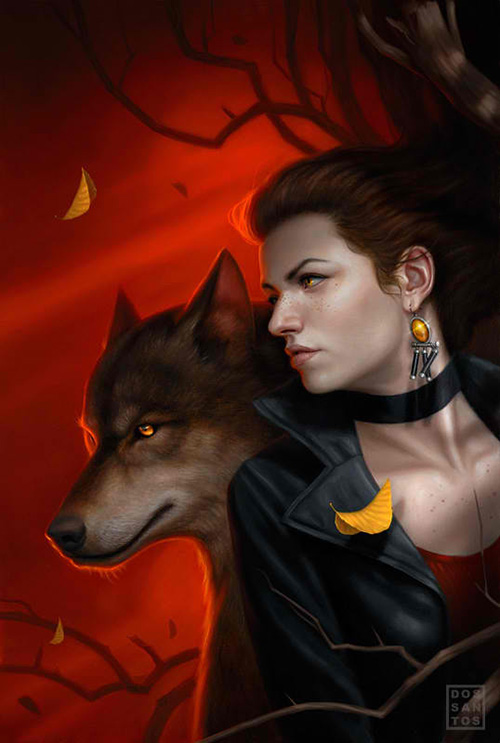 You have seen a girl with a cat. This one, it is a girl with a wolf. Reminds us of Bella and Jacob.
Blood Divided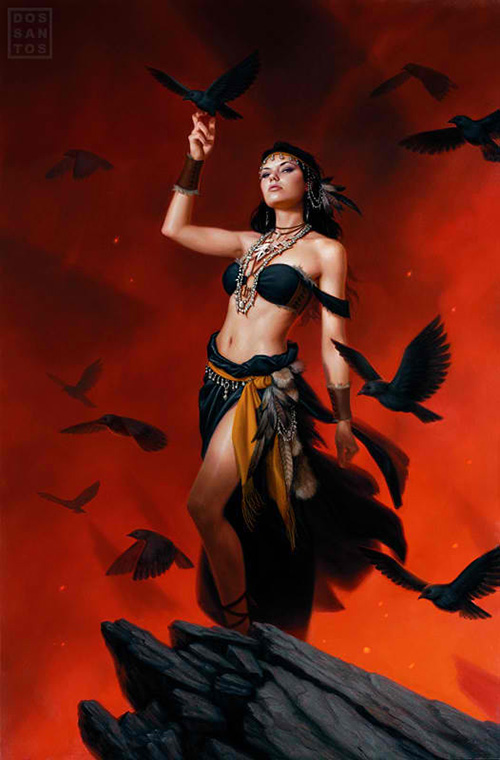 Appears like a gypsy. She is a beauty but there is something mysterious in her.
Kalimpura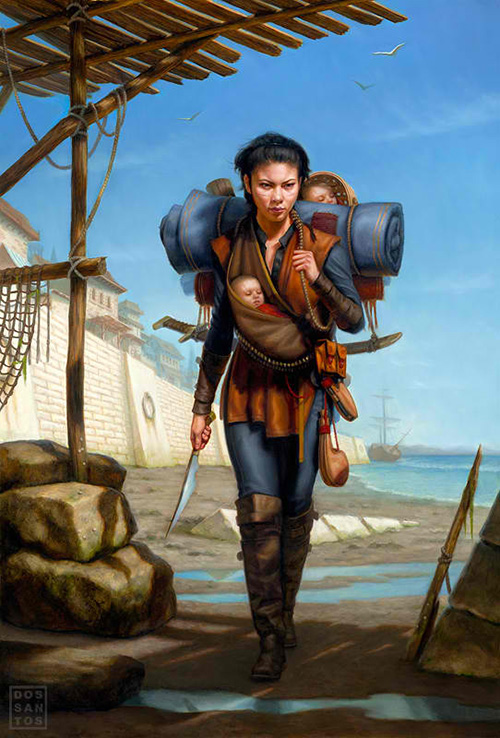 An Asian woman who looks like she just saved some babies from someone bad.
Serenity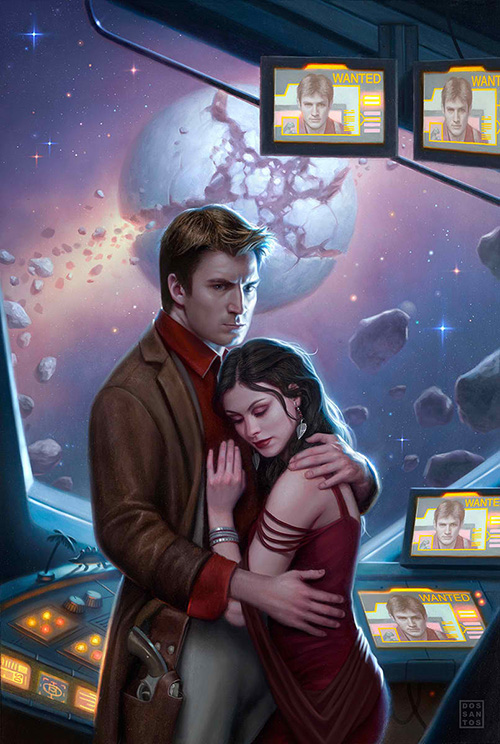 A sweet escape for this lovers so that they can both be together.
Bone Crossed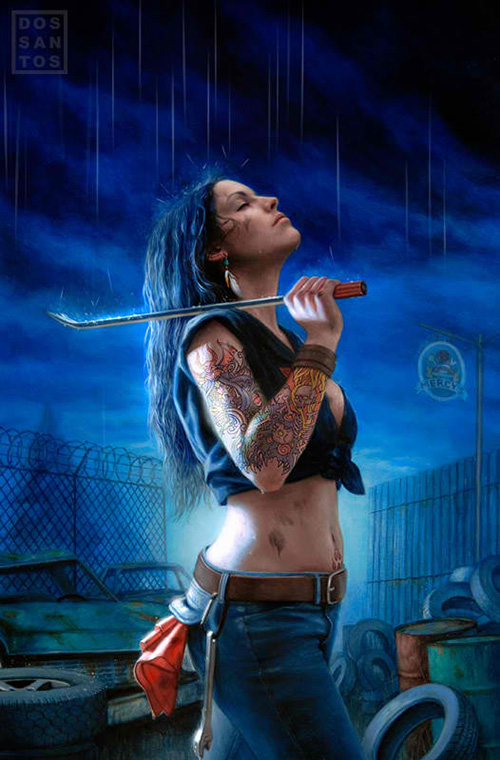 That tattoo is cool and added some strong aura to this woman.
Ava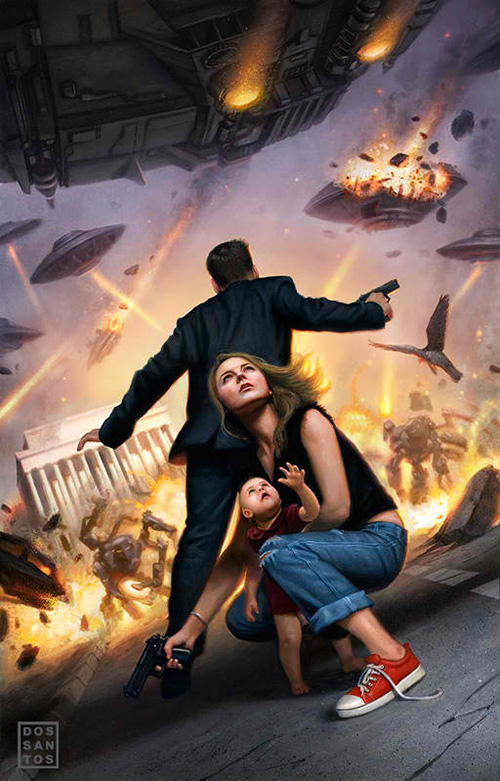 Alien invasion is here again but the parents of this baby will not let anything bad happen to her.
Unicorn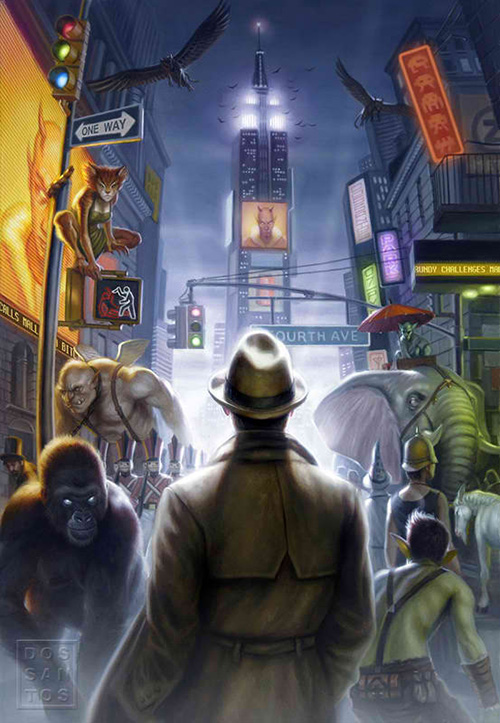 This man is in the wrong place. Just look at all those creepy looking animals and creatures in the city, it definitely is not the perfect place for a human!
Hunting Ground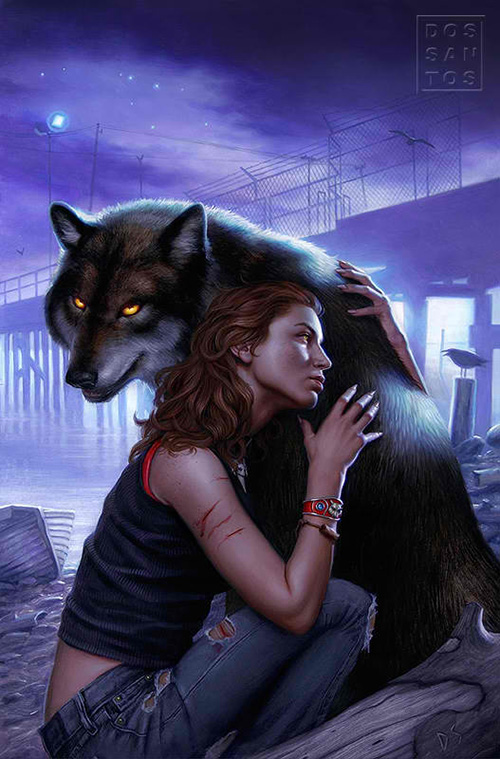 Another artwork showing a wolf and a woman. With the looks of it, the woman just finished some fighting or hunting. Is she a vampire, then? What do you think?
Ancient Bloodlines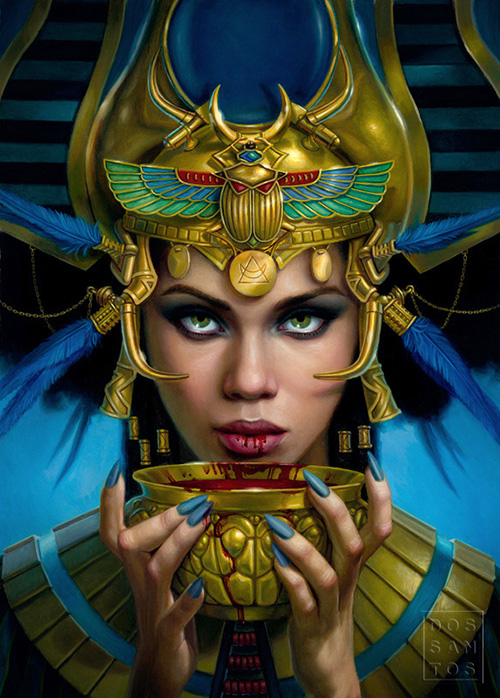 Is that soup yummy? Oh well, it is blood! Take away your eyes from the bowl and take a look at how beautifully done her attire is! All the details are truly impressive!
We don't blame you if you are left amazed with the works of Dan Dos Santos because they are truly mind-blowing! Aside from the creative and imaginative setting, the portraits of the humans involved in the scene look like real photographs of real people. Every detail was done really well from the hair to the clothing. Well, we can never doubt that the person behind DS Illustrations is indeed a talented man!