A website or blog can never be successful without its readers. That is why feedbacks, comments and suggestions are highly welcomed since it gives the blogger/owner the impressions of his/her site and can be a tool in improving the site more. Developers today have created WordPress contact forms today that can easily be adjusted to fit the needs of bloggers everywhere.
11 Premium WordPress Contact Form showcases some premium plugins that can be easily activated into your WordPress blog. Check out their description and brief list of features and see if they suit your needs!
Gravity Forms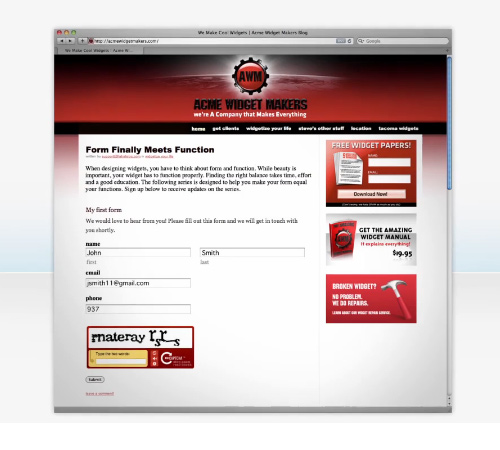 Gravity Forms is a premier form creation and management plugin that is available in available for WordPress v3.3+ with a new Quiz Field and Quiz Settings.
Features:
• The page break field allows you to break up your form into multiple pages.
• Easily configure the title, description, settings and confirmation message using the form settings.
• Easily limit how many entries a form will accept and display a custom message when that limit is reached.
• Set a start and end date to limit form access and display a custom message when the form has expired.
Quform – WordPress Form Builder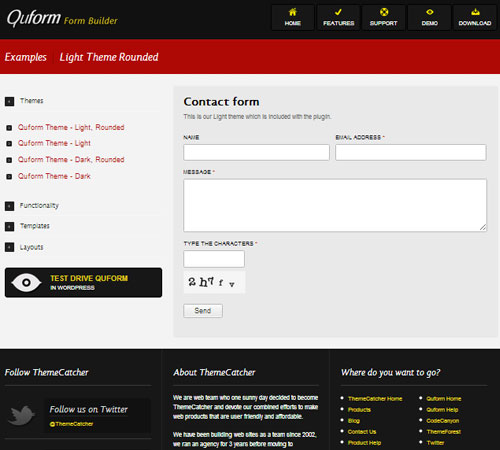 An advanced WordPress Plugin that allows the user to build multiple forms quickly without touching any code.
Features:
• Fully compatible with WordPress 3.1 to 3.5.
• Dynamically set form values from the URL.
• JavaScript calendar (datepicker) with 24 themes and 62 languages.
• View submitted form entries inside the WordPress admin.
Simple Contact Slider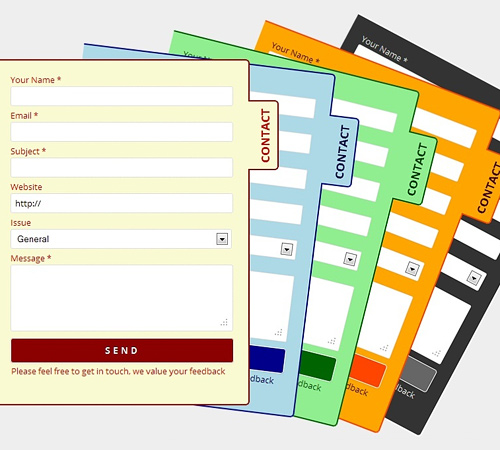 Simple Contact Slider is ideal for most websites that adds classic contact form into any and all pages of your WordPress powered website. It uses effective slider method to hide the contact form.
Features:
• Add extra CSS classes to main slider elements for extra styling.
• Customize all labels and messages displayed in the contact form.
• Customize HTML and Text email templates for sending messages.
• Email templates support use of many different data tags.
Ultimate Contact Page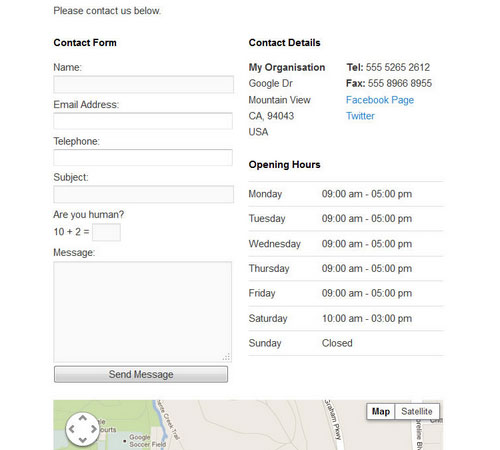 This plugin allows you to easily add a professional contact page to any WordPress website.
Features:
• Formats your address to schema.org standards, so search engines including Google, Bing and Yahoo! can index your physical address in Google Maps.
• Adds a Google Maps map to the page, with the ability for visitors to get directions to your location.
• Displays opening hours in neat table (easily editable, too!), using schema.org standards.
• Uses a shortcode to add the contact page to any of your pages in wordpress.
Mapped contact form pro WordPress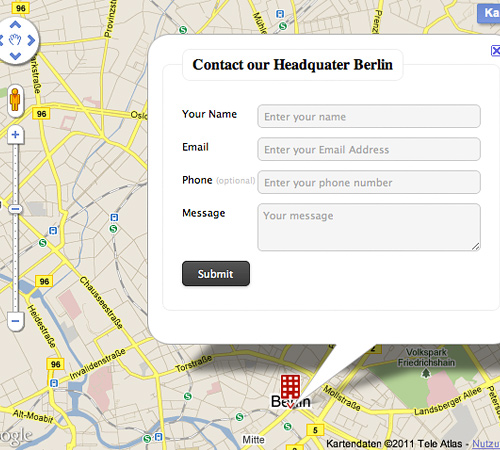 A cool WordPress Contact Form plugin that can integrate contact form direct to Google Map.
Features:
• Ajax contact form inside a google maps marker info window.
• Fancy JQuery offline validation.
• 60 Custom markers (12 building types in 4 colors each).
• Google Maps API V3.
WordPress Ajax Contact Form with attachments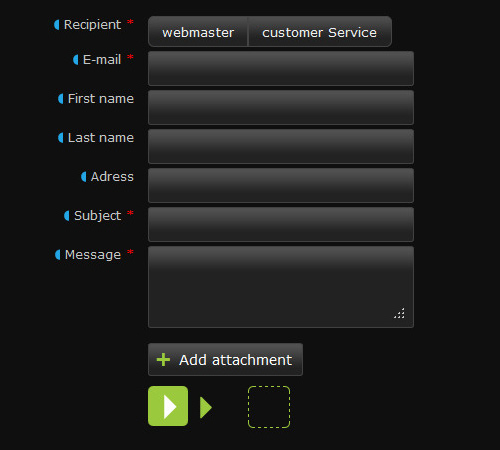 A complete solution to create ajax contact form in WordPress.
Features:
• ayah (Are You A Human) integration.
• PHP Script based on the open source Zend Framework Components Mail, Mime and Translate..
• You can create your own CSS theme and automatically add them to your lists of Theme in the form editor.
• Integration in the content of your page "automatic" or via "shortcode".
Contact – Friend Inviter Gold plugin & Widget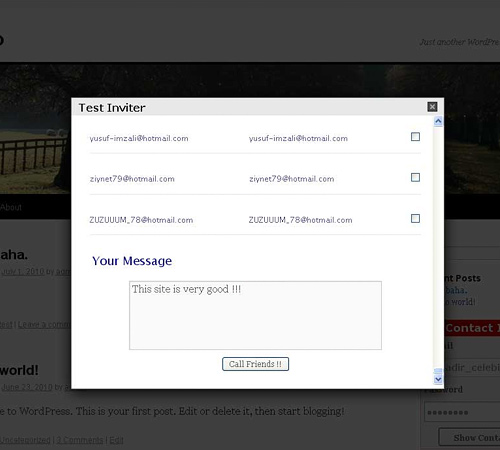 A powerful WordPress plugin that can let you invite friends.
Features:
• Cross-Browser Compatible (IE6+, FF, Safari).
• Customizable email subject.
• Customizable subject, from and message text of mail in widget settings.
• 18 EMAIL accounts are supported. ( gmail, hotmail, yahoo and AOL , etc. ).
Usernoise Pro advanced Modal Feedback & Debug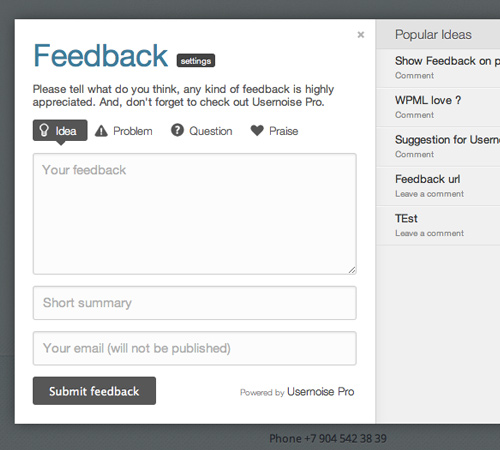 Gathers and discusses public feedback using a modal window and gathers deep debug info everytime a feedback is submitted.
Features:
• Stores comprehensive WordPress and HTTP debug info along with the feedback gathered. Two debug levels available.
• 4 feedback types with separate lists – ideas, praises, problems and questions.
• Compatible with FORCE_ADMIN_SSL option.
• Feedback statuses, like "New", "In progress", "Rejected".
Clever Feedback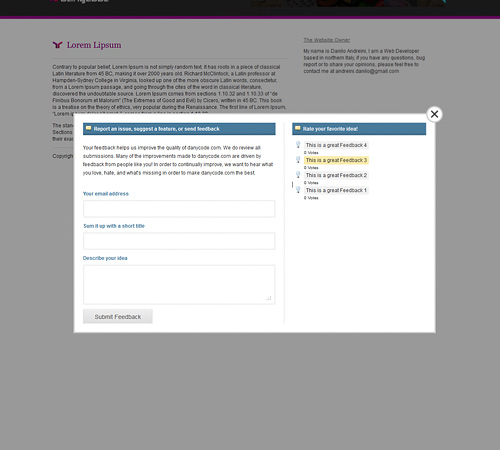 Easily adds a feedback form to the WordPress blog by activating.
Features:
• Not only collect user's feedbacks, you can also know what your users think about all the existing user's Feedbacks.
• All the text displayed in the Feedback modal window can be customized through the Options menu voice, no matter if your website is in English or in other languages, all the text can be customized.
• Inside the Feedback menu you can browse all the received Feedback and related information.
• You can export all the collected data as a CSV file, a very simple data file format supported by almost all spreadsheet software.
Creative Unified Forms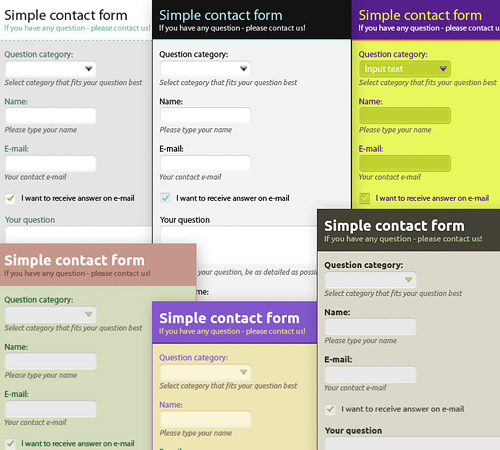 Creative Unified Forms can do any kind of form, feedbacks, quizz, inquierye by dragging and dropping, naming fields.
Features:
• Configurable captcha protection.
• E-mail notifications and automatic replies upon form submit. Now also featuring powerful token system.
• Visibility settings allow you to configure your form to be displayed to certain roles and on certain pages.
• Powerful wysiwyg constructor to design any kind form.
WordPress AJAX Form with Tracking and Settings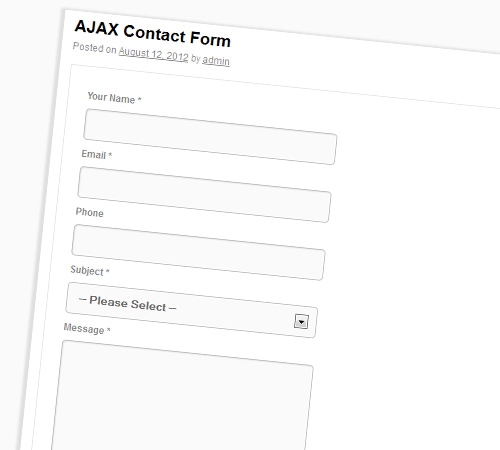 WordPress AJAX Form comes with the settings manager and can be directly accessed via WP admin panel to allow you to add contact/feedback form to WordPress blog.
Features:
• NAtive PHP functionality.
• Stylish validation messages and workflow.
• Multiple form styles (CSS Styles).
• Configurable via WordPress admin.
Got another template or plugin that you are looking for? Leave us a comment about it and we can look them up for you!