You could have already had a run through with the Tips on Choosing the Right Camera for you, well, specifically, Digital SLRs. You could have even gone through with the deeper details. This time, we'd love to give you an overview of the Best Digital SLRs for Starters. When you'd love to do something, there is indeed a stepping stone towards it. It's like learning step by step and here at NG, we'd like to help you out.
Sometimes, it would seem like luxury to get equipped with a Digital SLR. But for people who are aware what this is worth, quality matters. Passion for Photography grows but choosing what's best for you is essential in making that passion grow. From the Beginners' Guides up until you are really led to the perfect one that matches so click on and read through until it leads you to your Digital SLR…
1. Canon EOS Rebel XS (1000D)
This is a flexy type of camera. Fits so right for first time DSLR users or would even do best for those veterans in photography. Of course, when you have a Digital SLR, it is expected that you get an awesome for the quality of images that you take with it. But it goes with a good deal of features. For sure you'd want a camera that's fast, light and user friendly… you've got those qualities on this camera.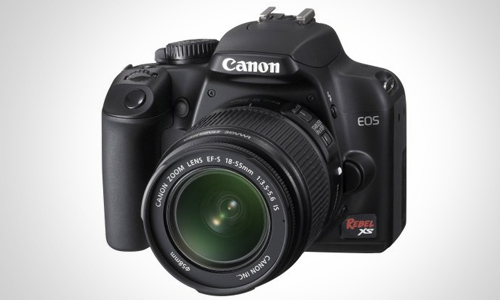 Its features includes a 10.1 Megapixel CMOS Sensor, it also has a large 2.5 inches for an LCD Display plus Canon's EF-S 18-55mm f/3.5-5.6 IS lens, a DIGIC III image processor, Live View, Auto Lighting Optimizer, ISO Range 100-1600 and a 7-point Wide Area Autofocus Sensor..
View More Information
2. Canon EOS Rebel T3 (1100D)
Another user-friendly DSLR where you can just aim and shoot for that perfect image. The performance of its autofocus, the speed and the high quality of image you're looking for in a DSLR will be found here. You may just take amazing photos in no time with its variation of basic shooting modes. While this camera is for beginners which lacks the specifications that those advanced photographers are looking for, the T3's price is low although but its video mode is a bonus! It's able to capture video clips over HD 720p plus an HDMI port to get to attach your camera to a television for playback.
Its features include a 12.2 Megapixel Sensor, a maximum shutter speed of 1/4000, can capture 3 photos per second, with an ISO Range of 100 to 6400, Viewfinder has a 95% Coverage, weighs 495g and with a built in flash.
3. Canon EOS Rebel T2i (550D)
What a beginner is looking for is a good camera that's easy to use. Even when this type of DSLR is a bit expensive for beginners, it offers a good deal of functions you will never regret. Yes, it's a lot different from the EOS 1000D. This can do a lot of things for your photography dreams! this has the highest resolution for APS-C sensor and it also has a full HD Movie modem containing manual controls plus a bright control layout. You would need good lenses also RAW files however so you could get the full blast from your EOS 550 D.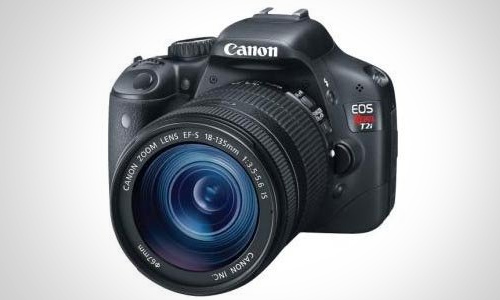 Its features include an 18 Megapixel sensor, can manage 3.7fps, ISO Rate is from 100 up to 6400 although quality is as good until ISO 3200 with the Viewfinder's 95% Coverage. For you to be able to adjust the LCD display, it has the Quick Control screen.
View More Information
4. Nikon D3000
After a good look at a few Canon DSLRs, we take a peek at Nikon's D3000 where it gives you a very nice and even sharp photos because of its lenses being one of the best. Its function is just like Canon's EOS 1000D. Handy since it's small, light too and just as easy to use. Easy to understand and there are built-in picture-taking tips plus one of those inexpensive DSLRs.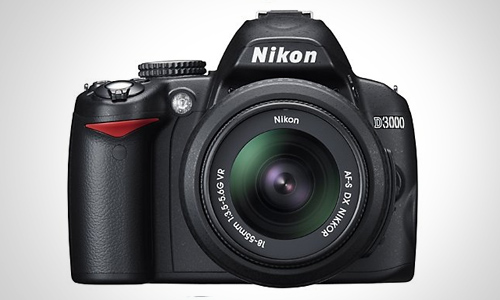 Its features include a 10.2 Megapixel sensor, 18-55mm VR (vibration Reduction) zoom for its lens, with its 11-point autofocus system, ISO Ranges from 100-1600, Viewfinder size is 95% Coverage. Its battery lasts until ts 550th shot.
View More Information
5. Pentax K-x
If you have gotten across the K200D, one of Pentax' best DSLRs, you would surely have a blast with the K-x since it has replaced the ranking of the latter. It also has the same features with K2000/K-m and the K-7 with its compact size and the ability to use AA batteries, plus its 11-point AF System not to mention its PRIME II imaging engine. It can also select an active AF-Point which isn't still displayed in its viewfinder.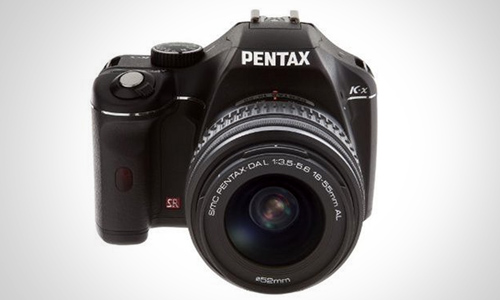 Its features include a 12.4 Megapixel APS-C-format CMOS sensor, its maximun shutter speed is 1/6000th, 720p HD video of 24 fps, ISO range is from 200-6400. There is a
the revised version of its shutter mechanism that enables you to speed up taking photos at it highest.
View More Information
6. Nikon D90
It's a photographer's pride to have a high-end camera even when just starting on the field. It becomes rewarding aside from the fact that it is also user-friendly having the retouching options, costs and weighs less than a D300. This becomes the replacement of the D80.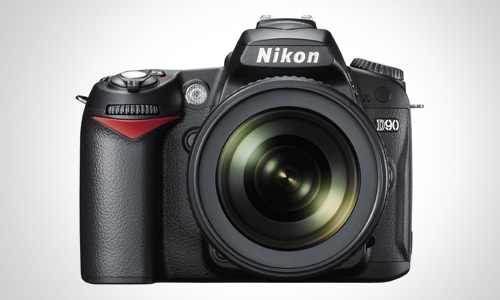 Its features incluse a 12.9 Megapixel DX-format CMOS sensor, Movie capture that ranges up to 1280x720p plus 24fps, ISO range is from 200-3200, Viewfinder size is 36% frame coverage and also has a 72 Thumbnail and calendar view in its playback.
View More Information
7. Nikon D5000
You may have been wanting an attractive yet accessible camera even when you're just beginning to swivel through the world of Photography. Two words Nikon uses to describe this models: Inexpensive and Simplified. For sure when you're trying to make your way through Photography, you could be looking for these two qualities. Well, there are plenty. It's up to you to level them up according to their features and sometimes, base them on how appealing and how light they are.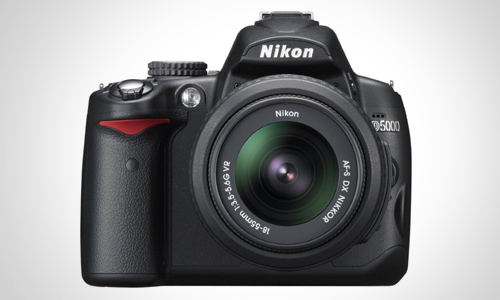 For this DSLR type, its features include a 12.9 Megapixel DX-format CMOS Sensor, a 2.7″ tilt and swivel LCD Monitor, Captures Movie too up to 1280x720p with 24 fps, Battery has increased capacity, ISO Range is from 200-3200, it has the Control of Active D-Lighting Intensity plus 11 AF Points with 3D Tracking and 95% of Viewfinder Coverage.
View More Information
8. Samsung GX-1S
A different manufacturer offers a good quality for a DSLR too. Samsung having made a name too in the brands of cameras has this light and very compact way to your Photography dreams. It only weighs 505g and note that this is Samsung's first DSLR released in 2006.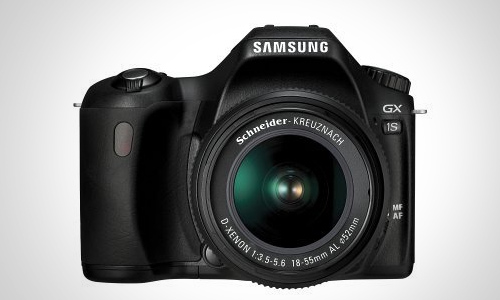 Its features include a 6 Megapixel CCD, with 11 Point Autofocus, ISO Range from 200-3200, Shutter speed is from 30 to 1/4000 sec, Viewfinder coverage is 95% frame, Mountable lenses on this DSLR would be all Pentax DSLR lens and the Schneider Kreuznack D-Xenon lens sytem too.
View More Information
9. Sony Alpha A290
Another cool way through Photography is Sony's DSLR-A290. Just like the others, it is really easy to use even when you're using a DSLR for the very first time. It also has its inviting design that allows one to be very comfortable in handling such device not to mention its easy-to-understand and pretty clear Graphic Display and Help Guide.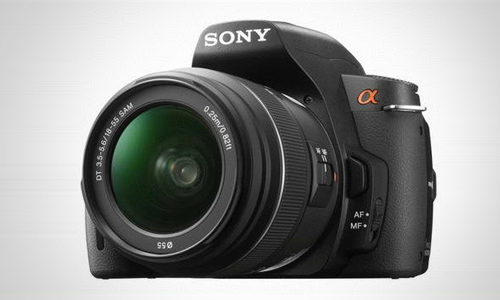 Its features also include a 14.2 Megapixel Sensor, 9 Point Autofocus, ISO Range is from 100-3200, shutter speed the same with that of the Samsung GX-1S, with a built-in flash, 95% Viewfinder coverage, weighs 456g and the most affordable DSLR from Sony.
View More Information
10. Olympus E-3
There is indeed a competition of Digital SLRs in the market and one of those competing is the Olympus E-3 after its release of the E-1. Another high-end yet beginner-friendly camera. With its new sensor, plus the live view and faster continuous shooting and bigger buffer than that of the E-1.
Its features include a 10 Megapixel Sensor, an 11 Point Autofocus, has a built-in pop-up flash, ISO Range from 100-3200, Shutter Speed is 1/8000 sec and weighs 800g.
View More Information
As what has been said, Digital SLRs change from time to time. They are upgraded as though they are clothes in trend. This post however, gets to reach out to those who would want to get ideas which camera to start off a career or just a passion with through Photography using the hit Digital SLR. Just a peek through some of its features and a glimpse to its individual differences may help you decide what to really get. Were you able to finally choose one? These are our own choices of options to give to those who'd need points of view in choosing DSLRs for starters. But since everyone have their own personal points of view, you may want to share with us ideas which for you are the best DSLR types for Beginners.