Seeing a beautiful view of a nature would feed one's eyes. The serene look of nature gives a relaxing aura to those viewing it that seems to make them forget the stresses they have encountered in a day. No doubt, everyone feels that way upon seeing breathtaking photos of the surroundings. But today, we will show you surreal images of scenic views that would surely amaze you on how these were created.
Yes, you got it right. The scenes were created. It is made from a diorama using different types of materials ranging from sugar to varying lights. These are brilliant creations from Matthew Albanese. He calls them Strange Worlds which is fitting because his works really look real in the pictures even if these were merely handmade. You will surely be blown away upon seeing how Albanese made each one using ingredients and materials you won't even think of.
"My work involves the construction of small-scale meticulously detailed models using various materials and objects to create emotive landscapes. Every aspect from the construction to the lighting of the final model is painstakingly pre-planned using methods which force the viewers' perspective when photographed from a specific angle. Using a mixture of photographic techniques such as scale, depth of field, white balance and lighting I am able to drastically alter the appearance of my materials," said Albanese in describing his work. So, at this point, let us take a look at the amazingly brilliant Strange Worlds dioramas of Matthew Albanese.
Wildfire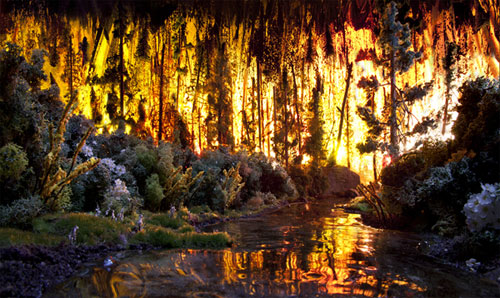 Seeing this picture could make you feel how hot this wildfire is.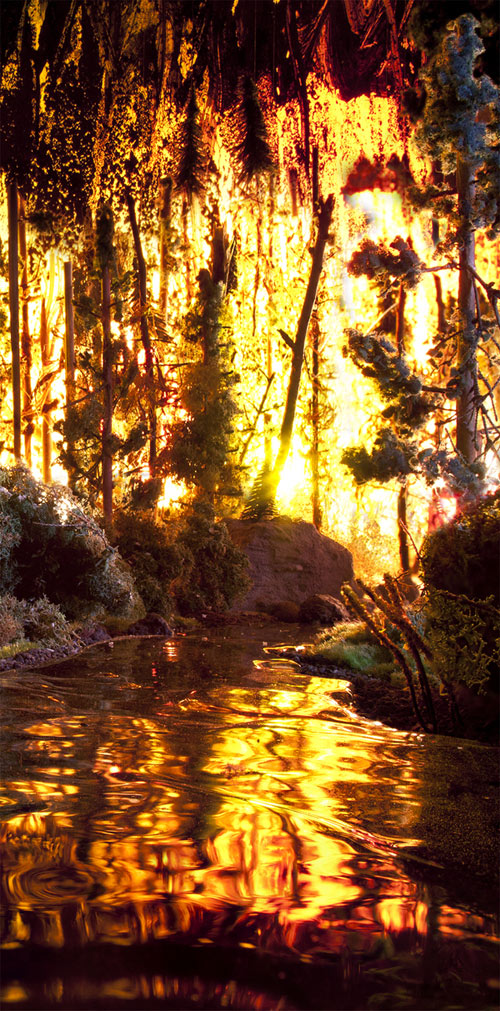 So beautiful isn't it? If you think this one is real, you are wrong. The fire is made from party bulbs through a clear garbage bag. The trees were installed in different heights to make it look like real trees burning.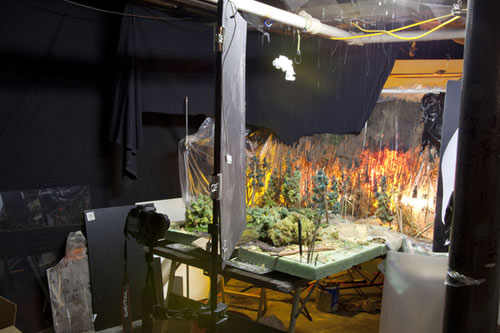 This diorama is made from wood, moss, yellow glitter, clear garbage bags, cooked sugar, scotch-brite pot scrubbers, bottle brushes, clipping from a bush in bloom (white flowers) clear thread, sand, tile grout (coloring), wire, paper and alternating yellow, red and orange party bulbs.
How to Breathe Underwater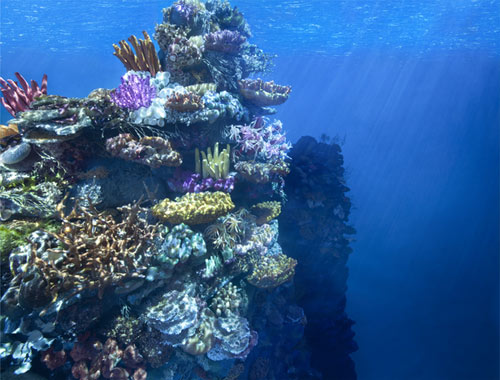 You might have seen underwater scenes as beautiful as this one but you will certainly say this one is unique since it is handmade. Diorama made out of walnuts, poured and cast candle wax, wire, glitter, peanut shells, flock, plaster, wire, dyed starfish, compressed moss, jellybeans(anemones), sponges, wax coated seashells, toothpaste, clay, figs, feathers, Q-tips, nonpareils.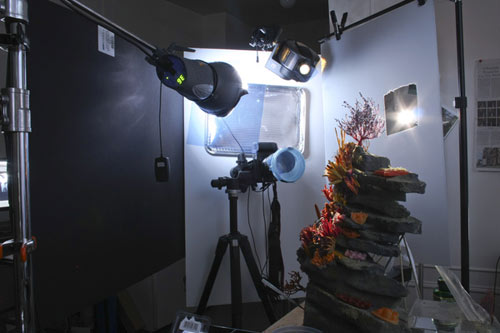 Surface of the water was created using vinyl shower curtain, plexiglass and clear epoxy. The reflected sunlight effect was created using a video projector through fake fog. The white balance was set for tungsten allowing the sunlight to appear bright and clear while the strobes provided a deep blue shift in the fill light regions. The lens was covered with a piece of blue stretch wrap which created subtle distortions throughout the image. A total of 11 light sources were used including the projector.
Burning Room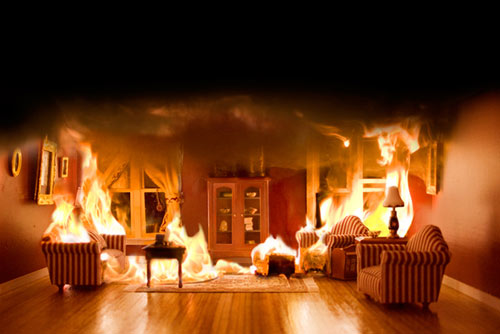 Oh my! The room is on fire! Well, this one was really set on fire to get this effect.
Look at how beautiful this is. It is made of wood, nylon, plexiglass and purchased dollhouse furniture. You would not burn something as cute as this but the result was actually more beautiful when it was burned.
Breaking Point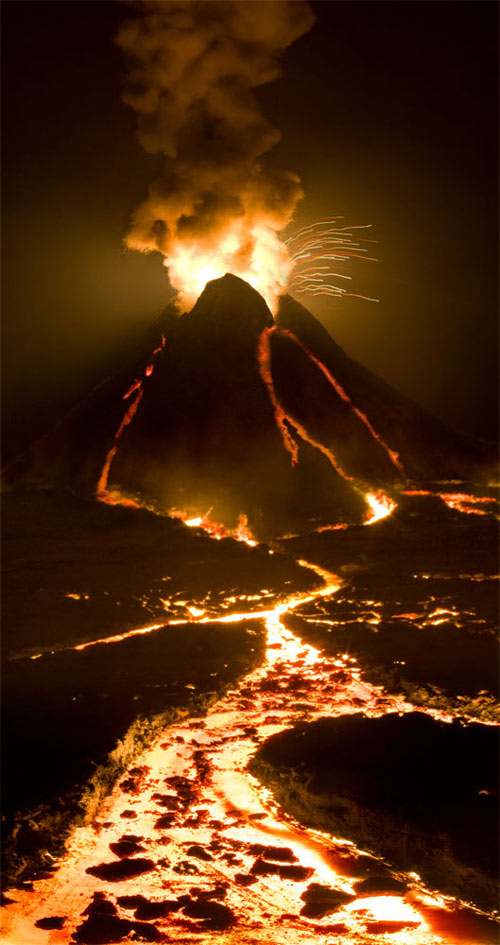 The volcano did not reach its hottest point but its boiling point! Wonder what volcano this is? This is a tabletop volcano perfectly created by Albanese.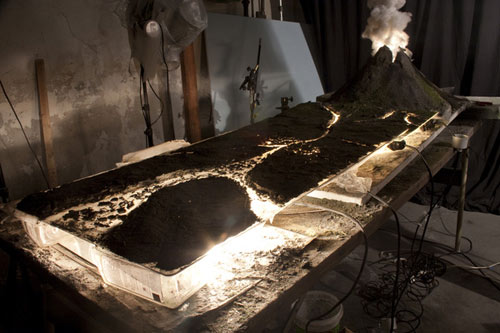 This was the set up of the volcano made from tile grout, cotton, phosphorous ink. It was also illuminated from within 6-60 watt light bulbs.
New Life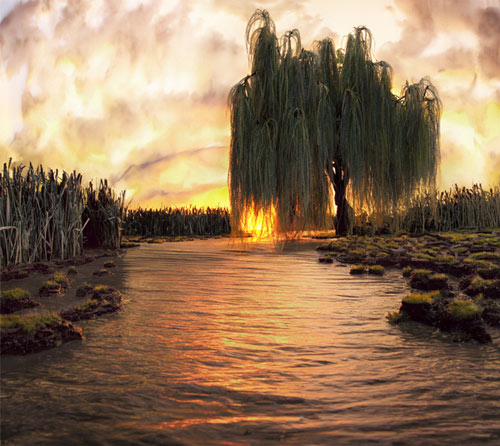 A very relaxing view of nature during sunset is seen here. Well, who would expect that this beauty is merely handmade?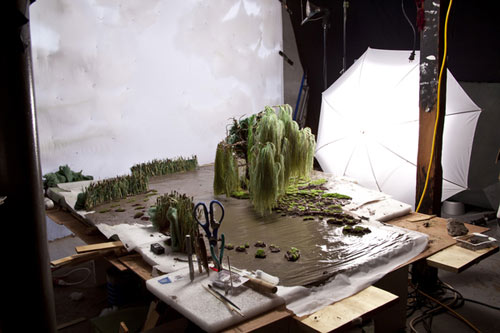 This is the diorama of the scene above using painted parchment paper, thread, hand dyed ostrich feathers, carved chocolate, wire, raffia, masking tape, coffee, synthetic potting moss and cotton.
Ice Breaker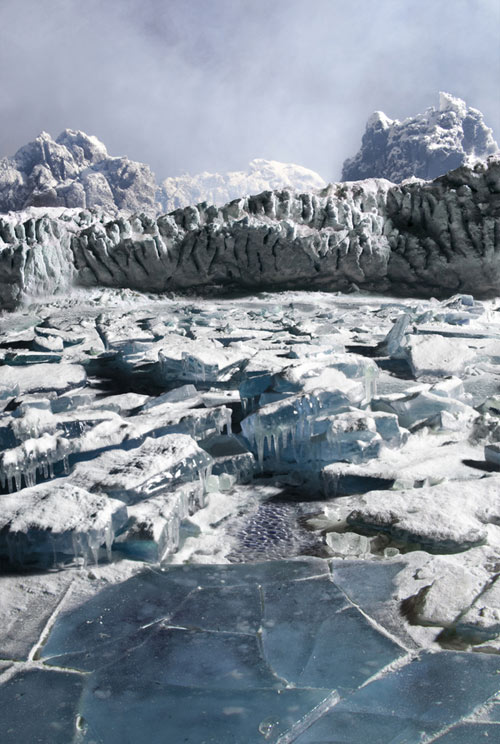 You would seem to feel how cold the area is seeing these hard ices with few melting areas. You might even feel like getting your own jacket to feel warm.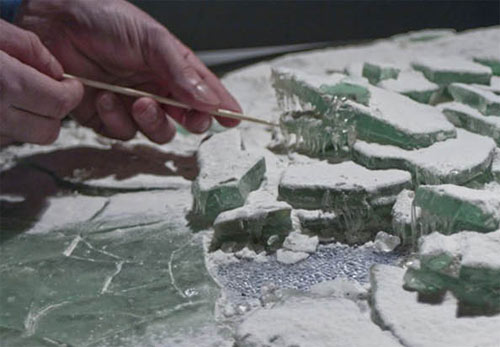 This was built in two weeks and needed three days of cooking 25 pounds of sugar cooked at varying temperatures. This one is made out of candy with hard crack & pulled sugar recipes mixed with salt, egg whites, corn syrup, cream of tartar, powdered sugar, blue food coloring, india ink and flour.
Fields, After the Storm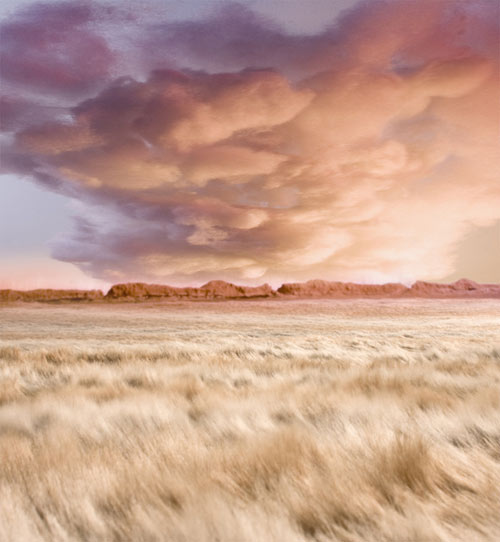 Another beautiful landscape with clouds that seem to go with the wind and grasses that gives a feeling of serenity. Look at the image below so you will see how this one was created.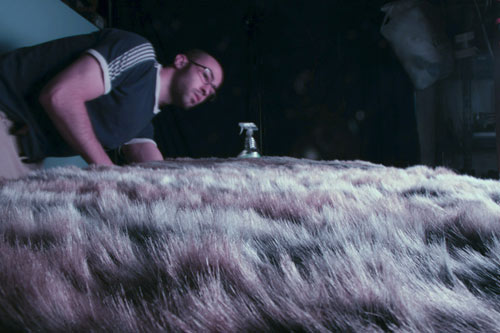 This is Matthew working on his masterpiece using faux fur for the fields, cotton for the clouds and sifted tile grout for the mountains.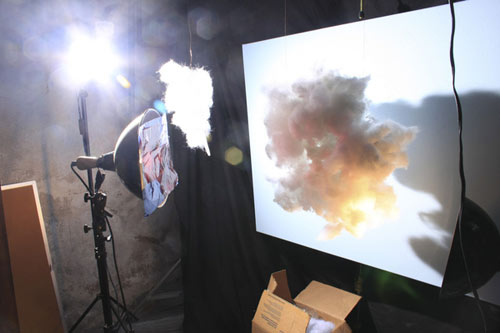 The lighting effect was done by shifting the white balance and gets a beautiful output. You can notice the cotton hanged before the light for the clouds.
Tornado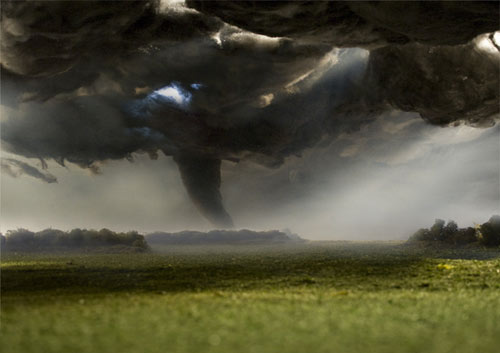 A tornado is here! The image really looked like a real tornado was captured in picture.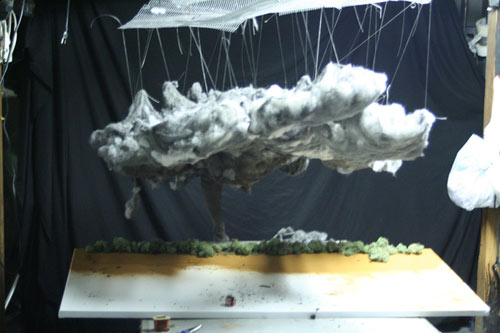 But oops! This was all it is! It wasn't a real tornado after all. It was merely made from steel wool, cotton, ground parsley and moss.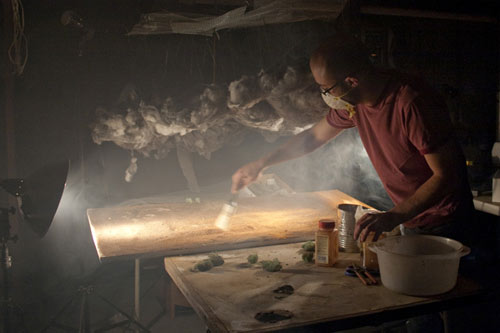 Matthew working on the field for the tornado artwork.
Aurora Borealis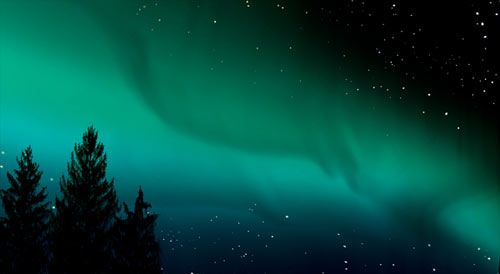 You would say wow upon seeing the explicit beauty of the skies with stars beaming around it. But these stars were made by using lights.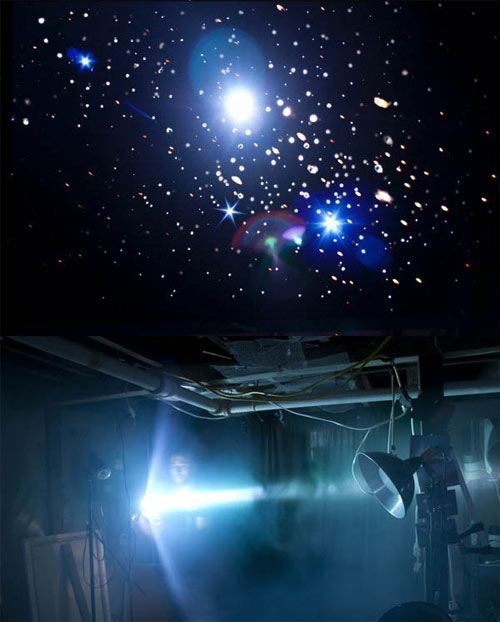 Stars for this photo were done by using strobe lights through holes in a cork board. A beam of colored light against a black curtain was photographed to get the edge effect.
DIY Paradise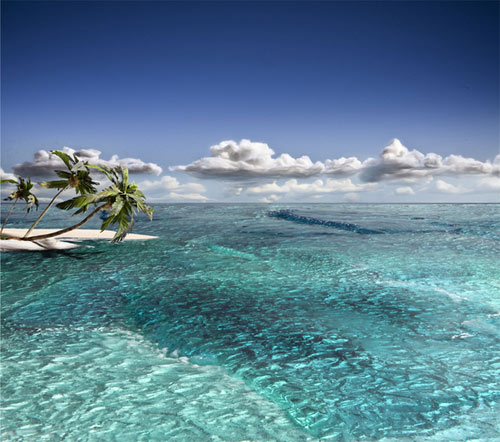 A serene scene with an island in a vast ocean. The clouds seem to swiftly float as the waves made calm rhythms. Great diorama isn't it?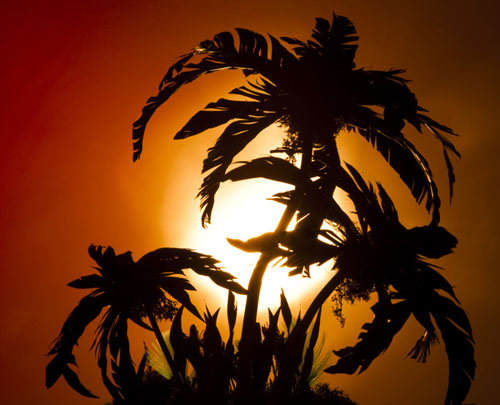 A closer shot of the palm leaves creating a stunning silhouette.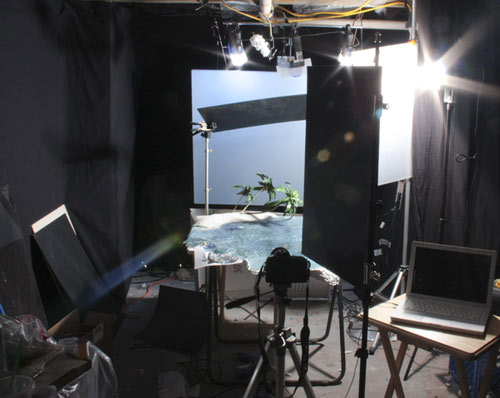 This one made use of cotton for the clouds that were shot from below through glass. Cooked sugar and tin foil were used for the ocean. The island is made from salt and the trees were from styled feathers.
Salt Water Falls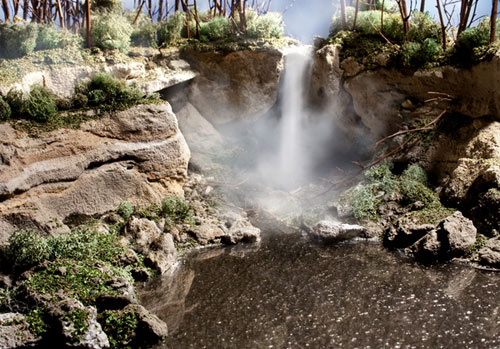 The waterfalls sure looks fresh and cool as it took a great fall from the top area surrounded with green grasses and big rocks. The waterfall is actually made from a time exposure of falling table salt.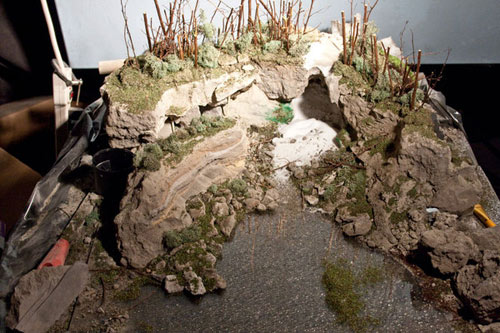 A diorama model made out of glass, plexiglass, tile grout, moss, twigs, salt, painted canvas & dry ice.
After seeing the images above, you might still cannot believe that the photographs were actually taken from a tabletop set-up merely made Matthew Albanese. Well, you have to believe it since Albanese have made all of them. His great talent had impressed millions of people around the globe. He was even featured in Ripley's Believe it or Not making him one of the most talented people since he can work on dioramas as detailed as the ones you see above. It is not only his dioramas that are impressive but also his photography work. He won't be able to come up with realistic photos of his miniature models if he weren't a good photographer, too.
Obviously, this kind of work is so far from being simple. He is even patient enough to make those models which take weeks and months to build. We really cannot deny the fact that Albanese is one talented person and is also a genius when it comes to creating miniature models and photography. You can take a look of other works from Albanese through his website. Be more amazed on how he created his masterpieces.