We could have featured plenty of colors of Business Cards here at Naldz and you may just wonder why. With the competition in the world of Business, there must be choices and variations how you would be able to market your products and services. Providing you with a collection of choices becomes our pleasure and giving you ideas for inspiration adds up to it. Purple is said to speak of royalty. Others say it is a color that's mysterious. With this, you'd already know what appeal it's gonna bring to your business when used as a color for a Business Card. When into business, one must not just be equipped with the knowledge of managing people. Creativity, passion and openness also adds up to it. These are applied most especially in marketing.
As Business Cards being essential in selling what you do and what you make, it's good to have options before you finally lay down your best choice. With the feel of the products, a business owner must be sensitive as to what color the product may exude or make an appeal to the people. When purple means mysterious and royal, there's ought to be more when checking out the designs for business cards. Here is a Collection of Intriguing Yet Neat Purple Business Cards you might want to check out…
You may want to take a look at the following related articles:
Accountant Business Cards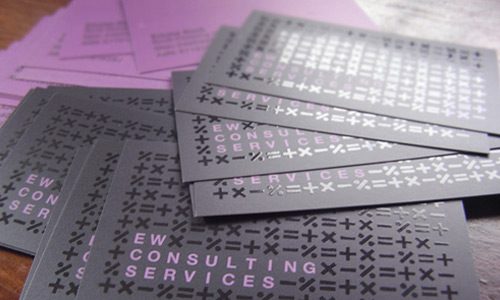 By: my-name-is-annie
This business card is for an accountant. You will notice a spot UV coating on it.
Median Business Card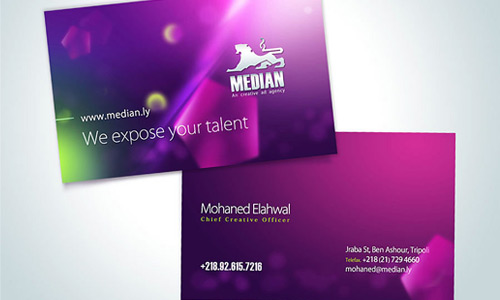 By: mythstu
This business card is created for a particular company.
Purple Business Cards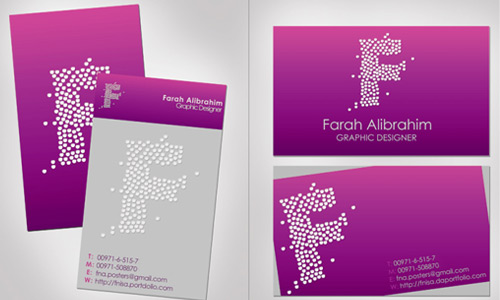 By: fnisa
The two cards has been created with a personal logo.
Purple Flora Business Card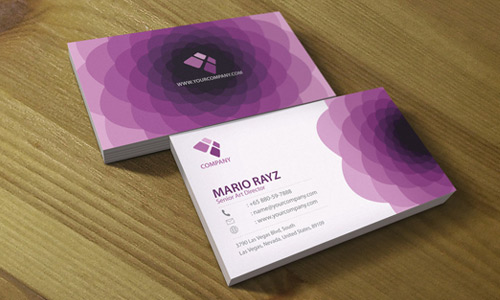 By: lemongraphic
The type of business card has been created to catch the attention of clients. Designer aims to exude from among all the other business cards.
Purple Foil Card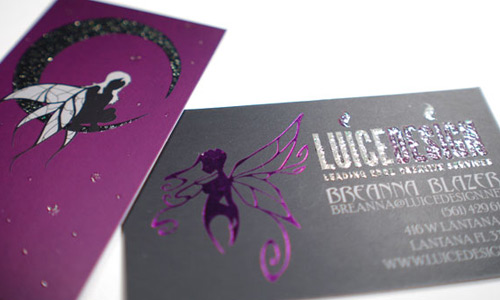 By: luicedesign
A spot glitter plus purple foil made its way to come up with this design of a business card.
Dirty Addiction Business Card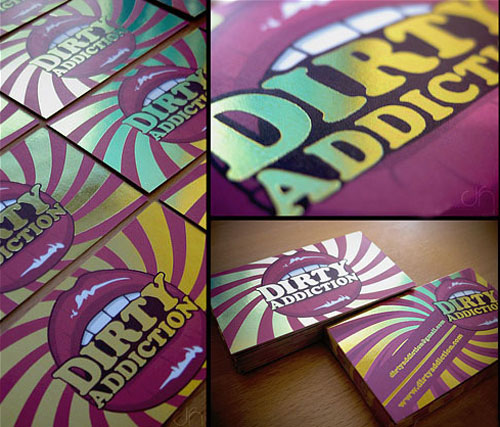 By: TDH Studio
The business card talks about fun in relation to the brand of the product as per client request.
The Shoppe Business Card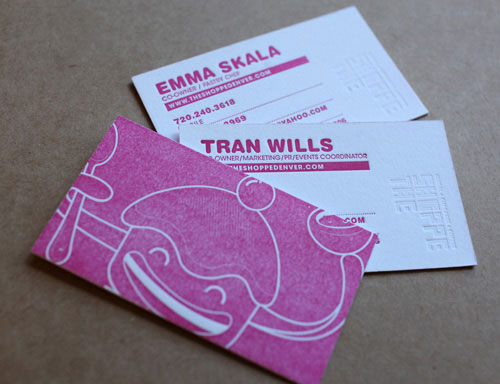 By: Birks & Birks Letterpress
The business card is made for The Shoppe, a boutique pastry cafe located in Denver. This is printed on 220# Fluorescent White Crane Lettra using rhodamine red ink.
Purple Business Card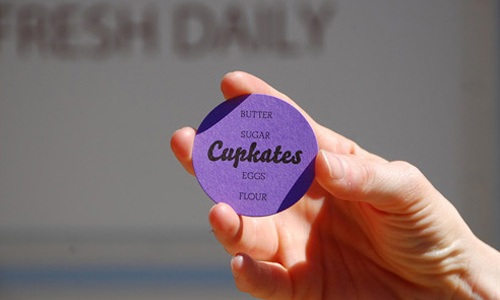 By: rayvellest
Business card is made for the client's baking business in a cute circular form.
LETN Business Cards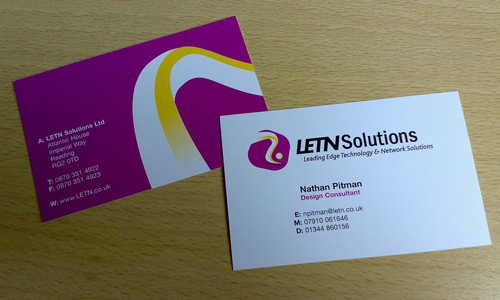 By: nathanpitman.com
The designer created the card for a particular company in digital print.
Letterpress Esvy Cards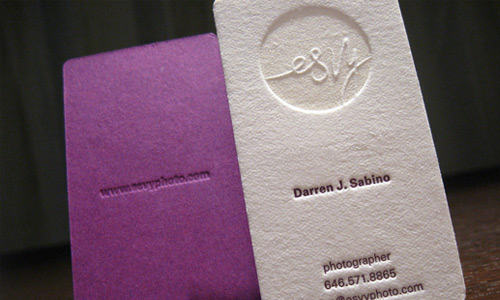 By: dolcepress
Materials used on these cards were 220# Cotton Paper for its front and 32# Purple Stock at the back.
Drumchick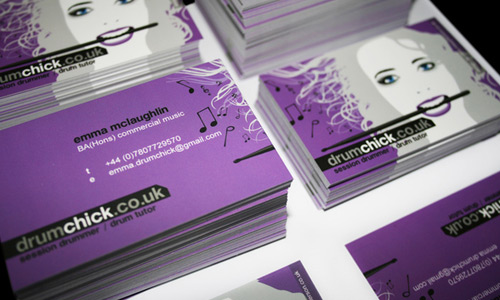 By: Chris MacPherson
This business card has been designed for the launching of Session Drummer and Drum Tutor of Emma McLaughin.
Victoria Green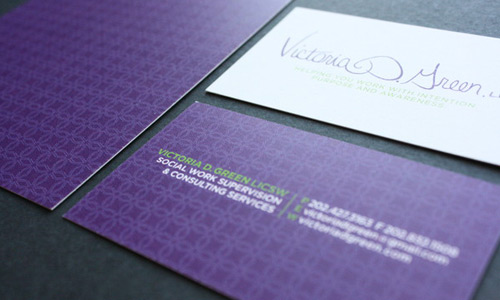 By: Megan Gallagher
The purple business card has been designed for a social worker who is based in Washington D.C taking care of women and those who are victims of domestic violence.
Purple Design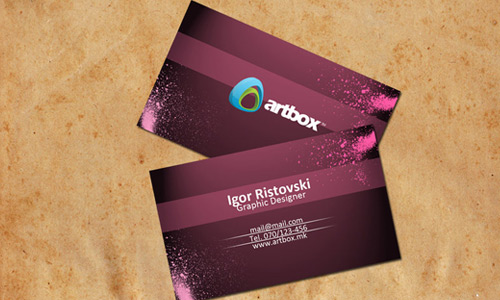 By: comodore64
The design is for a graphic designer where the colors has been carefully laid out.
Nathália Alberoni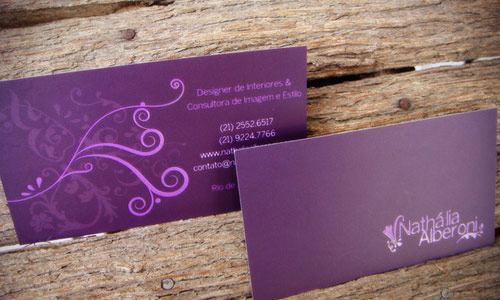 By: Sisson Studio
Business card is Victorian visual style also with the logo for the interior designer by the name of Nathalia Alberoni.
Beauty Salon Business Card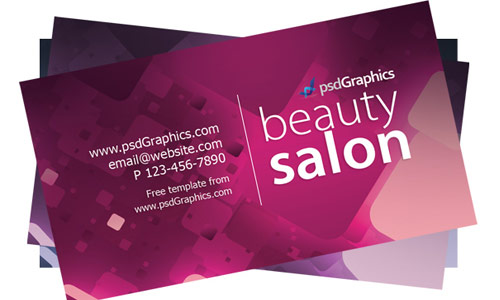 The business card standard is for Canada, United States and the Netherlands with the dimensions of 88.9×50.8mm.
CorePure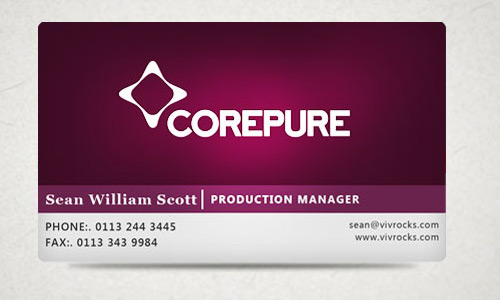 By: VIVROCKS
Deep purple shades has been used on this business card design. This is better printed digitally on a card paper with the size of 3.5″x2.5″.
Shi Shi Business Card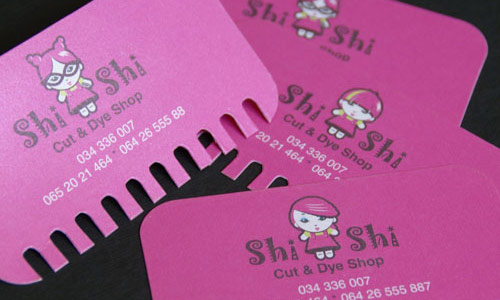 By: Zlatna knjiga Kragujevac
The concept of the business card is several Shi Shi girls with a variety of haircuts. Paper used in printing is Mayestic Marble Whie 290g, Fabria Art Belgrade.
Ski Business Card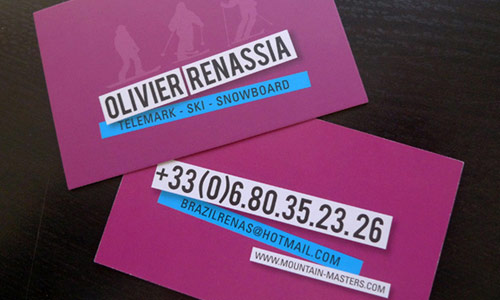 By: Misssnow
This business card is for a ski instructor. The client's preference was a card that's fun and colorful since the service he gives is for the children.
Design Nut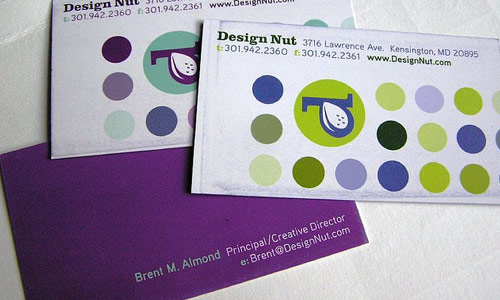 By: dailypoetics
There are dot patterns you will notice on the business card. The inspiration that the designer comes from are simply dots as he believes that things that are visual starts from it. As a part of his identity, he has chosen three colors and that includes purple.
Business Card Spread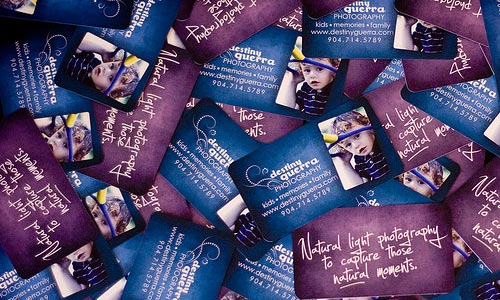 By: Destinty Guerra Photography
These business cards spread out are for Photography services.
Home Remodeling Business Card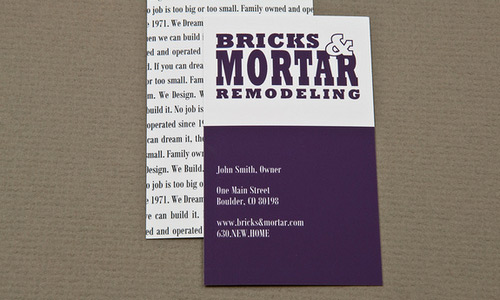 By: inkdphotos
The design template is created by Sarah Parisi for a modeling agency or a construction company.
Facturandum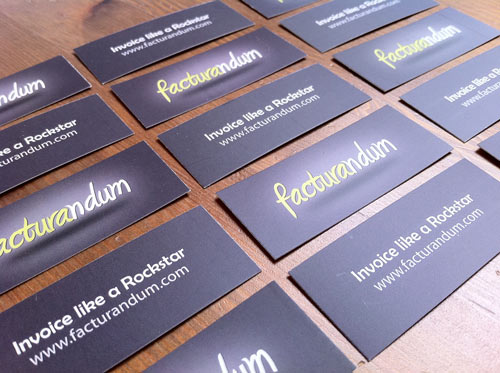 By: hubeRsen
The business card is created for an online invoicing system.
Kate Sicchio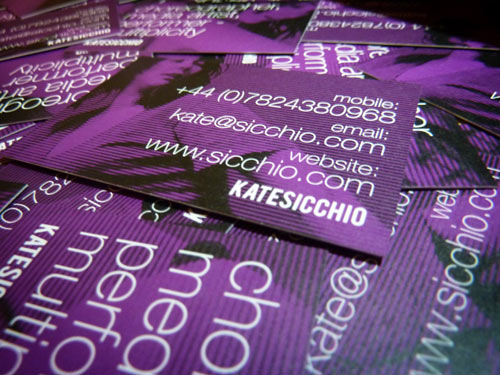 By: David Palmer
This purple business card is created for a dancer, choreographer and media artist. The realization for the need of such came into her as the career of the client was starting to rise.
Duplexed Letterpress Card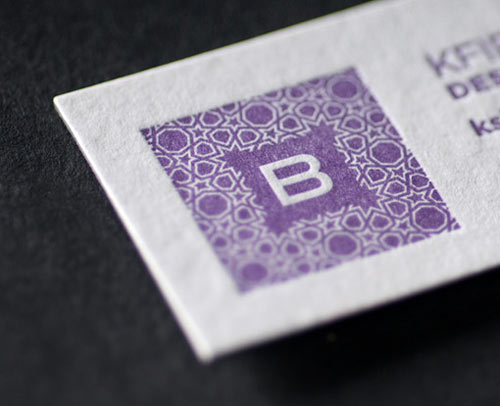 By: BAKER
There is a consistent metallic branding at the back of this business card. The design is brought more attractive with the purple print out.
Plaid Pattern Business Cards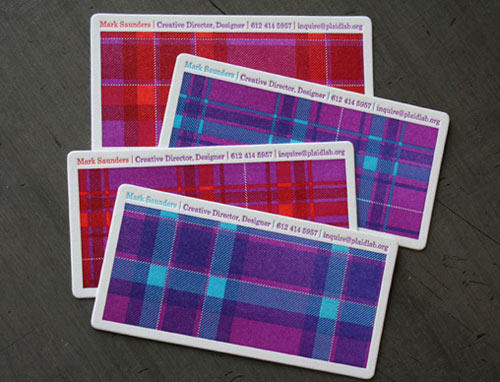 By: PlaidLab
The size of such plaid business cards aren't the typical ones. It measures 4.5in. x 2.25in.
Circular Business Cards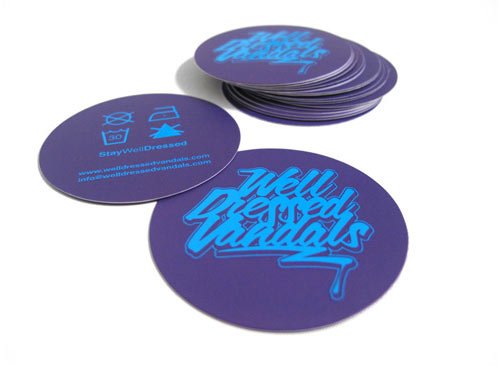 By: Well Dressed Vandals
The business card is designed for Well Dressed Vandals which is a boutique for street wear in Sydney, Australia.
Spa Identity Card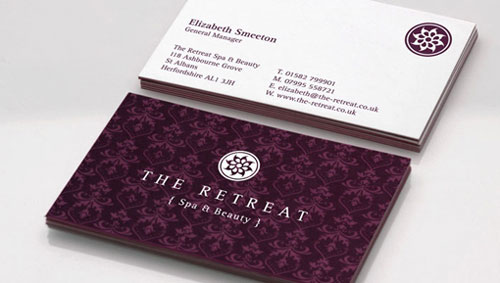 By: Spa Identity Card
Two colors are printed on this Spa Business Card on a 540gsm Colorplan, Pristine while paper.
Silkscreen Business Card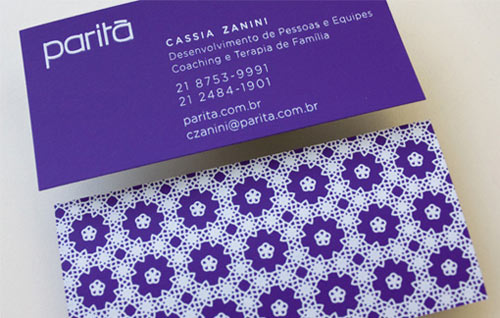 By: Niramekko
This business card that's silkscreen designed is for a Coaching Team Development Company. The white silkscreen which covers the front and back adds an inviting touch to the lush purple paper that has been used.
Jolly Roger Business Card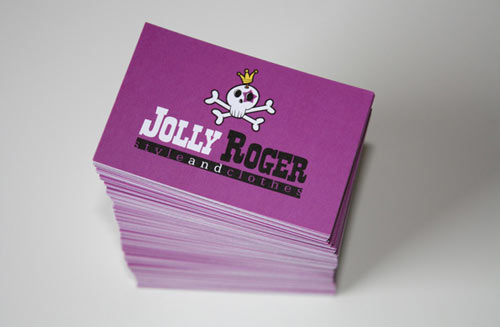 By: Marco Belleti
The card has been created as per client request for a comic style on "Jolly Roger" which originated from pirates and skull flags.
Twice Business Card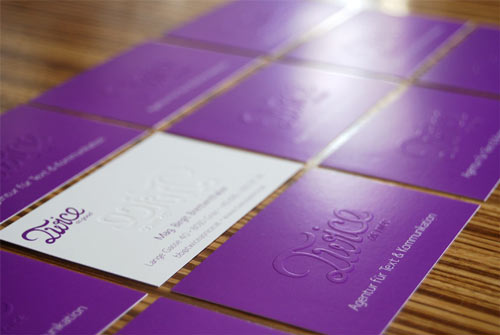 By: kunstrasen graphic design
The business card is designed for a text and communications agency.
Other than these Business Cards featured here, do you have any other ideas which designs of those could boost one's business more? Feel free to share your thoughts with us. Once again, it's good to have many options for you to make the best choice. Here at Naldz, we provide with a variety of inspiring collections helpful for your prosperity in marketing. From colors to styles compiled and even combined. Here's hoping we were able to help…