For most people, cutting different forms and shapes from paper is an effort and a challenge. But for some, it comes naturally. They can even go beyond mere trees and animal paper cuts but could create very beautiful works of art that doesn't just look impressive but also relays a story and even emotions. You will see that from the works of our featured artist today who have undeniably notable paper cut designs.
We are referring to Elsa Mora who is a multidisciplinary artist working in the fields of drawing, porcelain, painting, and paper cut. She makes extraordinary creations which are achieved through being creative and patient. Patience is one important thing needed in order to finish an artwork. This is what she learned from her years of teaching as an ex-art teacher. She makes emotional illustrations and family tales by cutting paper showing a combination of human bodies and plant life.
A Forest in Her Mind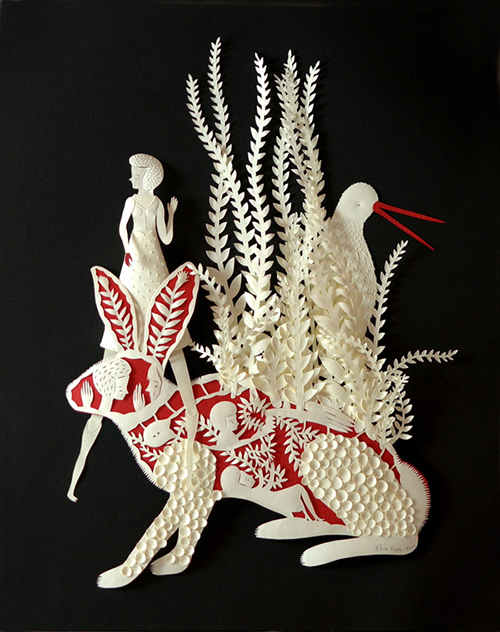 This little girl here have an interesting story in her mind with the forest as the setting. Take a peep at the rabbit's body and you can trace a story.
Alice in the Wonderland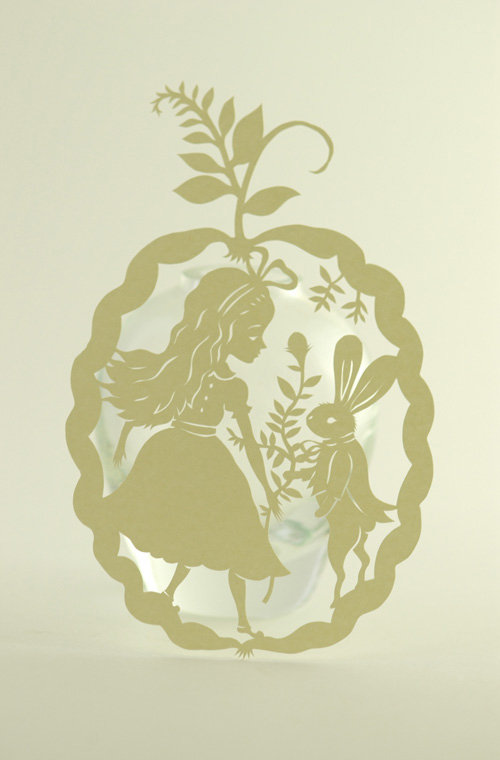 Alice looks pretty here as she is etched inside a fruit with the bunny that she had been following in the whimsical world she came in.
Magic Garden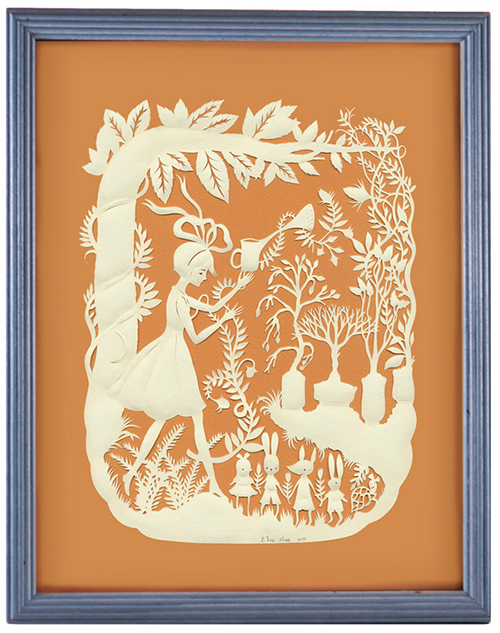 Those leaves and vines sure required so much detailing! And yes, we would agree that this is a magic garden!
Framed Bee Medal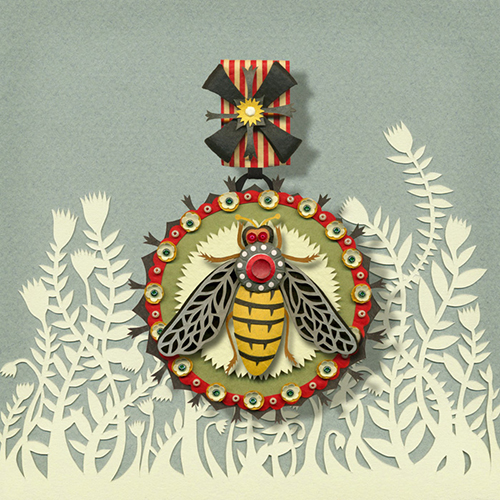 The colors of this art work are lovely and as usual, the details of the bee is just impressive!
El Bosque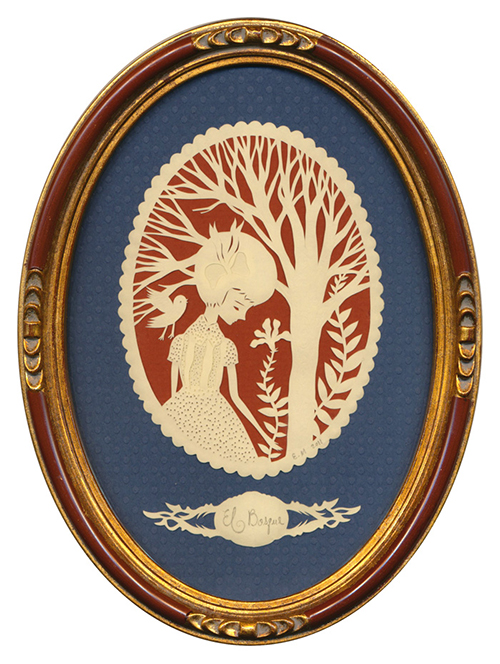 This is a pretty framed paper cut. Can you tell us what you can see in this artwork?
Three Little Pigs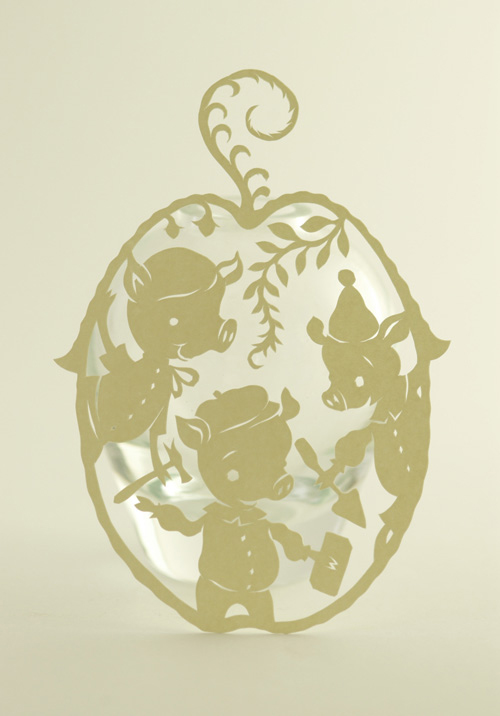 We have seen different illustrations of the three little pigs but this one is just fascinating!
Por Dentro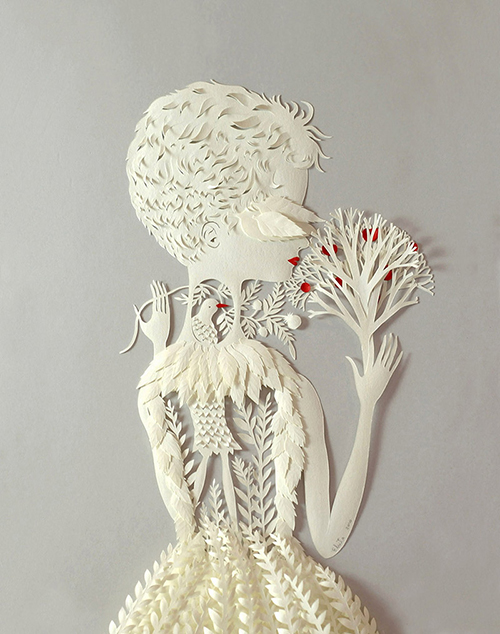 There is so much story and emotion from this artwork. It may look weird but it sure has something in it that makes it totally lovable.
Little Red Riding Hood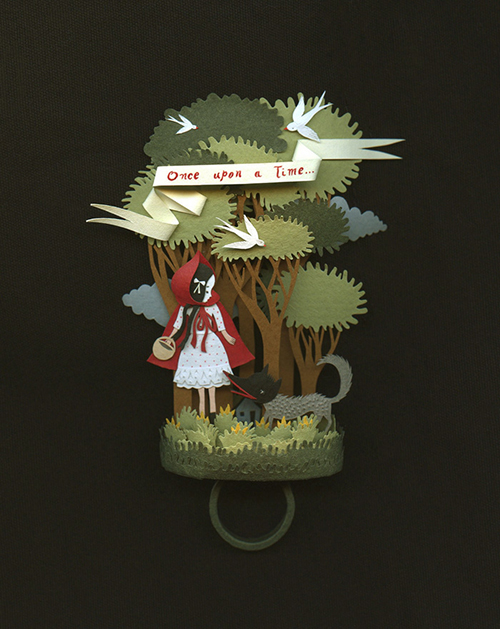 This is a little ring that has a lot of details to convey the story of Little Red Riding Hood.
Pinocchio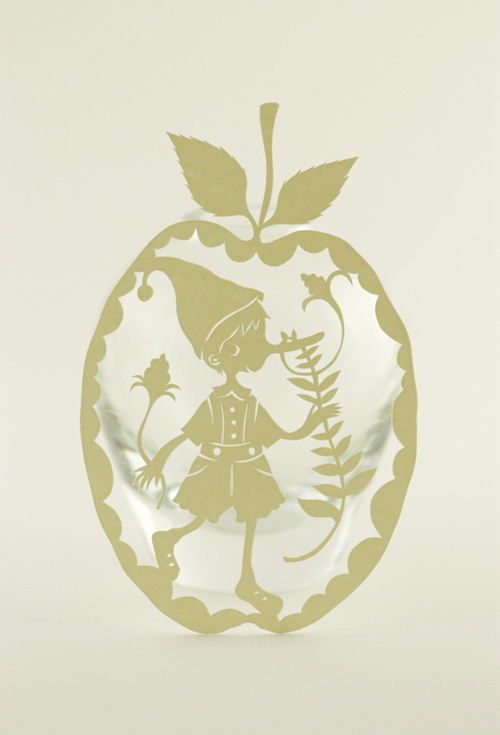 Who doesn't recognize this wooden boy whose nose extends when he tells a lie?
Mary Had a Little Lamb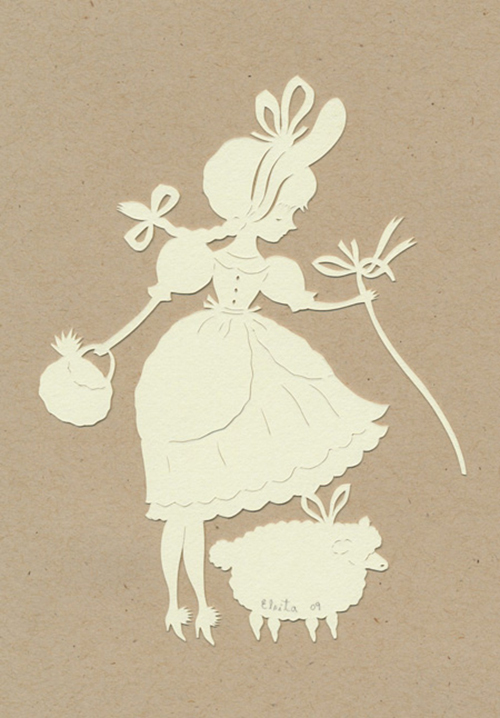 We always find Mary and her little lambs cute but with this paper cut, we seem to love her even more!
Fern Eyes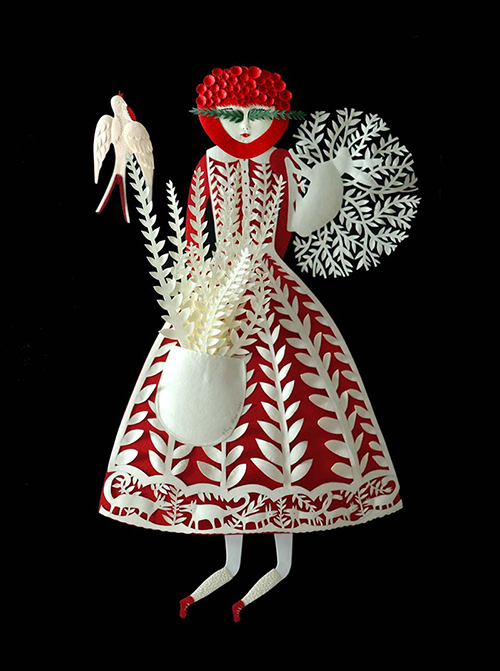 We are not sure what is with her fern eyes but we do see so much detailing in this piece.
Peter Pan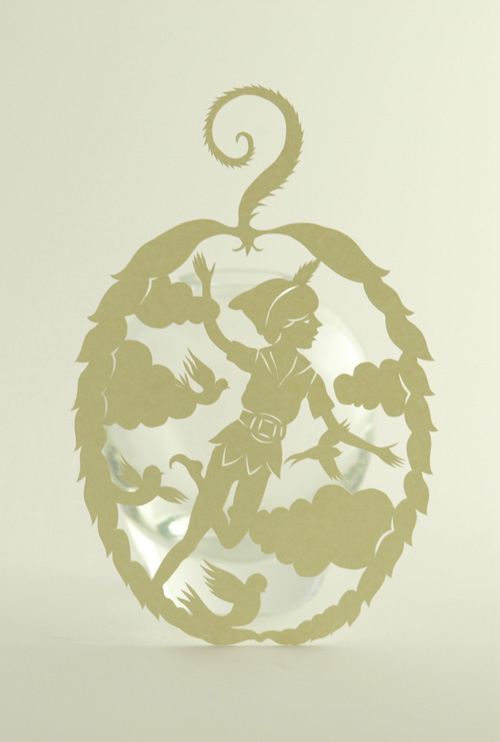 Peter Pan cut inside a fruit- isn't he adorable?
The Hand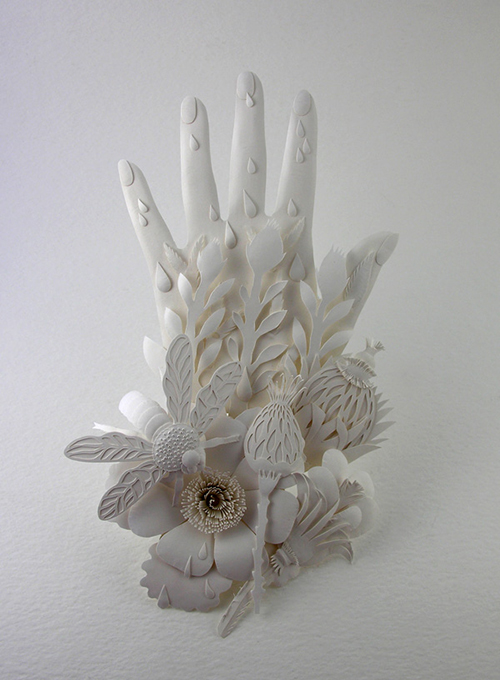 We actually think this is very beautiful even if it is made in all white because the flowers and the bee in it are very well done.
Bird Papercut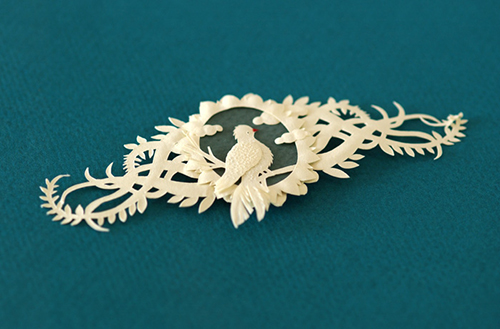 This may look simple but we love the look of this papercut with a bird in the center.
Paper Fur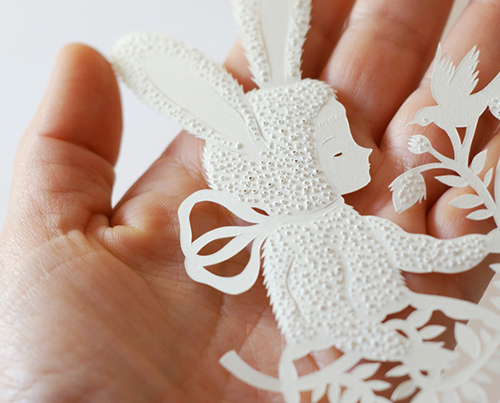 Wonder how a paper fur will look like? It looks as stunning as this little bunny!
Good Morning Birdie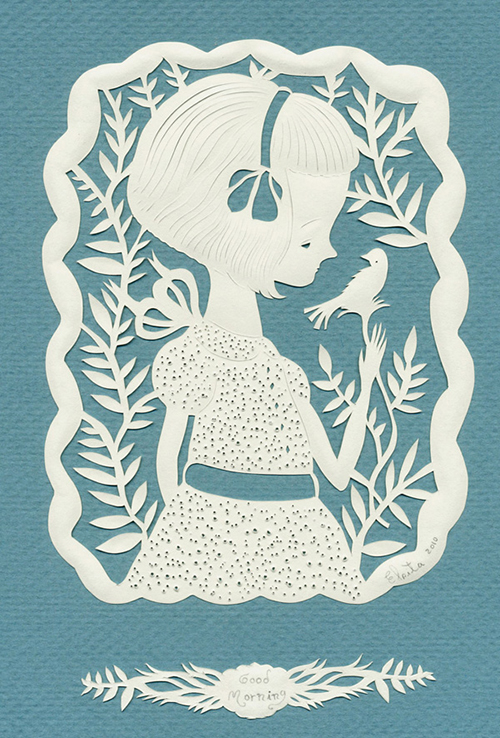 It would be good to start a day with a little birdie to greet you a lovely morning tone.
Paper Ring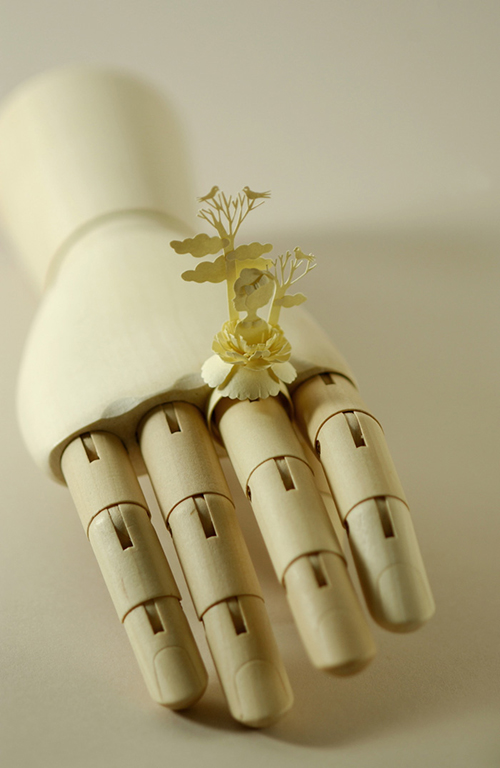 This is how a paper ring looks like when worn. Who would think that this is actually made of paper?
Each paper cut sure needed not just patience but a meticulous hand and artistic mind. Well, Elsa Mora got all that which made her achieve such amazing artworks with a lot of details. Just imagine how hard it would be to cut shapes of humans, plants and animals on a thin piece of paper! Nothing can really stop an artist for expressing emotions and ideas as long as there is that will, skill and determination!