Many mobile phones nowadays offers features that allows its users to connect to the internet and browse easily throught the web. With this innovations, webmasters are more likely required to optimized their sites for mobile users. While the demand is rising, Mobile WordPress Themes have become increasingly popular for bloggers alike. These templates are used to enhance the visiting experience of viewers to a particular site while using their phones.
20 Mobile WordPress Themes showcases a great collection of WordPress templates that may be purchase with great features to suit any bloggers needs. Browse through the collection and read through the brief descriptions. Enjoy!!!
My Mobile Page WordPress theme is the third version of its mobile theme series. It comes with a custom ajax-powered admin panel, from where you can setup the theme and its features. You can customize the home navigation menu, adding and editing the icons as well as the numbers of pages to display. You can also make blog pages, photo galleries, portfolio sections with flexible images, and videos. It also has 12 ready-to-use smart editor shortcodes to make your customizing easier.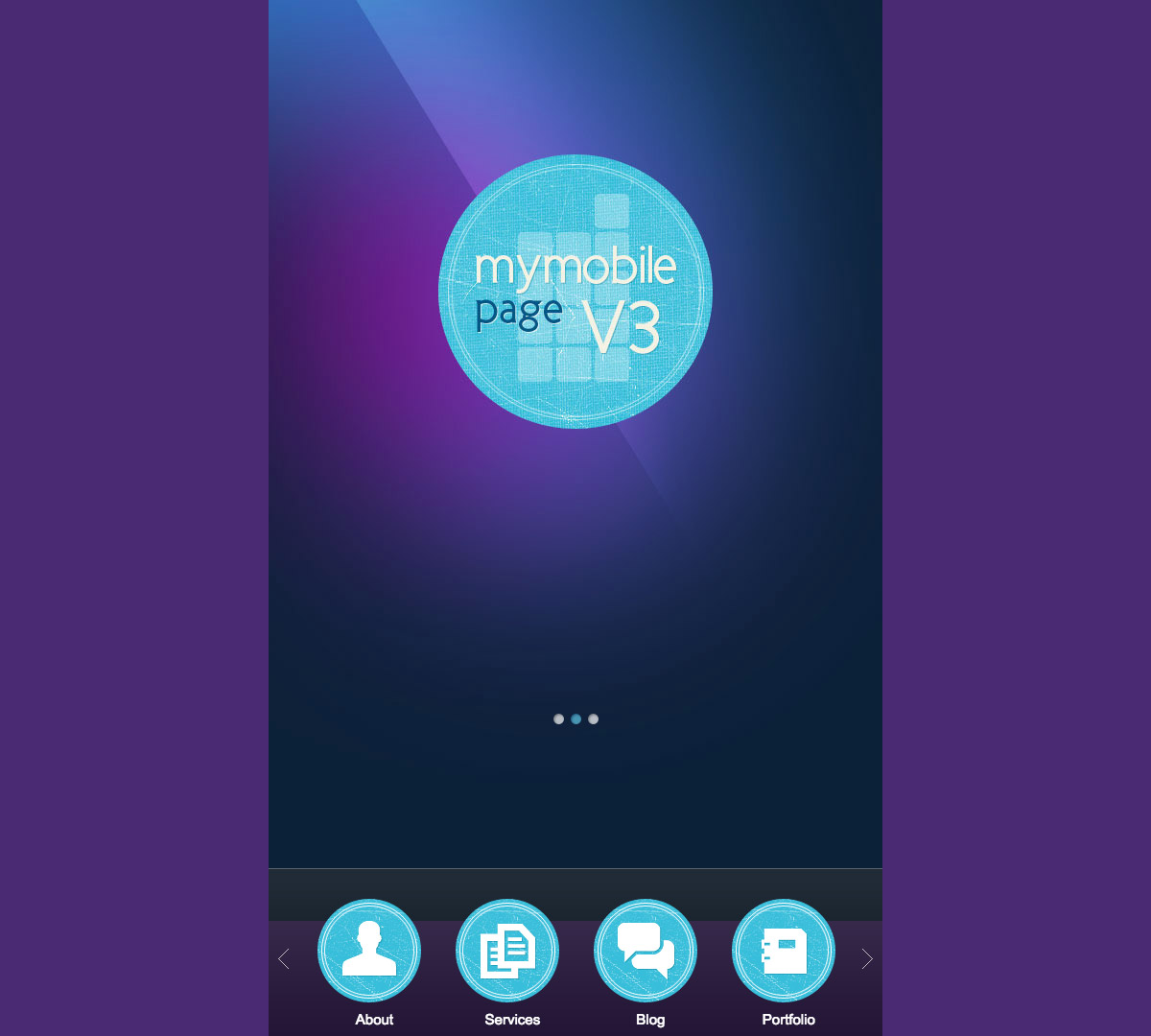 mobiTheme is a mobile theme for WordPress. It is usable either as a standalone blog or in combination with one of the many plugins that offer theme switching. It offers all the features in what a normal WordPress blog theme has to offer.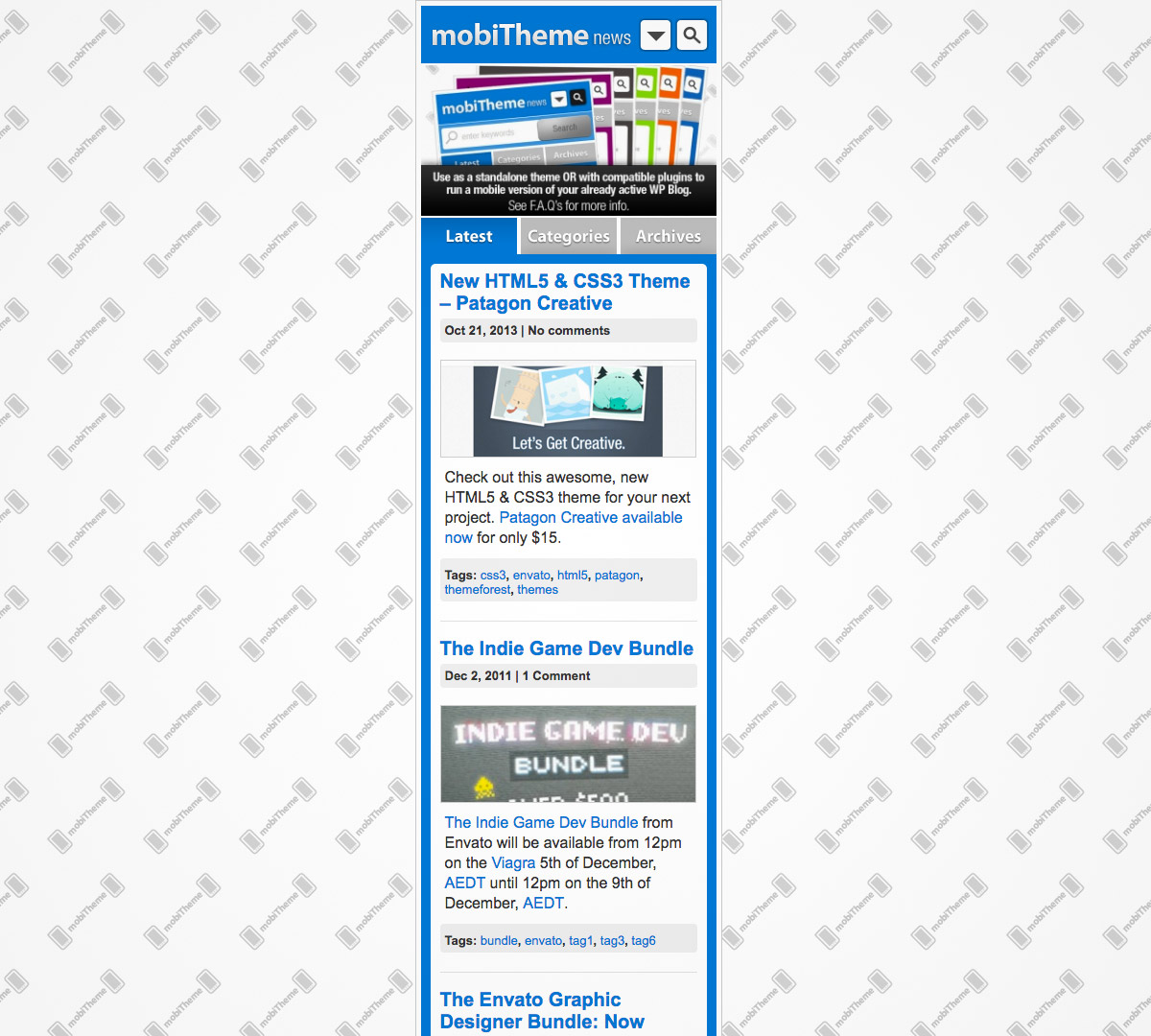 Touch is the 4th in a series of mobile WordPress themes from that is basically created for smartphones and/or tablet devices. Set it up as a secondary theme and display it only to mobile visitors, or set up a brand new WordPress installation – the choice is yours.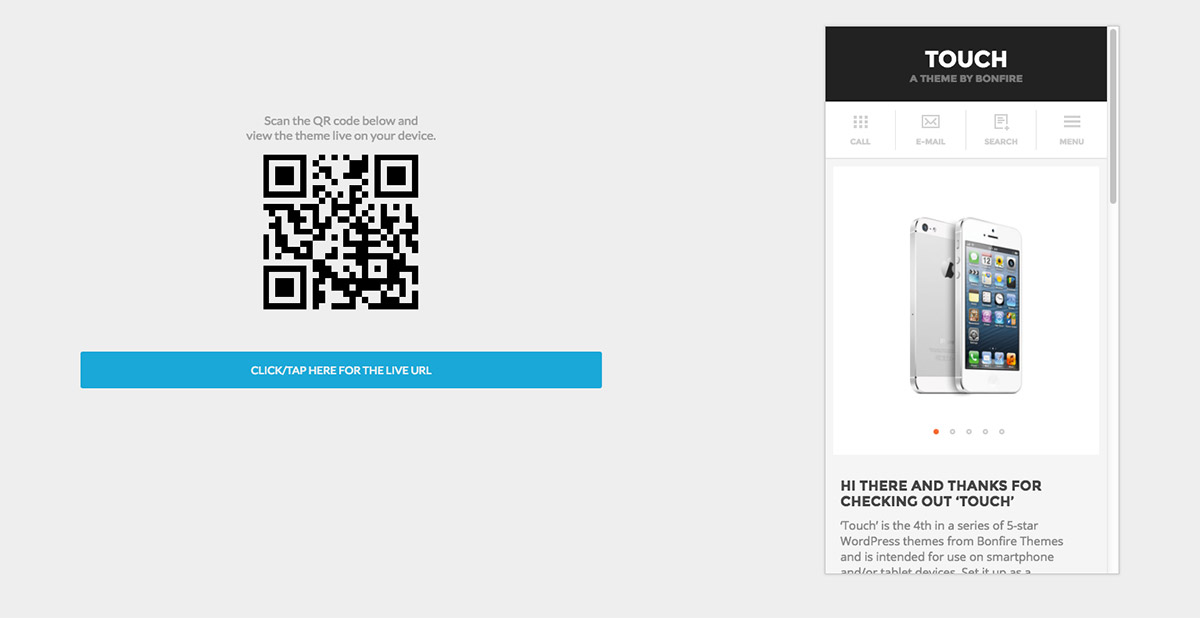 Jackdaw is designed with smartphones and tablet devices in mind. This theme can be utilized on a new WordPress installation or use it as a secondary theme – a mobile-only theme for your existing WordPress site.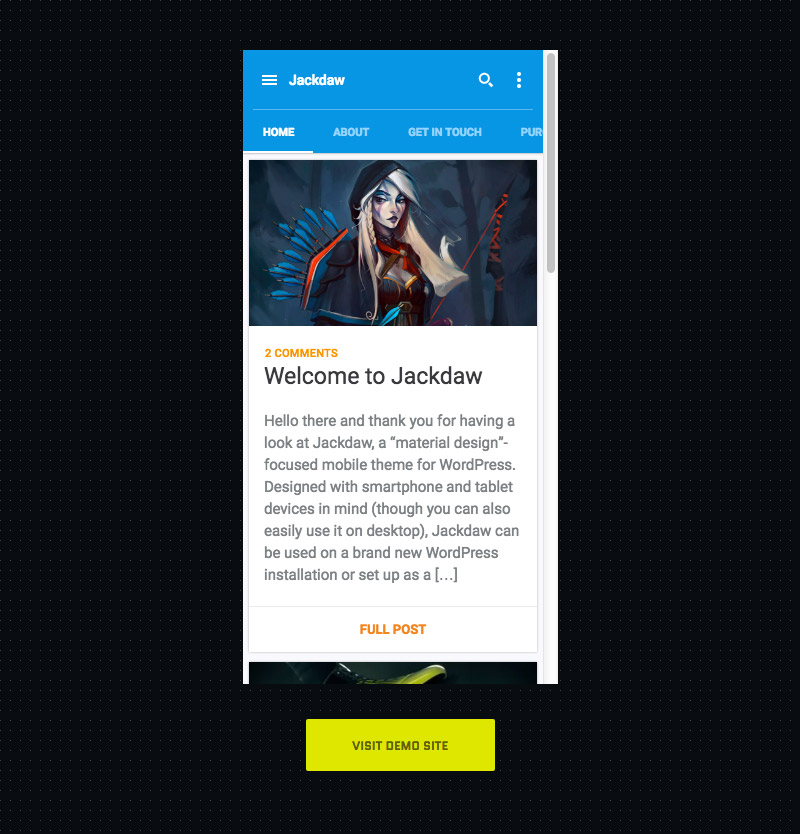 Provocateur° is template build in jQuery Mobile, HTML5 and CSS3 developed for mobile devices. It has a great features including user-friendly options, automatic installation, widgets for 404 and main pages, shortcodes, and more.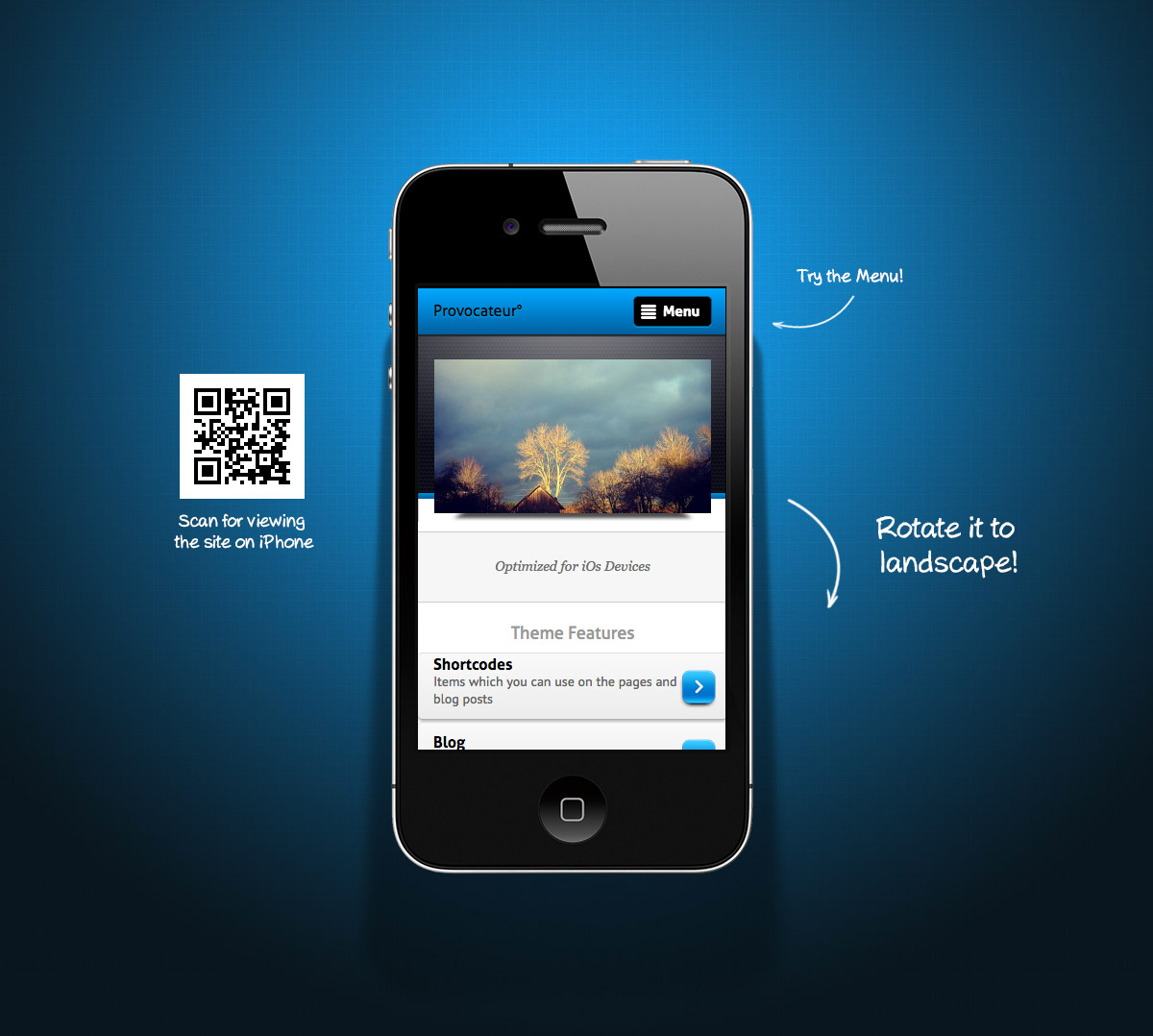 Breezy is a minimalist WordPress mobile theme. It can be used on a brand new WordPress installation or you can use it as a secondary mobile-only theme for your existing WordPress site. This theme comes with a completely customizable menu system and loading screen. Also, You can customize elements such as colors, alignment, font sizes, etc.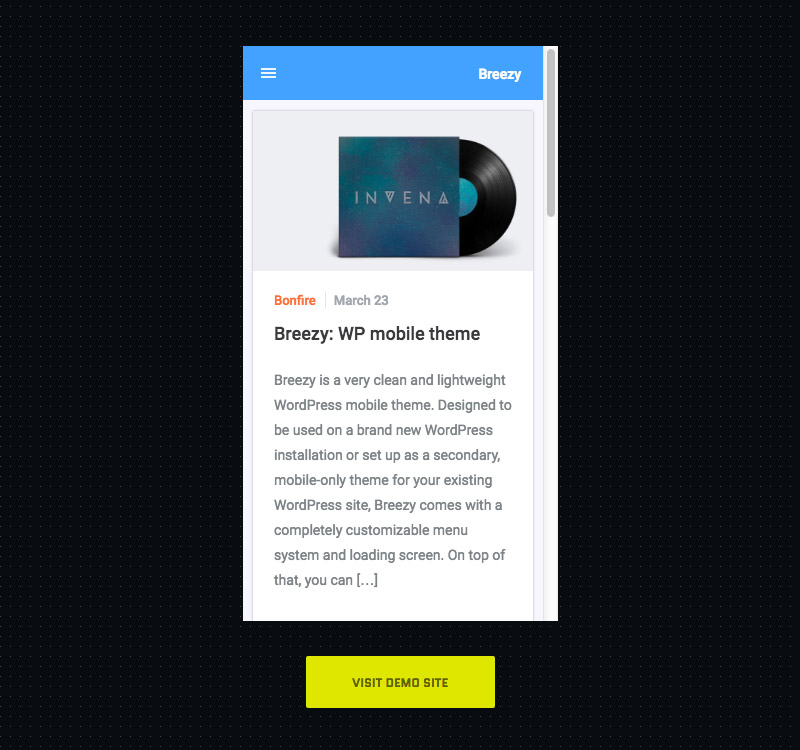 Moderner comes with a lot of great features – 6 custom page templates, custom theme options panel, shortcodes, SEO optimized, custom jQuery code, preloader with fader, and a whole lot more. This is an easy-to-use mobile framework that you can use for your own website.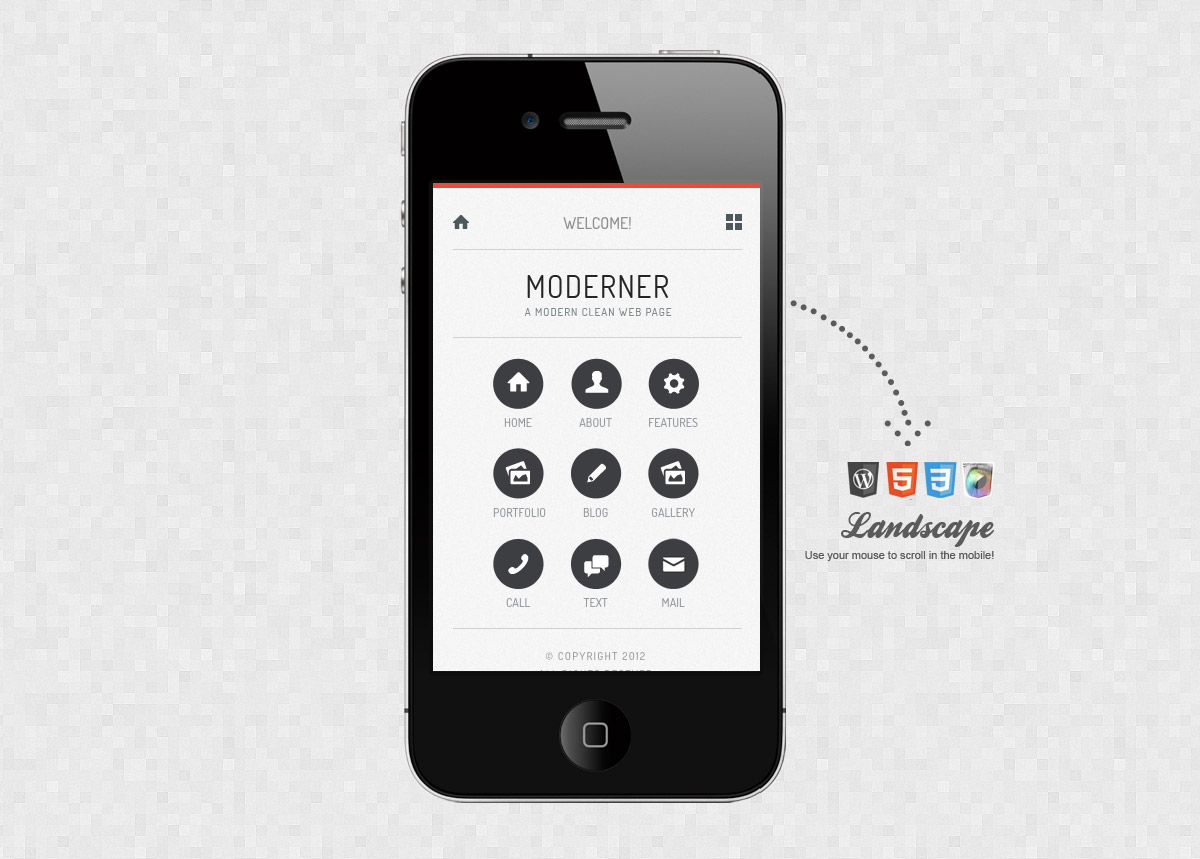 Mynt Mobile was created to be a well-defined, clean and modern-looking theme that has an overall fresh look and absolutely zero clutter. It can be used on a brand new WordPress installation or set up as a secondary mobile-only theme. It has flawless animation, very customizable, logo uploader, touch-enabled gallery, and a long list of other features.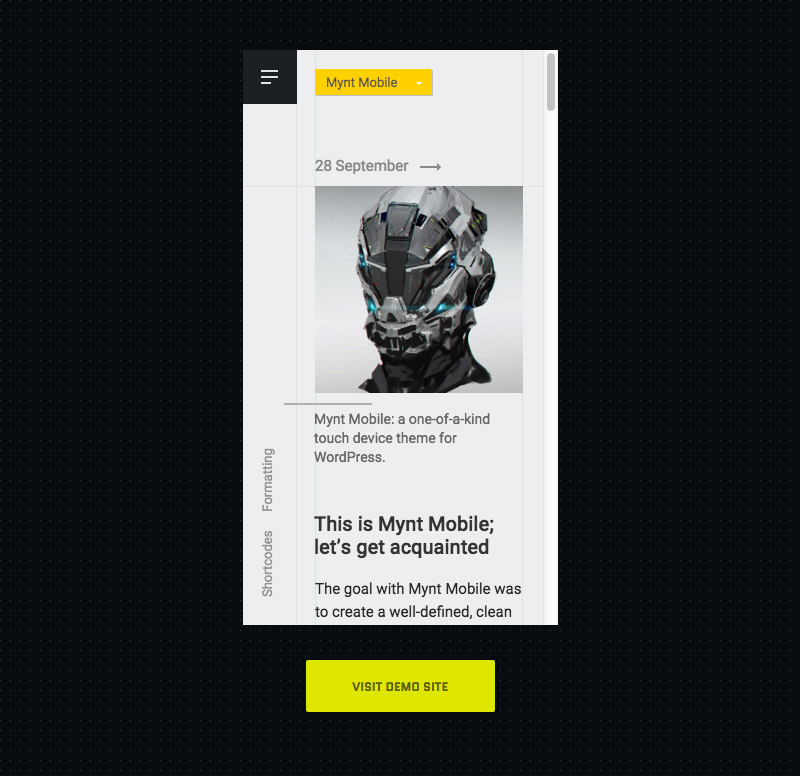 Hero is designed to be super simple to use, yet still providing great functionality. This theme has a lot to offer including 'install as web app' in iOS, unique menu, swipe/touch gallery, color scheme selections, ready-to-use shortcodes, documentation, and compatibility to Android, Windows, and iOS phones.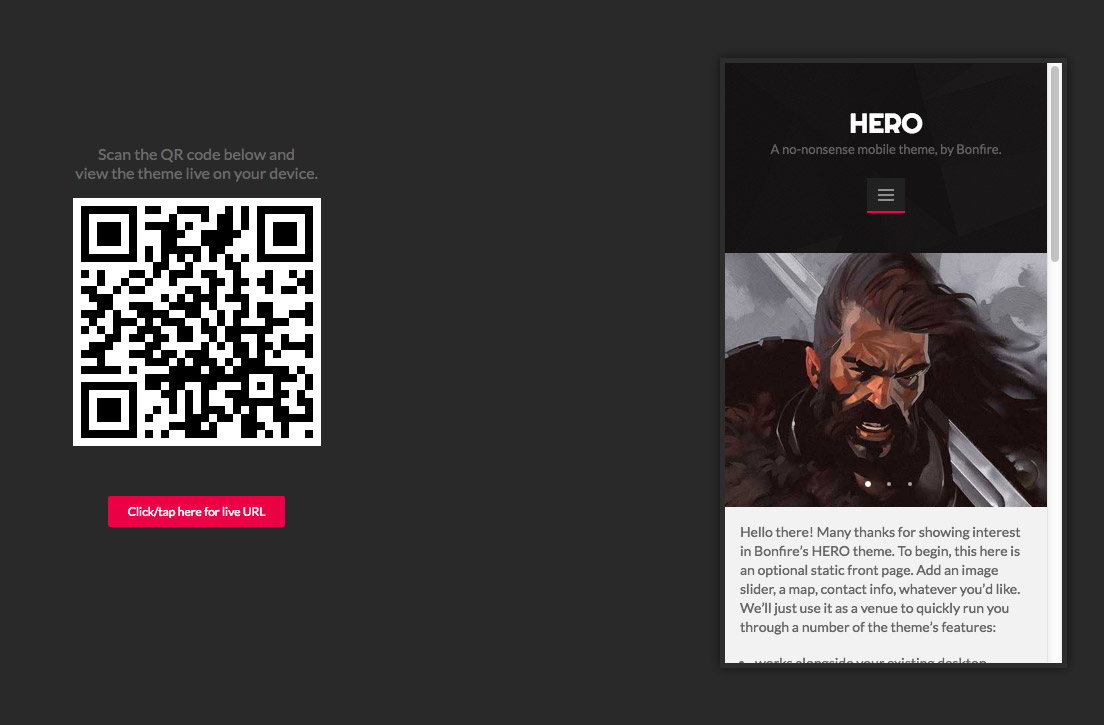 Rogue is created with easy set up options and user-friendly functionality. It has a minimalist design, fully responsive, includes a TapTap plugin that allows you to customize your header and menu system, a PageLoader plugin for customizable page transitions, font customization, and more features.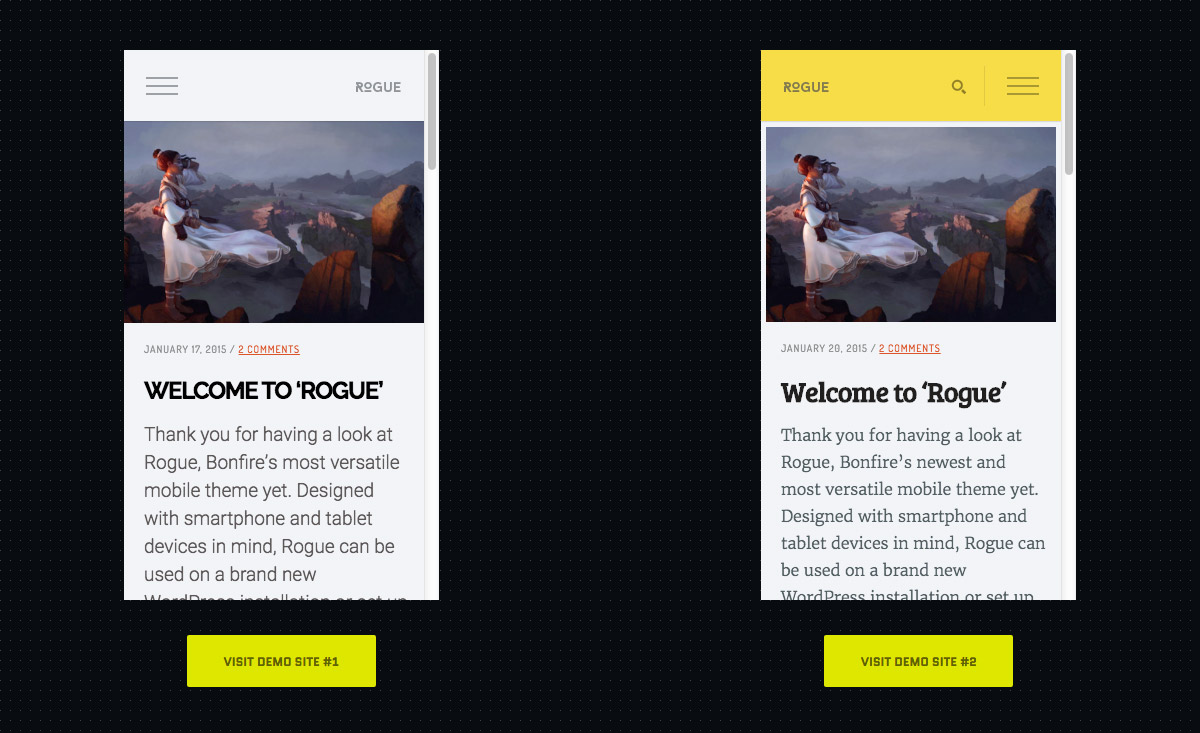 Bean is created with full customizable theme system. Bean offers a perfect mobile blog system with post format support to display your content. This theme allows you to insert unlimited category and menu item. It also supports two menus (Top Slide Menu & Right/Left Menu). In addition, Bean includes mobile retina icons for you to use.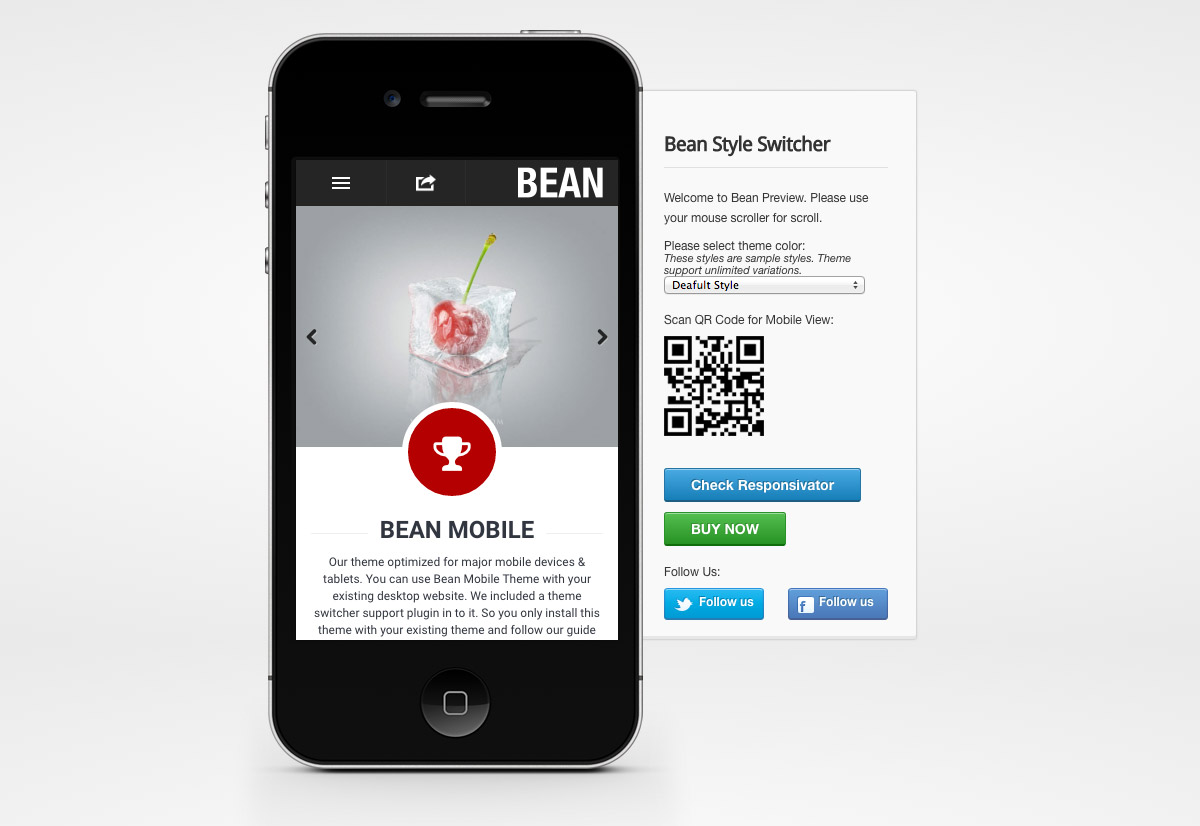 Mobit is created created with full customizable system and optimized for phones.
This theme has custom portfolio, gallery, video and Sound Cloud listing pages. You can also insert unlimited category and menu items.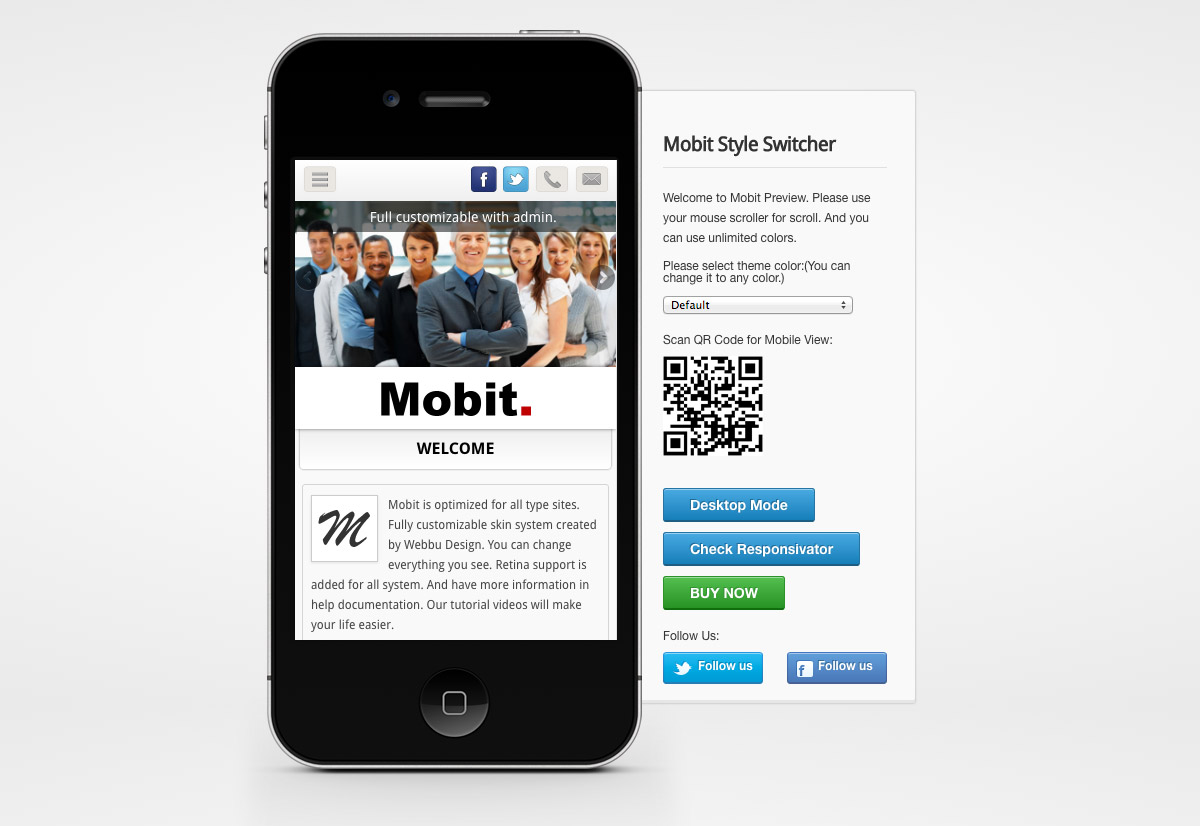 Rowe is a lightweight and fast mobile theme that can be used on a brand new WordPress installation, or set up as a secondary mobile-only theme on your existing WordPress site.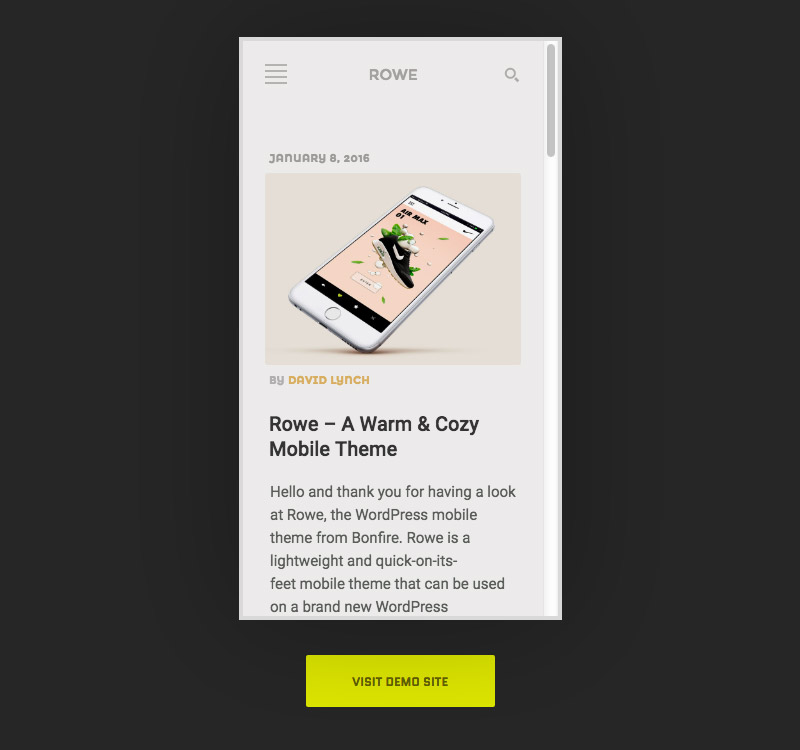 Sweipe contains awesome features including easy installation with demo content, can be integrated to your desktop theme, installation video, drag&drop page builder, powerful option panel, live customization, custom widgets, and more.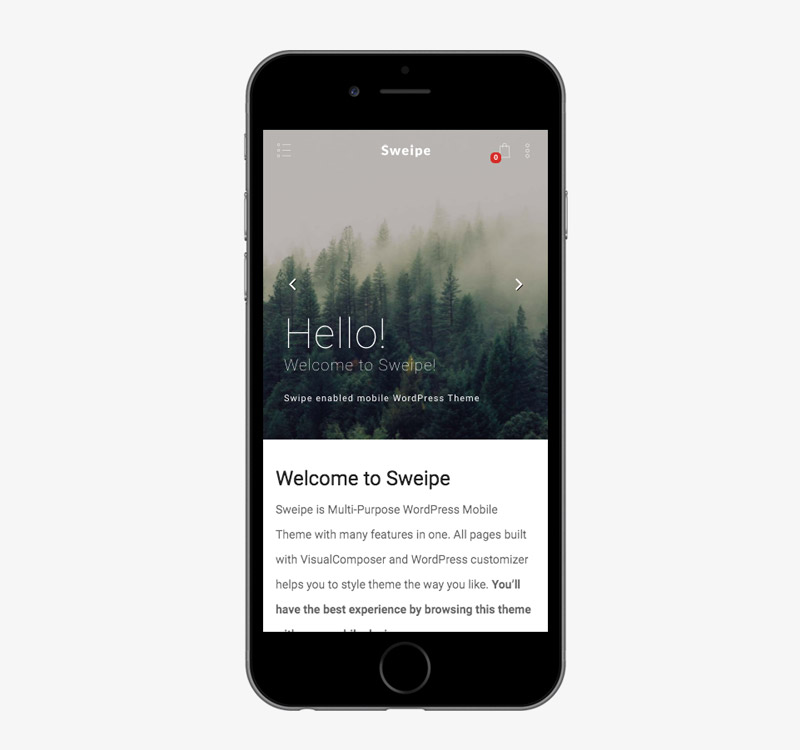 FlatMobile's main features includes easy installation of demo content, integration with desktop themes, video installation, drag & drop builder, custom codes CSS and Javascript, SEO compatibility, WooCommerce compatible, child themes, etc.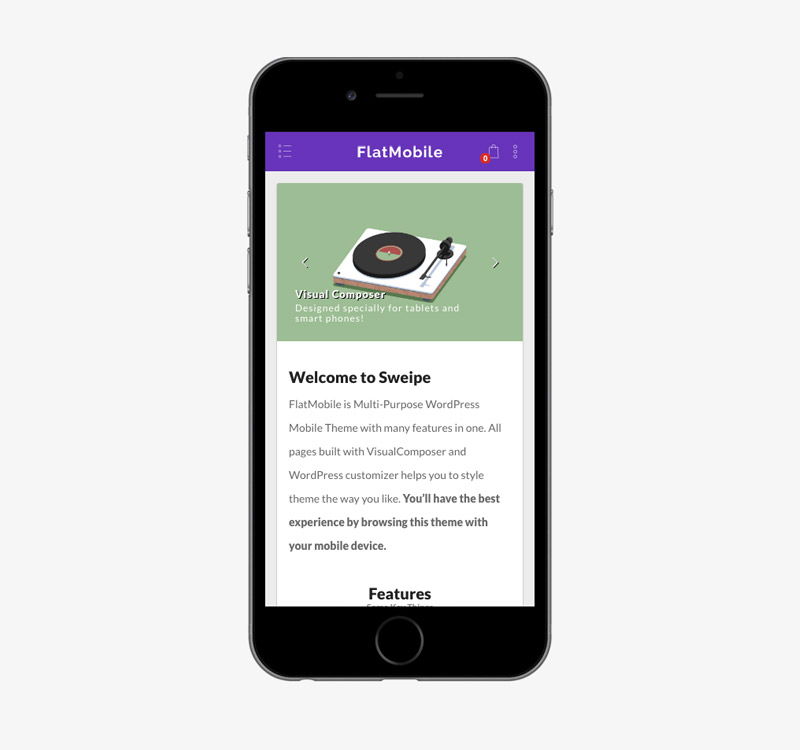 AURA Mobile Theme is created with full customizable theme system. This mobile theme is support image icons as well font icons with limitless color schemes to choose from. The theme's icons are retina ready and it also includes FontAwesome & 370 image icons.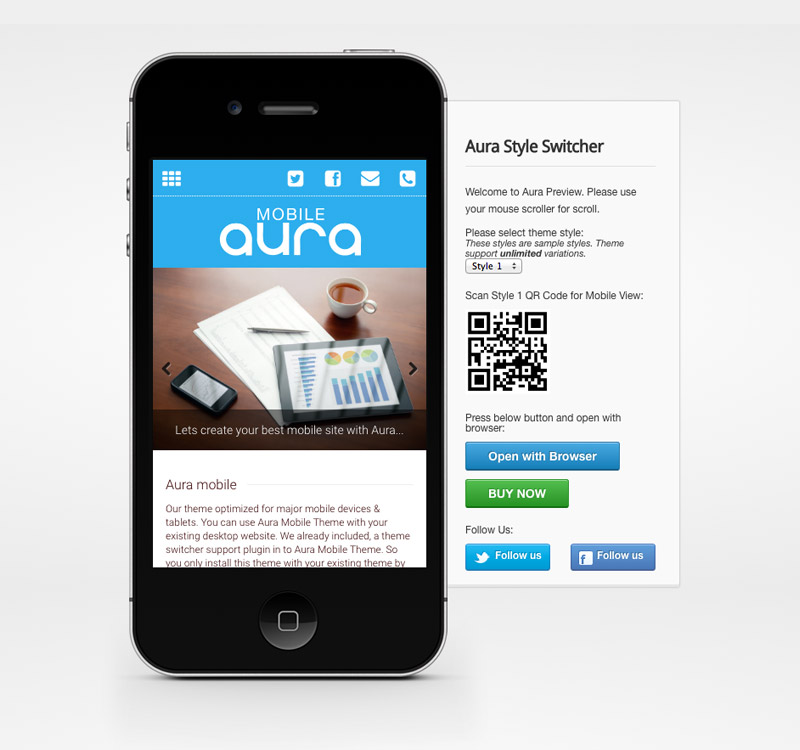 Metro Mobile Template enables you to create your own metro mobile tiles and styles. It includes 13 sizes of metro tiles, unlimited color schemes, support for multiple photo gallery, wall documented, and more.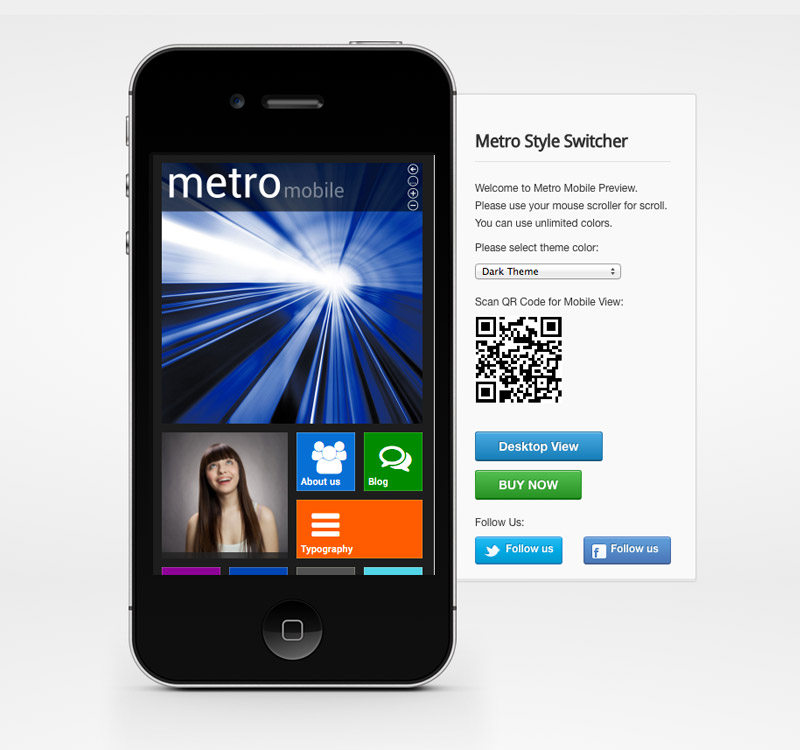 Mobilize is a touch optimized mobile WordPress theme built on jQuery Mobile and is loaded with features. The homepage has a touch optimized responsive slider with 24 transitions (swipe with your finger!), optional captions, social icons and more. The interior features a touch optimized gallery, contact form, blog with featured images and featured videos, tons of shortcodes and more.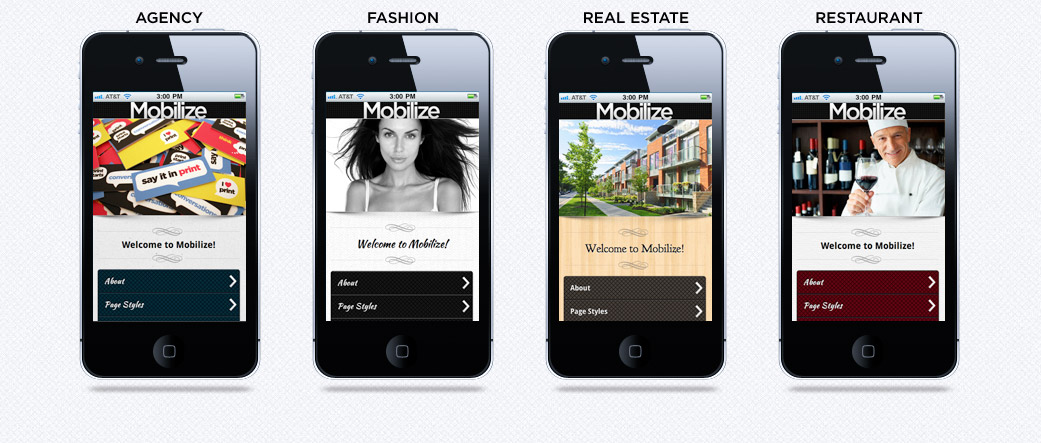 DuoDrawer mobile WordPress version that contains 6 custom page templates: home page, general page, blog, one-column portfolio, three-column portfolio (swipable), contact page. It also has theme options panel that will enable you to customize the theme to your own preferences.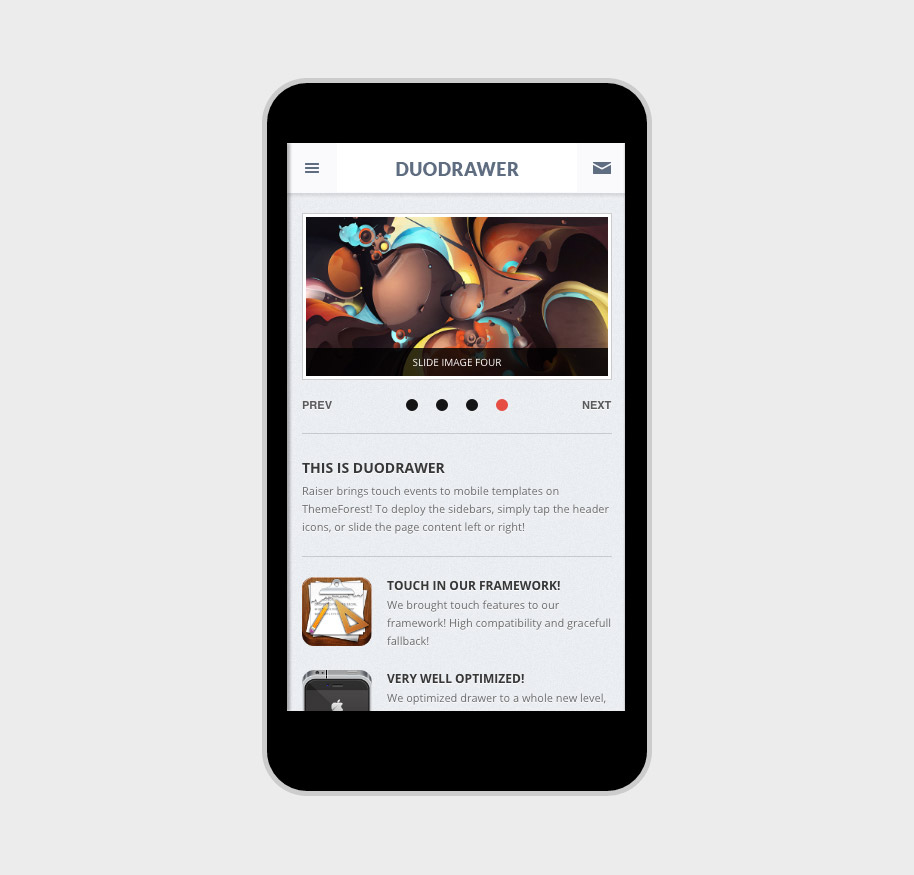 Nightly Mobile is a multipurpose mobile WordPress theme based on jQuery Mobile. It enables you to have a perfect mobile theme that you want through its fully customizable styles and options. Its wide range of supported devices makes it great choice to use alongside your desktop theme. Its modern and professional UI's are perfect for all types of websites – from agency, blog, freelance, personal, portfolio to professional presentation, gallery and e-commerce shop.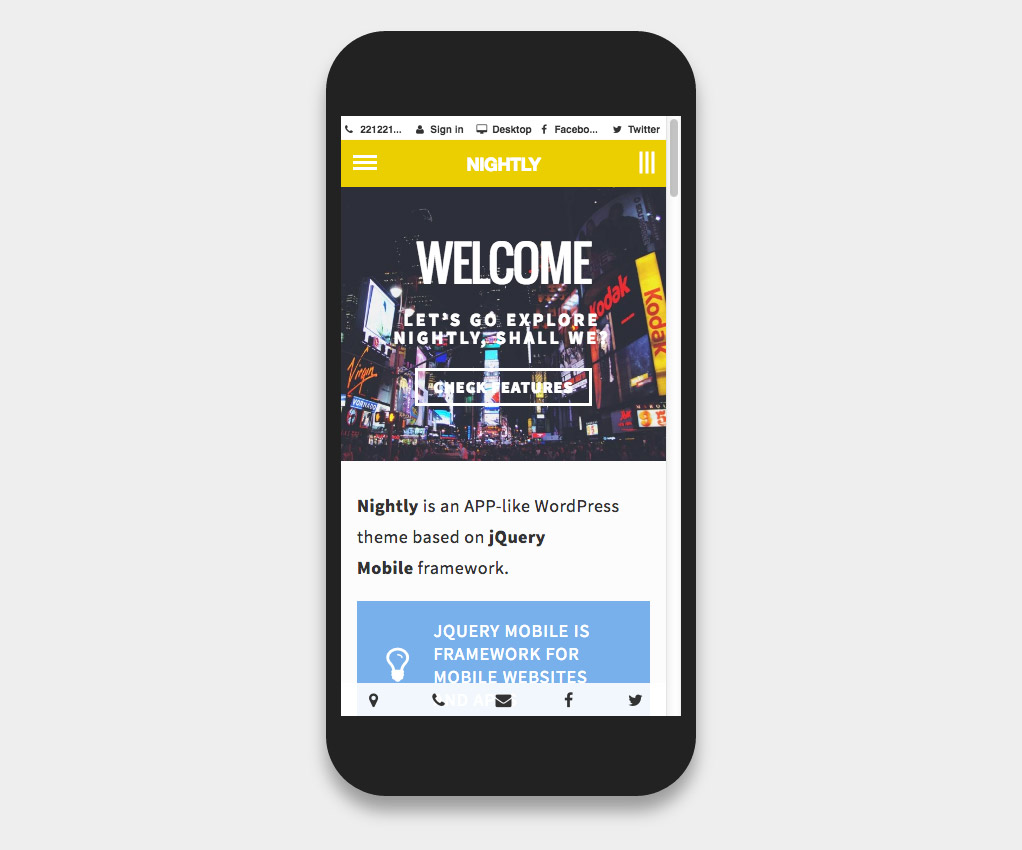 Have something in mind related to web design, freelancing, and other awesome stuff? Let us know and maybe we'll feature it on our next post. All your comments and opinions are appreciated. Let us hear em up in the comment box. Thank you and see you again mate!