Today, we have all the reason to celebrate. A new year just unfolded and tons of new exciting things are happening for Naldz Graphics. We are really happy that we have reached the fourth year in catering to your design and freelancing needs through helpful articles we post every day. Another great year is about to begin as we take our journey to development and improvement. We are indeed blessed for being given this chance to still offer you limitless design resources, inspirations, tutorials and tips here in Naldz Graphics. We are celebrating for you are still with us all through these years.
Adding a year to our milestone gives us all a feeling of having a fresh and abundant beginning even if we had been here for a long time now. We seem to feel a blast of pride as we spark changes for expansion and progress. A big flare seems to signal that something huge waits for us. With that, as we eye for the growth of Naldz Graphics, we are also taking a good look on how we can offer you better posts since it is the best gift we can give you for untiringly staying with us this long. Also, look forward for a really big blast that we have prepared for all of you.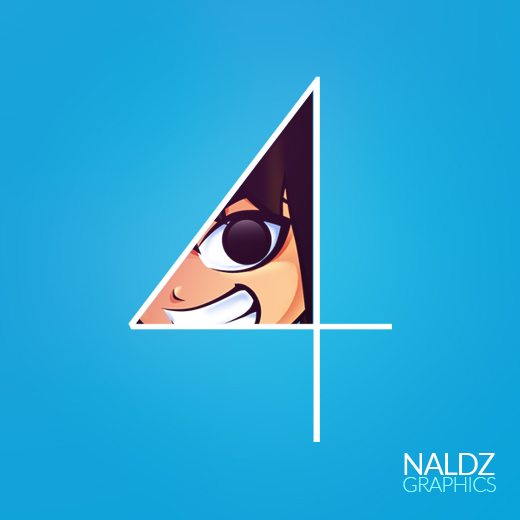 Fun Giveaways…
I have a surprise to all avid readers and followers of Naldz Graphics. This is one way of saying thank you for unceasingly patronizing and supporting us. Well, I had been wondering what gift would be best to express my gratitude and I came up with a thrilling decision. As we celebrate Naldz's fourth birthday, we will be giving away iPad Mini and iPod Nano to four lucky readers. Yes, you read it right. It would be yours, right on your very palms simply by leaving your email. Your ticket towards getting our grand giveaways is just below this post.
Prizes
1 iPad Mini – 1 Winner. Either White & Silver or Black & Slate. 16 Gig. Wifi Ready.
3 iPad Nano – 3 Winners. 16 Gig. Any color of their choice.
Terms & How to Join
Enter your email in the form below.
Only one email entry per person. Duplicate email entries will be disqualified.
Free shipping to anywhere in the world.
Contest Runs until February 28, 2013.
Winners will be contact right away using the email you've entered.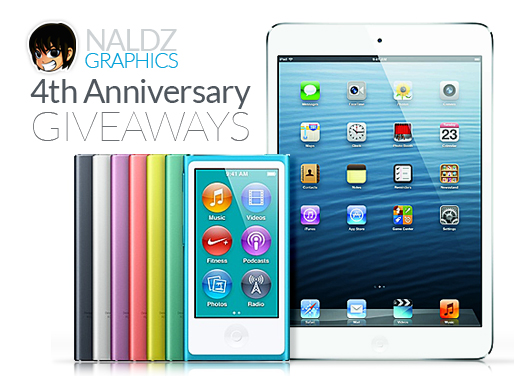 But before we engross ourselves to these giveaways, I am once again sending you our heartfelt gratitude for allowing us to exist this long. For me, this is my year, our year and your year- it is for all of us who would like to upgrade and enrich ourselves. Let us make a blast! Look forward for more surprises in Naldz Graphics!
---
Update:
Winners:
iPad Mini
Ehsan Gulin
iPod Nano
Jermaine Cavanagh
Andrew Willsons
Holley Travis
---