Web design galleries are created for the purpose of serving an inspiration to the designers and developers. This is where you can find the collection of the best works and fantastic website designs online. Also this serve as a away to get some exposure on every new comers websites, So if you have a beautiful website, you may also submit yours into these galleries.
In this article, you will find our collection of 30 Web Design Galleries for your Inspiration where you could extract creative juices from the top designs on the web. We hope that you will enjoy in browsing at these galleries and could find your favorite pick.
You may want to take a look at the following related articles:
• 45+ Inspiring Examples of Vintage in Web Design
• 40+ Examples of Horizontal Scrolling Websites
• 40 Rocking Band Websites for Inspiration
Unmatched Style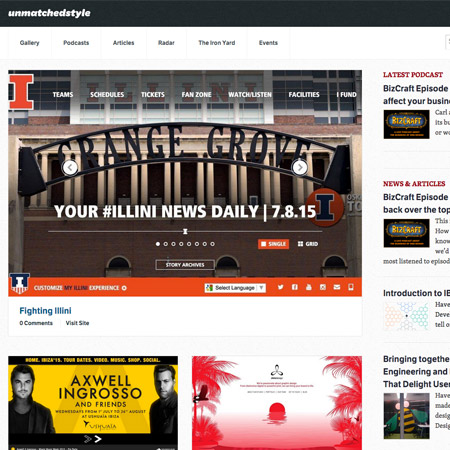 This CSS design gallery offers a wide array of web designs that nicely provide inspiration for its readers through their informative articles. Plus, they also have some interviews and discussions with various web designers around the world.
CSSREMIX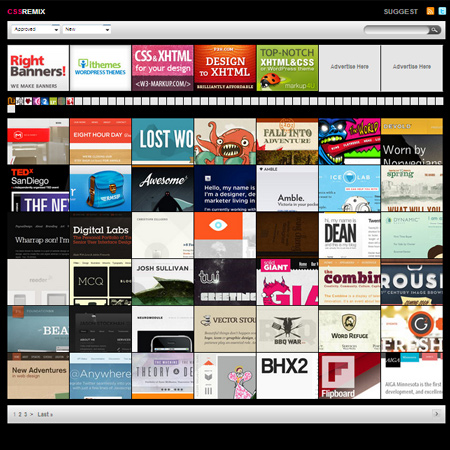 CSSREMIX is a thumbnail-style web design gallery created by John Mills wherein it features some of the best designs on the web.
Visit Site
HTML Inspiration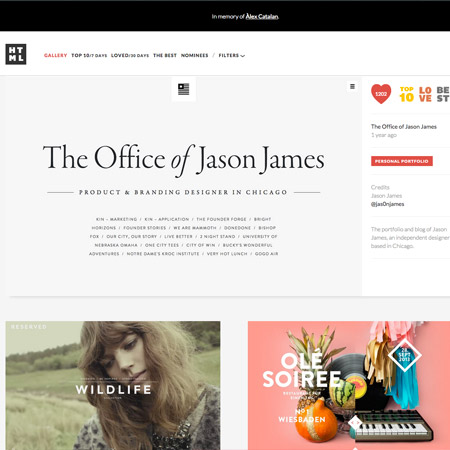 What I noticed in this gallery website is its beautiful minimal design that boosts the distinction to the featured web designs, resulting to a quite enjoyable viewer experience for its readers.
cssdesignyorkshire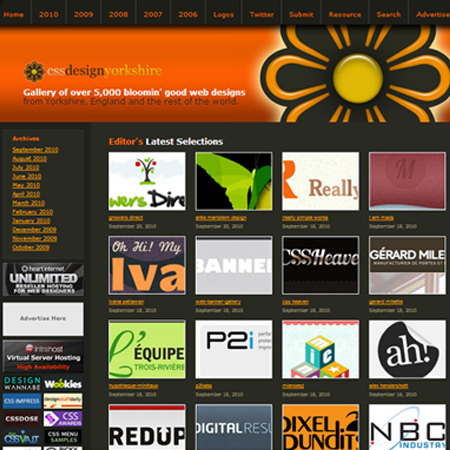 CSS Web Design Yorkshire is a web gallery created by css web designers in the Yorkshire region who build tableless websites using cascading style sheets with good semantic xhtml.
cssnature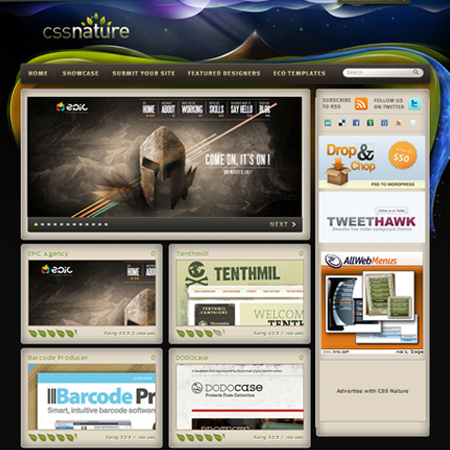 CSS Nature showcases the best nature inspired CSS and FLASH website designs from around the world.
Visit Site
WP INSPIRATION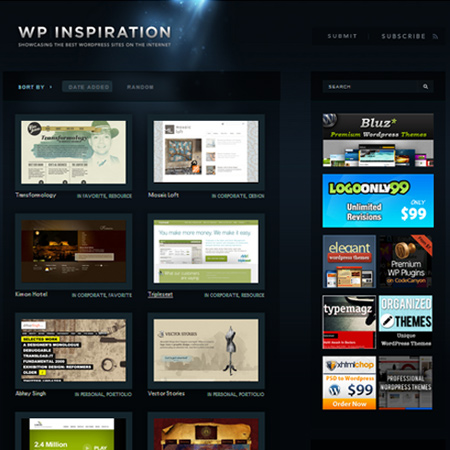 WPInspiration is a web design gallery that presents a collection of the best-looking WordPress powered sites on the internet.
Visit Site
csswebsites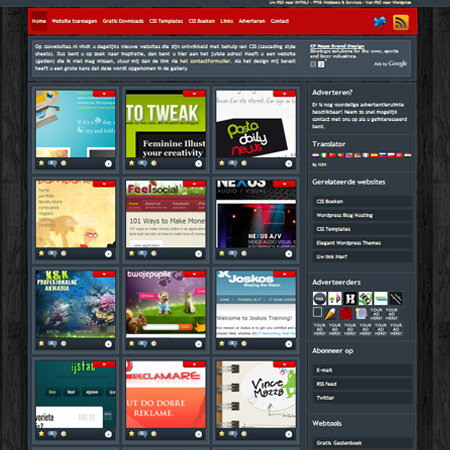 Css Website is created from simple websites wherein its purpose is to expand the CSS design community by presenting the designer's work.
Visit Site
Make Better Websites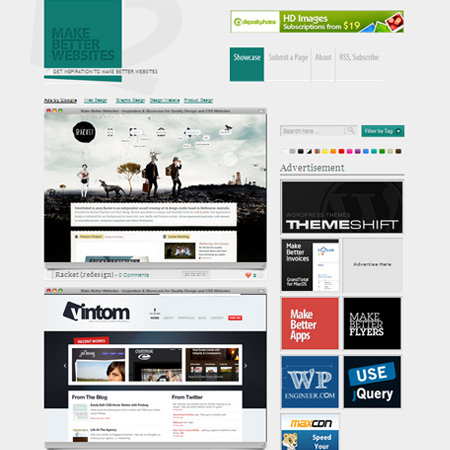 Make Better Websites is a web design gallery where you could get inspiration to make better websites.
Visit Site
css design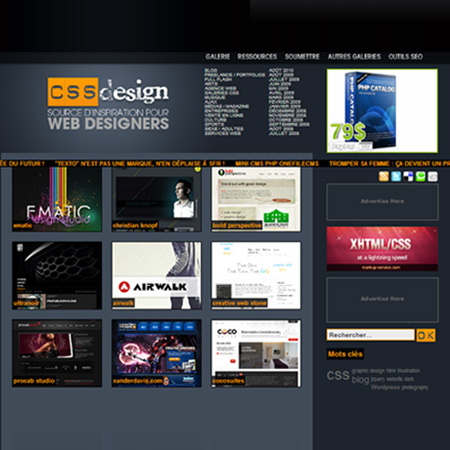 CSS Design is a web design galley that presents the best designs in the world.
Visit Site
web crème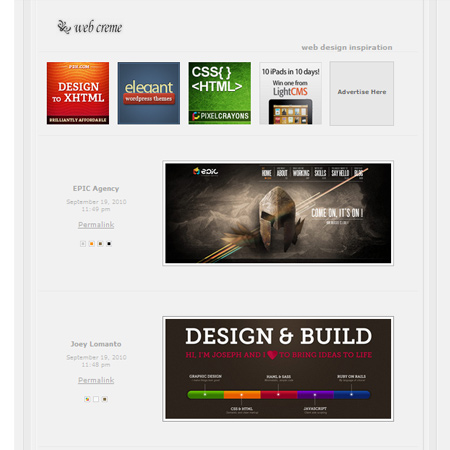 Web crème is a web design gallery that features daily examples of the cream of the crop in web design.
Visit Site
css creme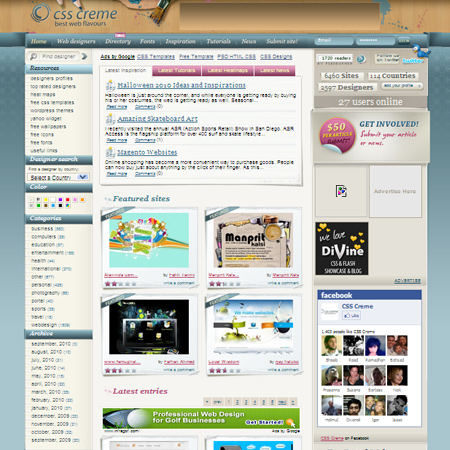 CSS creme has a goal of becoming a showcase of best designed websites.
Visit Site
Minimal Exhibit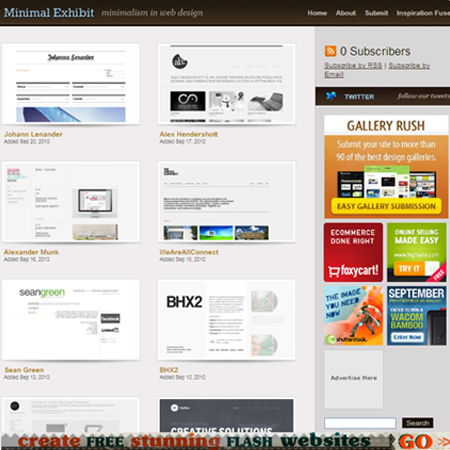 Minimal Exhibit is a web design gallery that showcases the best websites that feature a minimalist design style.
Visit Site
thebestdesigns.com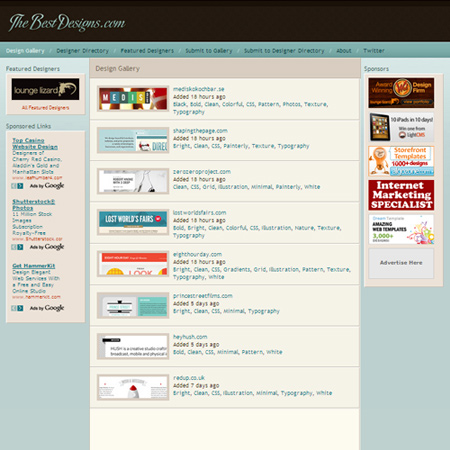 The Best Designs is a web design gallery that features the selected web designs, design resources and articles being updated weekly.
Visit Site
Web Upvan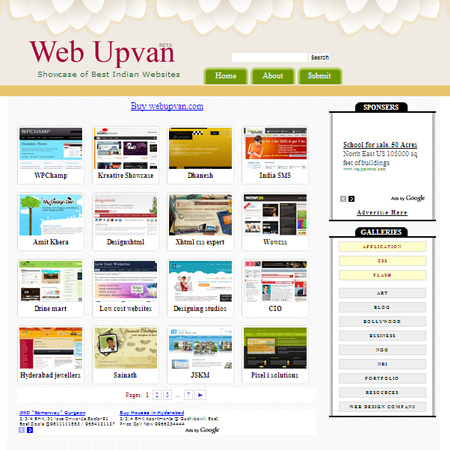 Web Upvan is a web design gallery specifically created by Indian web developers to showcase the best websites designed by designers from India.
Visit Site
designbombs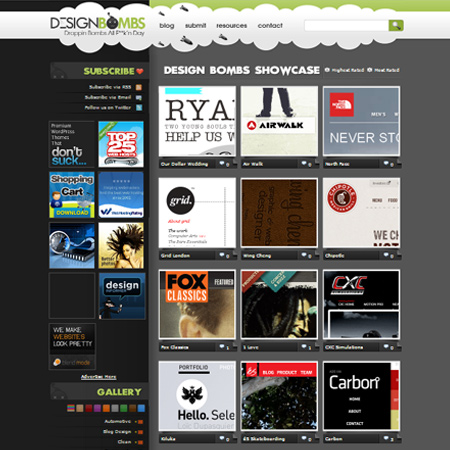 DesignBombs can only be described as quoting the site's tagline: Droppin Bombs All F**k'n day.
Visit Site
CcsLeak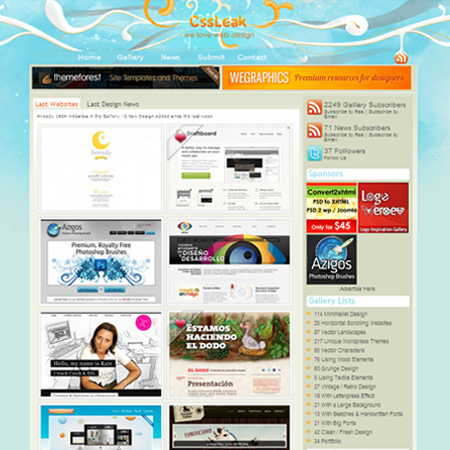 CssLeak is an inspirational Css gallery site that features the world's best web design like CSS, Blog, Portfolio, and Illustration.
Visit Site
cssarts.com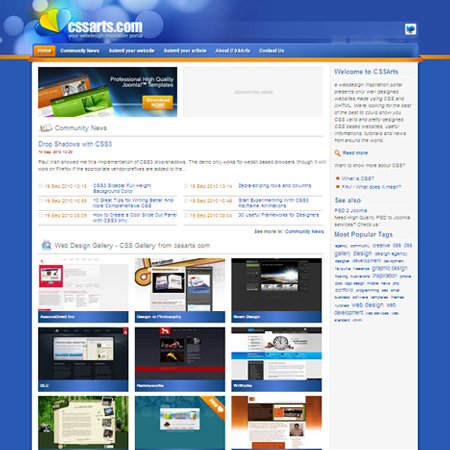 CSS Arts is a web design gallery that showcases web designs submitted by web designers from around the world.
BestWebGallery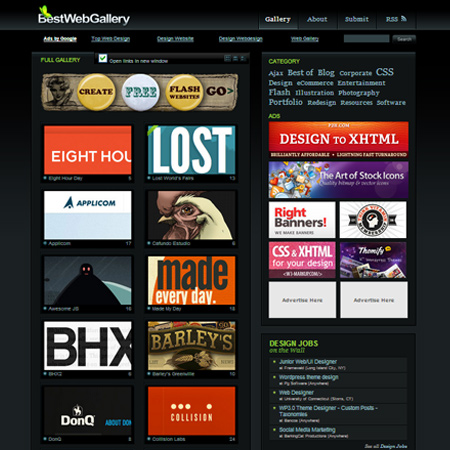 BestWebGallery is a web design gallery that showcases all the best design Flash and CSS websites on the web.
Visit Site
Dzinemart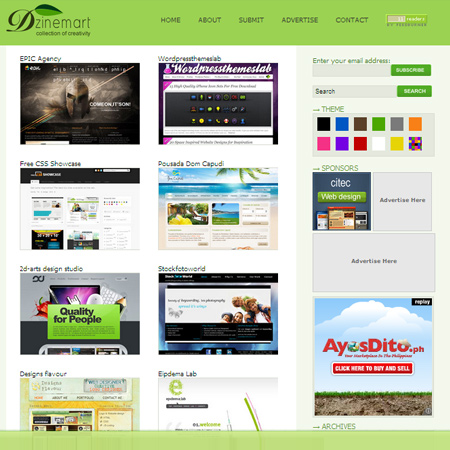 Dzinemart features a collection of latest trend and stylish CSS websites for web design Inspiration.
Admire the Web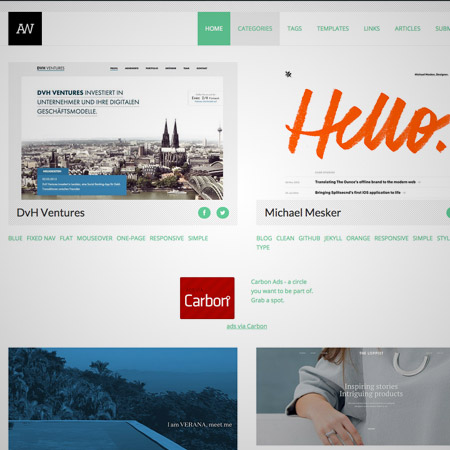 This web gallery also incorporates a minimalistic design to give emphasis to the featured websites. Moreover, not only they are nicely organized for a care-free browsing, they also have web-design-related articles that makes it even an easier and enjoyable user experience.
Visit Site
The Design Inspiration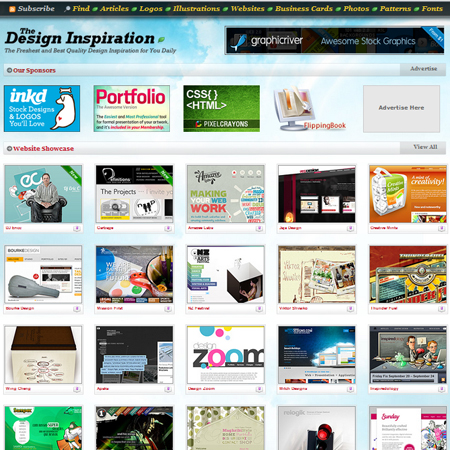 The Design Inspiration is created by a group of designers who are seeking various design inspiration every day..
CSS MANIA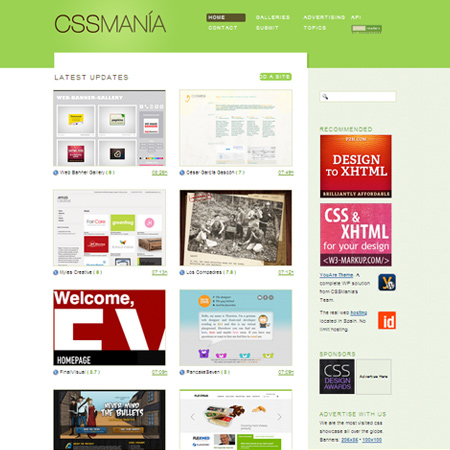 CSS Mania is a website design gallery which allows the users to vote on the web's most popular web designs.
Visit Site
CSSelite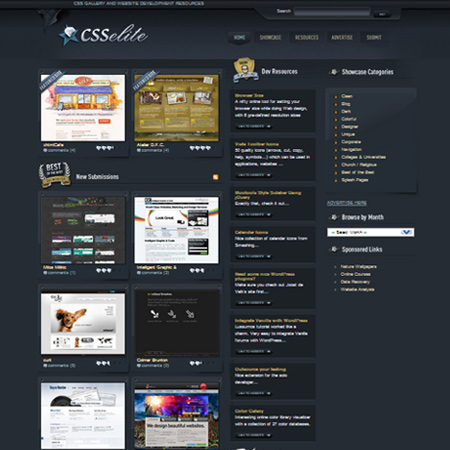 CSSelite is an inspirational gallery site that collects a wide range of quality design websites like Flash & CSS.
Visit Site
CSS Fresh Blend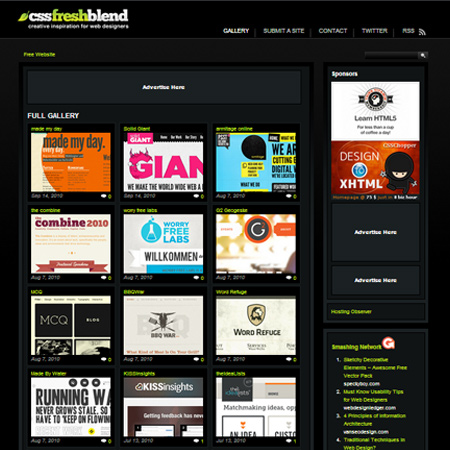 CSS Fresh Blend is a design gallery inspiration for Web Designers which presents a collection of well crafted blend of beautiful websites & creative web jobs.
Visit Site
Css Brigit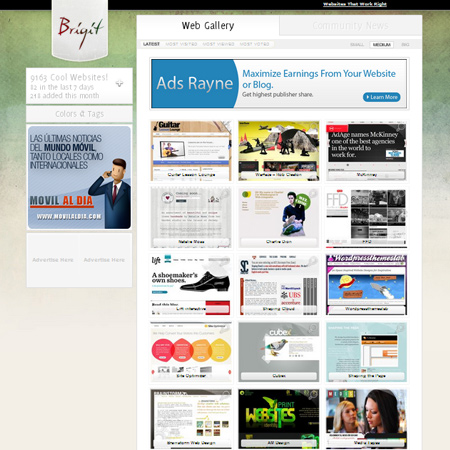 Css Brigit is the most actualized CSS Gallery and an archive of community links about web design, web development, photograpy, resources, etc.
Visit Site
DiVineCSS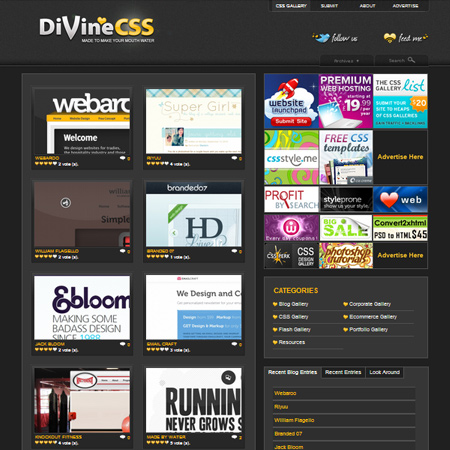 Divine CSS is one of the world's most inclusive online CSS galleries which showcases some of the world's best designed CSS and Flash websites.
Visit Site
CSSBAY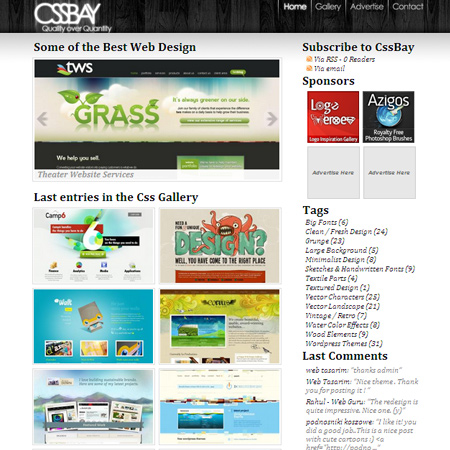 CSSBAY features the best designs and focuses more on quality over quantity.
Visit Site
CSS luxury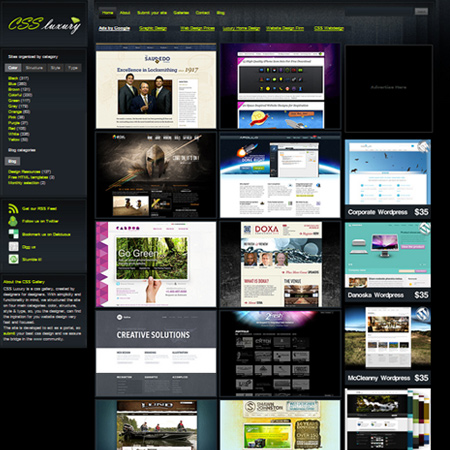 Css Luxury is a design inspiration gallery which is structured in 4 categories (type/color/structure/style) to provide the best design information for the end user.
Visit Site
CartFrenzy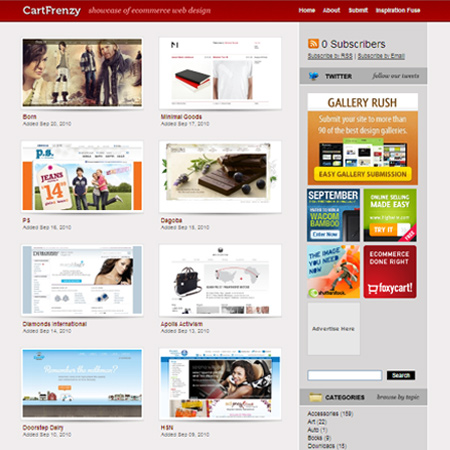 CartFrenzy is a web design gallery that showcases the best design works for e-commerce sites.
Visit Site
Site Inspire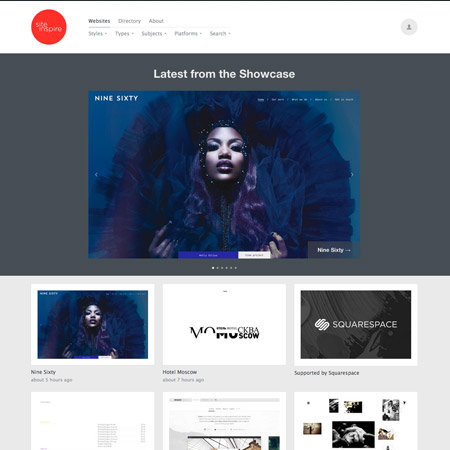 Site Inspire is another web gallery that has minimalist design and showcases handpicked website designs that are inclined to cleanliness and simplicity. They have certain criteria that they follow in order to feature a website so you are assured of the best websites for your inspiration. Plus, they are well organized with tags and categories for your easy browsing.
Visit Site