Web Hosting Search is a website that details what website hosting is all about.Even a beginner can understood how web hosting worked from this website. You should not belittle the wealth of information; it can turn you from a complete ignorant to a web hosting expert. WHS is a resource where all the information you will ever need about web hosting is located.
First off, they understand the needs of those people searching for a web host. WHS details each web hosting service as well as provides a venue for users to comment and review the services themselves. This, in my opinion,is a trait unique to them. Here are the information you can expect from this website.
Detailed Information on the Different Web Hosts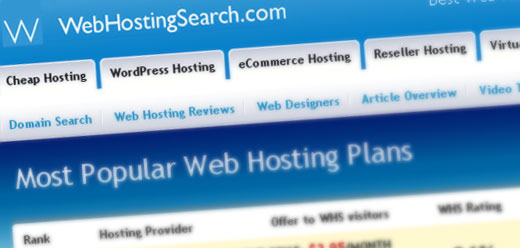 Some people say that you should never entrust your money with a service unless you know the service itself. Compare different solutions so that you can find the service most suited to your needs.
If you are a beginner to the different kinds of web hosting, Web Hosting Search can help you. They have a series of articles about web hosting along with a short portion at the bottom of the website regarding different kinds of web hosting such as shared web hosting, free web hosting and server hosting. Apart from that, they also have information on other types such as PHP web hosting, ColdFusion hosting and Java web hosting.
A Clear Ranking on the Top Web Hosting Services
Also, if you are lost as to which web hosting services are the top ranked;you can easily see the rankings in this website. But these are not merely the rankings of the website owners. The unique thing with Web Hosting Search is that they let users rank the providers. With this, you can easily see the pros and cons of the websites through user reviews. This is pretty helpful if you will ask me.
In-Depth Review on Web Hosts
If you are wondering about the features of a particular web hosting service, then you will do yourself a favor by traveling to Web Hosting Search and see the in-depth reviews from users. They do not merely provide information or create a review simply because they are paid. These people are real users who have tried the web hosting service firsthand. With this, you can be sure that the web hosting service you are going to choose is really of quality. After all, people will not give good reviews on it if it is not.
Web Hosting Search is the answer when you are lost in finding the right web hosting service that will fit your needs. From basic information regarding different forms of web hosting to reviews of the web hosting services themselves, Web Hosting Search will help you every step of the way. This is truly a one-stop guide for those people who are beginners in creating their own websites.