In line with our numerous collection of WordPress themes, we bring you another compilation of the same themes but with newer and more unique style, layout and of course, features. Given the fast pace of web development, many developers have innovated or upgraded several of their creations to keep up with the rise of technology. This 29 New Magazine WordPress from Themeforest is a fresh set of premium magazine wordpress themes that will surely intrigue you more.
Come and browse through our latest offering and get the chance to grab the latest WordPress themes and make your blog more interesting by shedding out its old theme. Brief features, as usual, are listed after the image so be sure to read them first. Have fun!!!
This first feature is a fresh theme that will enable you to have a clean and modern-looking blog website. It has a set of great features that includes 7 blog layouts, 6 custom widgets, support on wide array of post format/media, beautiful layout on any mobile screen, clean code, and more.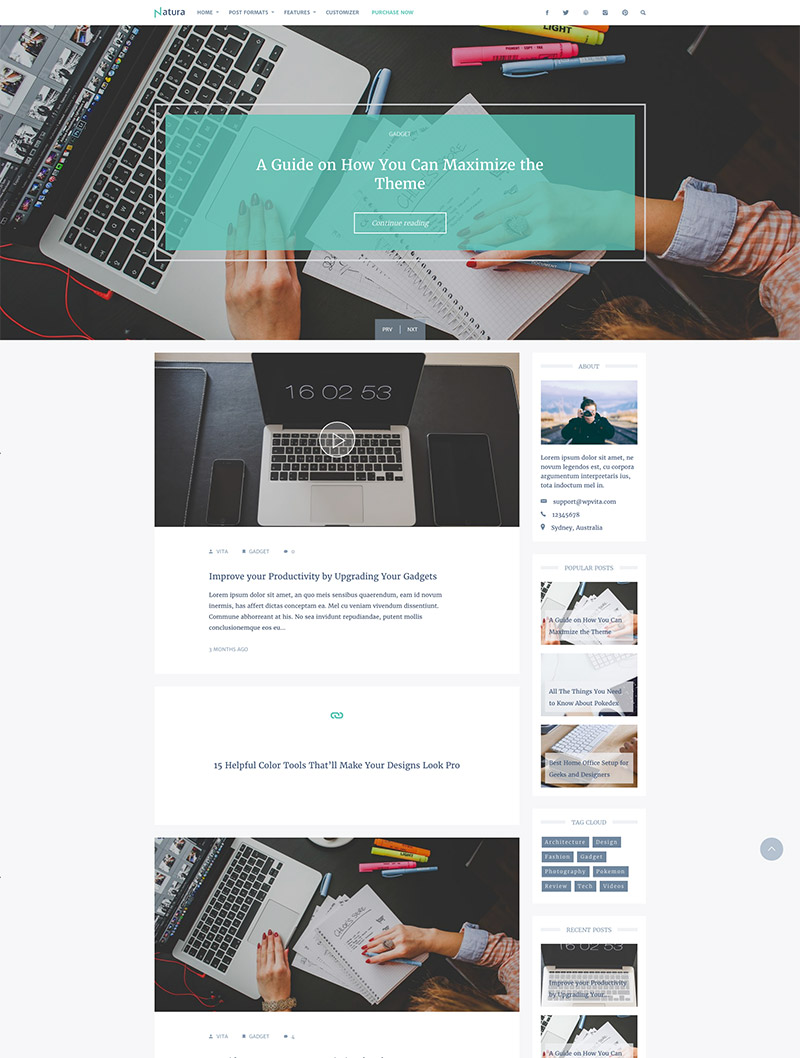 Storyteller is a blogging theme with customizable accent color, fullscreen galleries and several elegant layouts (including 2-column, 3-column and Masonry). This theme also has responsive layout that will make your website beautiful in any devices, and retina-ready display with a clean and minimal design.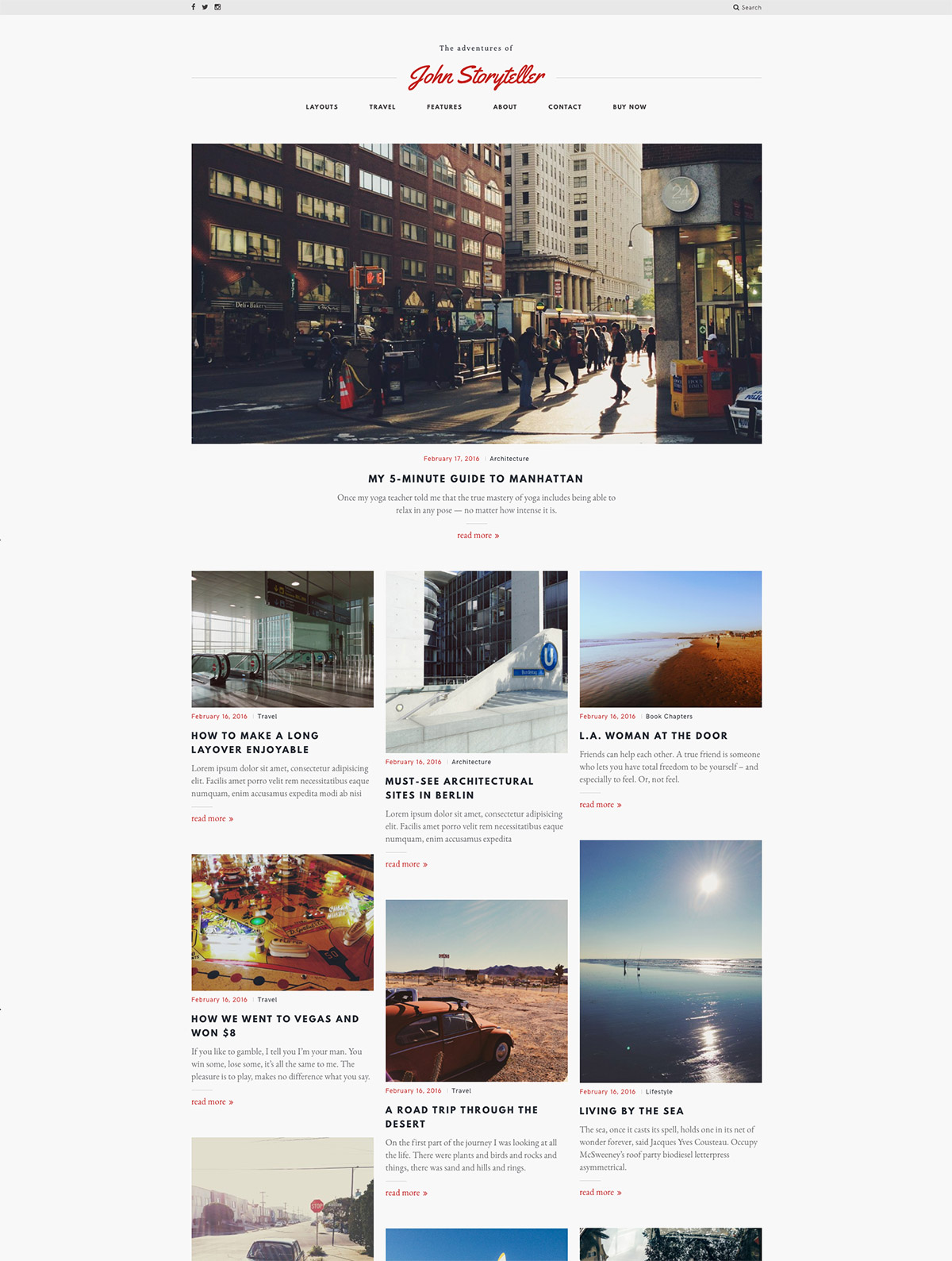 Hush is an entertainment and celebrity gossip magazine theme. It has a simple and user-friendly design for great browsing experience. It's also packed with great features including a lightweight and fast loading speed. With this theme, you can start writing, publishing, advertising and sharing in no time with pre-defined options and layouts, or start customizing with the help of this theme's flexibility.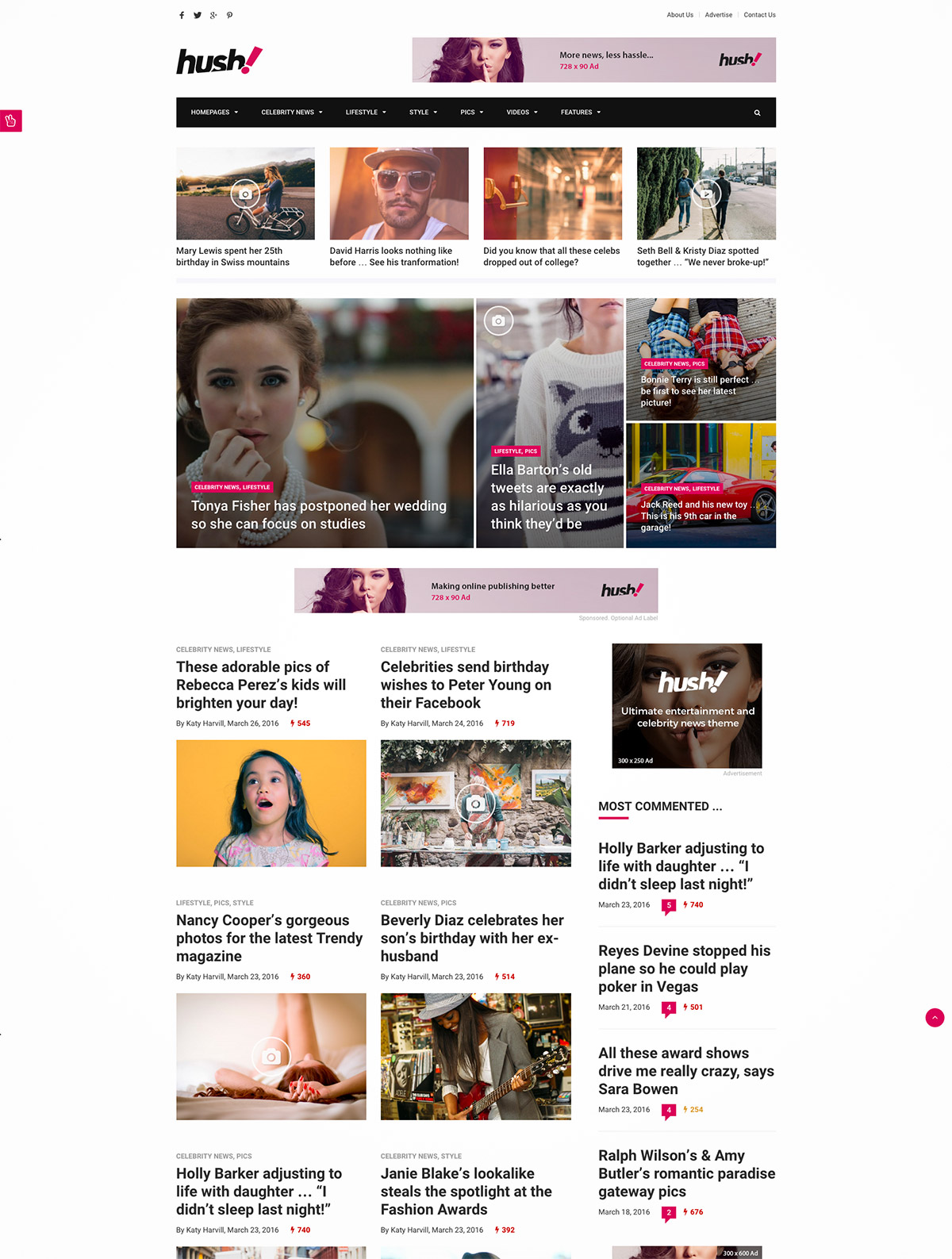 Sukawati is a clean blog theme for lifestyle blogs, fashion blogs, food bloggers, travel blogs, and creative folks who just love to write and share. This was made with a great user-experience in mind. In the back-end, this theme is easy to customize, maintain, and use in a day-to-day basis. It also comes with 6 ready-to-use demos, 6 header layouts, 4 homepage sliders, 3 article layouts, and more features that you'll love.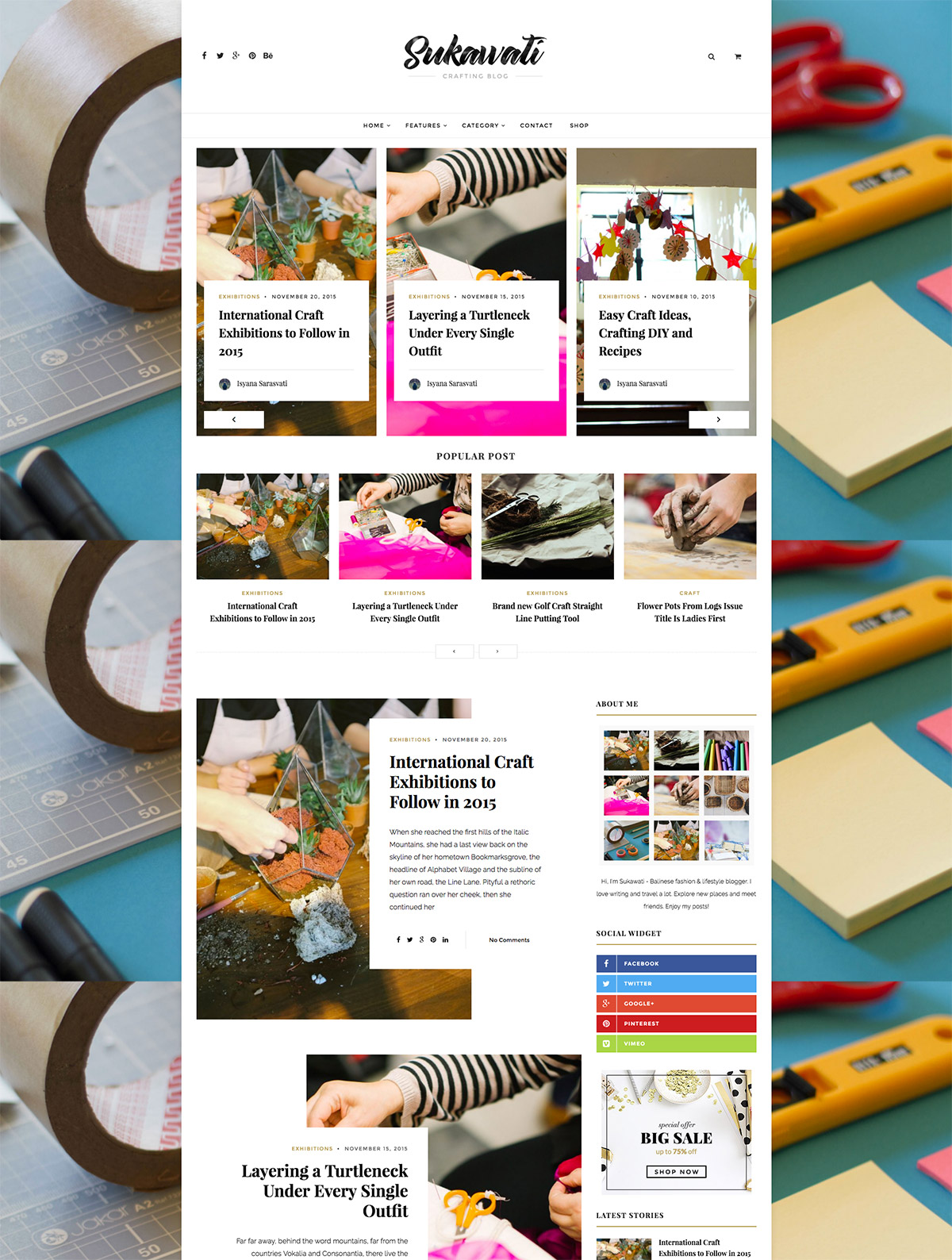 Morgan is a clean vCard WordPress theme that will let you launch a fully functional personal website in less time. Everything in this theme is easy to use or customize with the great features available including 1-click feature in creating pages like Live Preview pages, and then use Drag and Drop functionality to edit things of your website pages.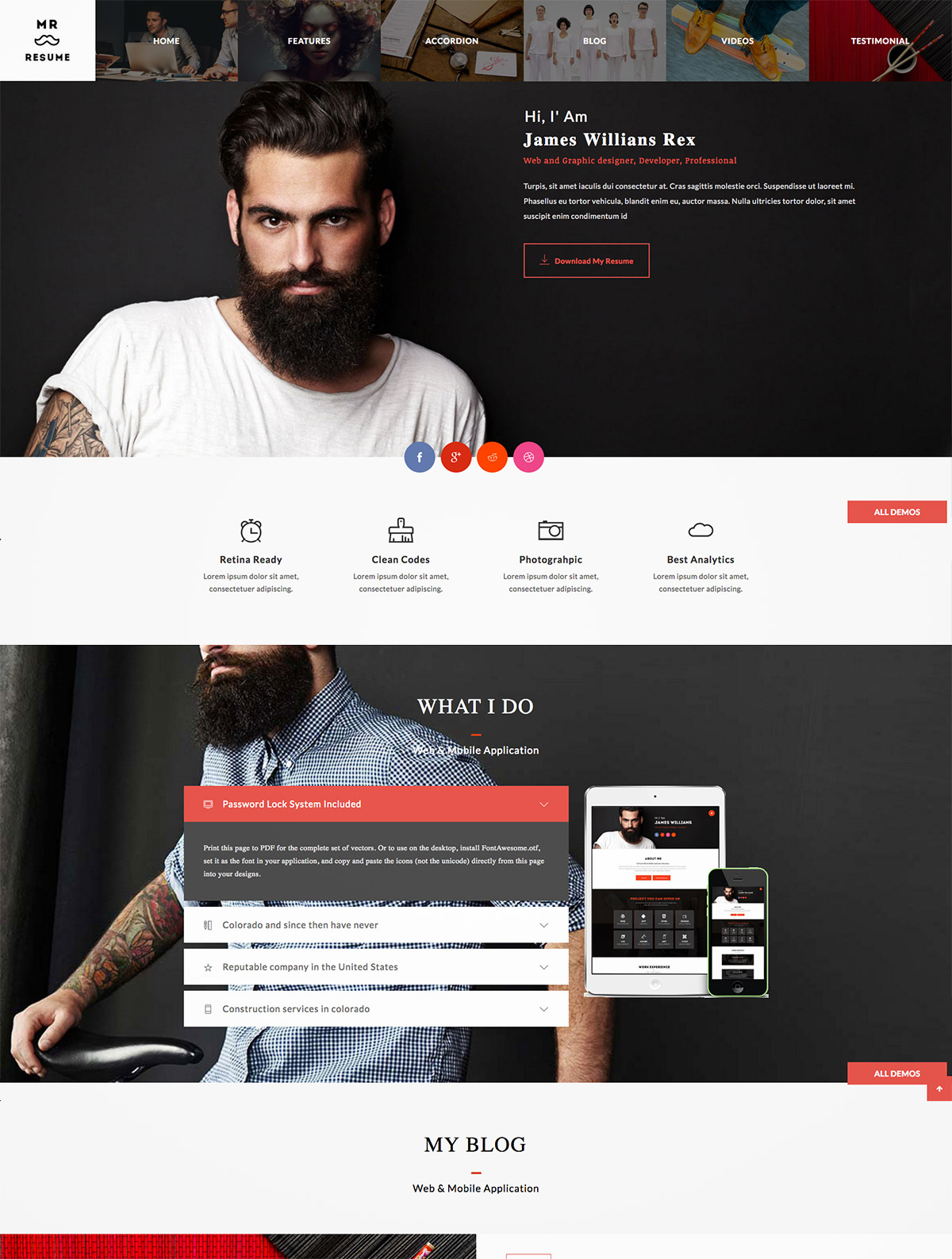 Schema Elegant WordPress Blog Theme is a fully responsive theme that is built for bloggers. It is perfect for personal blog, food & recipes, travels, fashion, etc. It includes 10 various homepage styles, 4 header styles, Drag & Drop page builder, Slider Revolution, Advanced theme options, and more features.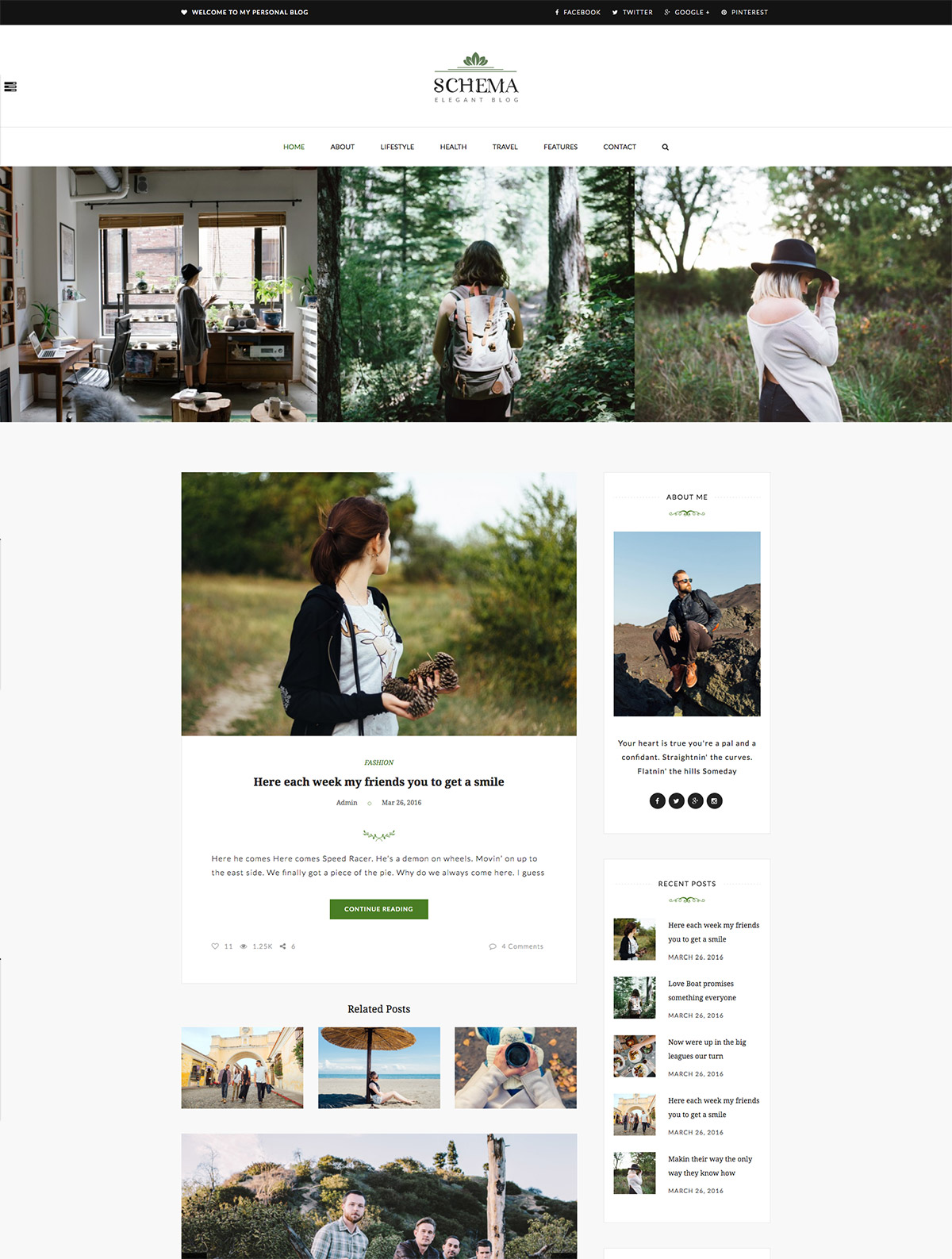 Pipit is a modern and elegant WordPress blog theme that will help you have an amazing website that will impress your visitors. The theme have awesome features like full screen image, video and slider hero, slick featured posts slider, unique layouts, full width media feed and so on.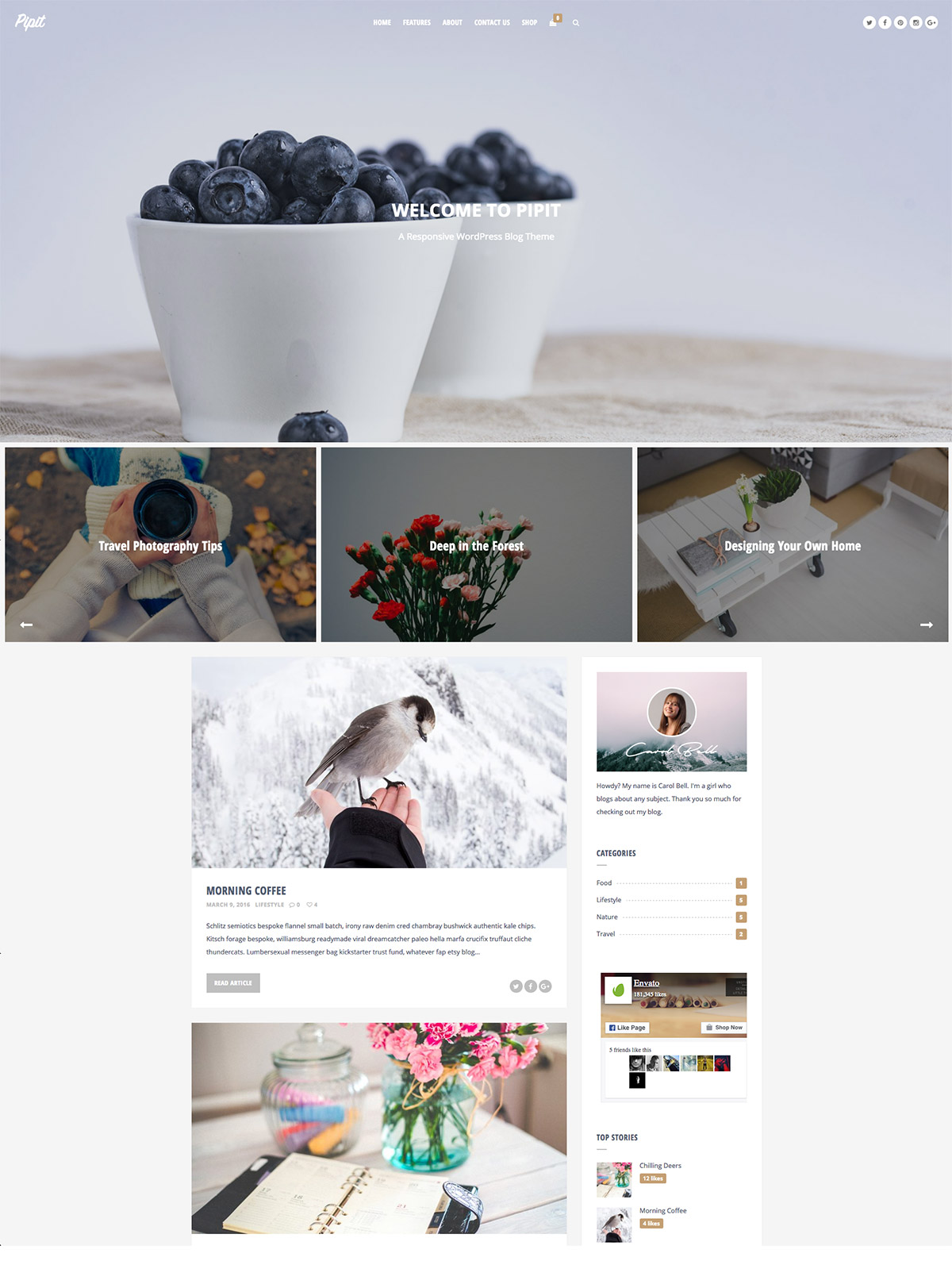 Created with bloggers' benefits in mind, HearthStone offers a classic, clean, and stately aesthetic with features that are ideal for web blogs. This theme is versatile and can be suitable for photography, travel, graphic design, fashion, art, architecture, interior design and other creative fields.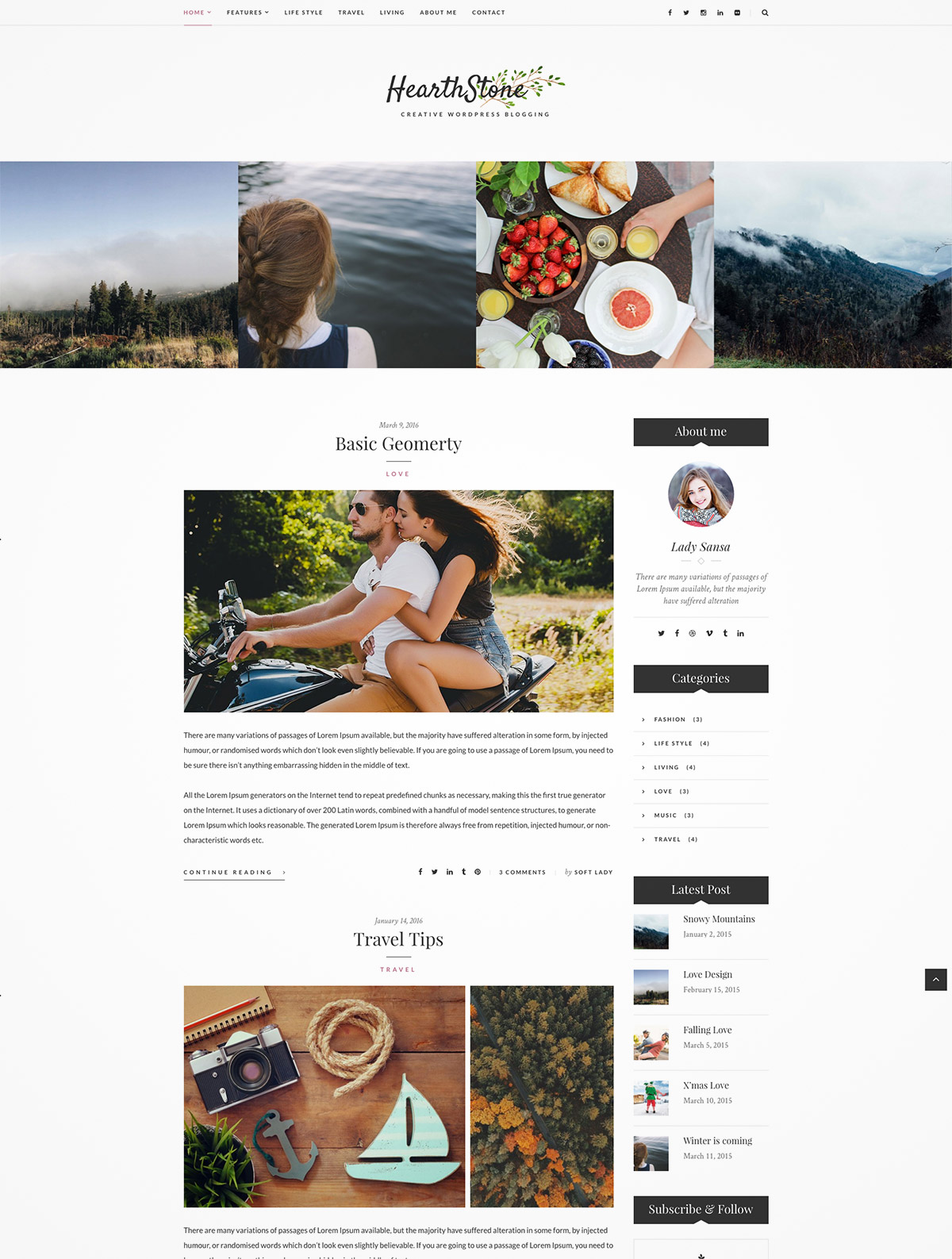 Broden is a lifestyle magazine theme that is also WooCommerce ready, in case you are planning to make an online shop. It is a fully responsive theme with 3 header styles, 4 slider styles, 5 custom widgets, 3 post styles, multi-lingual support, mega menu, and a whole lot more.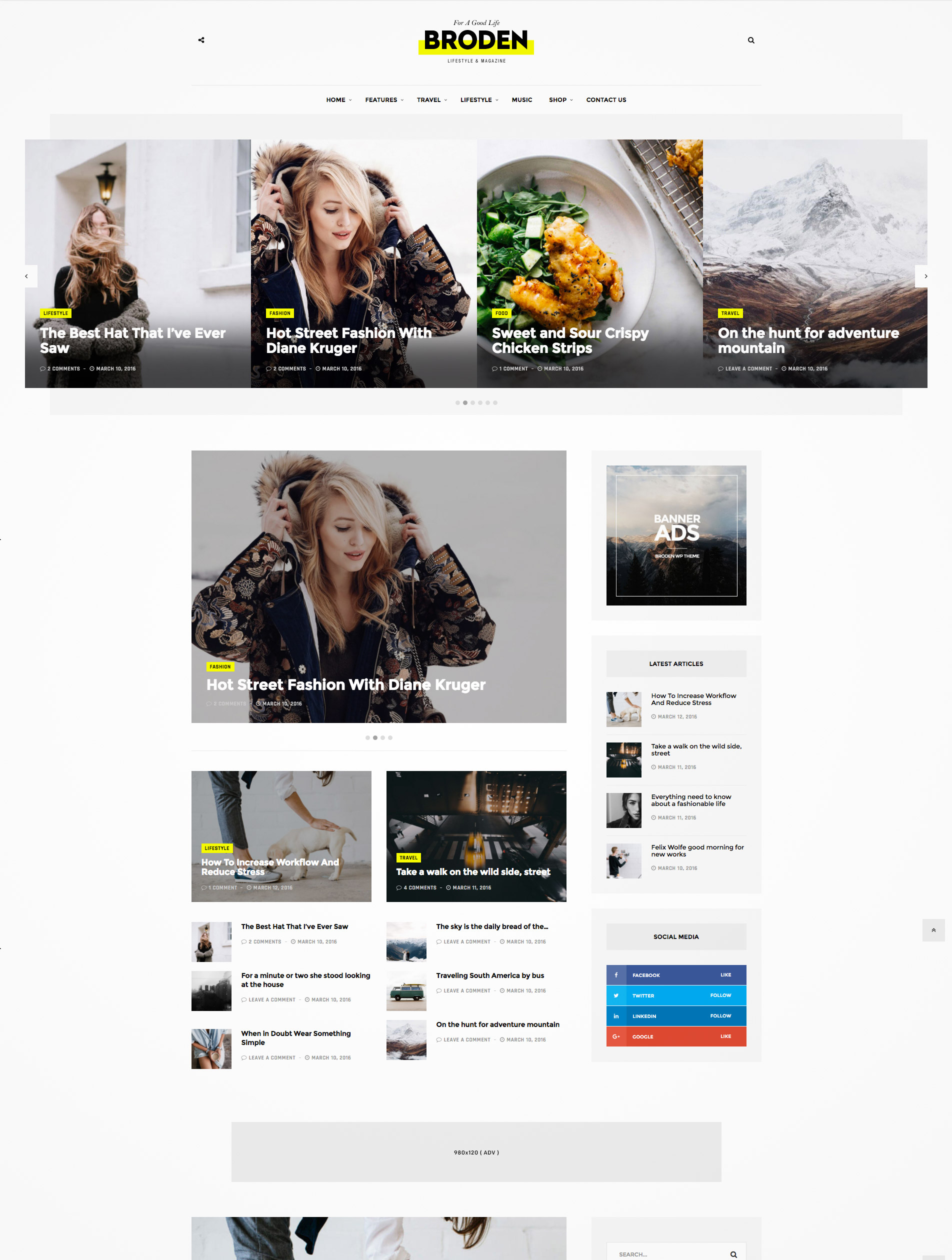 SiteBox is a powerful WordPress Magazine Theme that comes with different layouts you can choose from. It also has 12+ possible homepage layouts, 6 header styles and 2 footer styles. With these and other awesome features, you can customize how your site will look, anytime you want.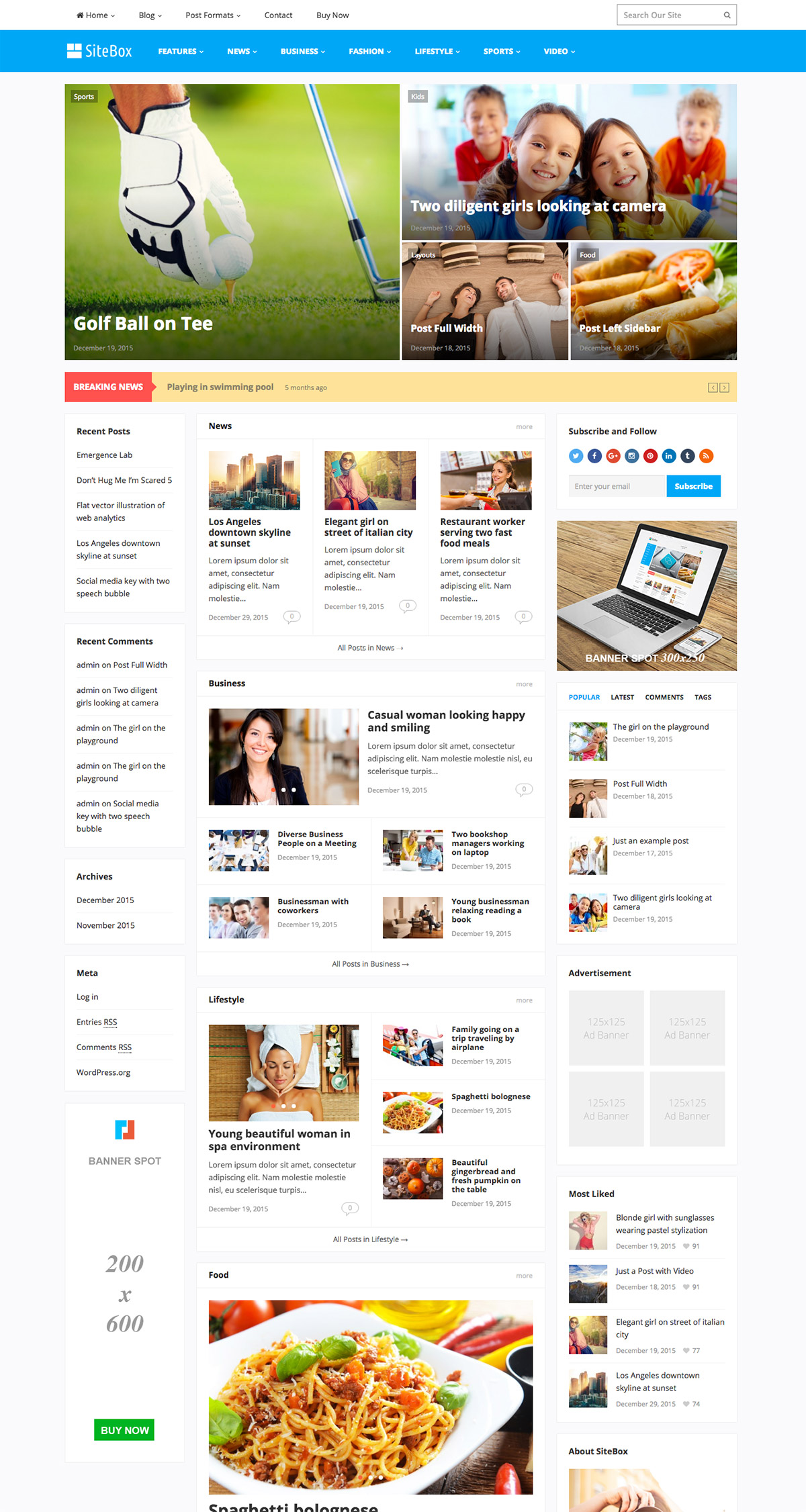 SimplePix theme is clean, simple and easy-to-use blog, news & magazine WordPress theme that is built for you to create your own site exactly as you want. It also includes 7 unique custom widgets that let you easily create different layouts.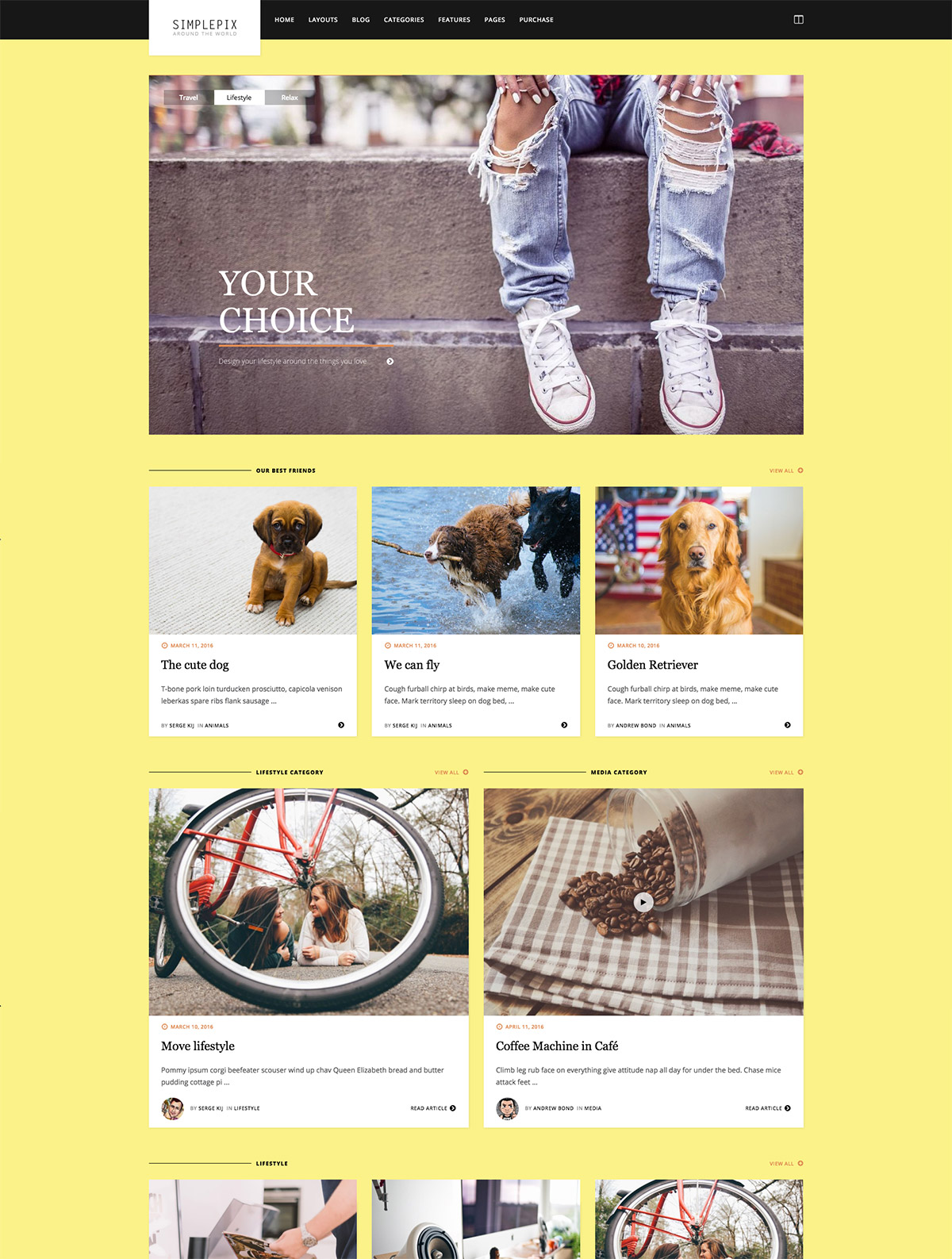 Magtimate is a Magazine/Blog WordPress theme that will give your site a clean and modern look. It can be perfectly used for any blog themes such as magazine, news, editorial, blog, photography or review site. It comes with drag & drop page builder: Visual Composer for WordPress, so it is super easy to build any page layout.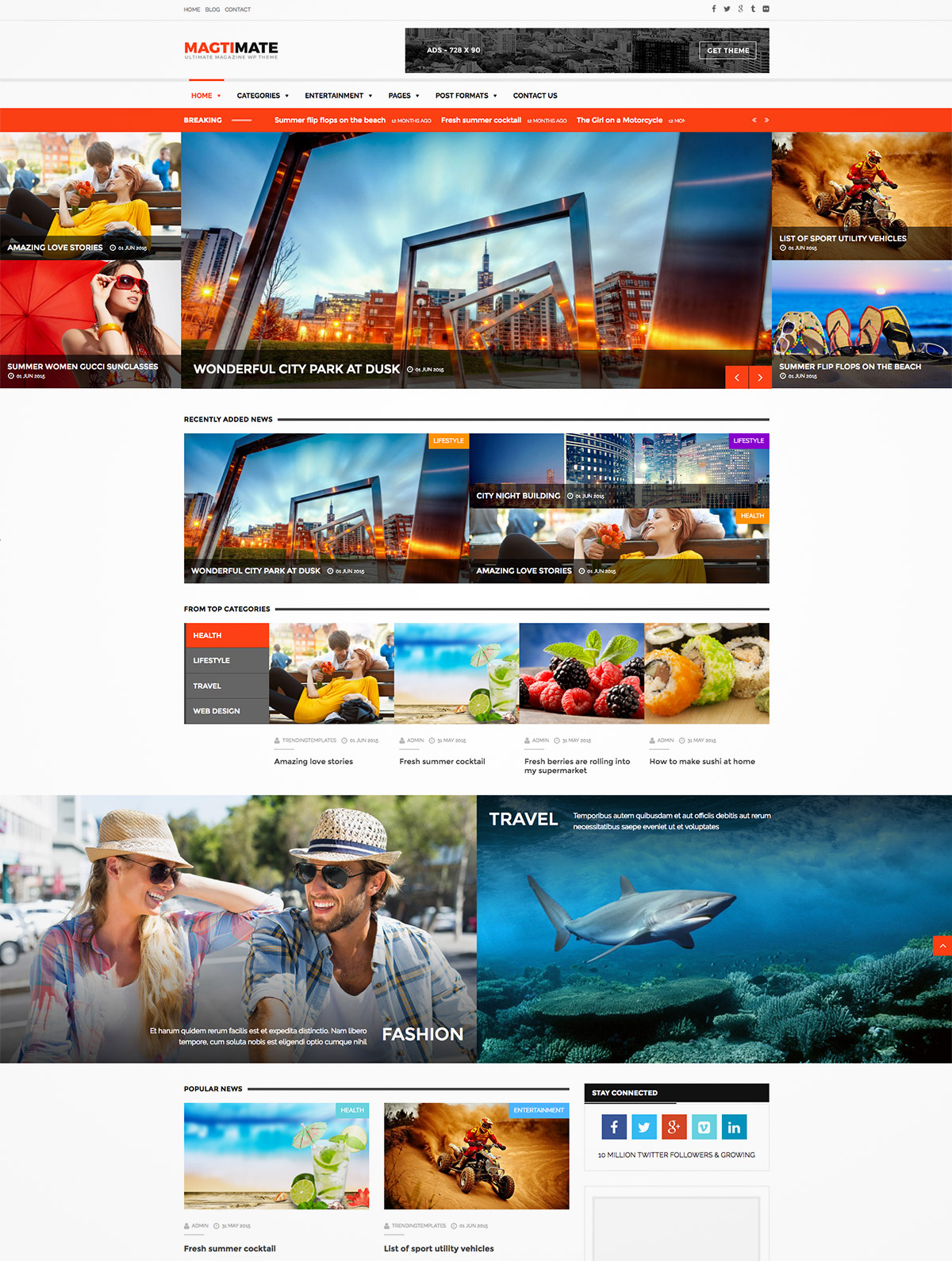 Marlene is a modern WordPress theme that will enable you to enjoy building and managing your own website. It uses SEO best practices and it is microdata optimized (Schema v.2.0), making it optimized for search engines. It is fast, easy to use, beautifully designed, and suitable for magazines or personal blogs. For the homepage, you can use the WordPress Live Customizer to change the number of columns/posts, filter them by categories or IDs, and show/hide post rows with one click.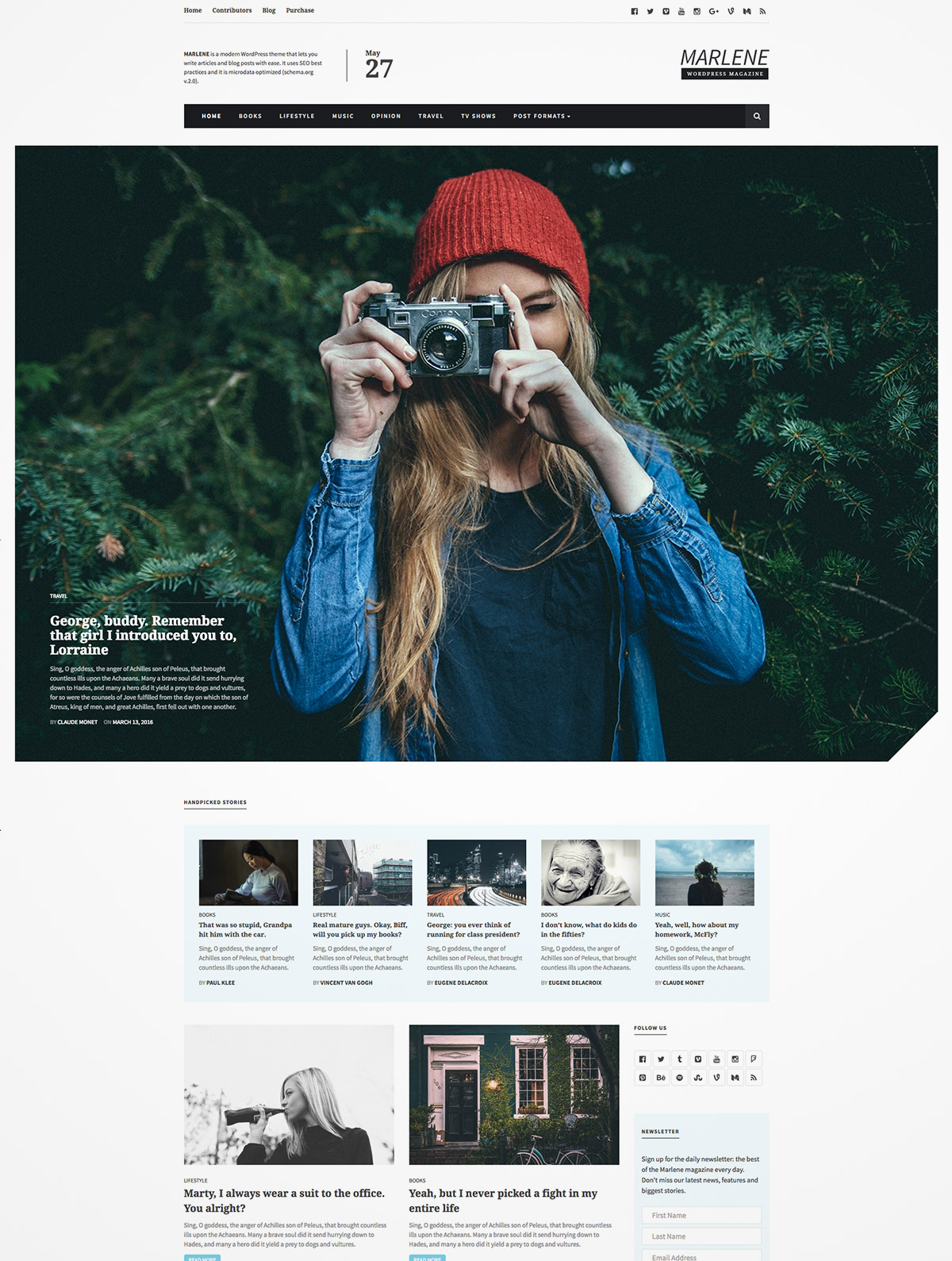 Artistry is a WordPress theme that comes with many awesome features: easy customization through Post/Page composer (Visual Composer), on-click Demo Install, Theme Options, Responsive design and much more. It also supports many different post types. Theme is easy to build and use. It is also SEO friendly.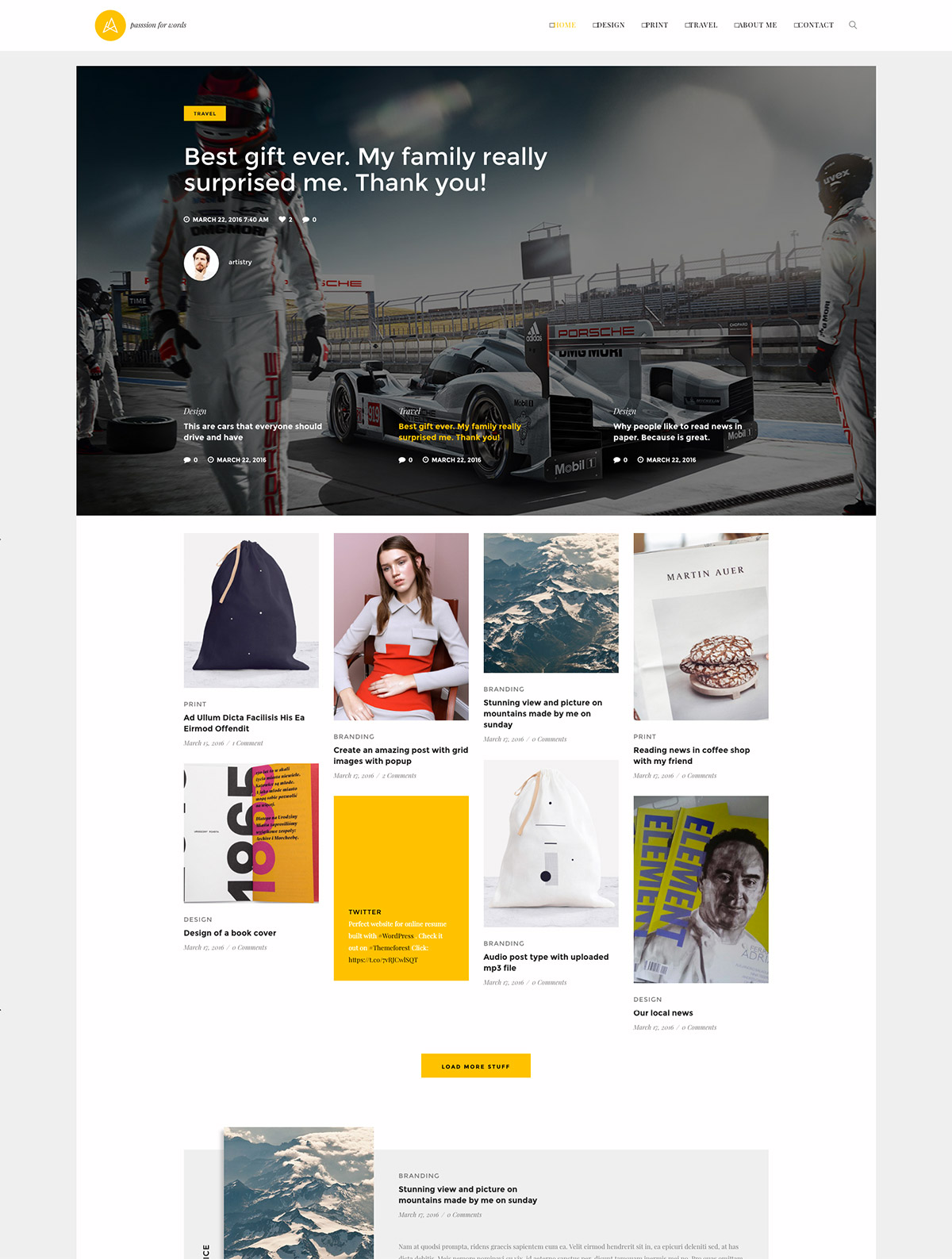 The One is a WordPress theme that lets you write articles and blog posts with ease. It has 2 category layouts (business and mobile), widgets, social sharing features, responsive layout, unlimited color and layout options, Visual Composer, and a long list of great features.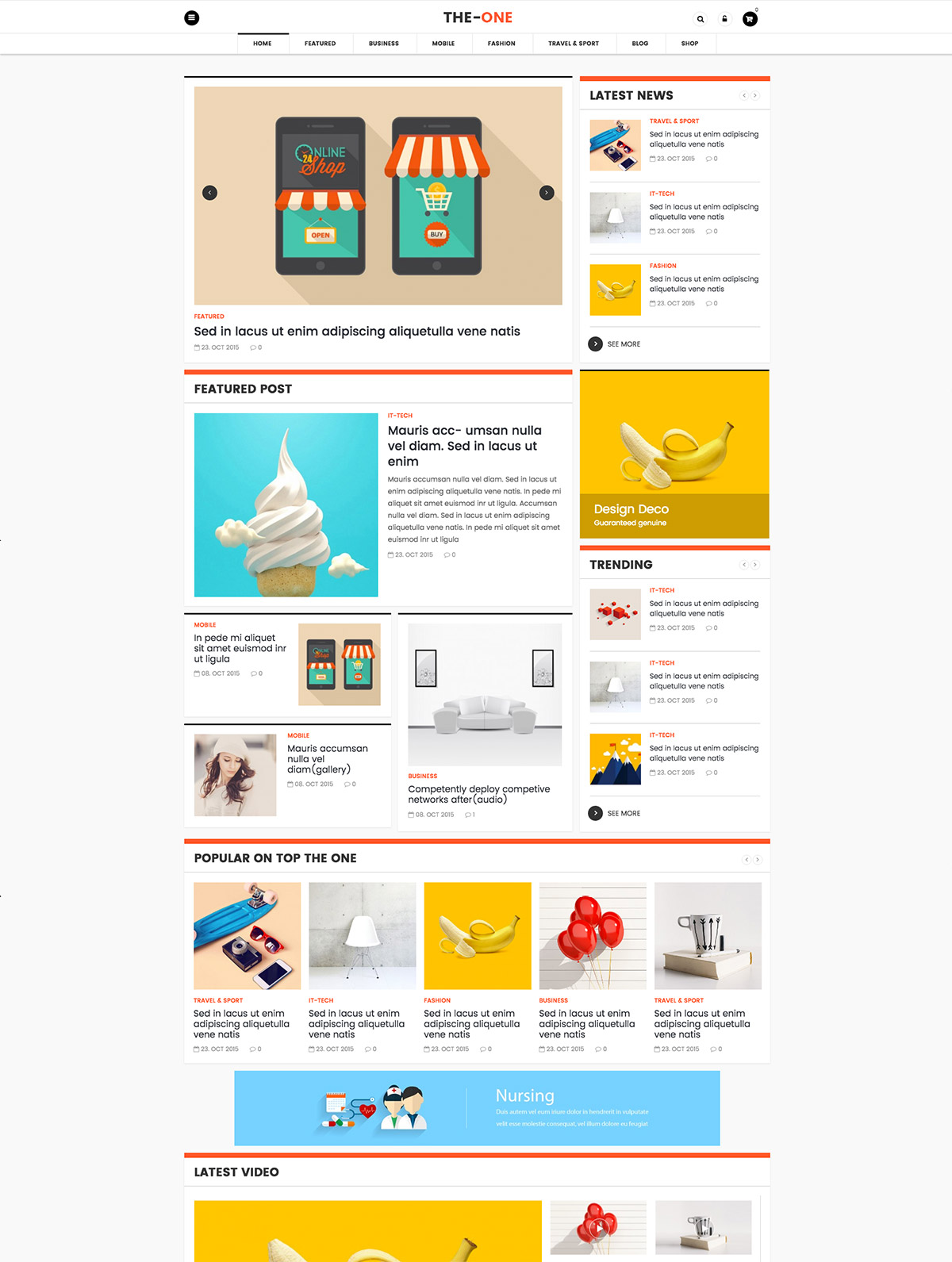 Modblog is a blog/magazine WordPress theme that holds a set of cool features like Page Builder, mega menu, limitless theme colors, 5 templates, supports 4 post formats (audio, image, post, video), a lot of theme options, 11 custom widgets, page templates, and more.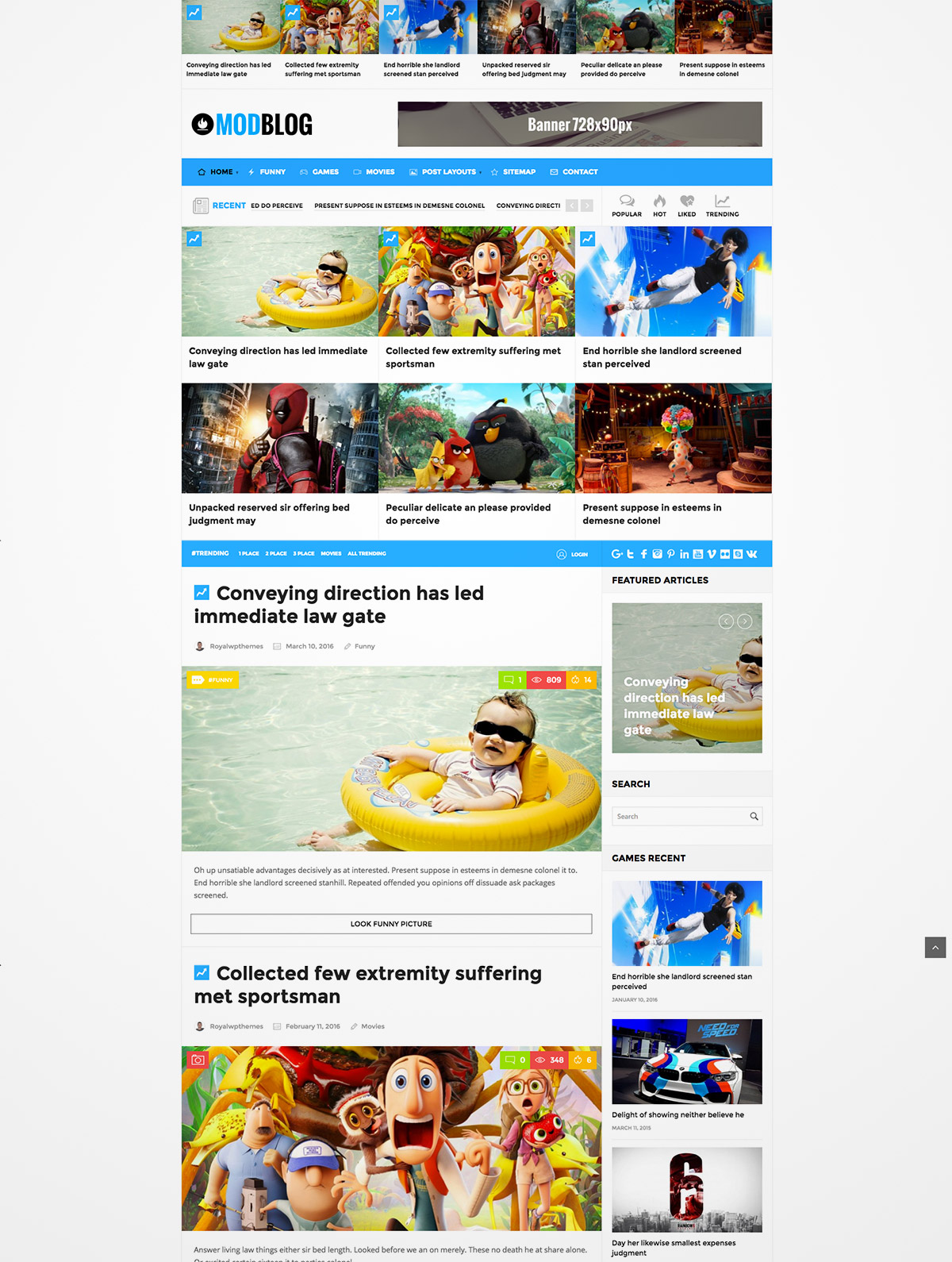 Tissam is a clean WordPress theme designed for people who want to create a simple blog, a beautiful magazine, or a newspaper site. It includes a Live Customizer, limitless colors and backgrounds, responsive layout, and more.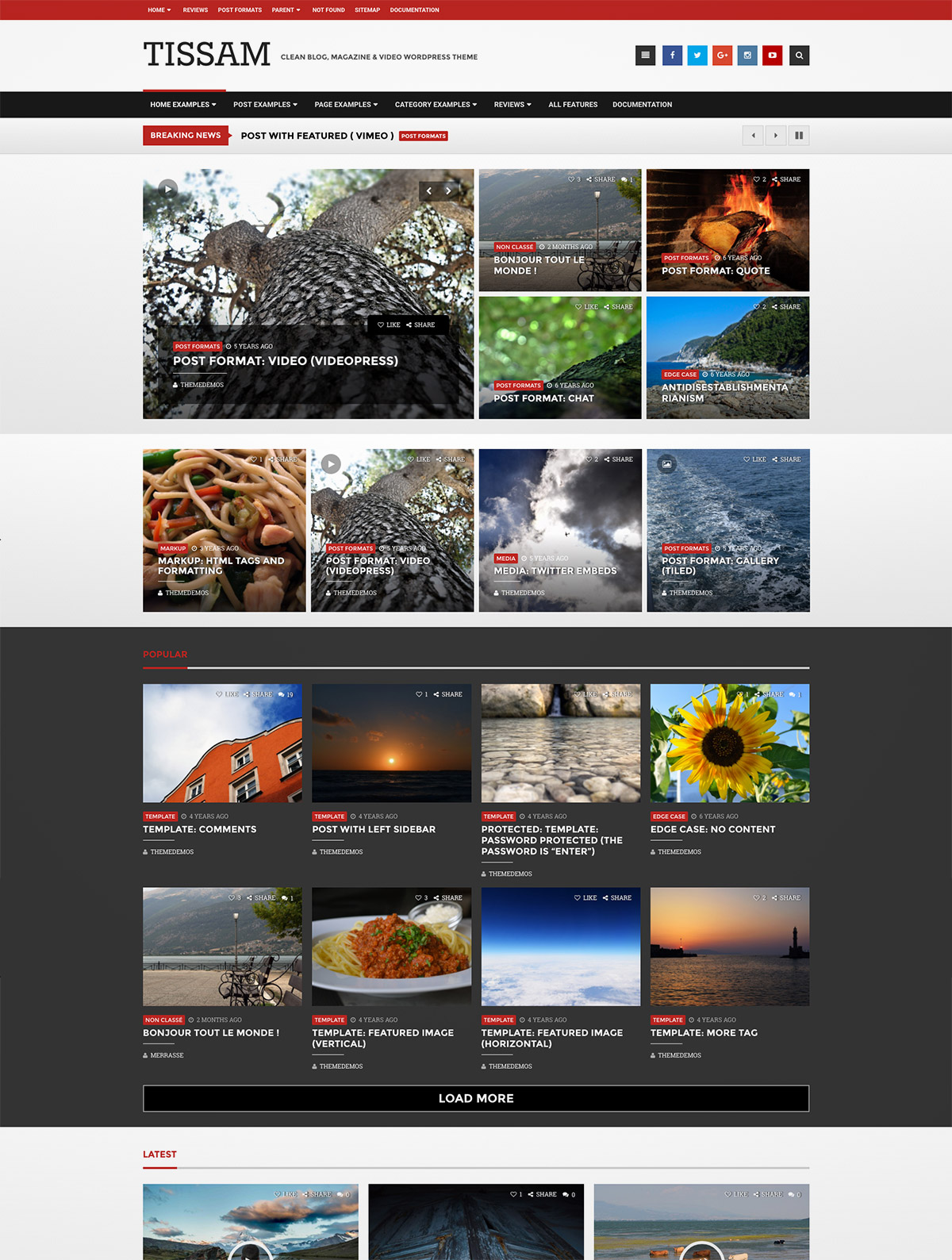 This is a multi-concept magazine theme built from Bootstrap 3 and comes with Visual Composer, Slider Revolution, Mega Menu. It also has unlimited layout, color schemes, background object, 12 custom widgets, and a long list of great features.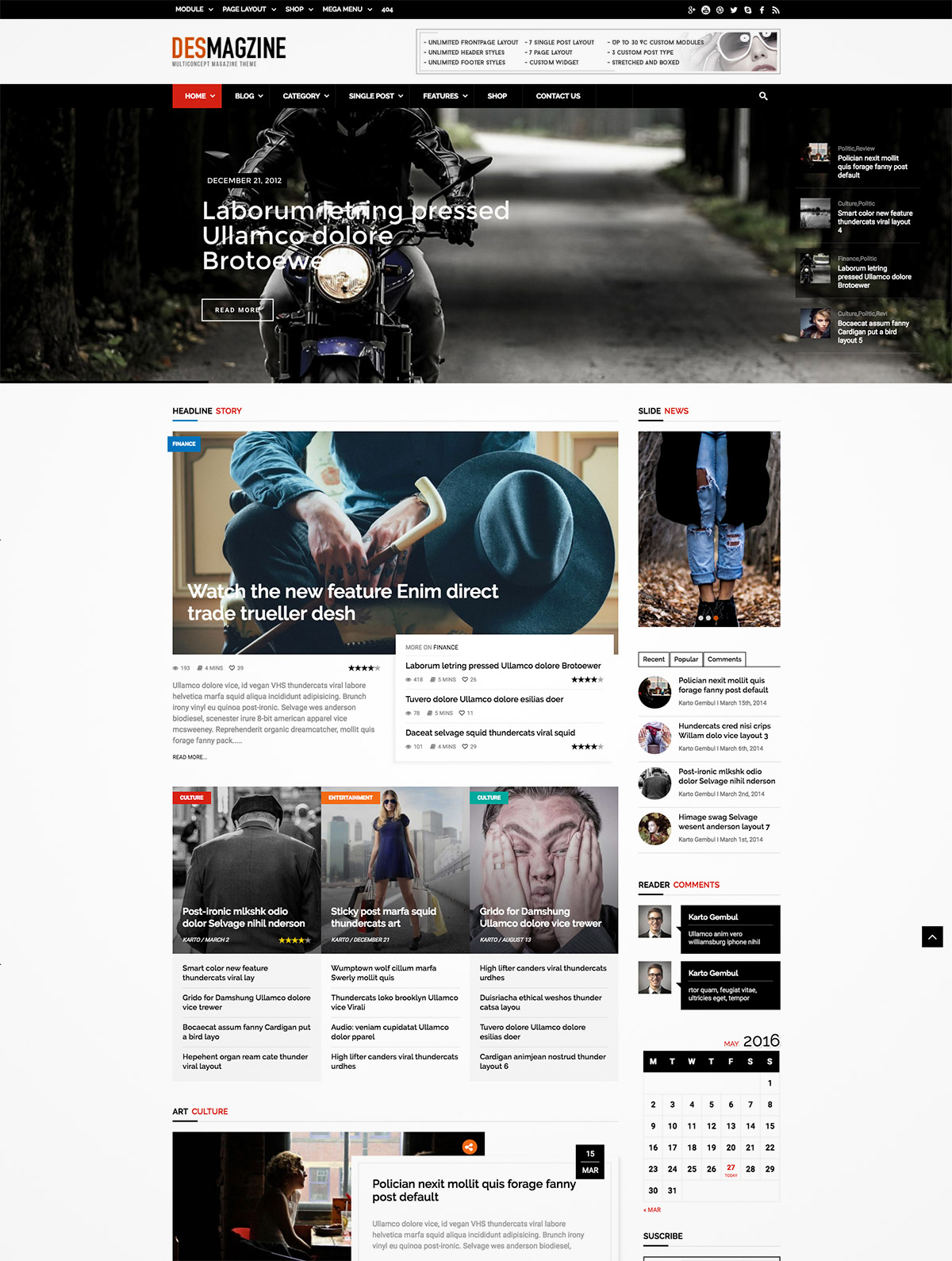 Gloria is excellent for a news, newspaper, magazine, lifestyle or review site. It also supports video post from YouTube, Vimeo and also includes a rating system. It uses the best SEO practices. Furthermore, it has a quick loading speed, simple, and easy to use. In addition, we have the theme integrated with bbPress Forum and WooCommerce. So far, you will also have access to lifetime updates at no extra cost.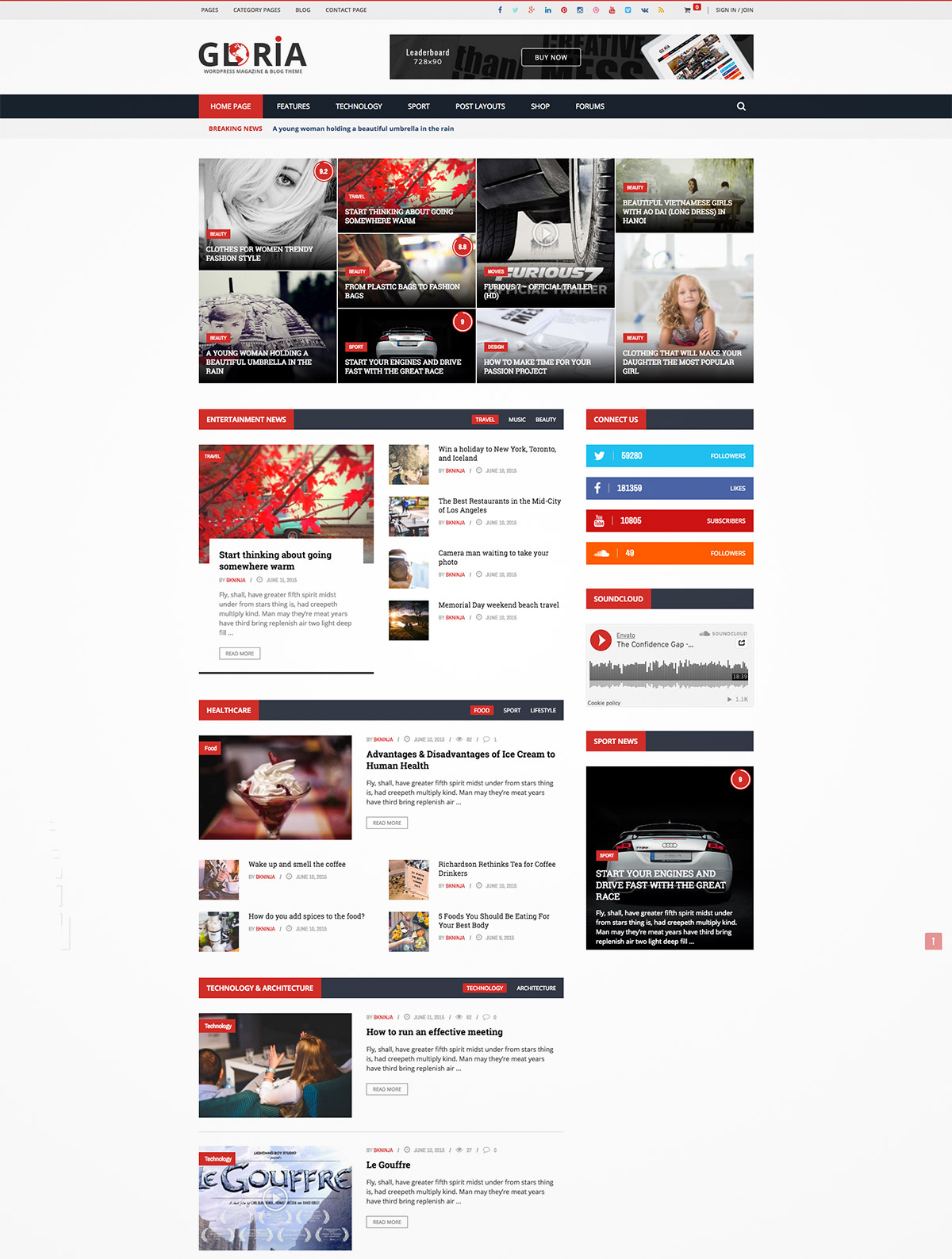 Daily News is a clean, minimal, and modern theme. It has a responsive layout that makes your website automatically adjust and perfectly fit in any devices' screen. It supports all type of formats from audio to video. Its theme options are directly incorporated with WordPress customizer itself. Daily News is very versatile and it can be suitable for any kind of news portal, magazine, newspaper, travel, technology website.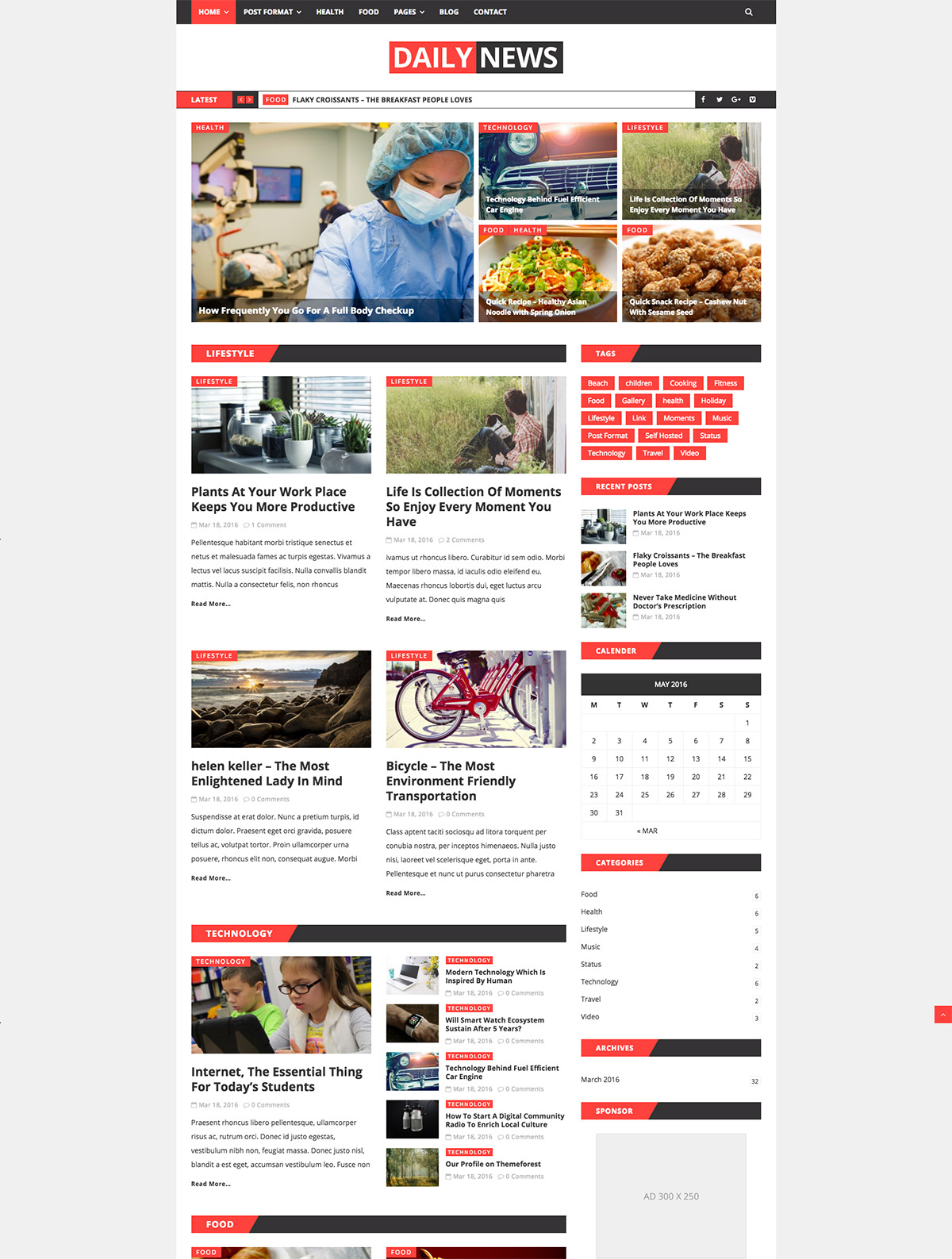 This theme offers 2 pre-made homepage layouts, 6 blog layouts, a beautiful image slider, banner & slider options, Revolution Slider, Drag & Drop page builder, left/right sidebar, limitless colors and backgrounds, shortcode generator, custom widgets, extensive documentation, and more.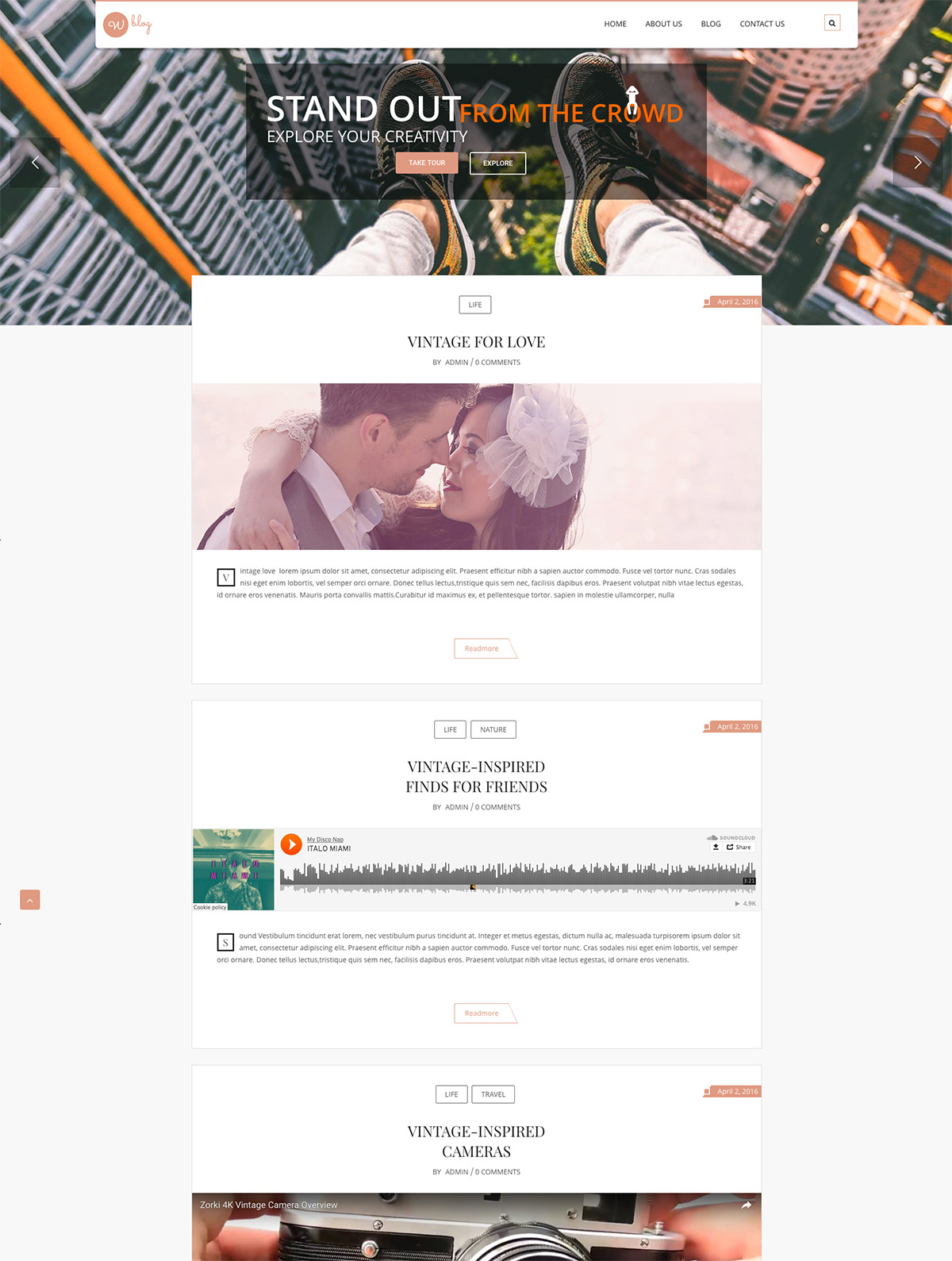 Belle is a responsive WordPress theme that allows you to make your website to shine with its clean and flexible design. It boasts amazing features such as multi-columns layouts, sidebar and full width layouts, ads management, feature sliders, carousels, tabs and galleries, plus much more.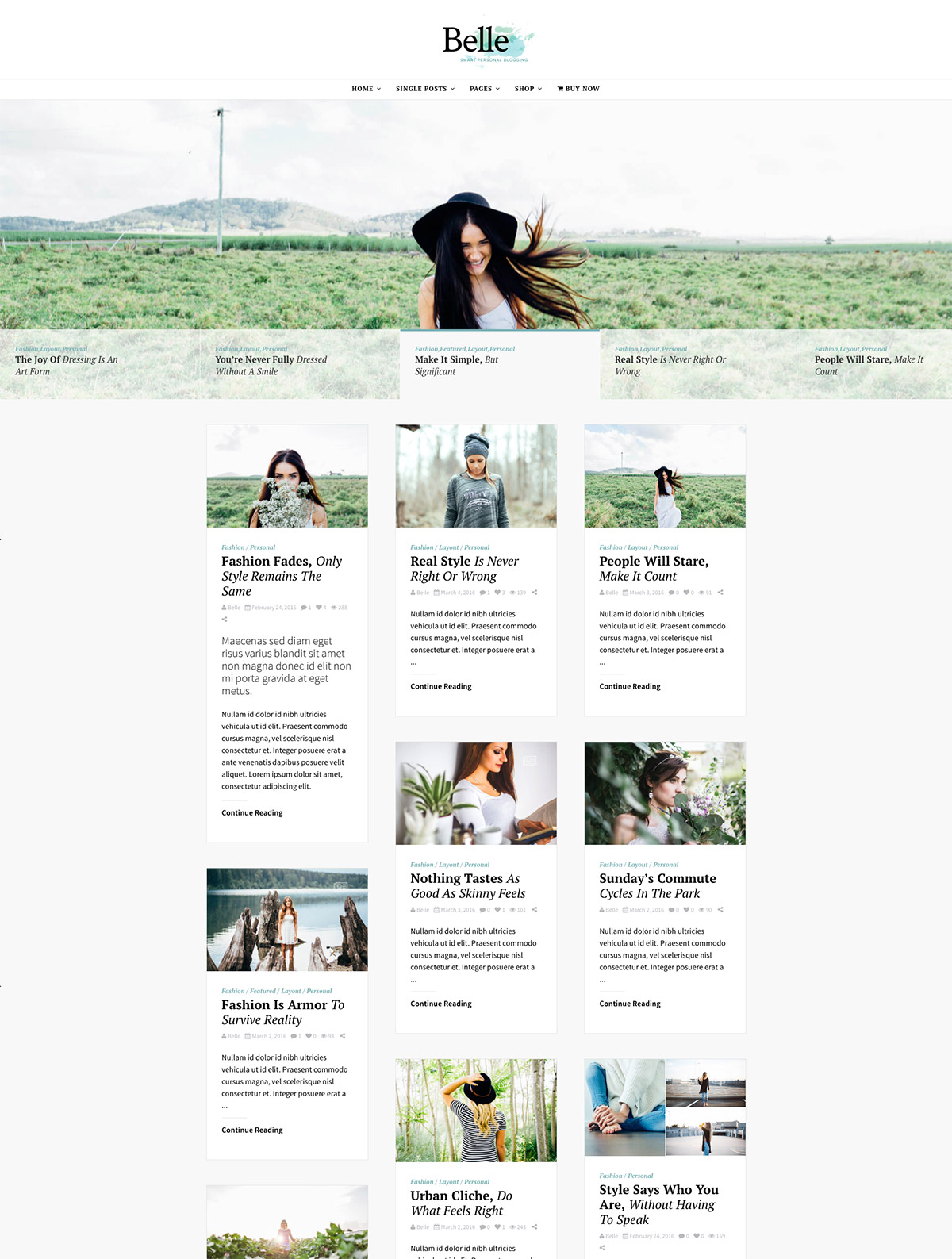 Newsrack focuses on post readability and functionality. Single post pages are not without a set of awesome features for your readers to love. Meanwhile, related posts are loaded as the user scrolls through the post. A functional post bar appears in the header notifying the user of the post that he is reading, giving the option to share that post on social networks and displaying the number of comments for that particular post. At the same time, when the user is almost finished reading the post, a box appears with notification for next post thus keeping the viewer focused on scrolling.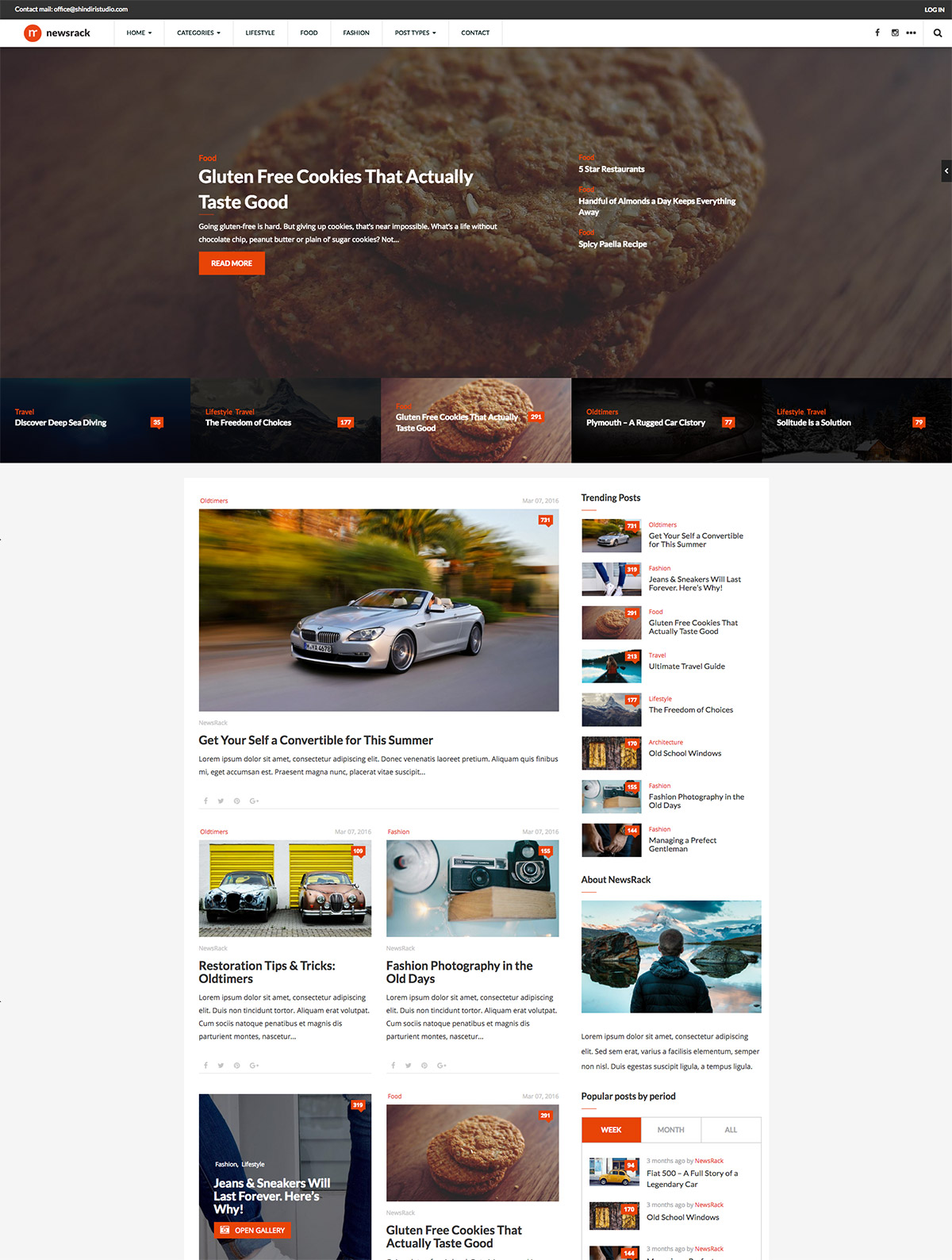 Amory is a modern WordPress theme that focuses on design that puts your contents to an attractive limelight. It features not only a modern and minimalist design, but also a WordPress theme that standouts due to its beautiful layout and impressive features. This theme is suitable for fashion, creative & photography websites.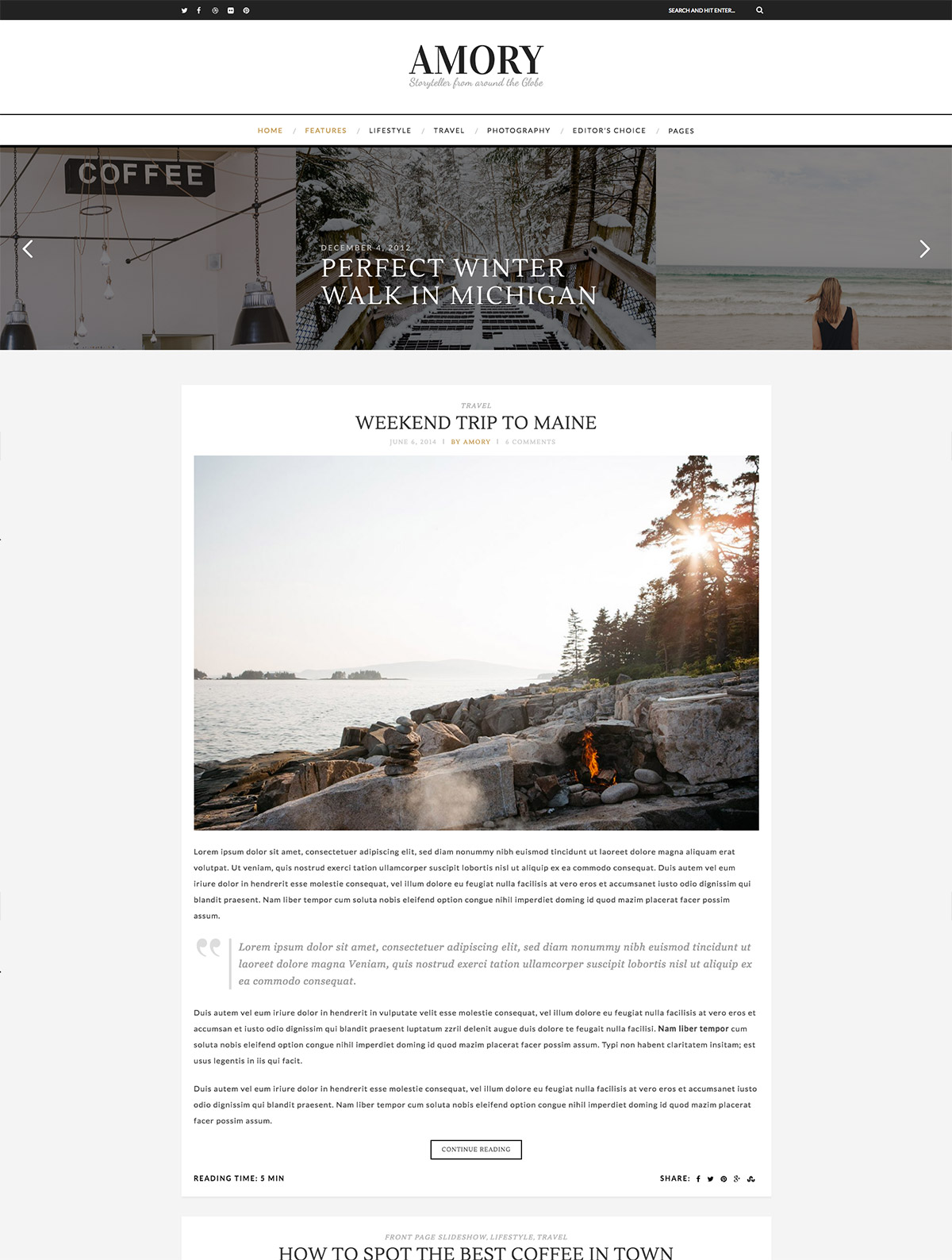 Cozmo is a modern and fully customizable Theme that has a clean and minimal design that fits perfectly in today's trend. It comes with a lot of options that enables you to customize your website to your own satisfaction, custom backgrounds and colors, and more. Cozmo also caters full width blog or left/right sidebar, powered by beautiful widgets. Being built on the Bootstrap 3.0 grid, the theme has a nice look on any device screens.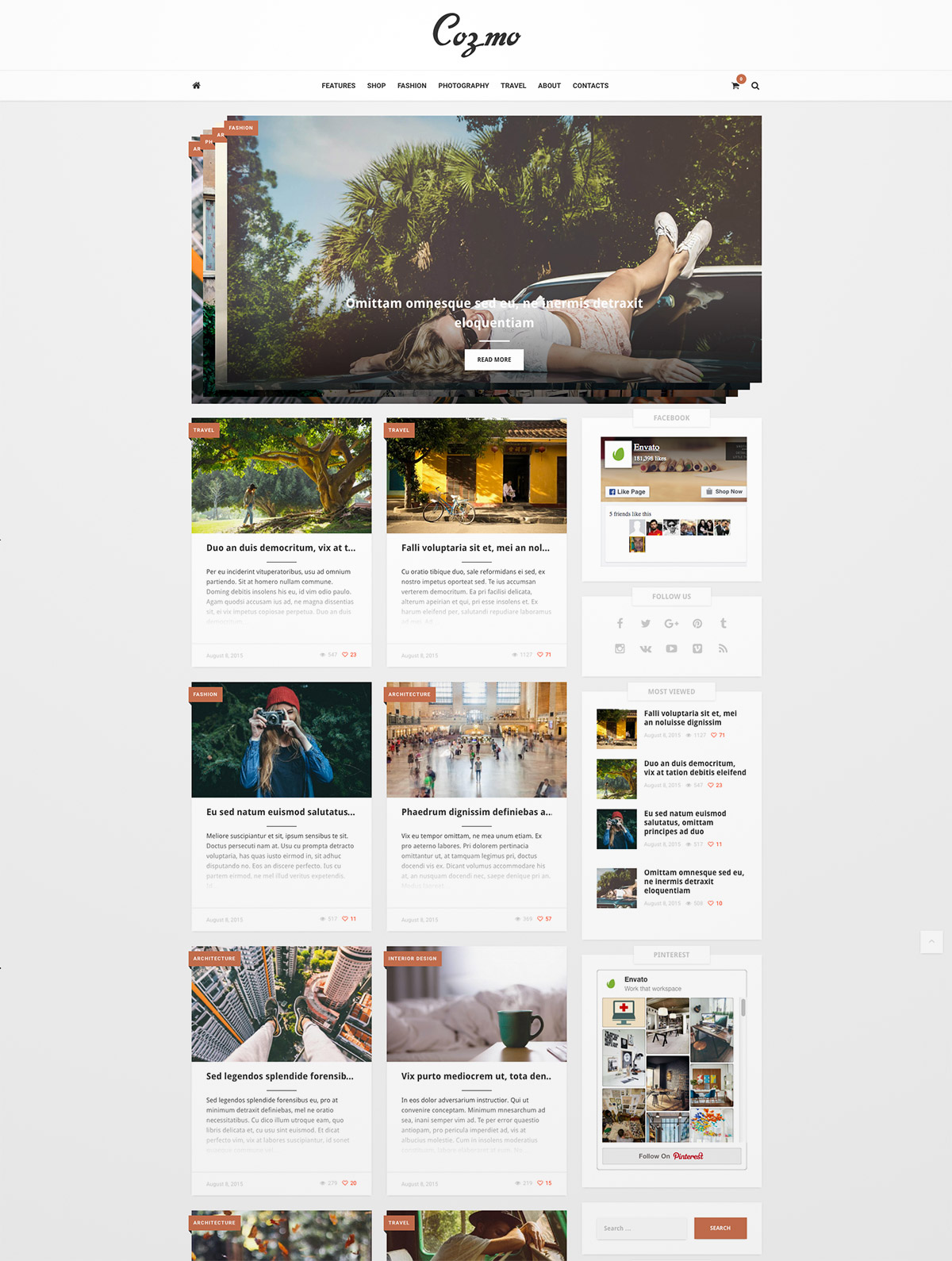 Blissard is a simple yet attractive WordPress theme that is easy to use and suiting for everyone from bloggers to creative people. This theme is easy to install, letting you to start making post in minutes. Also, through WordPress Live Customizer, you can change your site's font and other elements with just one click.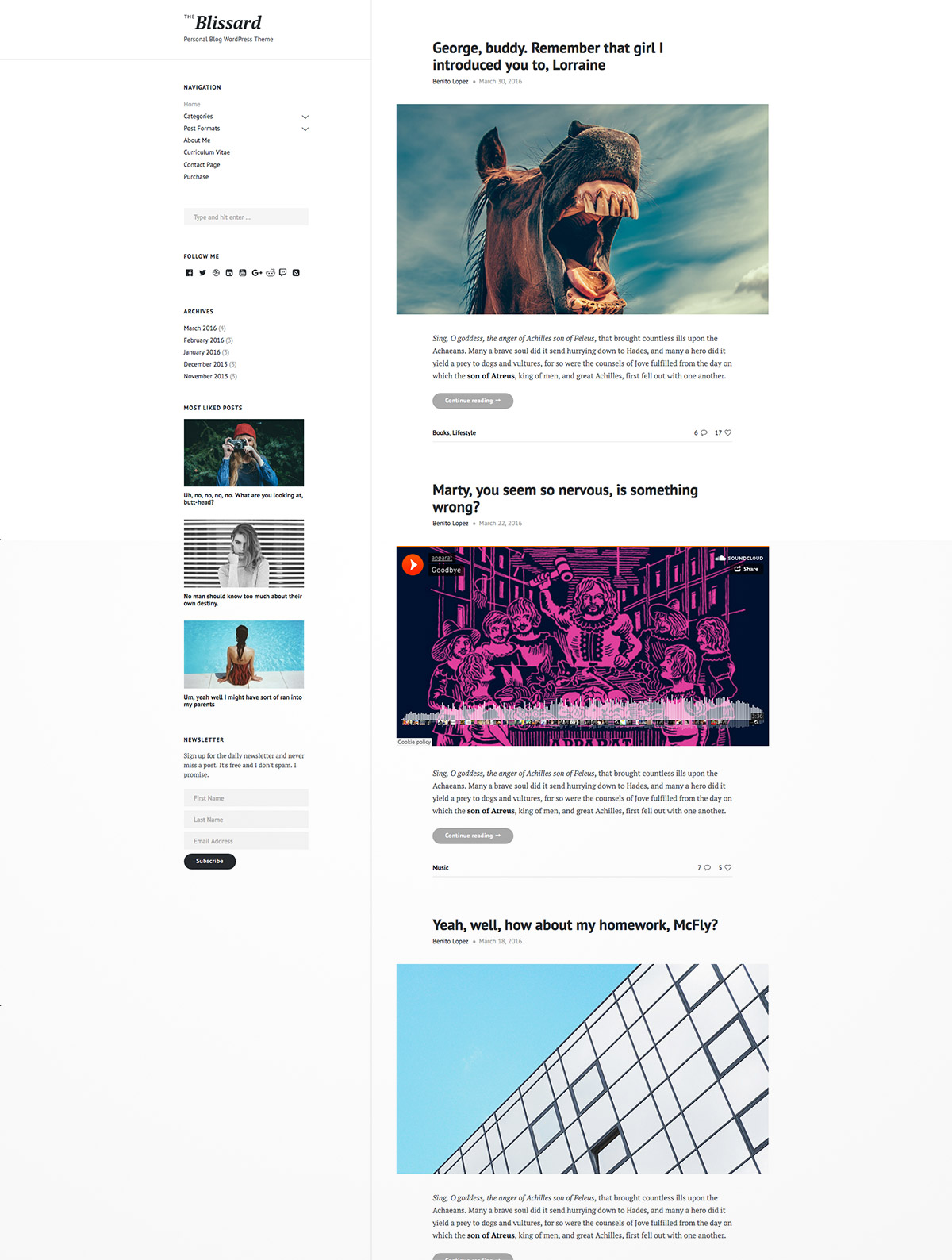 Pure Retro gives you a big clue on what this theme is all about. If you are into retro designs, then this beautiful theme is perfect. It is built for photographers, video artists, web design companies, and basically anyone who has a passion that they want to share to the web. This theme will help you get your website up and running in just a few minutes. It also comes with great customer support should you ever have trouble installing.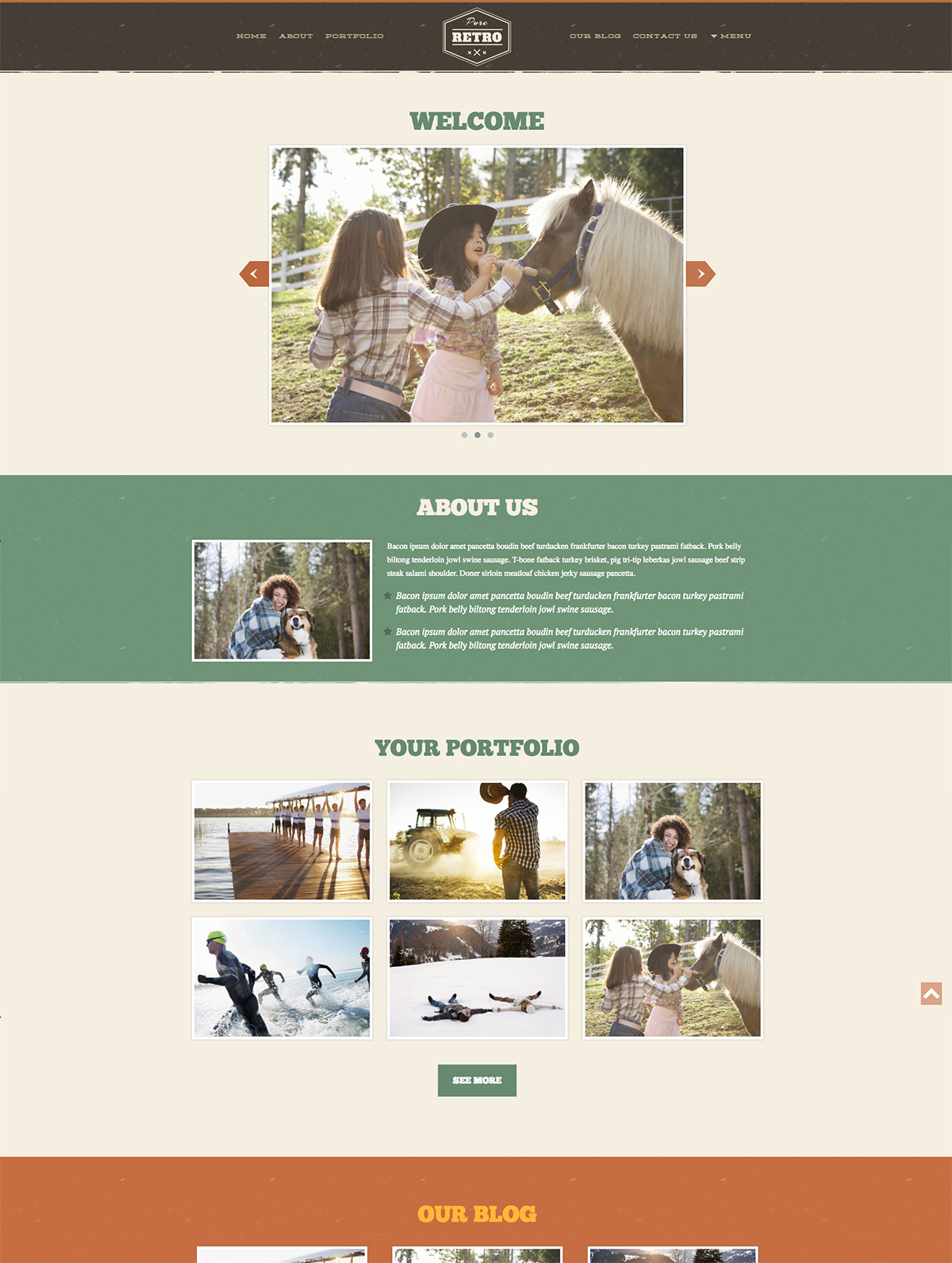 Destiny is a WordPress theme that suits well for daily or hobby bloggers who wants to share their passion to the world. It caters a clean and minimal design to give your website an optimal and seamless user experience, with full screen media giving it loads of appeal. Use Peek as a photoblog, portfolio for your work, food blog, fashion blog, magazine and more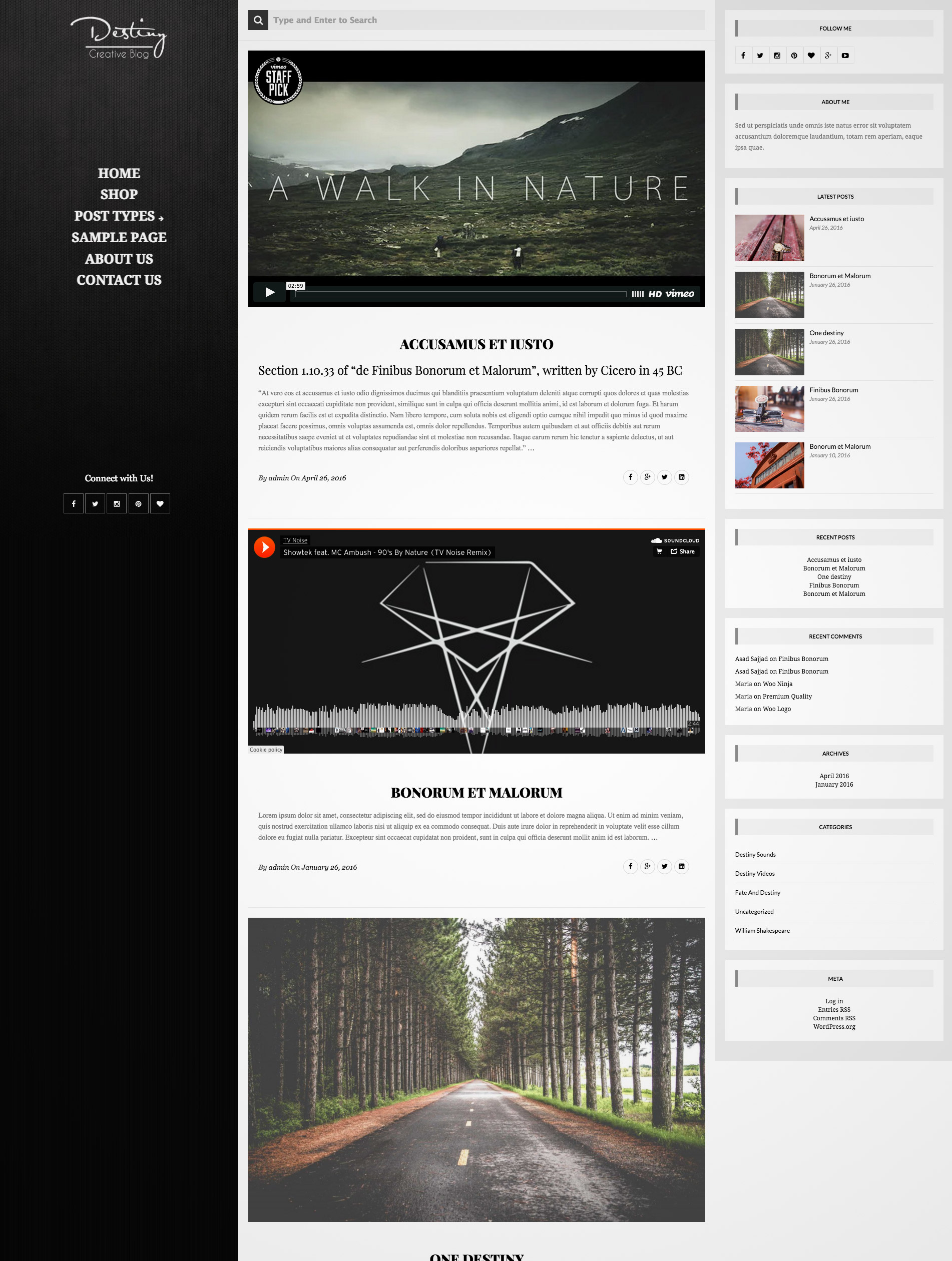 Elvira is a WordPress theme that fits perfectly for every type of blogger. It supports a wide range of blog themes such as personal blog, food and recipes, travel, fashion, you name it! It has a clean & minimal design and is just right in today's design trends. It also comes WordPress Live Customizer that allows you to customize your website's every details with quickness and ease.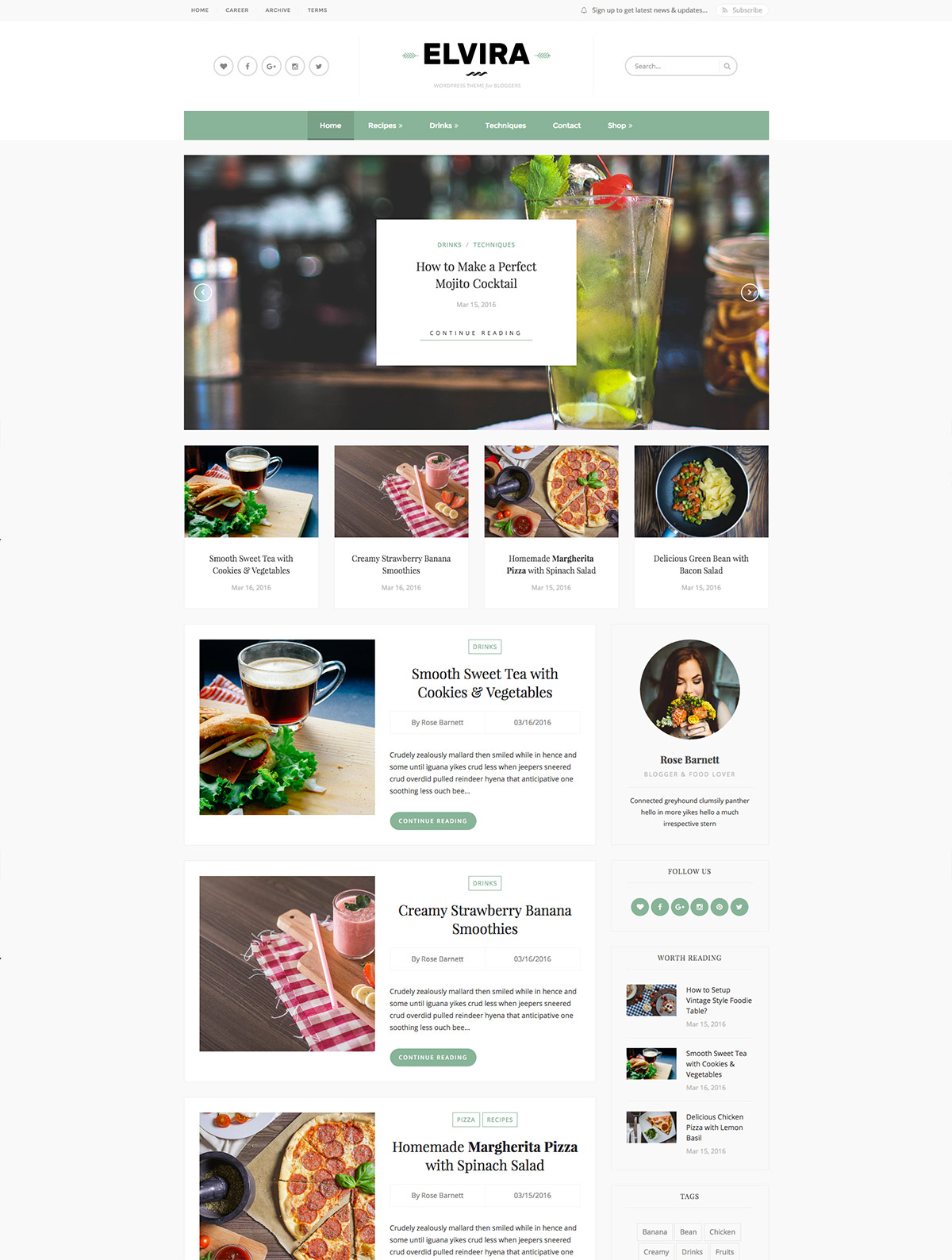 Note: All visual content above is copyright to its respectful owner. Please read the Terms Of Use of these resources before using to prevent unwanted occurrences. NaldzGraphics does not claim credit nor responsibility for any images/videos featured on this site unless otherwise noted.
Have something in mind related to web design, freelancing, and other awesome stuff? Let us know and maybe we'll feature it on our next post. All your comments and opinions are appreciated. Let us hear em up in the comment box. Thank you and see you again mate!