One of the results of advanced technology are iPhones. Many people use this gadget for it is convenient to bring along. Aside from being convenient, it also offers us another way of entertainment and communication. Some users customize their phone not just the way it physically looks but also certain features like applications are added to the mobile gadget.
With the growing demand of iPhones, there had been lots of iPhone apps, wallpapers and many others that can be found online. You can easily buy it and download it for your iPhones. But of course, people would always choose which ones are better. Hence, we will share to you in this article some tips on how to make an astounding iPhone App Website where you will be showcasing the apps you have made.
You may want to take a look at the following related articles:
1. Look for inspiration.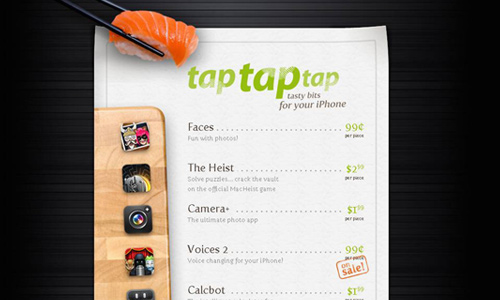 Image: taptaptap
Before you start or while working on it, you can tour the web and look for some interesting iPhone app sites. Try to look at what their apps can do and do better than them. Observe what works and use it. Study their website and always make sure to apply the good side of it, improve it and make a totally great iPhone app site.
2. Be creative.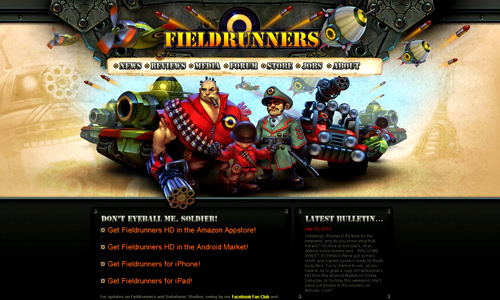 Image: fieldrunners
Of course, you won't be able to perfectly apply what you have seen in other iPhone app sites if you will not be creative. Always let that creative juice flow and for sure you'll come up with something unique. Aside from being creative in making your apps, you should also be creative with your websites. Just don't overdo it. You can be creative and simple at the same time.
3. Make your website simple.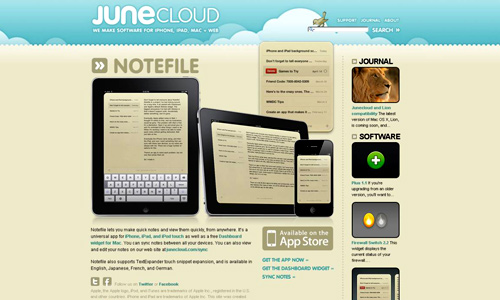 Image: junecloud
Avoid having a very complicated website to promote and showcase your iPhone app. It should be simple. Remember that you are just selling an iPhone app. Do away with fancy stuff in your website. More people will like a simple page. A complicated one with some fancy features can distract them and might not be able to see your app really well. Your iPhone app should be the star of the website. Do not allow anything to overcast a shadow on it.
4. Show iPhone apps in action.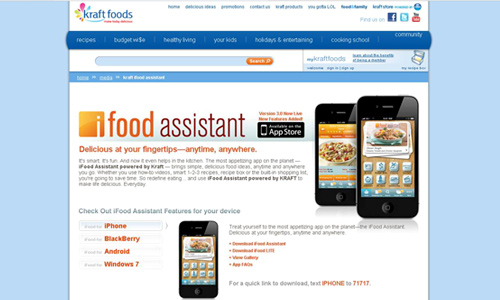 Image: kraftrecipes
It is important that clients will see how your iPhone application will look like in an actual iPhone. Make sure that when you do this, you app is as close as possible as the real app is. You will lose the trust of the client and the user if your app will turn out totally different when they used it from what you have shown online.
5. Use an attention-grabbing headline.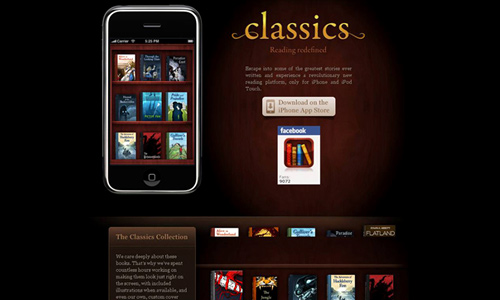 Image: classicsapp
Making a great headline that is eye-catching will surely raise the interest of the user. You have to make your headline large so that it can immediately catch the attention of the users and of course, you have to choose the proper wordings, too. If you could manage to make a killer headline, it will surely help skyrocket your sales.
6. Clearly state what it can do.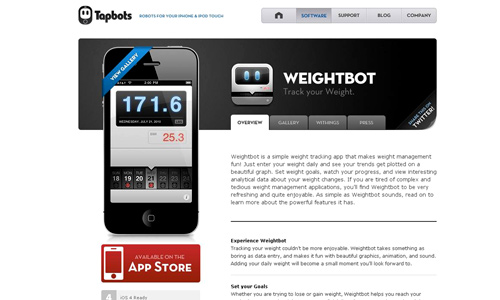 Image: tapbots
In making your headline and your website for promoting iPhone apps, make sure that you will accurately describe your app. Tell what it can do and why it is better than the other apps. You can make other versions of the app and test which one is better. In making your description, make it short, direct and interesting.
7. Have a list of benefits and features.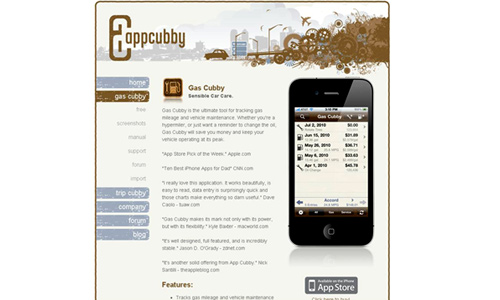 Image: appcubby
Next to your headline, you should be able to clearly lists the features and benefits of your app. You should place this above the scroll together with the headline. Make it easier to read this by placing it above the fold of the website. Use bullets so that it will be easier to read it and you could get the attention of the users and the readers. Be honest about everything. Do not exaggerate your things. Your user might expect too much but you can offer less.
8. Make a noticeable call to action.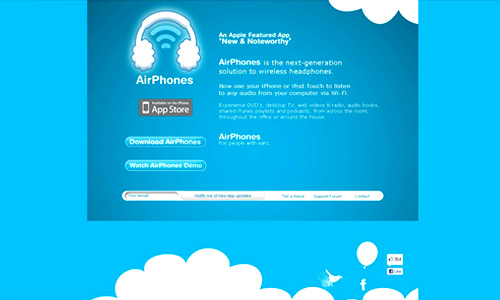 Image: airphonesapp
You should be able to invite your users to do some action like "download now". Call to actions should also be large enough to get the attention of the users. Place it in an area that can be easily noticed. Encourage people to buy your app. You can offer free trial if you want to. Make sure also that it would be easy to download your applications.
9. Use a video.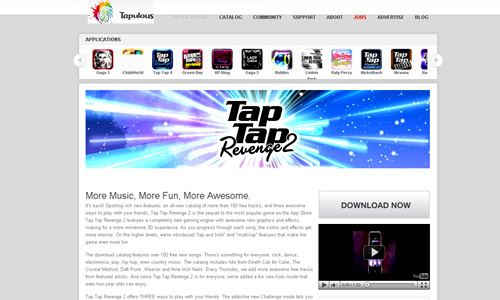 Image: Tapulous
To introduce your app, you can use a video. If you are not confident to speak and explain it, you can ask someone else to do that for you. But you will still be the one to write the script. In your video, show your iPhone app in action and tell them the features of it. Some people prefer to watch a video than read. But do not make it too long.
10. Choose an effective promotion scheme.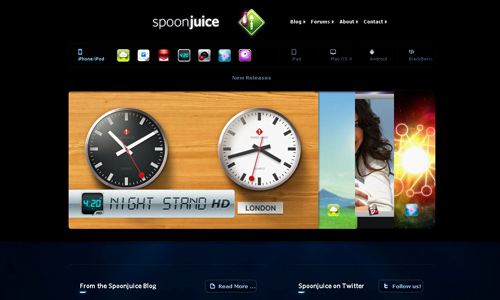 Image: Spoonjuice
When we say viral marketing, it includes videos and images posted in various websites like YouTube. This way, people can share it to other people. You may also use social networking to share your iPhone app. Just keep on promoting it in whatever ways you can and for sure, people will come to your site and download the iPhone app you have made.
Considering the tips we have given in making your iPhone app website could help you to effectively sell the fruits of your creativity. But of course, you should not forget that an iPhone app website needs to simple, interesting and informative. It should be informative in a manner that it could give all the necessary information your clients and users will ask for. Make it easy for the clients to understand your app and always be honest in promoting them. Gaining the client's trust is very important. If you have other tips to share, you may do that by writing in the comment section below.