Business cards can just be as useful as they are noticeable. Mostly people use their visual sense to notice a business card, but what if you can expand the scope of your business card. Textured business cards have the advantage of being noticed not only through vision but also through touch. Just imagine feeling something different inside your pocket or bag, it would definitely catch your attention and thus do its work more effectively.
Today, we have gathered a series of beautiful and creative Textured Business Cards that could give you ideas and inspirations that can help you for your next business card design. Scroll down and check them all out below. Come, take a peek, and enjoy browsing.
Metal Business Card For Ferrari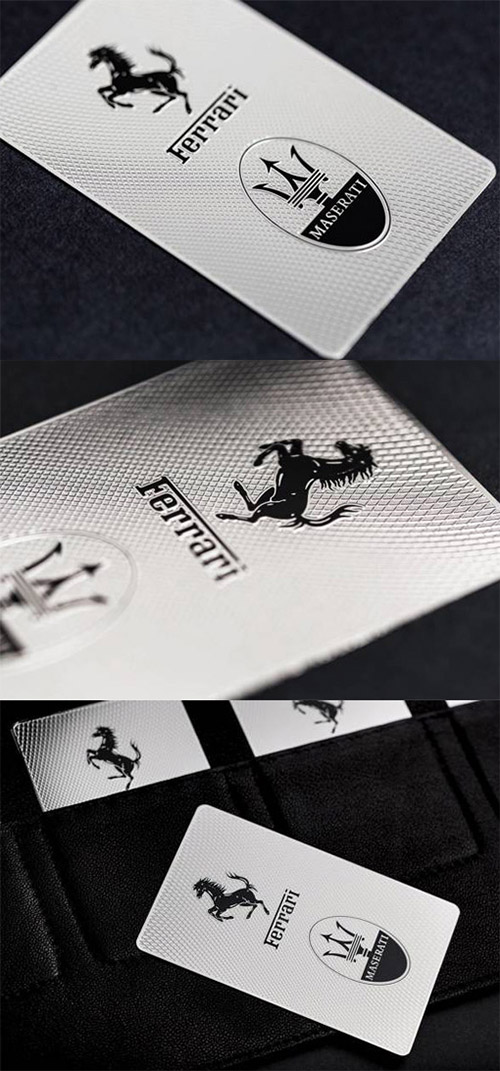 These sleek and stylish cards have been made using a thin aluminium sheet and a number of processes have then been applied to get the final effect.
Source
Black And Red Business Card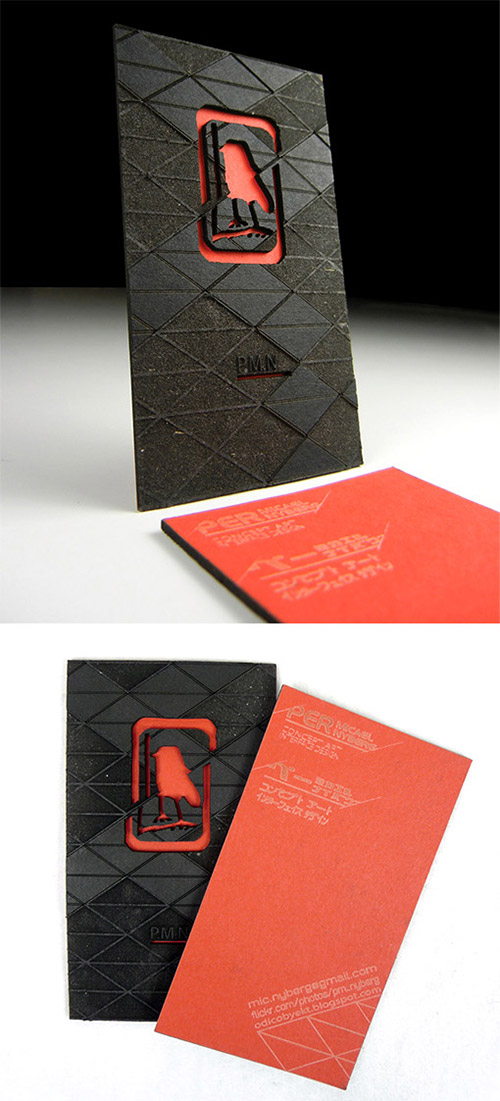 The thick black card stock has had the logo completely cut out in a stencil like fashion and the background texture and lettering has been created via laser engraving.
Source
Textured Letterpress Business Card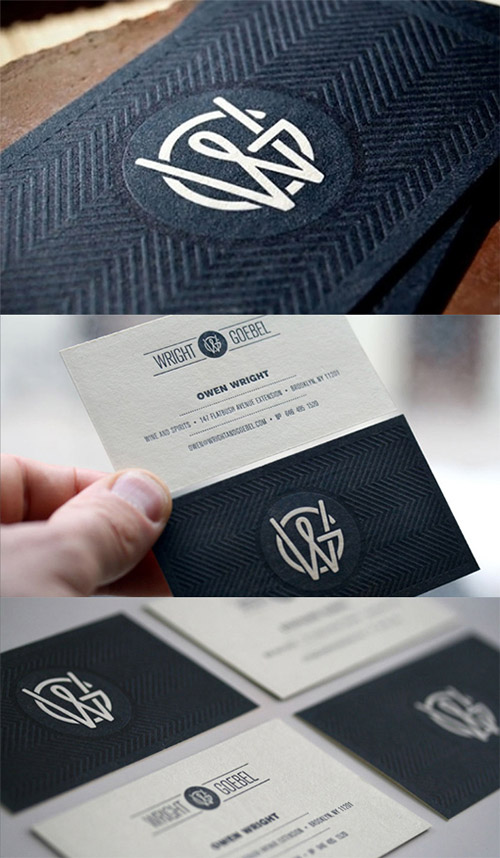 The texture of the background was printed with a blind deboss.
Source
Apartment One Business Cards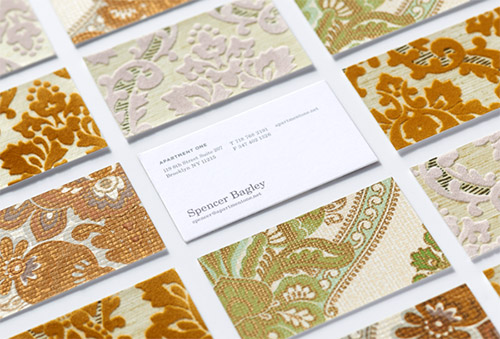 Authentic vintage wallpaper rolls were used and mounted to these printed sheets of paper.
Source
Clovestpress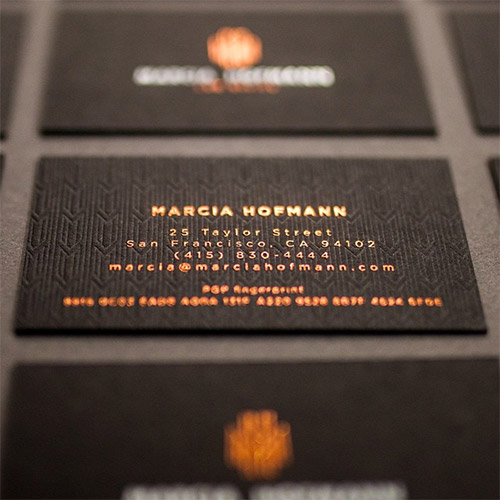 This business card applied and transformed the MH monogram into a pattern that covers the backside of the business card.
Source
Black Leather Textured Business Card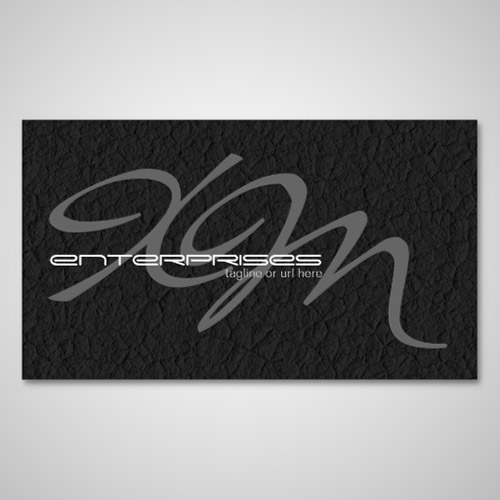 This business card design concept uses a leather texture.
Source
wrapup co. business card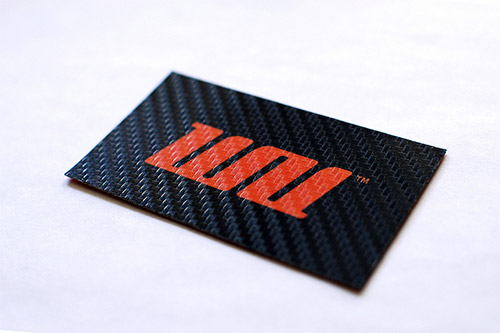 While this design uses a weave-like texture with a shine finish.
Source
Backside of RSVP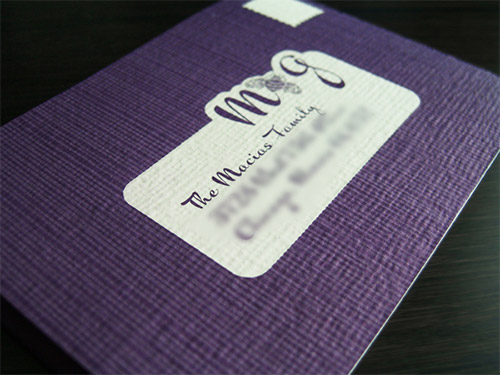 This one used used letterpress, offset printing and had a woven texture to it.
Source
Vanna business cards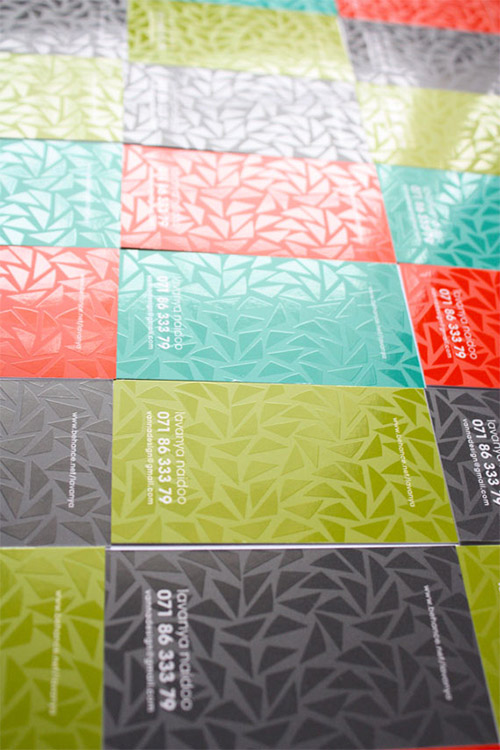 vanna business card has a finish with spot varnish texture.
Source
Brouillet 1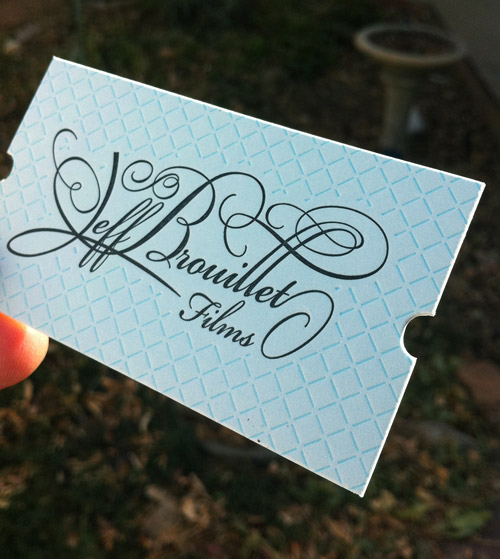 Letterpress printed business card with a delightful combo of textures, colors, type and pattern.
Source
Christian Garibaldi's Business Card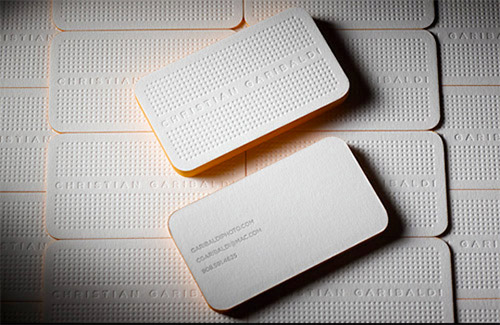 The yellow lining and the dotted textures are great touches to this otherwise all-white business card.
Source
Andrea wiseman photography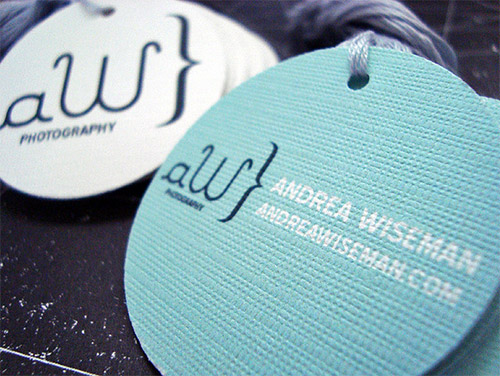 This circle business card also has a woven texture on it.
Source
Honeycomb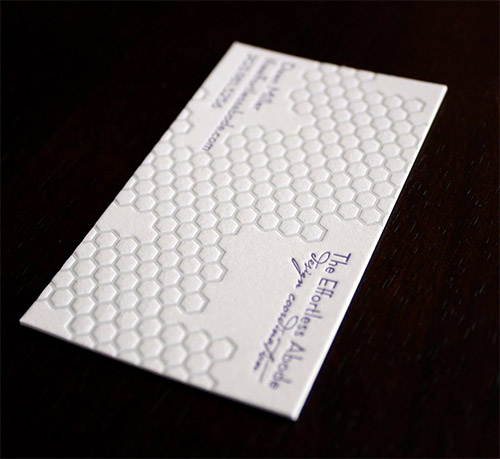 A nice white business card with honeycomb texture – hexagons put together like in a beehive.
Source
Letterpress Business Card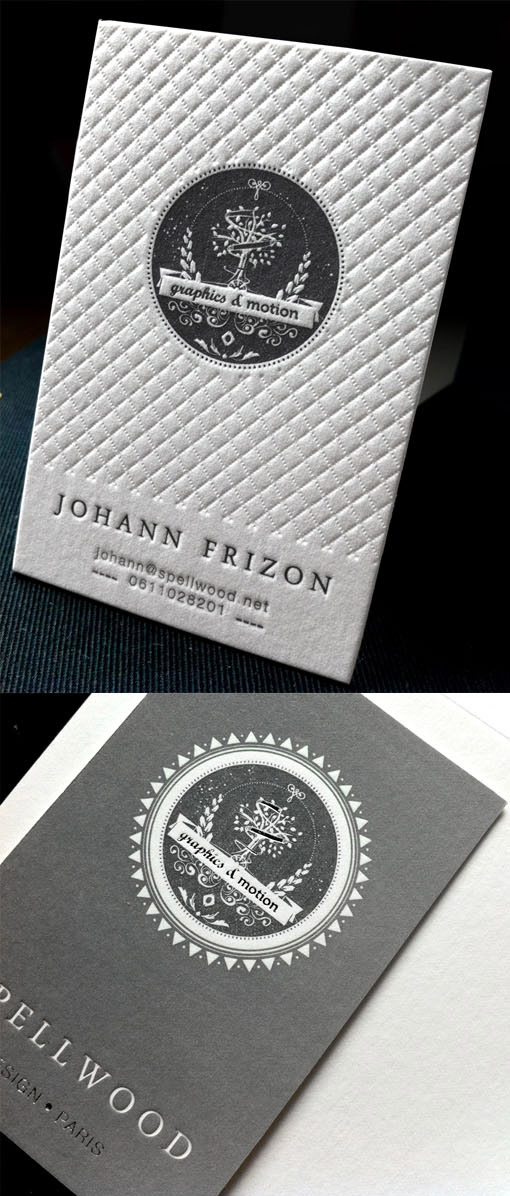 One side of the card is printed on thick white card stock in black ink and has also had a blind press applied which gives the card a beautiful and intriguing texture.
Source
Textured Edge Painted Letterpress Business Card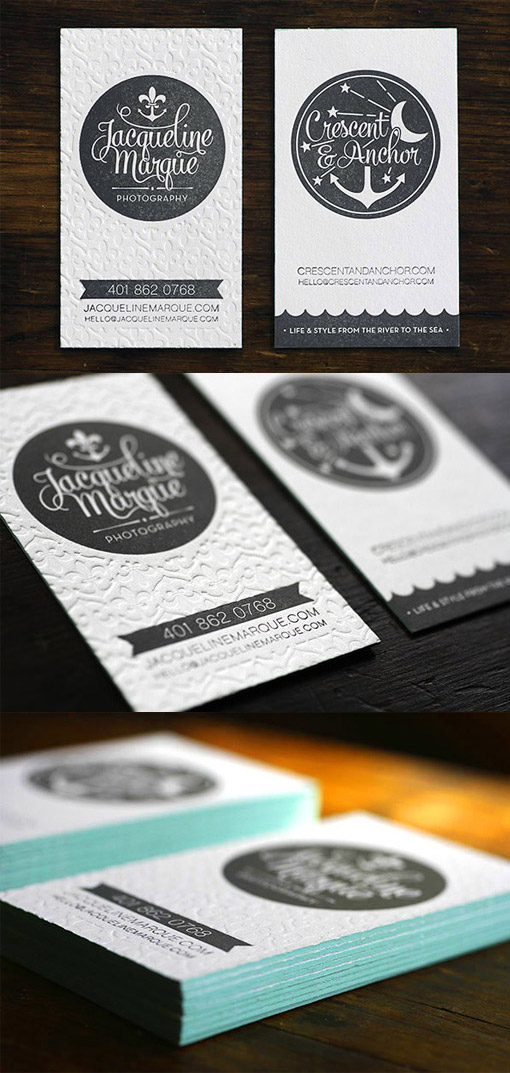 One side has been textured with a blind press technique around the logo whilst the other side has been left smooth.
Source
Vintage Damask Wallpaper Inspired Business Card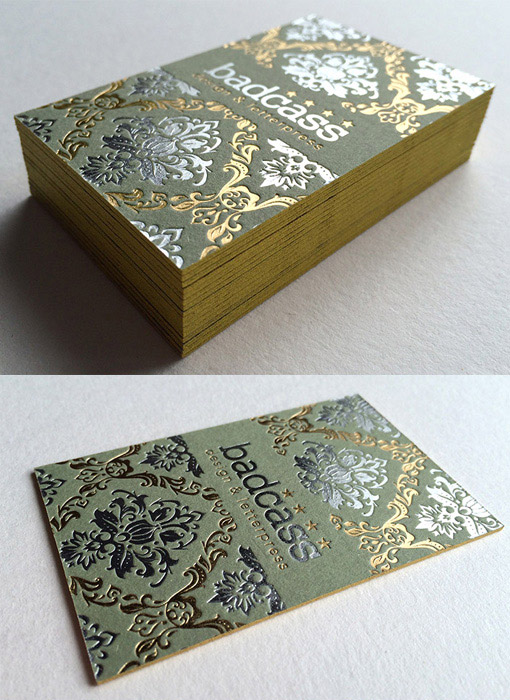 An olive green card stock has been laminated to an unbleached chipboard stock which makes the cards extra thick and also gives a different colour and texture on the front and back of the card.
Source
Unique Textured Letterpress Business Card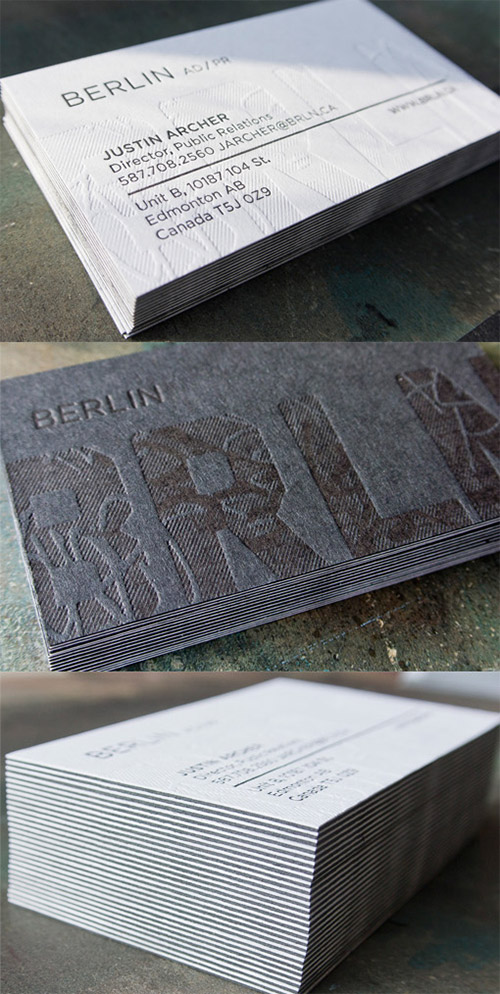 The printing on this card has been expertly done to show off some great imagery and give some incredible texture which is reminiscent of the fabric on a pair of distressed jeans.
Source
Bright Neon Textured Edge Painted Letterpress Business Card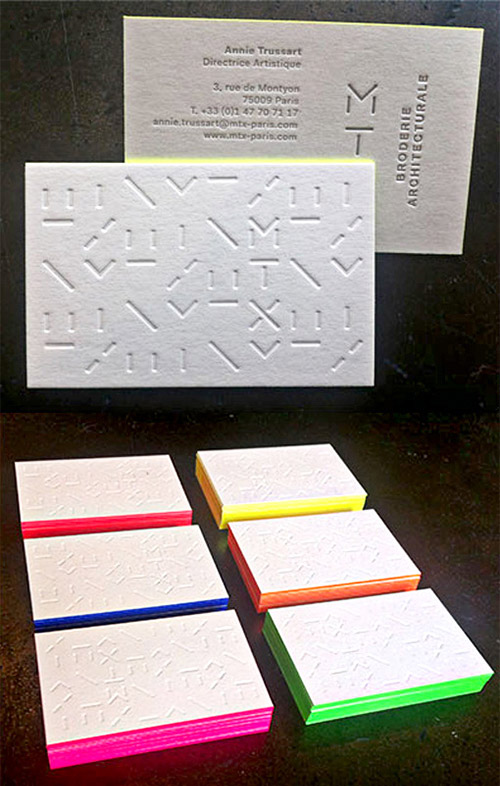 The logo has been cleverly integrated into a background texture which has been blind pressed onto the front of the card.
Source
Elegant Textured Blue And White Letterpress Business Card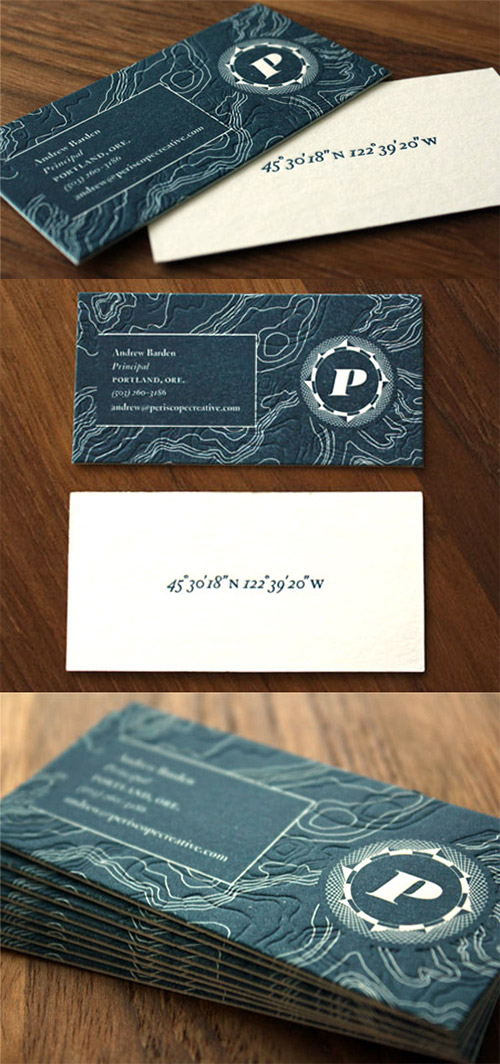 A topographical map of mountainous land has been used as the main background and as an interesting texture.
Source
Textured Letterpress Gold Foil Edge Painted Business Card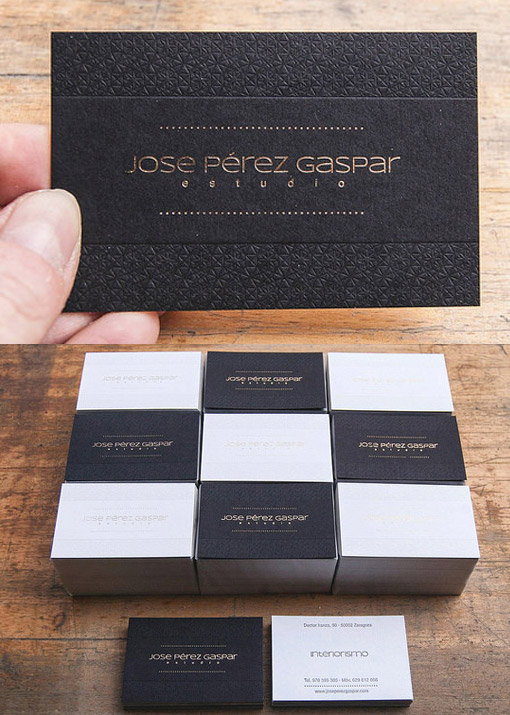 This card used a blind letterpress printing technique to impress a geometric texture into the surface.
Source
Textured Business Card Design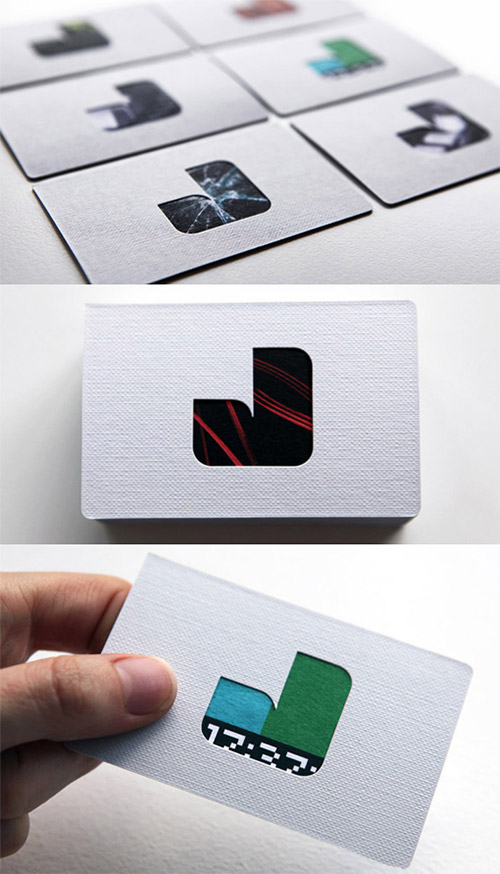 The backs of the cards are printed on an intriguingly textured white card stock.
Source
Bright Red Textured Business Card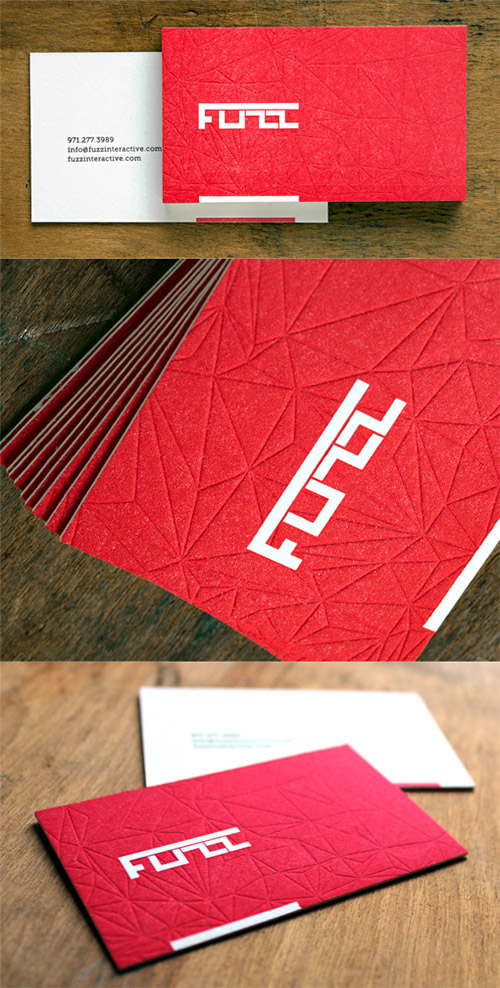 A blind deboss was used to overlay the texture of geometric lines on the front of the card.
Source
Multi Textured Business Card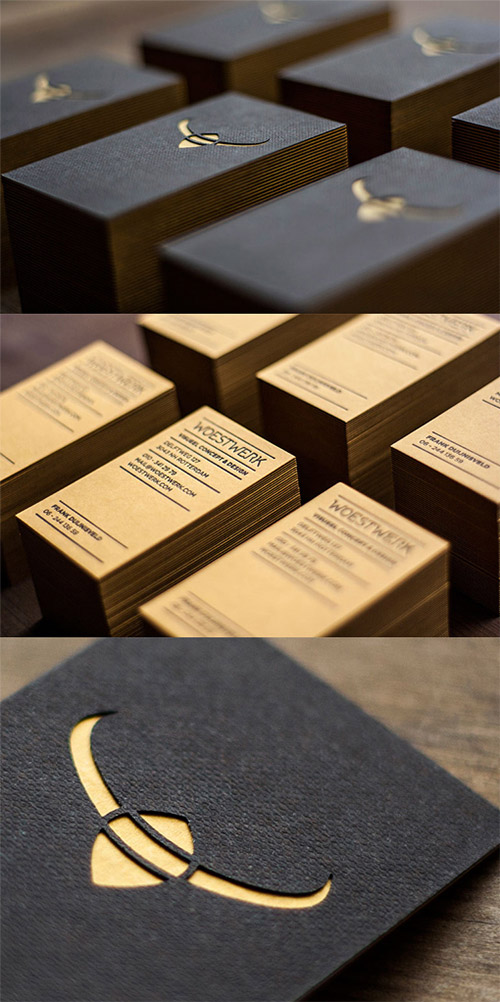 The logo has been die cut into a nicely textured charcoal coloured card stock.
Source
Textured Hand Stamped Business Card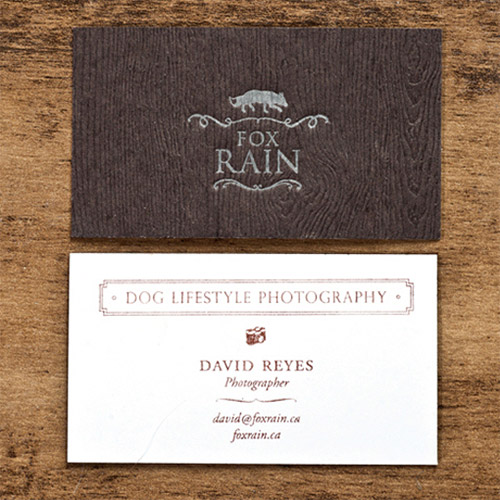 The front of the cards was printed in silver metallic ink onto an unusual dark brown wood textured card stock.
Source
Textured Vintage Style Business Cards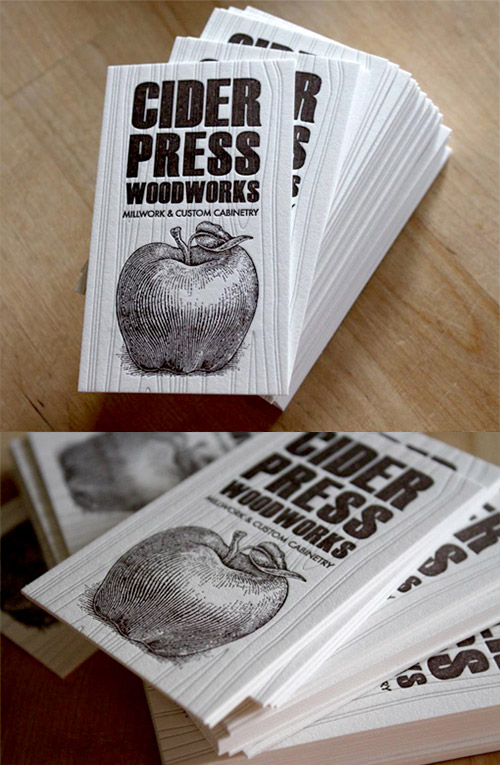 The design for this card combined the use of vintage imagery and a textured woodgrain to give the cards a nice feel and old-timey style.
Source
Texture And Typography Business Card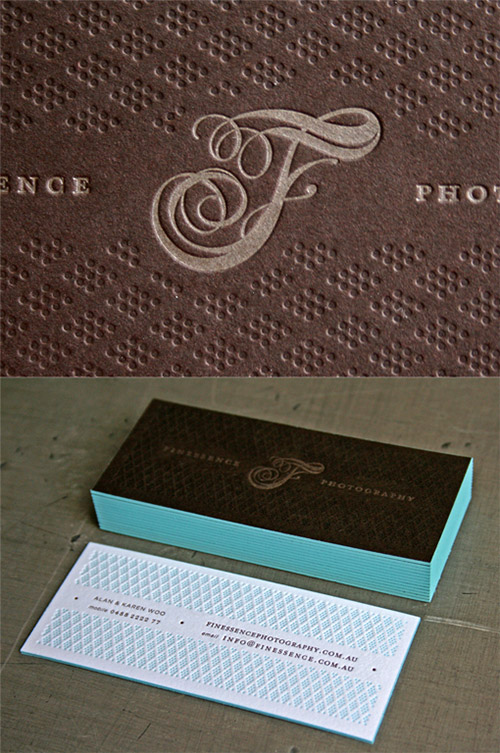 The beautiful texture and typography on these business cards gives them a luxury feel.
Source
One Colour Business Cards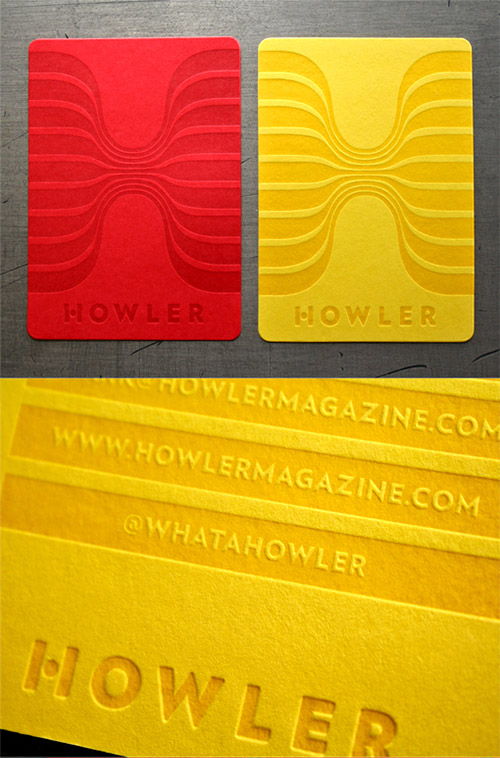 The tonal ink picks out the design without looking like an obvious print, leaving the texture to make the real impression.
Source
Gorgeous Pattern And Texture Business Card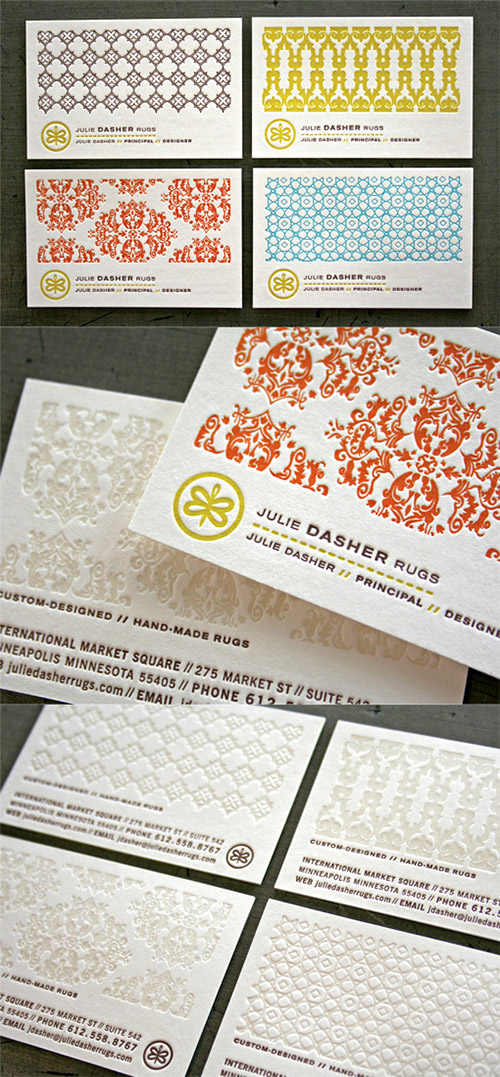 The texture provided by letterpress printing gives the cards a luxurious vintage feel which makes them extra special.
Source
Textured Letterpress Business Card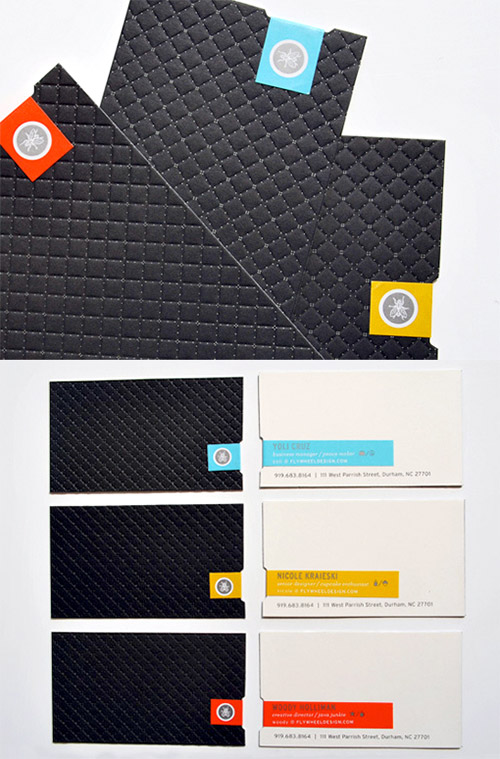 The most striking feature of these cards is the beautiful texture they have on the black side of the card.
Source
Textured Letterpress Business Card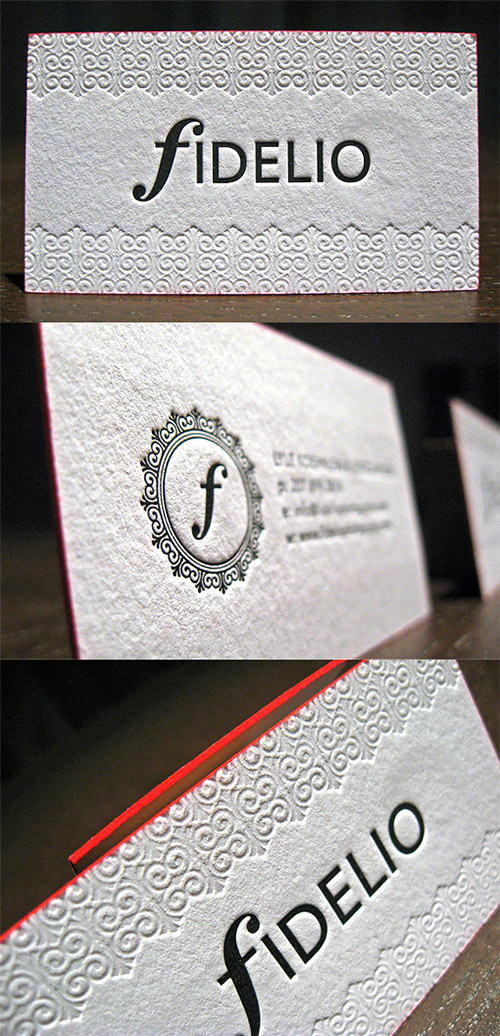 The lovely texture on the front has be achieved via blind printing.
Source
Note: All visual content above is copyright to its respectful owner. Please read the Terms Of Use of these resources before using to prevent unwanted occurrences. NaldzGraphics does not claim credit nor responsibility for any images/videos featured on this site unless otherwise noted.
Have something in mind related to web design, freelancing, and other awesome stuff? Let us know and maybe we'll feature it on our next post. All your comments and opinions are appreciated. Let us hear em up in the comment box. Thank you and see you again mate!