Having a graphic design blog is very challenging for it is similar to having your own business. Aside from making constant posts and high quality contents, there is also a need for you to learn marketing and sales. Without knowing these things, you will not be able to attain the bottom line you wanted to achieve which is to earn money and make a living. Hence, there are some things you need to consider to be able to manage your blog well.
To do that, there are some contents that you need to place in your blog to make sure that you'll get the most of it. If you won't have these, you will not be able to get to your goal. But if you have these, you will surely be fulfilled and happy for having an effective graphic design blog. So, here are valuable contents for a better graphic design blog management.
1. Have high quality contents.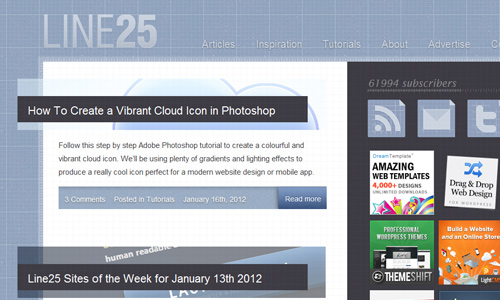 Image:Line25
A graphic design blog would be useless if all it has is good web design. The more important thing aside from usability and navigation is the website's contents. You have to make sure that your contents are of high quality, unique, original, inspiring and informative. The audience is actually visiting your site not because they want to look at your design everyday but because they have that desire to read your contents each day. Hence, you have to make sure that your articles and posts are really good. These are the reason why you have readers. Also, be sure to set a high standard for contents and post them regularly. This is the best way to hook readers.
2. Use high quality images.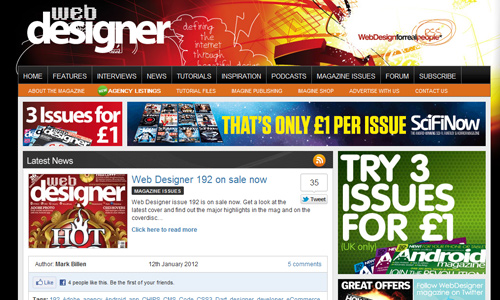 Image:Web Designer Mag
Of course, a graphic design blog should use high quality images. If you won't, you fail to show the people what good graphic design really is. Start doing that by having high quality images. If you use stock photos in your site, make sure that your images are suitable to your posts and that they are of good quality. But if you cannot find the right images, you can make one, too. That would be more impressive.
3. Extend your online network.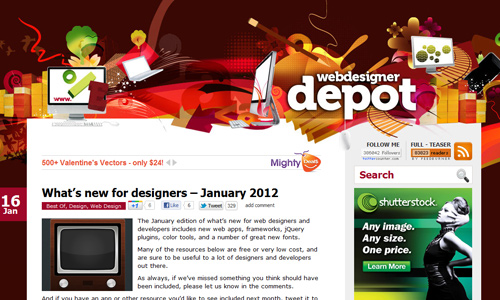 Image:Web Designer Depot
You will be able to get help from other design bloggers. Look for them and befriend them. You can let them do some guest posts in your blog and you can also do the same to theirs. You will also be able to have increased audience knowing that your site will also be promoted by them. Aside from fellow bloggers, you can also look for prospect clients and other people interested in design. They can be one of your keys for a more successful site.
4. Have an organized category.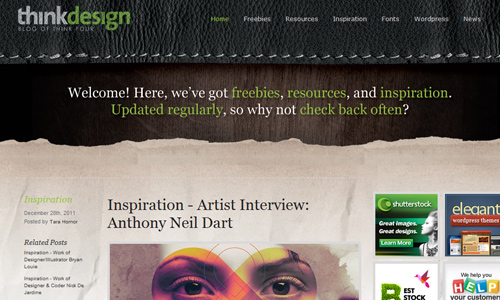 Image:Think Design Blog
Your categories should be organized well. Be sure that you will limit it in your own field and niche. Do not include categories that do not belong to your niche for this will confuse your visitors and would lessen their trust to your site. Have clear categories placed on top of the page.
5. Show recent items.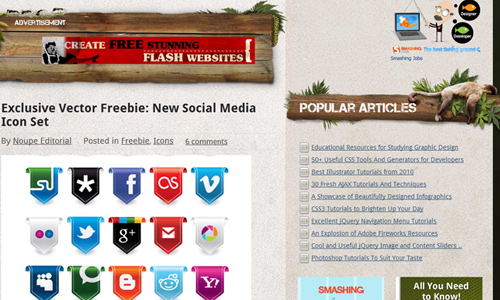 Image:Noupe
Doing this will show the audience that your site is active and updated. Place Most Popular posts and Recent Posts in your site that will contain the articles recently posted and have received the most number of comments and shares. You should also show Recent Comments so that visitors can see that there are people who are responding and interacting to your posts.
6. Customize icons for your blog.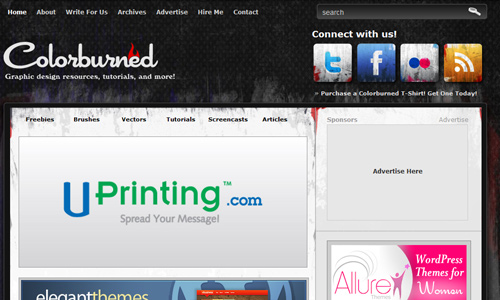 Image:Colorburned
Your blog will surely be using some icons like your share button, RSS and others. Since you are a designer, you will have that ability to create icons in a unique personalized manner. Let it go along the design concept of your website. This way, you are not just showing your skills as a designer but you are also giving your site a more personal touch.
7. Place a search bar.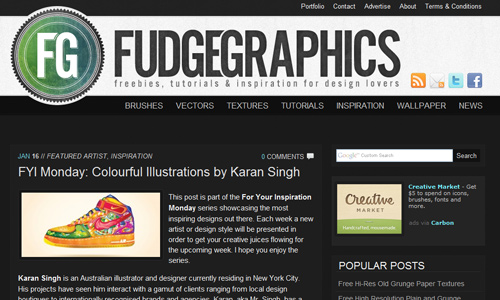 Image:Fudge Graphics
Your search bar is important for it is where your visitors type keywords for articles they want to see. Most of them would look for it. So, do not forget to place one. In your placement, make sure the location is just right for your visitors to see it. Place it in a visible area at the top of your blog.
8. Have an About Page.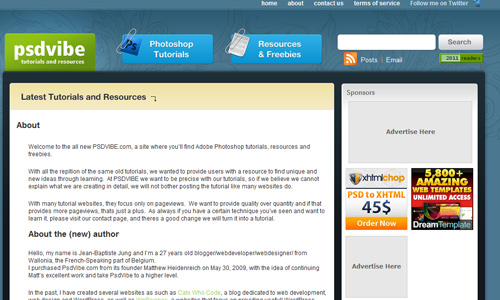 Image:psdvibe
It is also necessary to have an About Page in order for the visitors to know what your site is about. You can state your experience and field of specialization in this page. But you have to make it brief. You will bore your audience if you will make it long. Just make it enough for the readers to know something about your site.
9. Place a subscription and share button.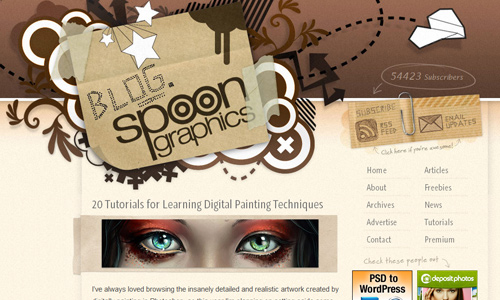 Image:Spoon Graphics
You should also place a share button and a subscription button in places that can easily be found by the readers. Your subscription button will allow them to subscribe to your email newsletter. This will keep them updated with your posts and this can also help you retain your readers. Your share button includes buttons for Twitter, Facebook, Google +, StumbleUpon, and others. Place this before, after, or beside your posts. This way, readers will find it easy to share your posts to other people which will also be an advantage for you to have an increased traffic.
10. Have a Contact Page.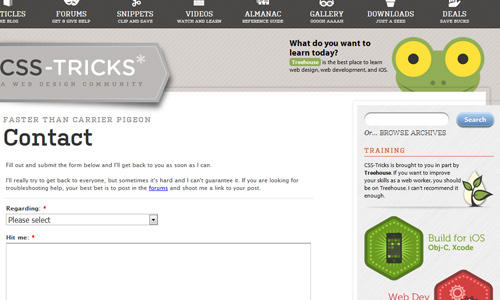 Image:CSS Tricks
Some of your visitors would like to contact you for some reasons that is why you have to provide a way in order for them to reach you. You can provide an email address or a contact form. It is more convenient for the visitors if you use a contact form. In creating your contact form, do not make it complicated so that they will find it easy to reach you.
11. Proper placement of advertisements.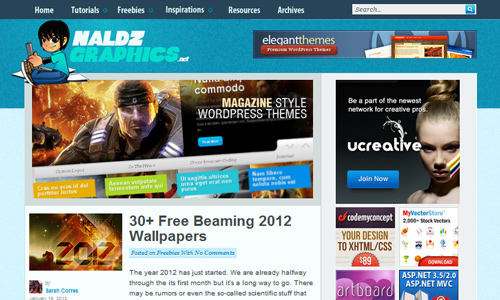 Image:Naldz Graphics
For your ads, make sure that you place it in locations where it would not distract the readers. The audience will not like it if they see so many ads that distract their reading. So, be sure to place them well so that you will not lose your readers just because of it. There are really some readers who hate to see too much ads that are not nice to look at and are hindrances for their better understanding of your posts.
12. Write guest posts.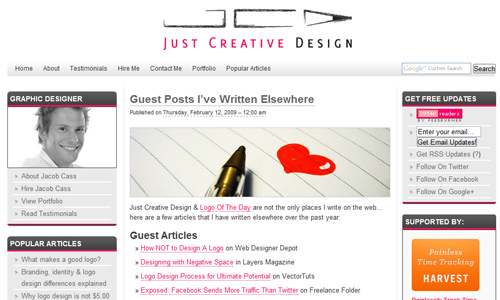 Image:Just Creative Design
Guest posting can do you a lot of benefits. You can get more traffic for your website because the readers of other designer's blogs would also be interested to check yours due to your impressive post. It can also help you extend your networks. Build a good relationship with blog owners by having guest posts in their sites. They will surely appreciate it and you will also benefit from that. Just be sure also that your articles given to them are of high quality so that you will have a successful guest post.
It's Your Turn Now
Everyone would like to have a successful website. You can start getting to the top by having the things stated above in your blog. Just take note of them while you are designing your blog. Do you think there are still other things that should be included in a graphic design blog for a better management? Feel free to add some of them in the comment section below.