Upon hearing the word "beach", it makes you feel close to nature and you might even already hear the waves as it go to and fro the shore. Many people love to go to beaches because aside from its beauty, it can give one a refreshing and relaxing feeling. People both young and old fancy the beauty of beaches as it combines the lavishness of water and land. The beach is a good place to have fun and to take some rest. Others would merely sit and feast their eyes with the beauty of the waves, the sky and the horizon while others could not help it but to capture its beauty through photography. Well, who wouldn't be delighted to take a picture of a beautiful beach?
So, if you are planning to go to the beach these days, do not forget to bring your camera because this is one place where you can certainly get great shots. But photographing at the beach is sometimes tricky and challenging especially that the sun is so bright. Some might also think that it is quite boring since you will only get to photograph the same scene of waters and sands. Well, you are wrong about that because there are so many things you can do with your photography while at the beach. Wanna know what these are? Today, we will be giving you some beach photography tips and a showcase of perfectly beautiful beach pictures to give you inspiration. So, let's get started with the tips we have prepared for you.
1.Scout for beautiful beaches.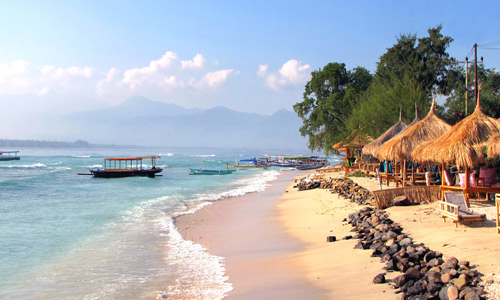 First of all, look for beaches that have beautiful environments. This can help you to get perfect beach shots. Some may go to distant places to visit beaches but for sure it would be worth it especially if you will be able to get beautiful pictures of the site. Other than the experience, having a good addition to your gallery of beach pictures would be fulfilling on your part.
2. Choose right time of day.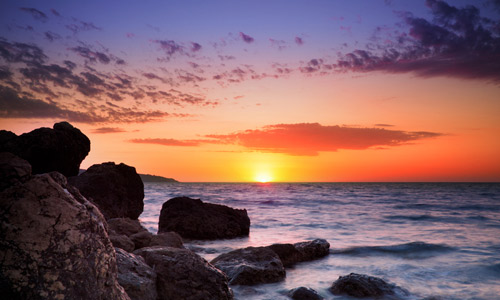 When taking pictures at the beach, you could either do that early in the morning or late in the afternoon. This will let you get a good lighting from the sun during sunrise and sunset since on other times of the day the sun might be too harsh. Getting pictures during golden hours can also give you great results. During those times, the light is warm and the contrast is low which results into pleasing outputs. So, see to it that you take pictures at the right time of the day. But if the sun is not too harsh, you can try taking pictures if it won't be too bright because the glare from the sun and the water will create a high contrast to your photo. You won't be able to get a good picture with the environment and all.
3. Try silhouettes.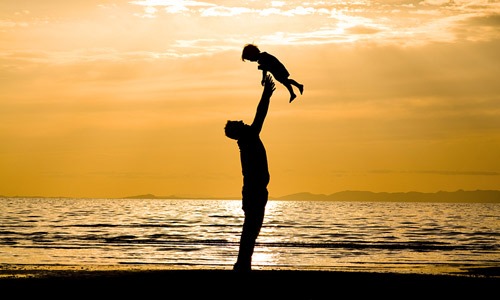 While on the beach, silhouettes can work well. This can make your subjects pop and it can give interesting outputs, too! You might have seen so many pictures in beaches that have silhouettes in them. Notice how great the sky and the beach look and how the subject becomes the center of the image without even exerting much effort. Well, you would need to learn how to work on silhouettes first. You can practice that at the beach if you want to. Check on Tips for More Dramatic Silhouette Photography to help you get silhouette photos at the beach.
4. Look for good subjects.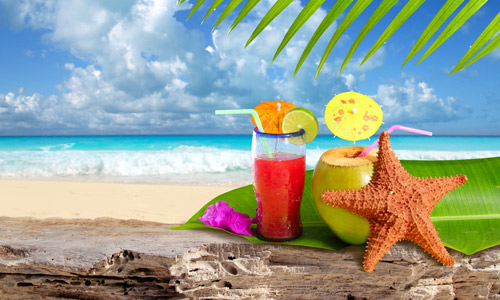 People are not the only ones that look good in the beach. There are so many subjects that you can look for like leaves, stones, cottages, slippers and many others. These can be good subjects for still life photography. Be creative with your subjects. Animals are also good subjects but be sure you know how to take pictures of them. Birds can be seen on beaches, you can try to use them as your subject.
5. Include the environment.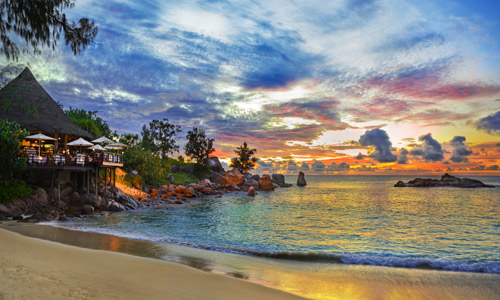 When taking pictures, do not just focus it on the subject but make sure that you include the environment. This includes the water of the sea, the waves, the sky, the sand, the rocks, the trees and all the other beautiful creations around the beach. You can also try taking pictures of the environment alone. This will give you beautiful landscapes and waterscapes. But make sure that you will be able to compose your pictures well by looking for good focal points. You can also try framing using leaves, rocks and others.
6. Avoid harsh shadow.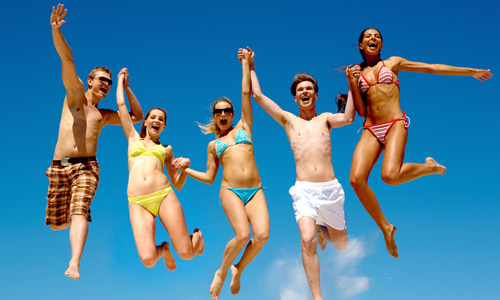 Since the sun's light is bright, there is a tendency that harsh shadows will be created on your photos. To do away with that, use fill-in flash to bounce light into your subject's face by using a reflector. You can use a white towel as reflector by letting someone hold it out of the frame. You can also take a closer picture of your subjects to do away with harsh shadows.
7. Expose or underexpose.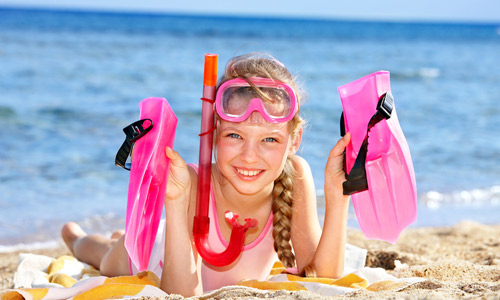 You can use spot metering and expose the face to get better results. Well, a picture with a blow out background looks much better than a picture with the subject with underexposed face. But you can also try to underexpose your photo in order to preserve the color of your background. But do not underexpose too much for it will add noise to your photo.
8. Try black and white.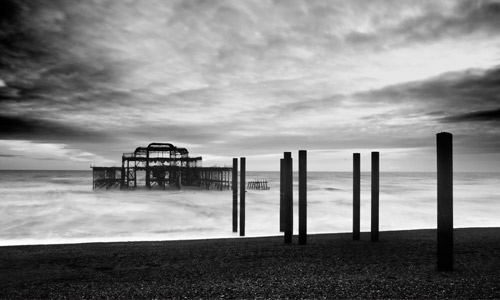 You can also use black and white for your beach photographs. This can create timeless and artistic images. Light from the sun can make high contrast black and white photos. It can also result into strong shadows and light areas. Even a waterscape in black and white will also look good. Try it and you will surely love it if you see a great result. Check on Why Black and White Pictures are Still a Hit.
9. Create interesting compositions.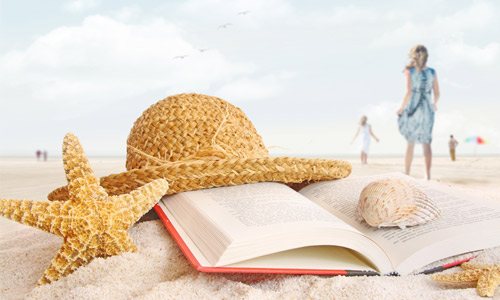 Photography composition is important for that is what makes your photographs stand out. So, see to it that while at the beach, you look for unique and interesting subjects while getting shots in different angles and perspectives. Experiment with your shots to come up with great compositions. Read more tips about this at Photography Composition Points to Take Note Of.
10. Use wide angle lens.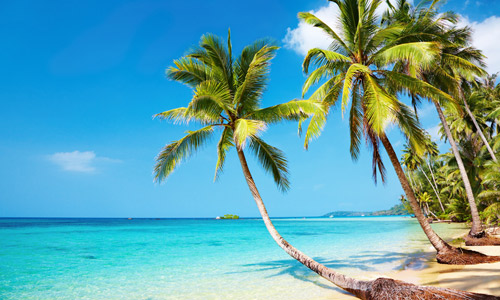 If you want to get the most of the beautiful view in the beach, use wide angle lens. This will make you feel like the entire scene is stretched away from you, giving you a beautiful capture of the beach, the sea and everything around it. Even a lighthouse from afar can be included in your image.
11. Capture movements and emotions.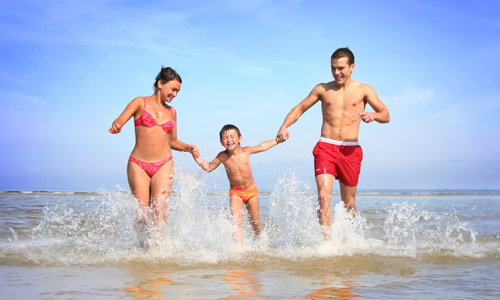 When you are photographing people at the beach, take a picture of them while running in the shore or playing or swimming. You can also get emotive photos of people like couples holding hands or families playing together. This can add more life and drama to your photos creating distinct and touching stories to those seeing it.
12. Capture the sky.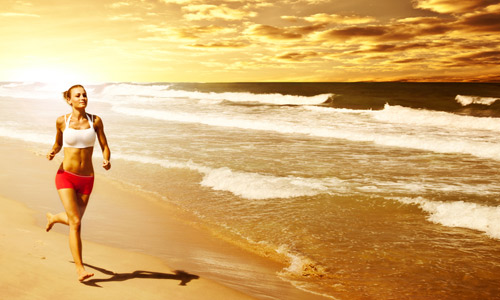 The beach is a good place to get a good shot of the sky. A mere cloud formation can add a new dimension to your photograph. It will even look more dramatic with the sun's light on it. Sunbeams radiating in the sky look very beautiful in pictures but you can also get pictures with a dark sky. They are as beautiful as the ones with colorful skies.
13. Spot colors.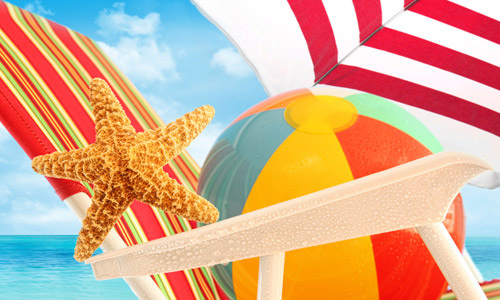 If you want a colorful shot, you can look for areas in the beach with colors. But aside from things and structures that are colorful, the sky and the beach itself can give their own colors. You might have seen various beach pictures that have colorful skies and these are very attractive. You can get a shot like that, too.
14. Set the right exposure settings.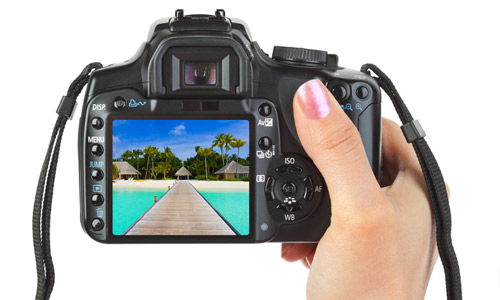 You might still want to get pictures even if the sun is so bright. Exposure problems are usually an issue at the beach. Hence, you have to lower your ISO setting like 100 or 200 and combine that with a narrow aperture like f14 and f22 while using a moderately fast shutter speed. This can help you get a good image. If you want to take portraits, you can use a wider aperture but faster shutter speed.
15. Protect your equipments.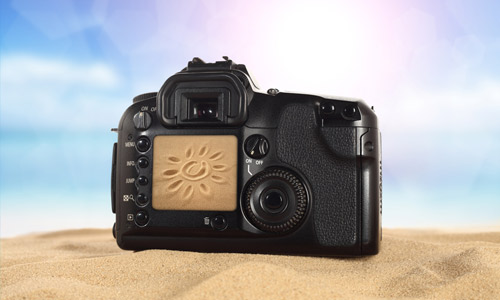 Remember that you are at the sea. There is sea water and sand. Be careful not to drop your equipments into the water and into the sand for it could destroy them. Never place your camera on the sand. Instead securely place a strap for your neck or wrist so you won't drop it. You can also get waterproof protection for your camera. Also, do not expose it to too much sunlight.
So, there you go. Those are the tips that we have for you so you can get great beach photographs. If you are not able to get a perfect shot on your first try, practice more. For sure, you'll be able to get the kind of output you want. While taking photos, do not be too serious, instead, have fun for this can give you a good experience and you will also notice that you can get better shots if you are in a good mood. Now, let us take a look at some beach photographs taken by both professional and amateur photographers. Look into how each one displays a different angle of the beach. Feast your eyes with these beach photography inspirations.
Golden Hour Beach Photographs
Worm of the Sunset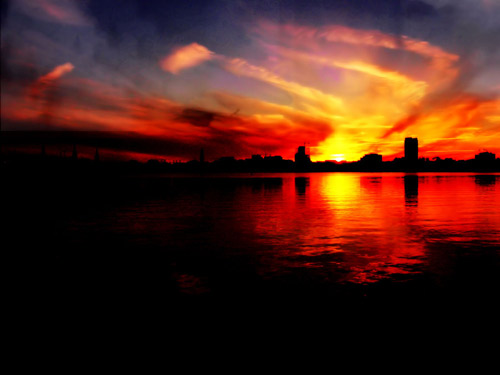 Spell sunset and you'll surely get a picture of this beautiful scenario.
Rock My Life
Willy Rock in Philippines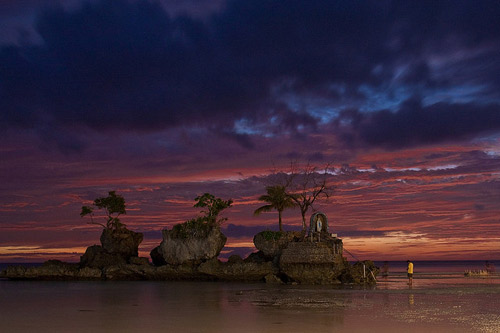 The sky sure made a huge difference for this picture plus the huge rock formation and trees on it.
Stompntom
Pacific Morning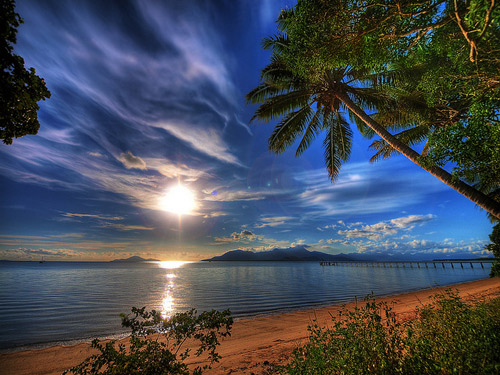 Let this sun greet you with a bright new day as it slowly peeps from behind the clouds to lighten up the entire day.
Paul Bica
Dorset Beach, England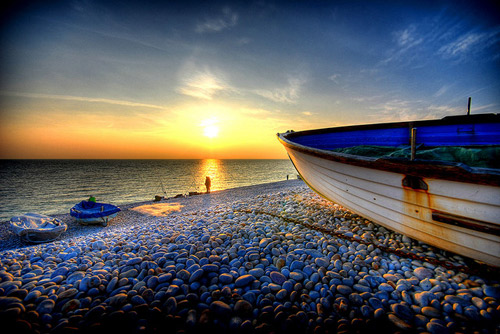 A beautiful sunrise is a sure way to make your day great. Notice the blue colors on the boat and stones, great shot indeed!
Peter Allen
Lucid Dream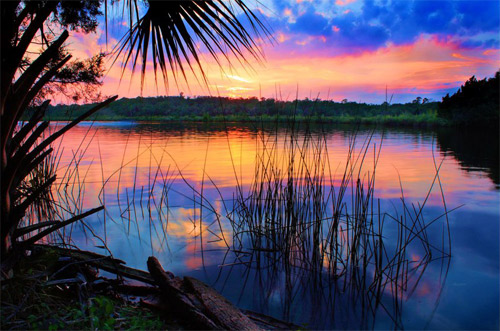 A dreamy scene of waters, plants and skies creating a very tranquil environment.
Download Source
Waters and Waves Beach Photographs
Trigg Beach Wave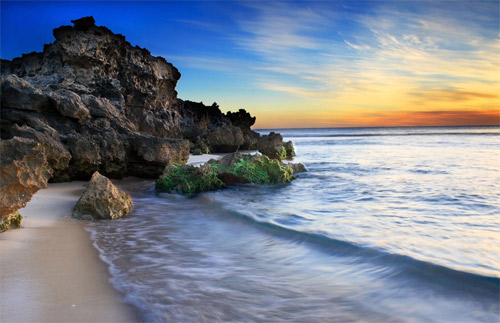 One look at this would make you feel calm and relax. What more if you are really in this beach!
Furiousxr
Injidup Beach Long Exposure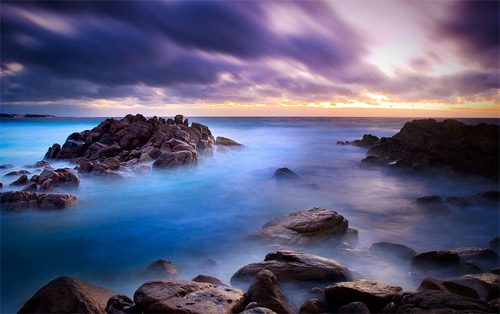 Wow. This shot is just perfect that it gave a smokey effect to the sea. It seemingly united the sky and the sea in this picture.
Furiousxr
Catherine Hill Bay Beach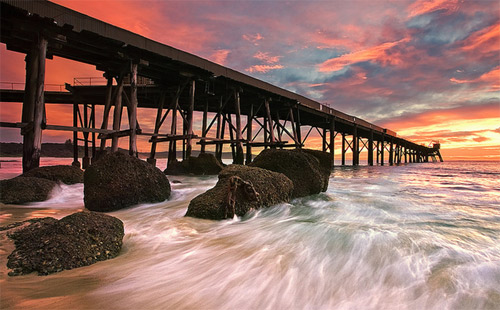 Waves beautifully caught in this photo with the structure that added drama to it.
Yury Prokopenko
Big Island Hawai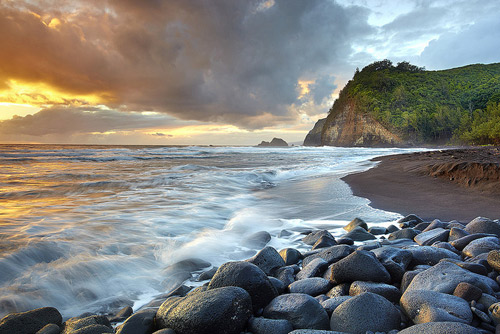 The rocks gave this photo a different texture matched with the softness of the water and the clouds.
Patrick Smith
Pebble Beach, California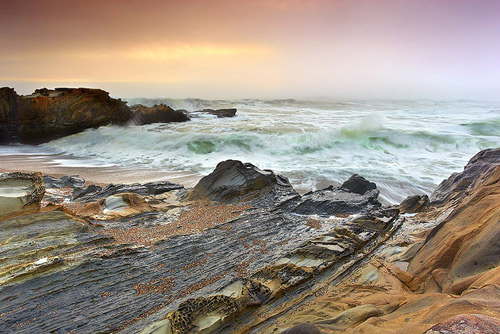 You will really feel like getting into the water as you see the waves in this beautiful picture.
Patrick Smith
Silhouette Beach Photographs
Kids Love Sunsets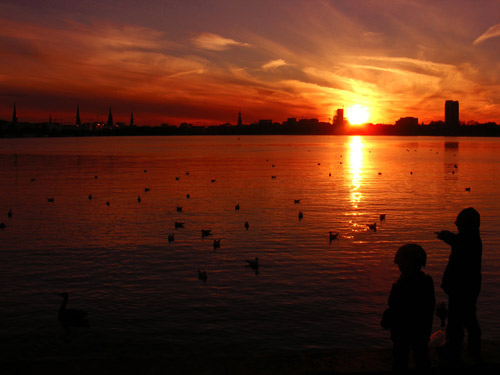 Little kids on the beach watching the birds and the sea. No doubt, these kids love the beach and the sunset as well.
Rock My Life
Sunrise in Sea Beach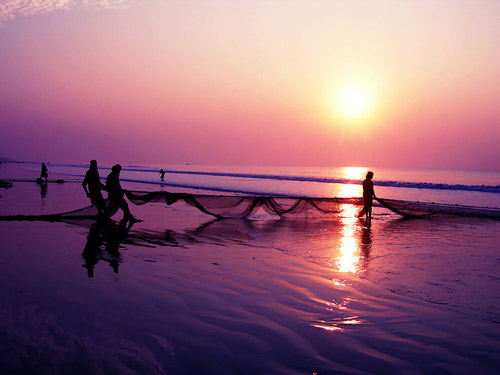 Silhouette of busy people in the beach while preparing for the day's work.
Subhadipkoley
Memory of Summer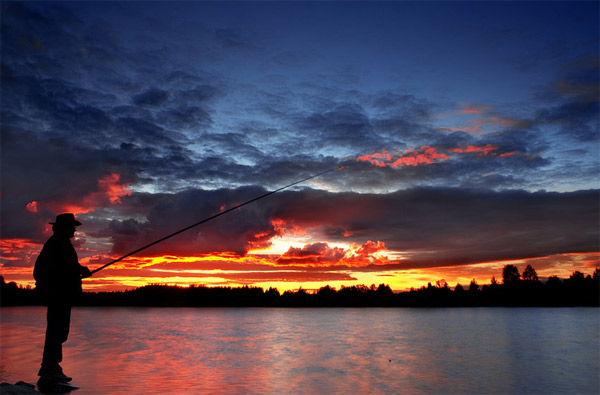 This is one great photograph especially with the colorful sky that reflected in the water.
Jjuuhhaa
The Wanderer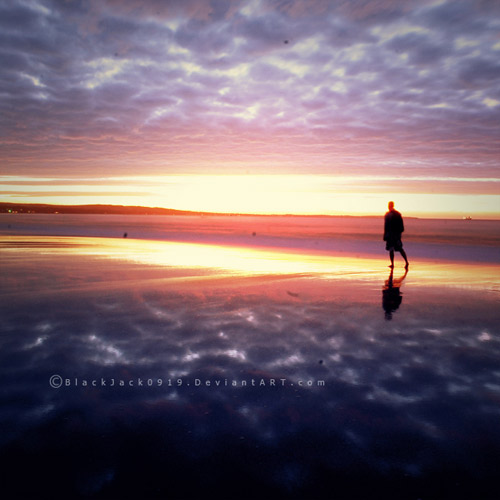 The subject is given emphasis with its silhouette but it also gave more highlight to the beauty around it.
Black Jack 0919
Bird Beach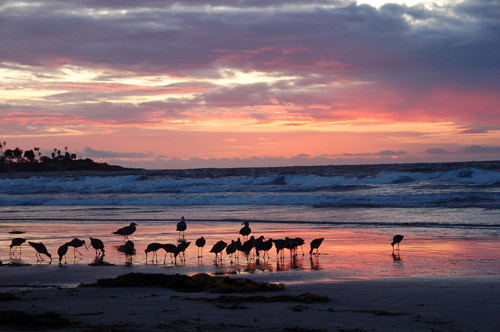 If you love bird watching, this could be a good place to do that especially if you could capture those pretty birds on camera.
Skies and Horizons Beach Photographs
Rodeo Beach Sunset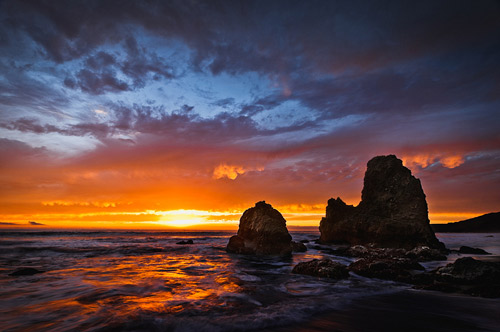 This shot is very breathtaking. The sun seems to be sandwiched between the sky and the sea squeezing its light to the horizon.
Nathan Spotts
The Beach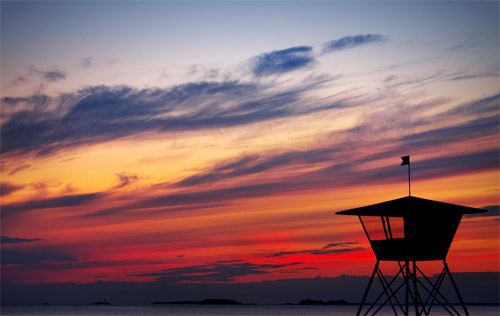 It is indeed amazing how the sun can create a beautiful sky like this with its light and radiance.
Jjuuhhaa
Ventura Beach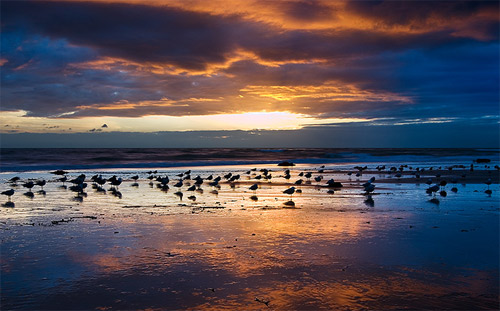 The reflection of the sky to the water looks beautiful. It was even enhanced with the birds on the water.
Nolan Nitschke
Ruby Beach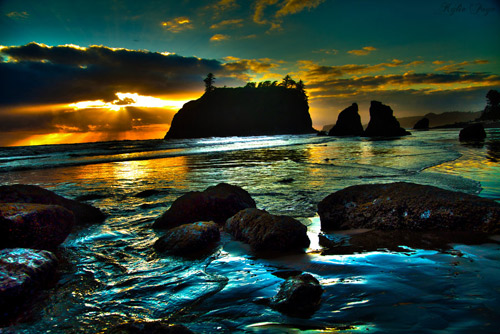 This one has greens and blues in the sky which make it look very attractive and unique.
Kyliefaye
Last Light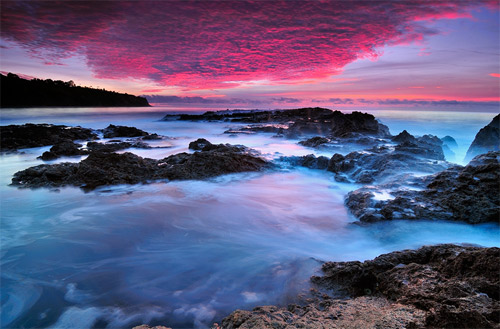 A pink sky! Who would not love this shot?.
Slickwilly182
Interesting Subjects for Beach Photographs
Beach Huts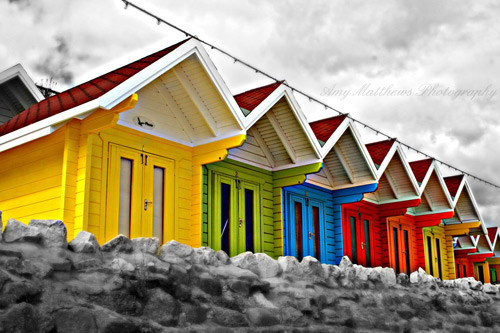 Even beach huts would look good in photos especially when they are as colorful as this.
Amylnm
The Beach of Hurghada Egypt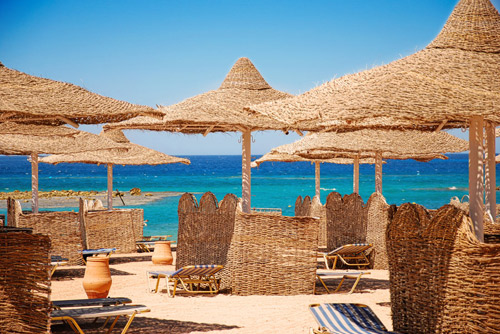 Another beach photo with the cottages as the subject, looks interesting right?
2-0-1-9
City Beach Morning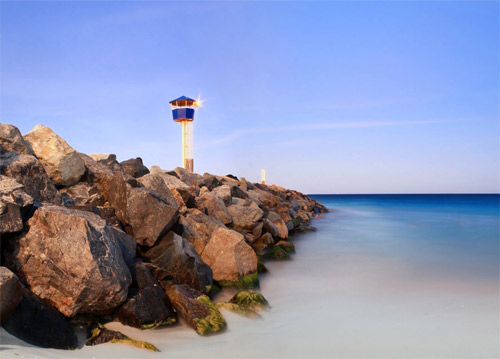 The lighthouse looked perfect in this shot while still taking a good view of the beach and the surroundings.
Furiousxr
Color Beach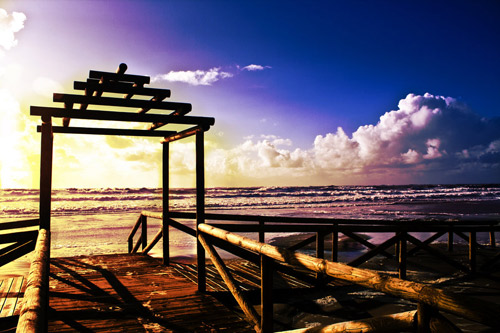 This one highlighted the wooden bridge giving this photo a different perspective.
Trunks-z
Nikon Beach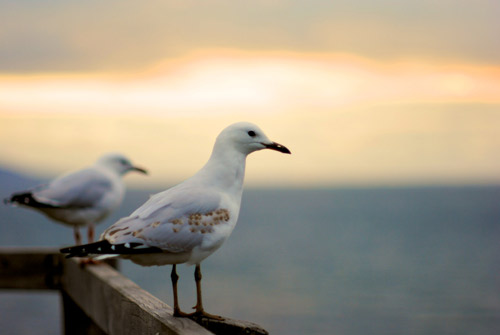 Animals are good subjects for beach photography like these birds.
People in Beaches
Summer Love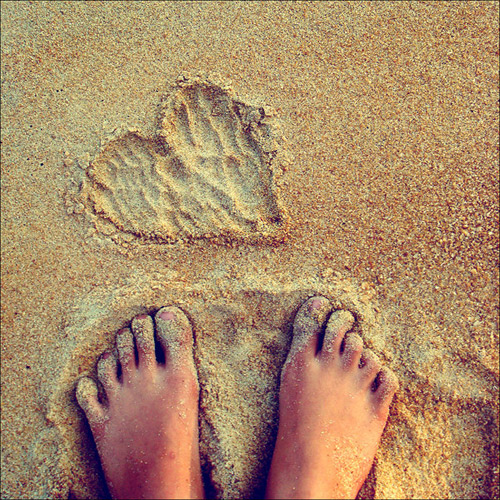 An emotive picture of a person in love, expressing it by drawing on the sand.
Camiloo
Beach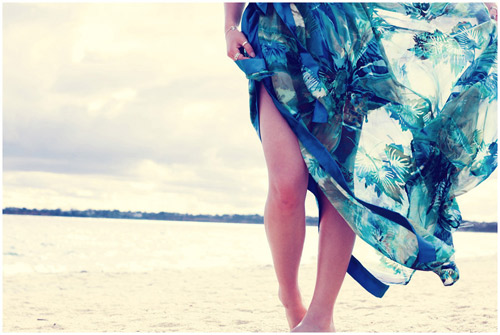 Experiment with angles and look for interesting ways to make a shot unique. This picture focused on the legs instead of the face.
Vmbui
Empty Space Between Us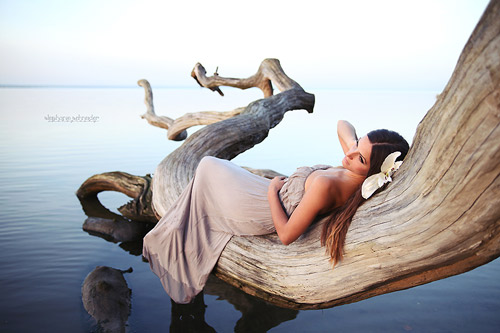 The beach is also a good venue for fashion pictorials for it can give a more relaxing aura.
Stephanie Schneider
The Beach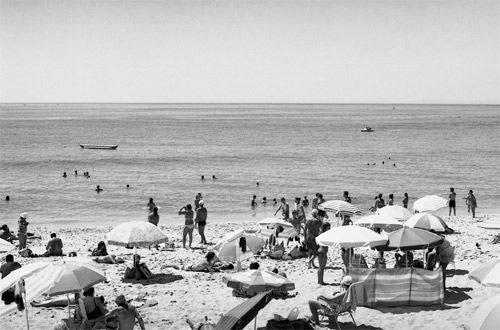 Still looking good even in black and white as it captured the people who are spending their time at the beach.
Nfilipevs
Thrown to the Birds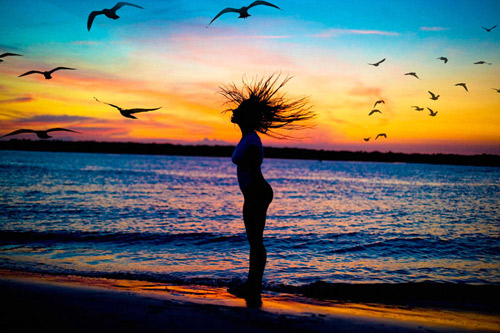 Seemingly shooing away the birds using her hair! One great shot here with the sunset coloring the skies.
Laura Johnston
It's Your Turn Now
For sure you fell in love with the photographs that you have seen above. You too can achieve shots like these with consistent practice. You can also apply the tips that we have given and from there, create your own photographing identity to come up with distinct beach photography outputs. Do you like beach photography? Feel free to share to us your favourite photos. Also, if you would like to add some tips to what we have above, leave it in the comment section below.