Everyone is excited for Heart's Day which usually comes with gifts, stuffed toys and Valentine's Day cards. Malls and gifts stores will surely be jammed with people all hankering to get the perfect gift for their loved ones. Why not do away with the crowd and long queues on counters by merely printing and making your own cards? For sure, you would want to see your cards on your loved one's special collections even if the boxes of chocolates are gone and the bouquet of roses are trashed. Make a custom personalized card that is totally unforgettable and truly worth keeping.
Here's a collection that will make you fall in love,33 Totally Heart Grasping Valentine's Day Cards which will inspire you, motivate you and will give you great ideas on making your own cards. Your card recipients will surely look forward to receive a card from you for Heart's Day every year 'coz they are really worth keeping. Enjoy looking at the collection and may you have a great Valentine's Day!
You may want to take a look at the following related articles:
Xo Heather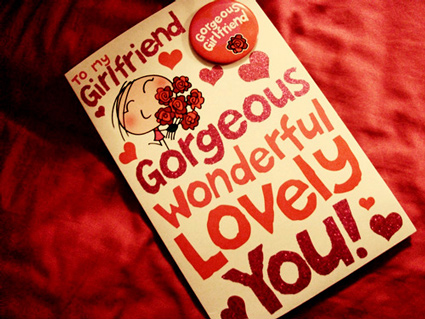 Your girlfriend will surely be pleased if you give her this card full of flattering modifiers.
View Source
Love Struck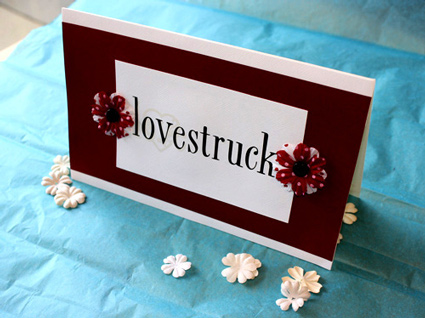 A simple card with the contrast of white and red giving emphasis to the words "lovestruck". The pretty red and white flowers gave this a feminine touch.
View Source
Classic Becca Collection
See a collection of handmade cards made of felt hearts, gems and stencil designs which you might want to try.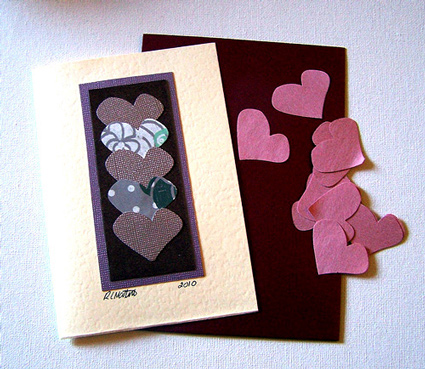 Blue hearts or pink hearts? Whatever you choose will still make this card look great.
View Source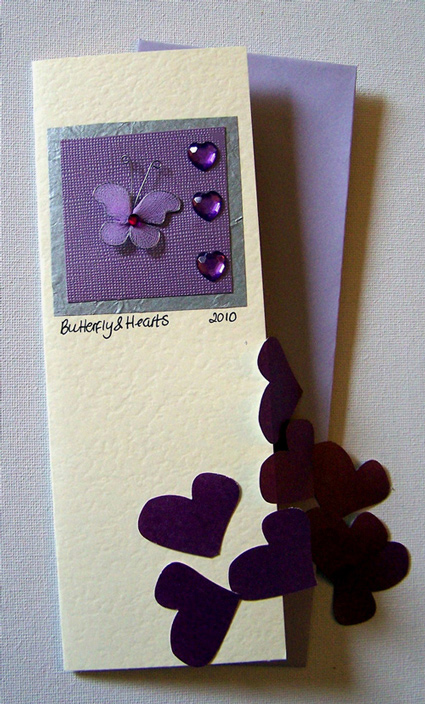 A lavender card is indeed unique especially with its butterfly embellishment.
View Source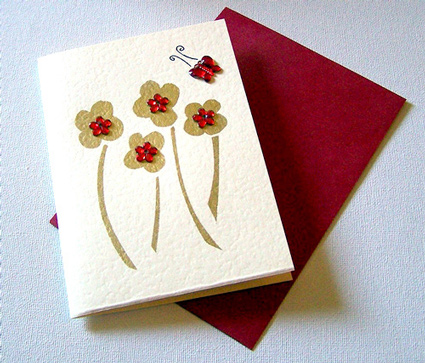 Sweet nectars for a beautiful ruby butterfly and a pretty gold stencilled card for a sweet Valentine.
View Source
Renee Troy Collection
Another set of cards made from scrap cloth of various designs placed layer by layer. Totally creative isn't it? You can try making cards like this one. Instead of dumping cloth scraps in your garbage bins, use it in making adoring cards for Valentine.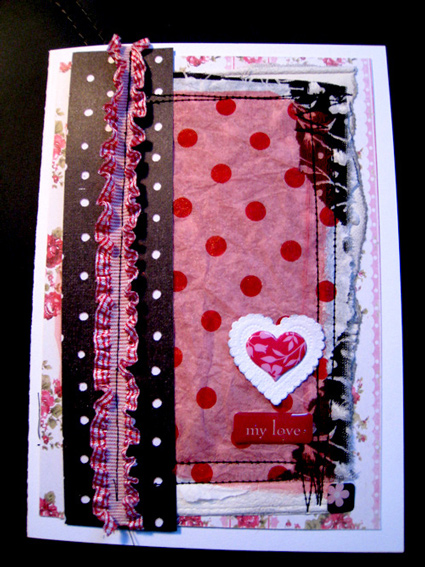 Polka dots and a red heart gives this card a truly girly aura.
View Source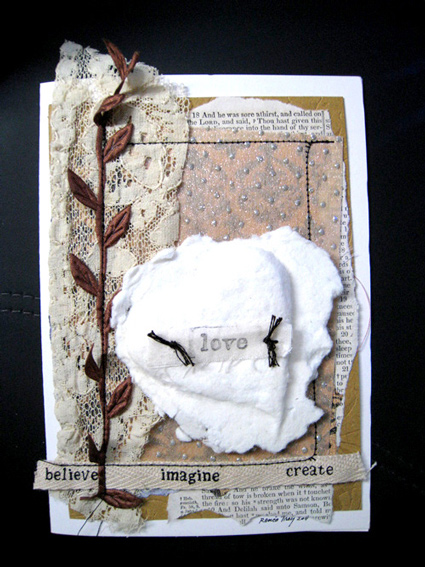 A touch of nature with its leaf borders and earth tones.
View Source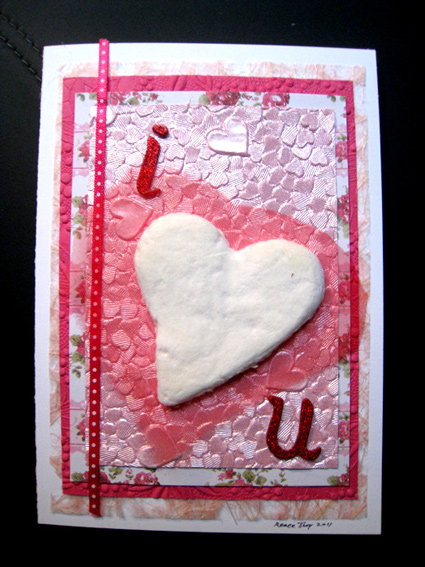 Compared to other Renee Troy designs, this is simpler giving emphasis to a big pink heart saying I Heart You!
View Source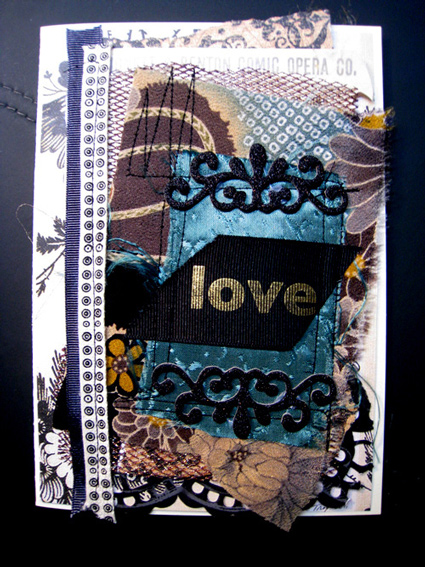 A complicated design with layers of cloth showing enough love to your Valentine.
View Source
To My Valentine!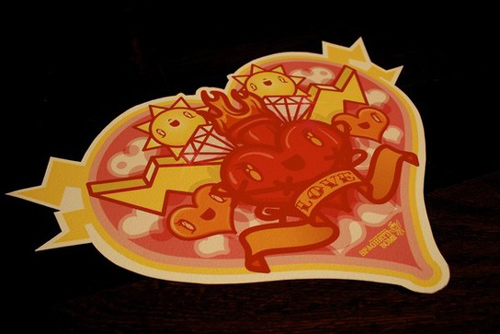 Indeed you are love struck by love's lightning bolt in this unique handmade card which its minimal design.
View Source
Smitten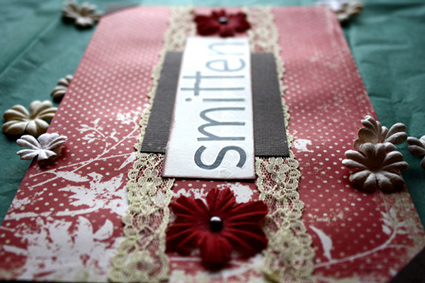 For those who are head over heels in love and are greatly obsessed with the person they fancy, this card is for you. You are smitten!
View Source
Valentine Card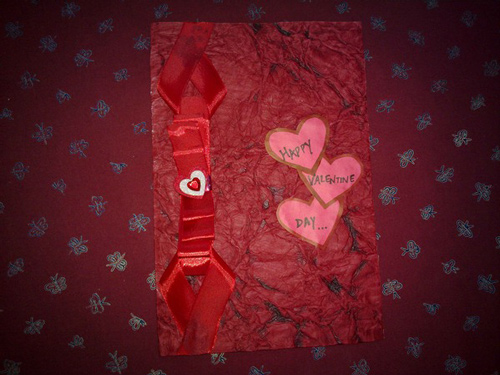 Go as red as love and lovers for Valentine's Day!
View Source
Valentine Greeting Card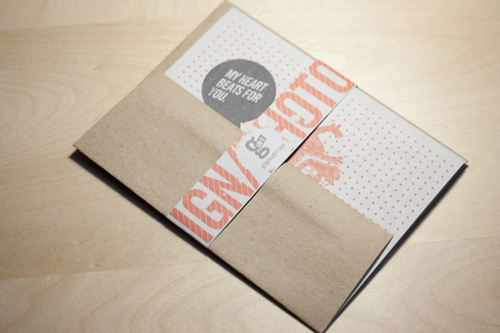 It doesn't have to be very fancy. It may just be as simple and as elegant as this.
View Source
Popup Bronze and Gold Valentine's Day Card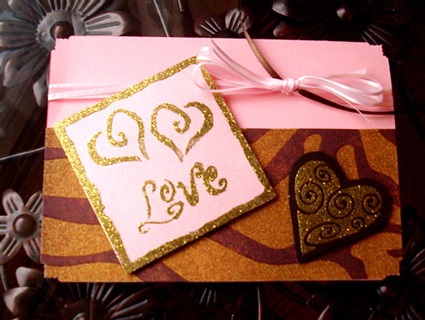 This card would remind us of yummy chocolate and pink roses. So you don't have to spend for chocolates and roses, all you need is this pretty card.
View Source
Valentine's Day Love Card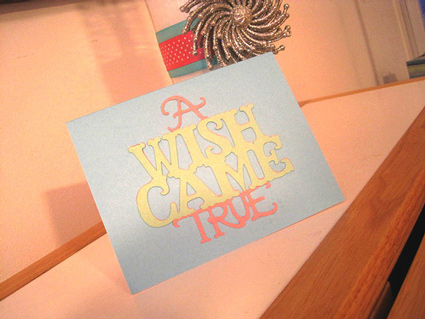 One look at this card and you'll get the message in an instant.
View Source
Perfect Pair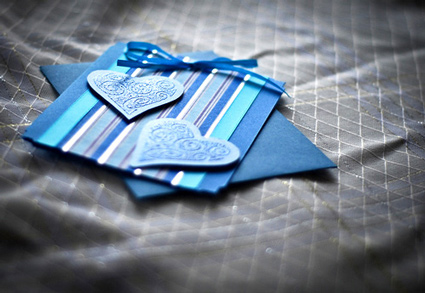 A blue Valentine card with two perfect blue hearts but this card doesn't mean that you'll feel blue on Heart's Day. This only shows that one can actually make a Valentine card with a different hue other than the traditional Valentine colors of pink, red and white.
View Source
Valentine Quilt Card – 2011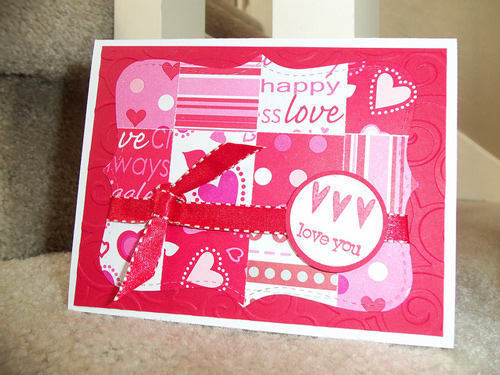 Details aren't as bad if you have the love for art. So since it's for a loved one, go for it…
View Source
Just A Cup of Tea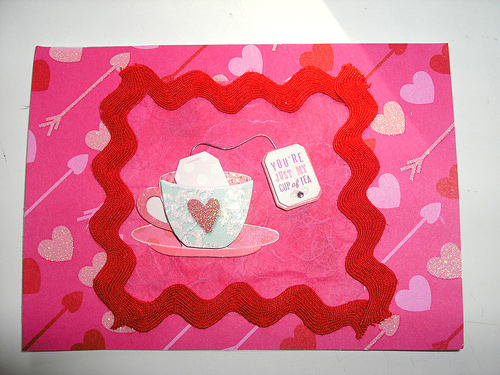 If giving love is like a cup of tea for you which means that you do that everyday, this card suits you.
View Source
Valentine's Card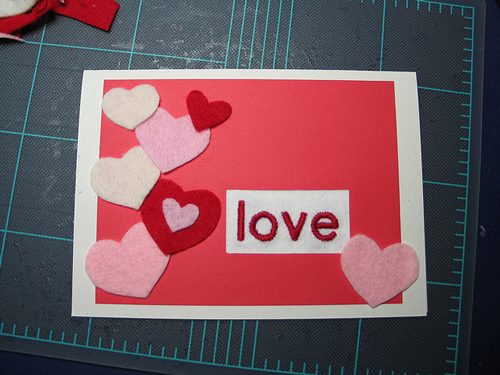 Simple but expresses the love much. This one's for you if you love the simplicity and a little bits of hearts.
View Source
Be Mine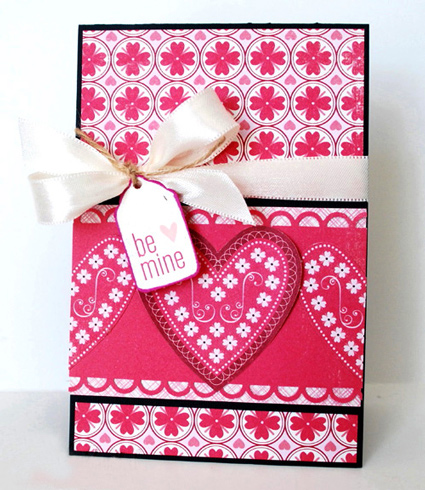 It seems like the designer leaves you no choice but to agree that you should be on his arms. Well, who wouldn't be attracted to this beautifully made pink card with its pink ribbon? After receiving this, she might say "Be mine, too!"
View Source
Secret Decoder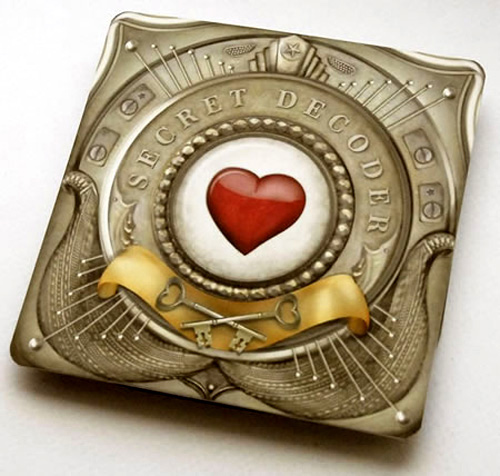 Why not put some thrill on the cards that you will give? Here is a Secret Decoder Valentine Card wherein the recipient has to figure out what you are trying to say. Absolutely exciting!
View Source
Kwerner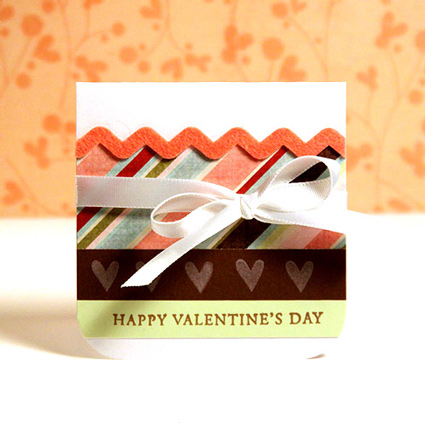 One look at it and you'll say its crafty. A personalized card using patterned paper, felt borders and stamps. Put a personal touch on your cards and for sure your Valentine will receive the message right.
View Source
Handmade Valentine's Day Card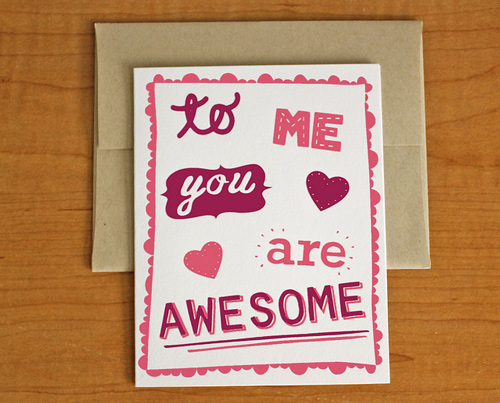 A handmade valentine card is as good when you have expressed what you feel. Feel the love from your own masterpiece.
View Source
Little Valentine's Day Cards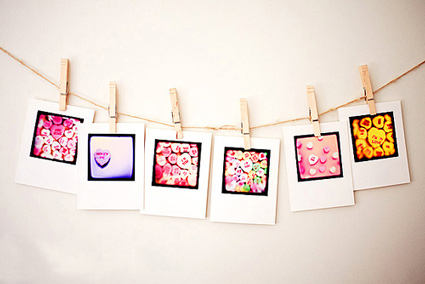 These cute Valentine cards with original photographs may look small but would give a bunch of joy to your Valentine!
View Source
Homemade Valentine Simple Cards Collection
If you want a simple card which you can easily make from what you have at home, you may try these cards. This looks simple but when you scribble you emotions inside, this will surely turn this cards into something grandeur!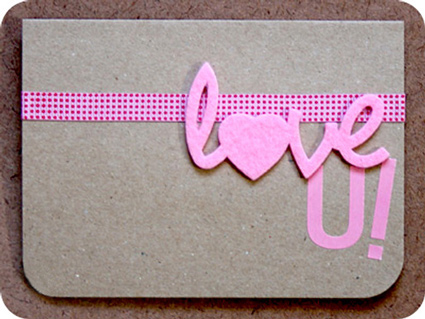 A subtle card with simple words expressing one's genuine emotion.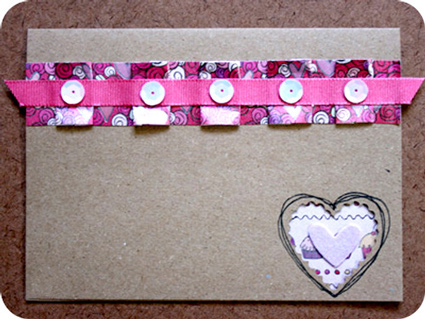 Printed wrapper arranged in pleats gives this card a unique touch.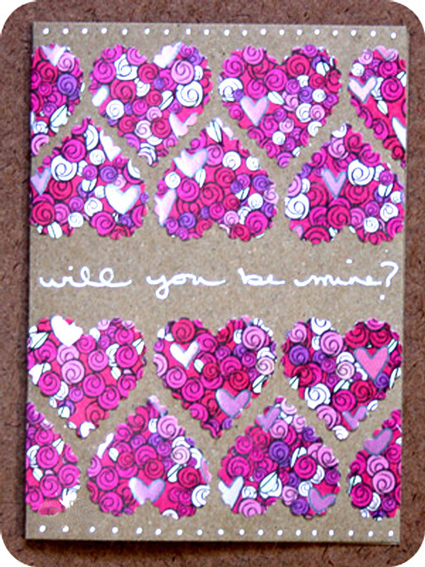 Instead of throwing scrap wrappers, cut it into hearts and arrange it in a way that it could frame a handwritten message that comes straight from the heart.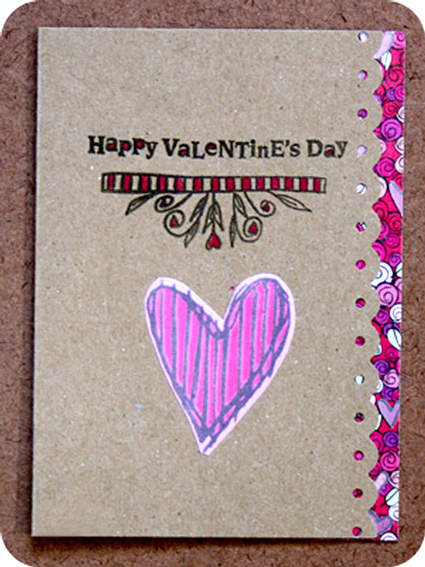 Write down that greetings and place a delicately designed paper as your border. This makes your card look simple yet sophisticated.
By: memorymakersmagazine.com
Valentine Cards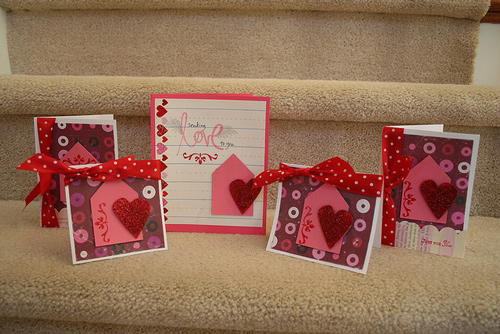 Another set of handmade cards to inspire you to make your own and flaunt your style!
View Source
Lucky in Love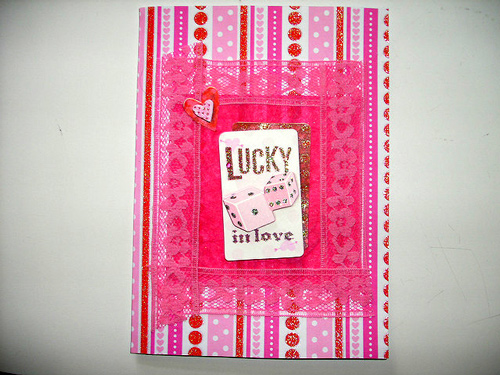 Of course you are lucky if you find your true love but your only love will indeed be lucky to receive a pretty card like this.
View Source
Love Ya 2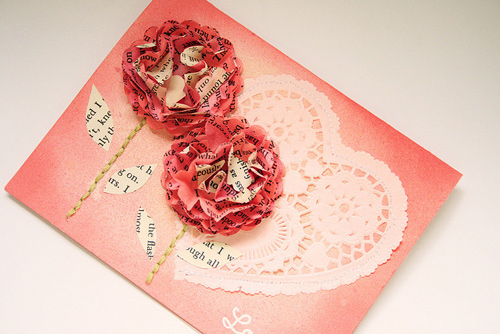 Pretty and amazing for a valentine's card. Another expression of love.
View Source
I Am Falling For You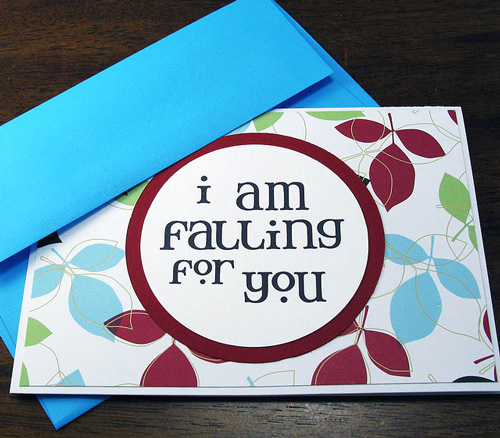 This beautiful card with its combination of violet,blue and green makes it truly unique and worthy for that Valentine.
View Source
Valentine Card: many are the stars i see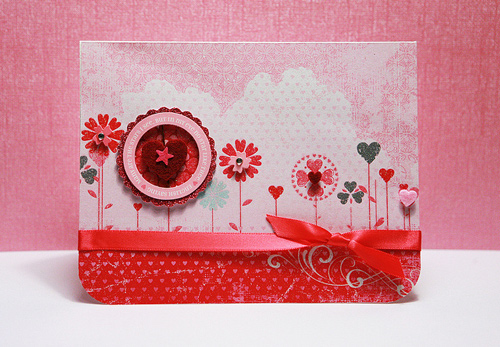 A few hearts will be as good as deciding to add some other details like this. Something new and not as fancy will do.
A collection of unique, artistic and totally awesome Valentine's Day cards that will make you burrow through your art materials or creatively work on Photoshop. Why don't you trying making your cards now and impress your friends and special someone?