A day ago I made my very first wallpaper entry on Smashing Magazine for their "Desktop Wallpaper Calendar: February 2009" hoping for it to be featured. And Luckily it was accepted and my wallpaper is now featured on their site.:) And I am happy coz the time that i spent making that wallpaper was all worth it.You can check the other featured Wallpapers as well.
The concept on the wallpaper that i made is about the upcoming Valentines Day. Although its not in red like in a normal Valentine concept. What i did was I used a blue green color grungy background and some spreading heart shapes with my Own Mascot as a model and saying "I Love You More than my Laptop" .
Here is the Preview on the  Wallpaper that I made.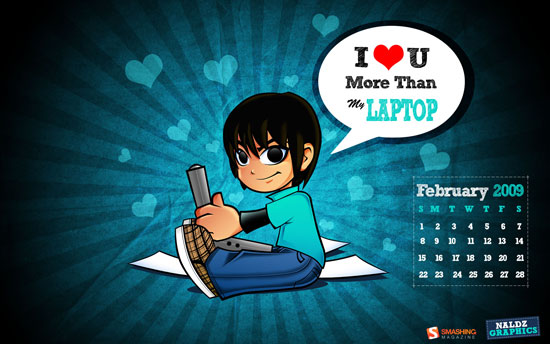 You can download this  wallpapers here  with and without Calendar in different sizes  if you want. I hope you like it.
With Calendar: 1920×1200 1680×1050 1600×1200 1280×960

Without Calendar: 1920×1200 1680×1050 1600×1200 1280×960
Thanks for visiting=) I'm gonna post a Photoshop Tutorial Tommorow so watch out for it:) To get more updates on Tutorials & Giveaways, SUBSCRIBE NOW FOR FREE!!!