There are several types of artworks out there wanting to be shared, flaunted, appreciated and most of all be an inspiration for others.Nail Art as it sounds gets to attract the attention of ladies. With all the variety of colors and designs on nails, the trend could just be on. And with the huge number of designs, it's more than a proof how amazingly creative artists can be in many ways. With this type of art, elegance and beauty counts.
Should you be one of those who got the passion for Nails Arts, here goes a Fabulous Collection of Nail Art Examples to inspire you for your next set of nail styles. We have picked a couple of the best ones even for special occasions so feel free to check them out…
2014 Update:
For this new update, we have added more lovely examples of nail art that you can get inspiration or just spend time watching such beautiful artworks. Scroll down and check them all out. Come, take a peek, and enjoy!
Nail Art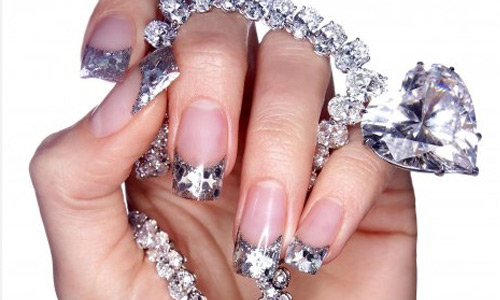 Diamonds don't just bring out the best in jewelries but nails too!
Source
Blue Nails with White Flowers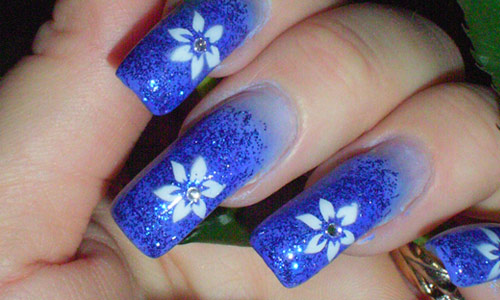 When nails are colored blue, it makes the fingers of the hand look radiant especially when flowers are painted on them
Wedding Manicure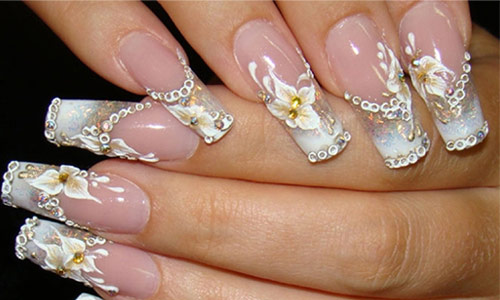 The bride must be extra dashing during the wedding including nails that naturally matches the white gown plus highlights of flowers.
Source
Cinnamon and Chocolate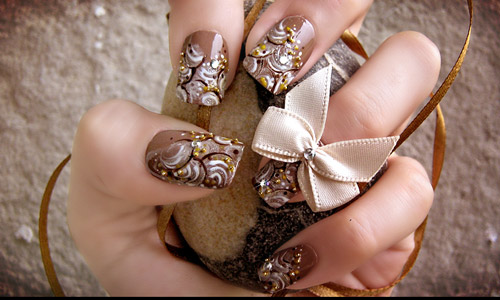 By: shadowfriend
Did you know that chocolates may best be expressed even in nails? It's cute!
Source
Nail Art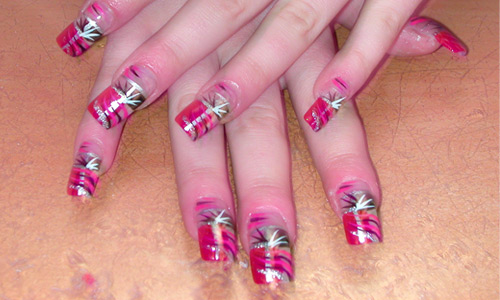 By: dkexponails
It's a lot more fascinating when different colors are combined especially when the the simple strokes go together.
Source
Gold Nail Art Design With Rose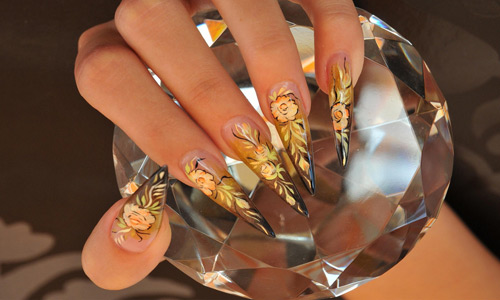 By: Diamond Nails
One of the most relaxing scenes the naked eye can see is the garden. The yellow flowers are just eye-catching!
Source
Lin's Nail Stamping Art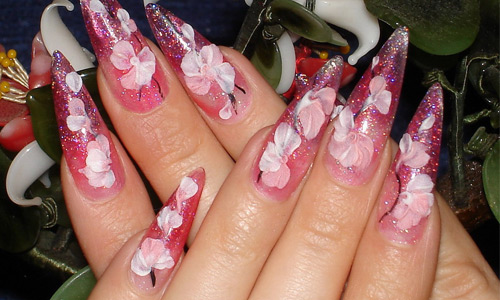 By: falen-angel-of-earth
Pink is indeed a feminine color as it has made that impression to the world although the highlight of white flowers and the glitters make the whole thing stand out.
Source
Lin's Nail Art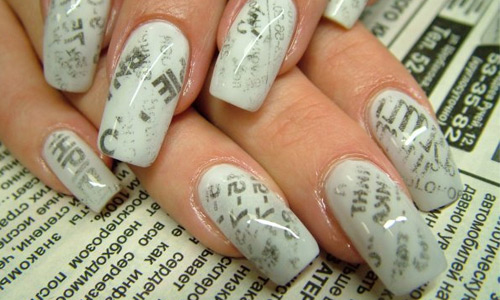 By: falen_angel_of_earth
The newspaper as pressed on to the nails may seem weird but it appears attractive especially that the white nail polish has been used as the base.
Source
Faux Nail Art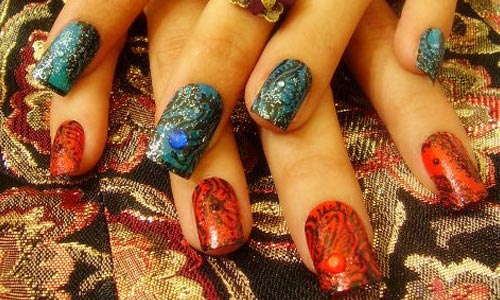 By: Carolina Gonzalez
Ornate-themed nails with the different touch of colors. Red for the right hand, blue for the left.
Pretty Pink Leopard Nails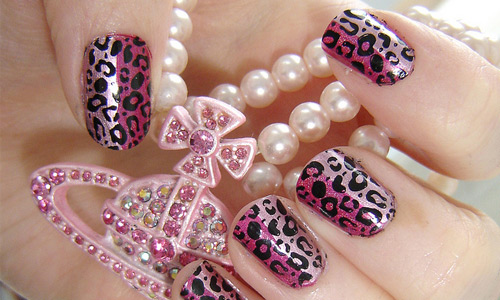 By: marina_la_placenta
The skin of the leopard gets the attention of people especially when it has been artistically conceptualized with a different color. Pink matched with black.
Source
In Masquerade Mood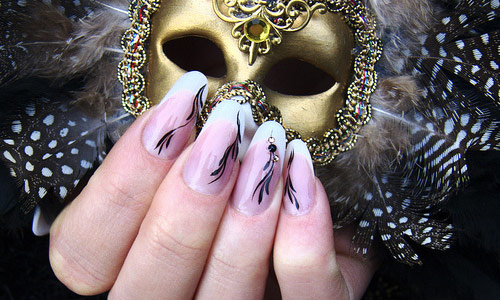 By: Kormonfront
Even when simple, how neat the strokes of the long black leaves go along well with the pink and white base.
Source
Purple Haze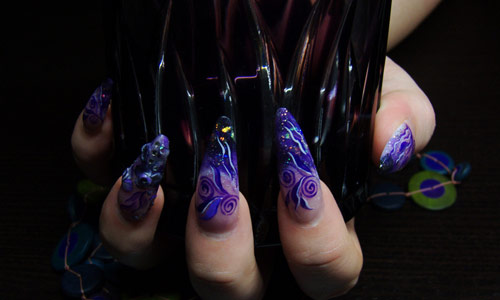 By: Kormonfront
Purple having been attractive for a color just requires a few swirls of leaves and flowers and even some beads!
Source
Nail Art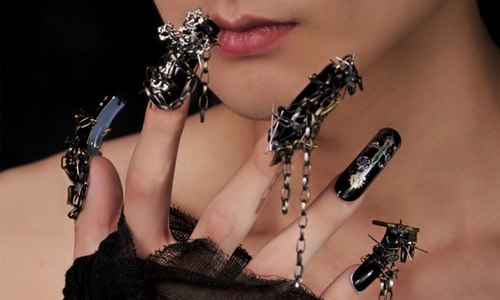 By: Alfonso Bonilla
Black is cool. The concept may have made it look heavy but with a couple of neat drawings, silver and even gold, it makes the whole design rock.
Nail Art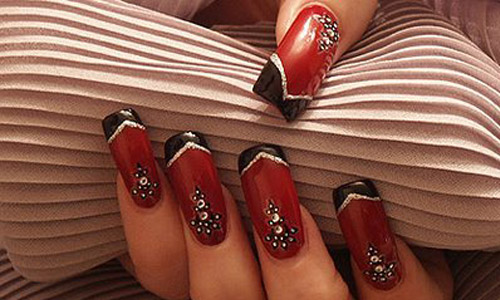 By: hudson.sienna
The elegance when red is the base of the nail art is there expounded by a few touches of white and black.
Nail Art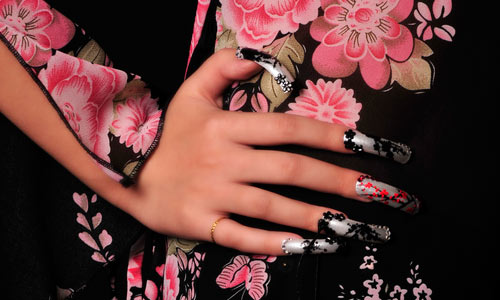 By: Alfonso Bonilla
Black and white is still a good combination.
Snowflakes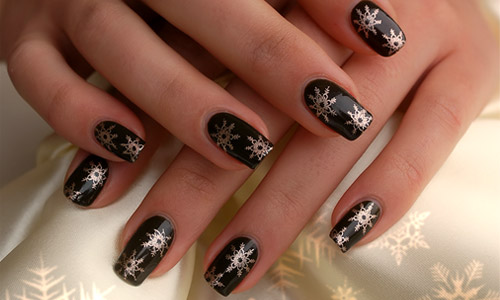 By: Tartofraises
Snowflakes are a cool touch on nails with the right shades of polish like this.
Source
Hibiscus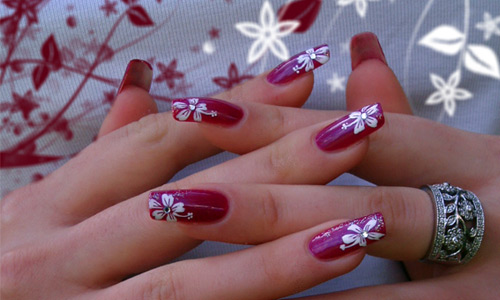 By: Tartofraises
The concept is simple. Darker shade of pink plus an elegant flower plus studs for pollens.
Source
Water Marble Left Hand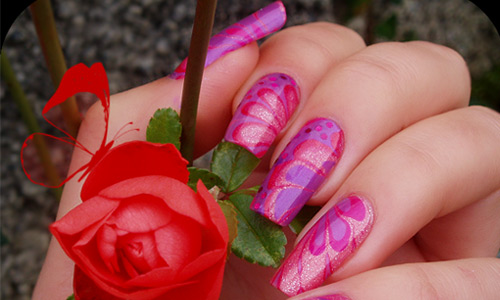 By: Tartofraises
Bigger flower details plus glittering shades of flowers are amazing too!
Source
Blue Mermaid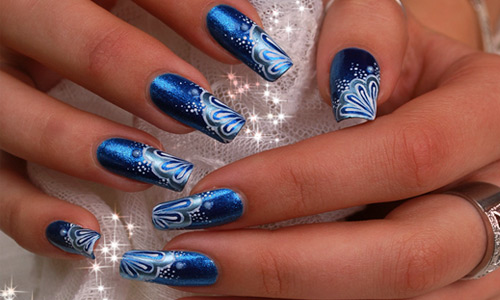 By: Tartofraises
Since the color blue brings a cold impression to the eyes, it has been made cooler by the swift touches of white.
Source
Baroque I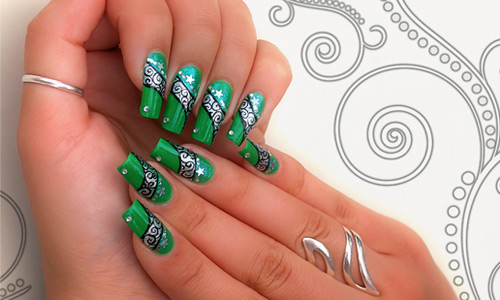 By: Tartofraises
Make your nails look a little bit nature-friendly with that color of green plus the elgance of black and silver.
Source
Blue Swirls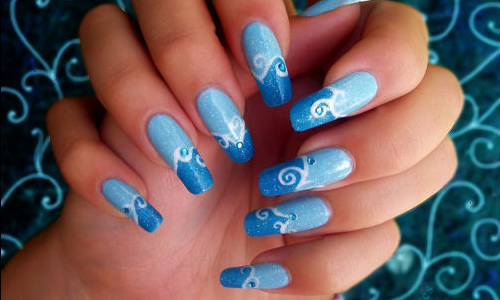 By: Tartofraises
With even just one color but a lighter shade makes more of that good impression. Studs that glitter are a plus also!
Source
Water Decals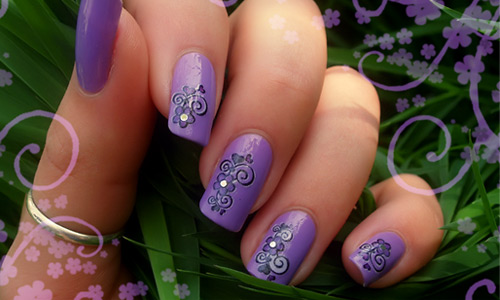 By: Tartofraises
Purple is even considered one of the gorgeous colors especially when there are details of flowers and studs carefully done in black and some white touches.
Source
Autumn Colors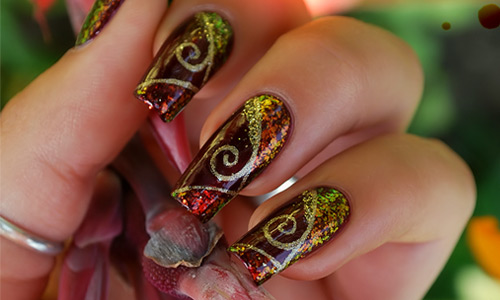 By: Tartofraises
Autumn has these colors. Brown, yellow, green and red. Let the mood flow with some swirls and the colors does the rest.
Source
Purple Water Marble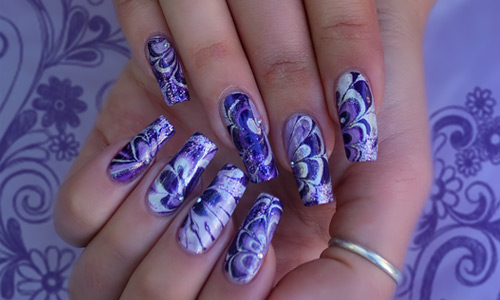 By: Tartofraises
The combination of a lighter and darker shade of a color gets right into the details of a flower plus the white strokes making up flowers to match every single finger.
Source
Pink and Black Pin Marbled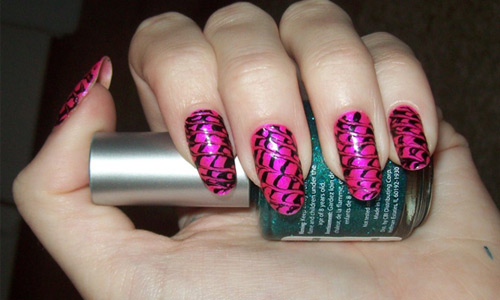 By: jenna-daydreamer93
It may look simple yet it has been carefully done. A touch of black and pink gives a sexy glow to the hand.
Source
French Nails in Red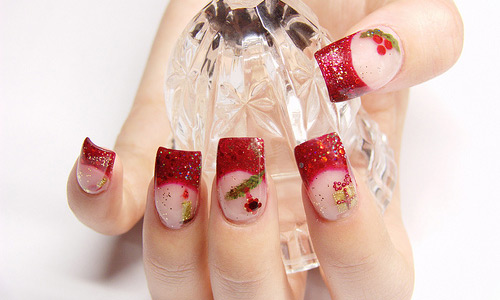 Red for a tip in wider details are fabulous indeed with the glitters and the little flowers to catch attention.
Source
Blue with Gold Glitter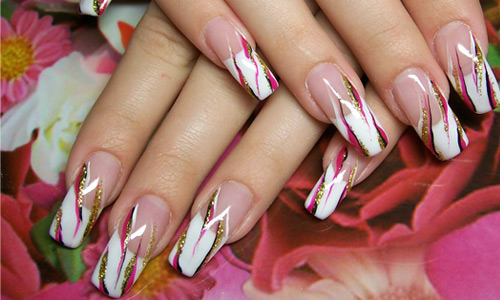 Art has its many forms even in nails. Simple strokes make a fantastic work of art.
Source
Confusing Purple Manicure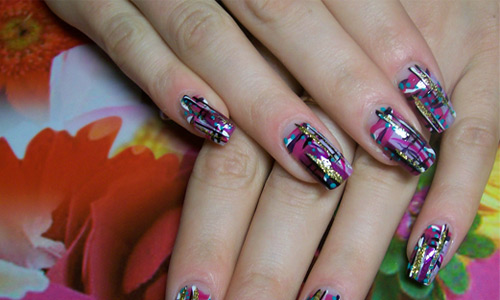 It's what uou call abstract. Playful mix of colors with purple being the dominant touch.
Source
Gentle Manicure in Several Colors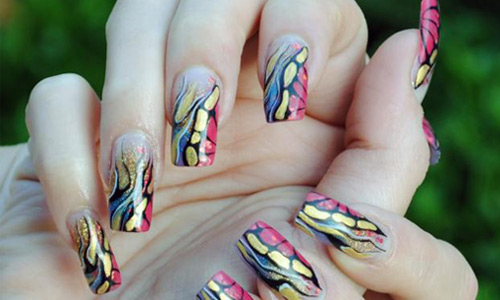 The artis has really been patient with every little detail that the colors must stand out. The yellow, purple and pink makes the hand look so elegant especially with the use of black.
Source
Confusing Red Wine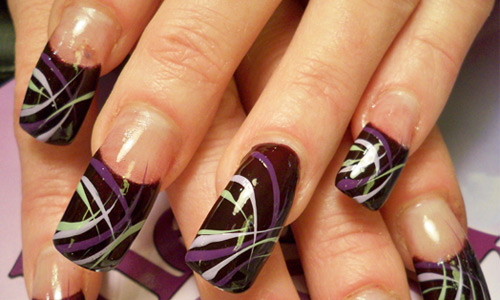 Long nails become that much of an art especially when nails are painted elegantly. The abstract strokes plus the natural touch is amazing.
Source
Nail Art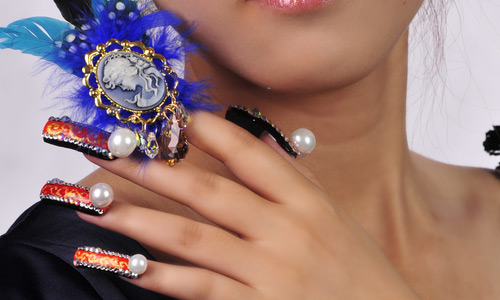 By: Alfonso Bonilla
It goes right into what your client really wants even when it might seem a bit heavy with the pearls. The details are still astounding with the touch of orange and a few black lines.
Nail Art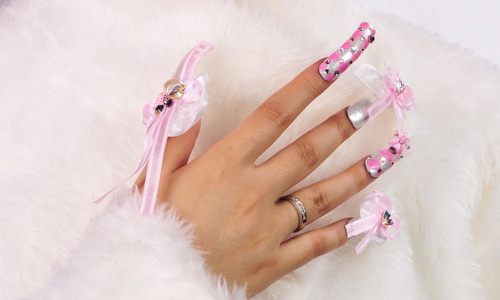 By: Alfonso Bonilla
White, pink and studs. A beautiful combination indeed.
Zebra Nail Polish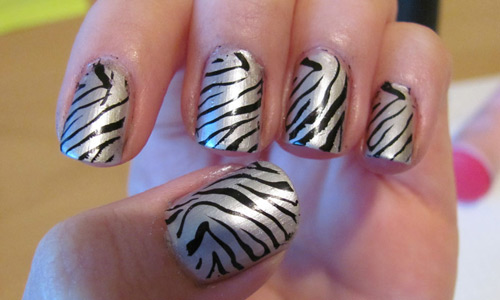 By: glamRoxie
The glamorous effect that the zebra brings out having black and white as the shades are still in.
Source
Blue Hearts Fire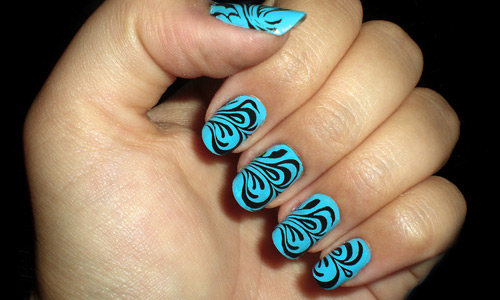 By: Shena_Lauri
Some nail arts are abstract-inspired. A lighter shade of blue and black makes a good one.
Source
Nail Art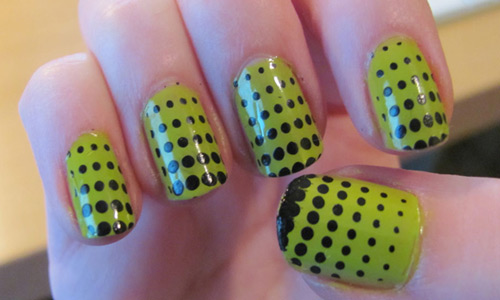 By: glamRoxie
The simple dots of black with the use of green for the base makes a cute design indeed.
Source
Halloween inspired nail art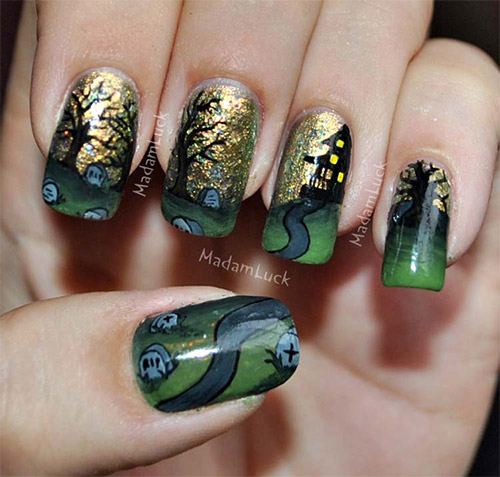 A nail art for the Halloween sesason.
Source
Nail Art Random I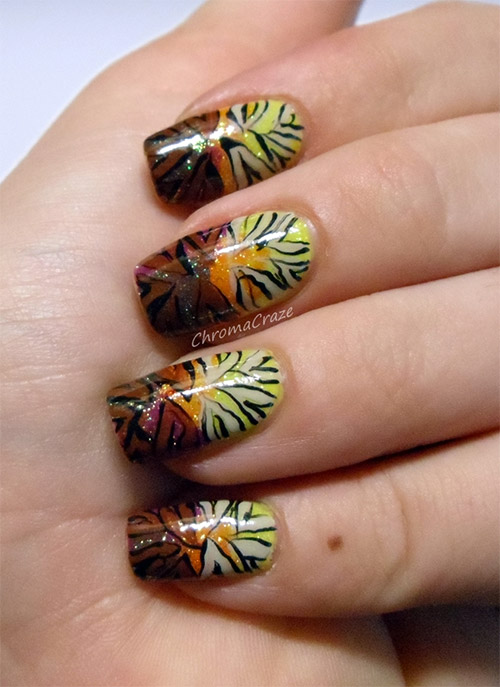 A beautiful nail art with color play from brown to yellow.
Source
Edward Scissorhands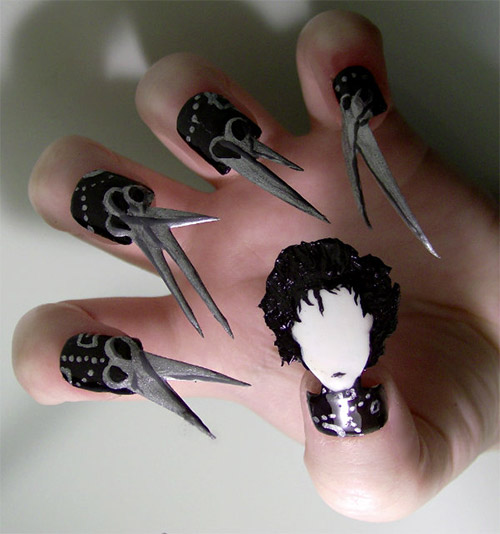 To those who love Edward Scissorhands, here is the nail art for you.
Source
Nail art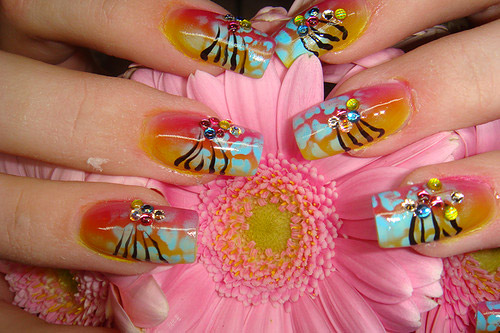 Gorgeous nail art for that will bring out your girl power.
Source
The Doctor, The Widow, And The Wardrobe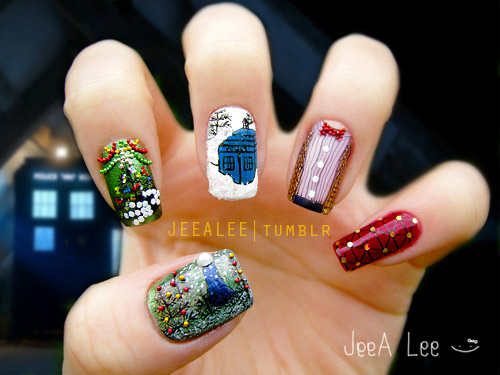 A set of nail art in various designs and styles.
Source
Angry Birds Nail Art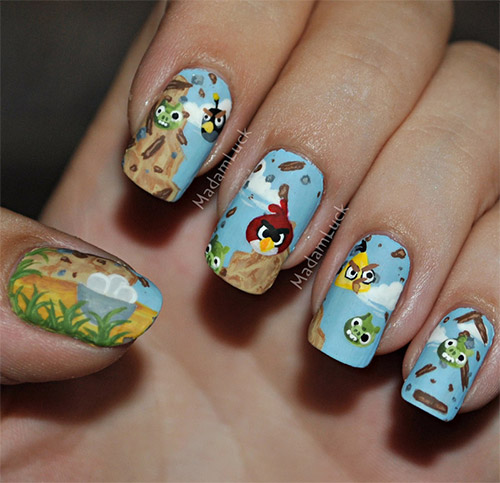 Each fingers has its own angry birds design.
Source
Mad Hatter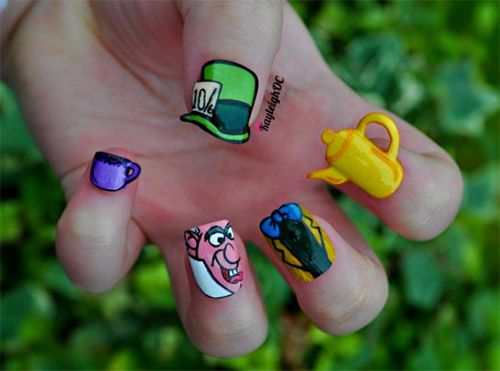 A set of nail art inspired by the mad hatter.
Source
misc purple nail art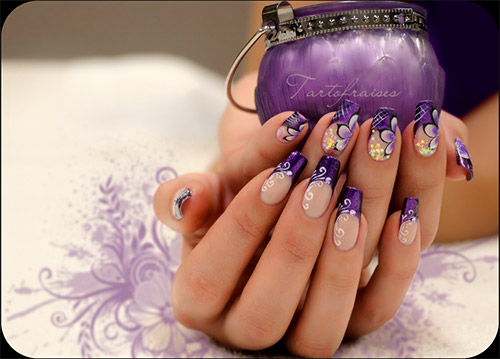 A beautiful example of a purple-themed nail art
Source
Invader Zim-Gir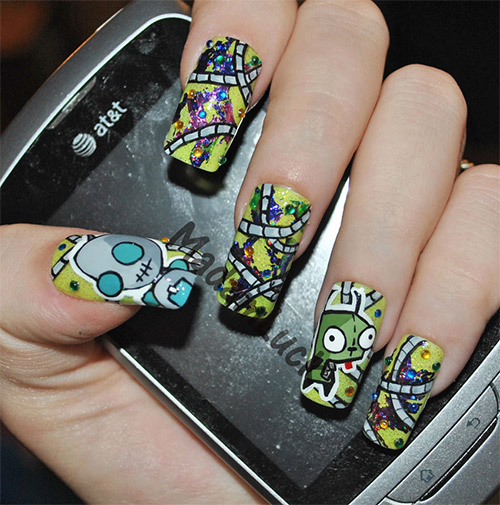 This nail art is inspired by the carton Invader Zim.
Source
PS2 controller nail art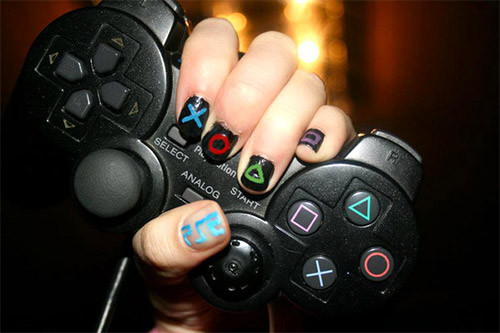 A cool nail art from the Playstation controller.
Source
Have you been fascinated by how artistic one can be? Well, not just one but plenty of them indeed. Since there are a variety of them, one could either take it an inspiration to take more photos or choose a style for ladies to put on their nails.