Mention a type of photography and you will be able to see a lot of collections for it. But there are rare types of photography styles that other creative photographers make use of. Like the unique style of photos seen in Yowayowa's photoblog with levitating self-portraits of a Japanese girl. Her name is Natsumi Hayashi. She lives in Tokyo and owns two cats. Her cats also star in other photos in her blog but they do not levitate. It is her self-portrait photographs that levitate in different areas indoors and in the city. Her blog is called Yowayowa which is a Japanese term that means "weak" or "feeble". She even said that "since I'm yowayowa, it's really heavy to carry SLR cameras around."
But even if she is yowayowa, she came up with excellent photographs that gained online interests all over the world. This is because her photos really look like levitating. If you think that she does some tricks to do that, you are wrong. She only jumps and make use of a fast shutter. Well, jumping, we would say, is already a skill for Hayashi because she can perfectly act like floating on the air and could even manage to do some distinct poses while on air. Amazingly, she does that all by herself, her camera's timer and her tripod. Sometimes, she also does some shooting with a friend which is much easier since she can jump while her friend presses on the shutter release button.
The creative part is how she makes each photo different even if all of them are mainly levitating photos. She makes use of different backgrounds and does varying floating poses. Each photo tells a unique story making it even more interesting. So, let us take a look at some of Hayashi's work through the images below. Notice how each one looks like flying or floating and how she can do that like a girl as light as air.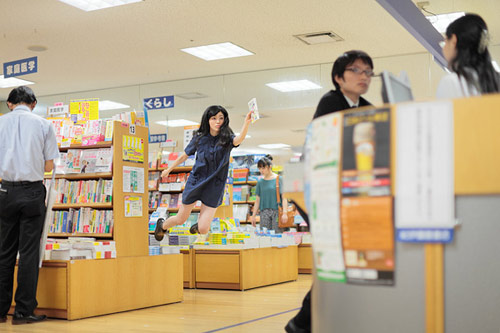 Buying a book would be fun if you only need to fly towards the counter.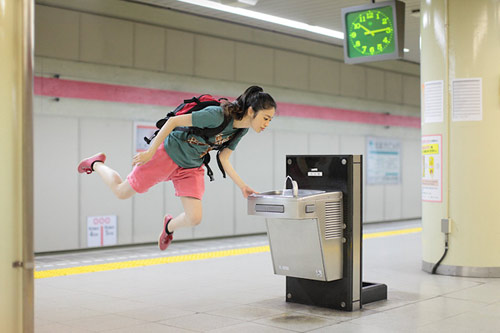 Have you tried drinking water from a fountain while levitating?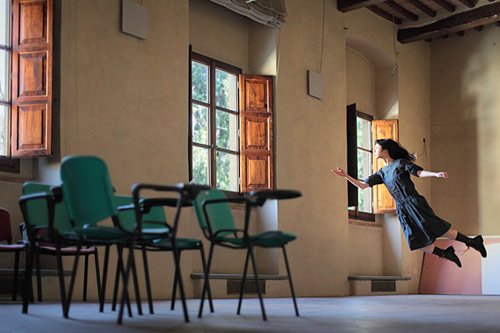 Fly to the window to see the beauty inside from this classroom.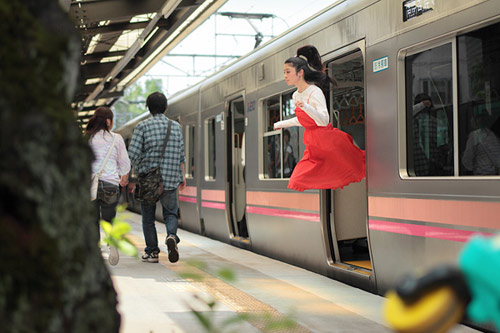 Getting off the train without touching the train's floor is simply amazing.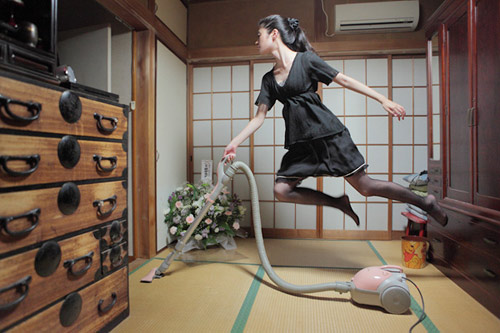 Cleaning would be much easier when you could fly from one place to another.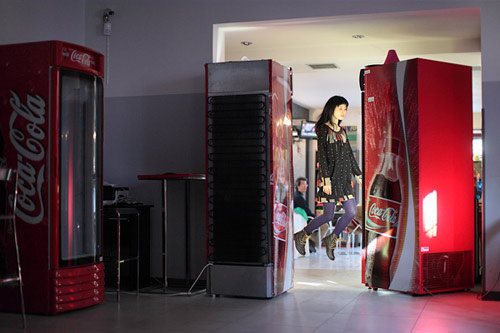 Seems she needs some cola to liven up her spirit.
Crossing the street, or should I say, flying across the street makes it much simplier and faster.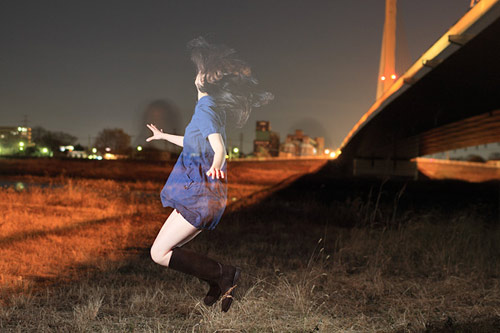 Is she really here or not? Seems like a floating apparition.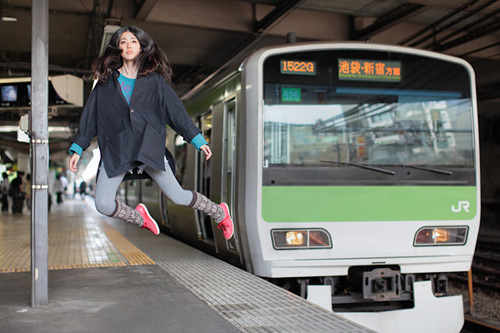 Does she really need to ride the train? Or maybe she could simply fly to her destination.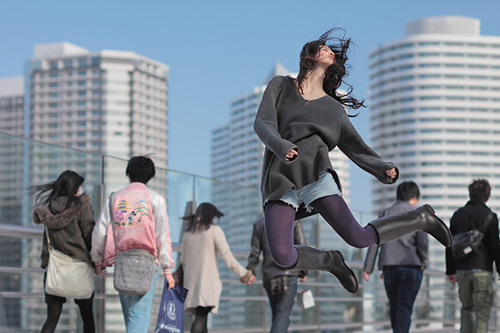 Young and lively as she freely dance up in the air.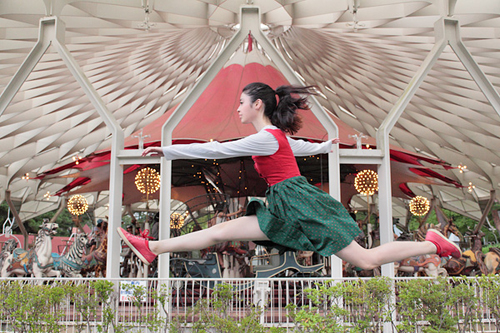 Super nice shot as she posed in front of the moving carousel.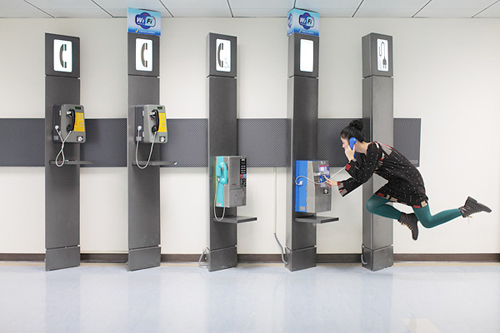 Reaching someone from a distance through the telephone while floating on air.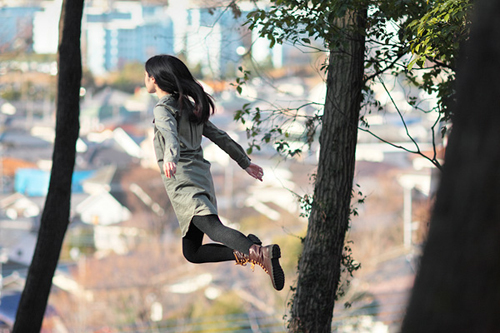 Oh! For sure this could give her a good view of the entire city.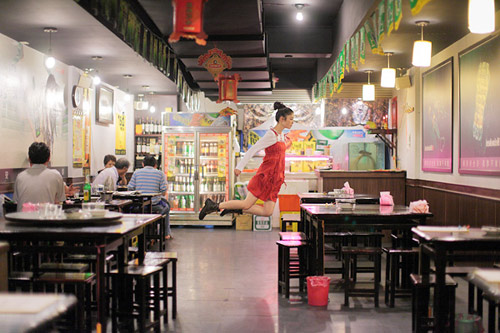 Would you dine in a restaurant with a floating waitress?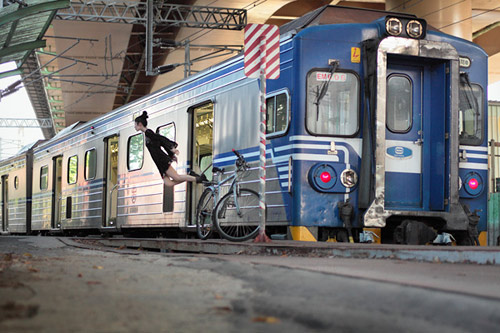 Getting off the train in this manner is undoubtly much easier.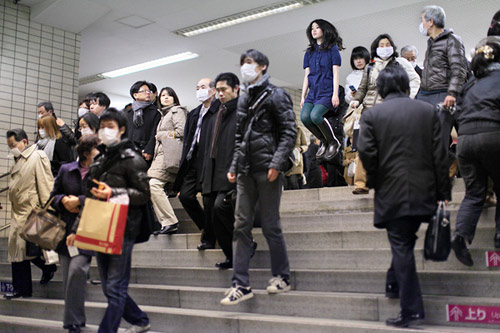 Why walk like everyone else, when she can actually float? Look at the suprised look of the people around her.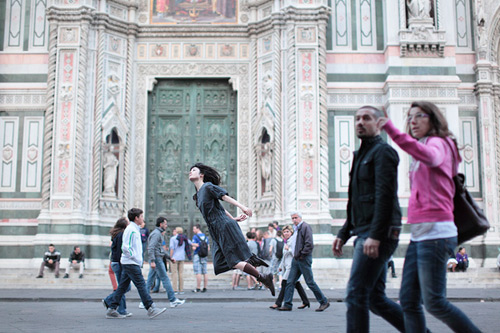 Sight seeing made even more fun by floating on air.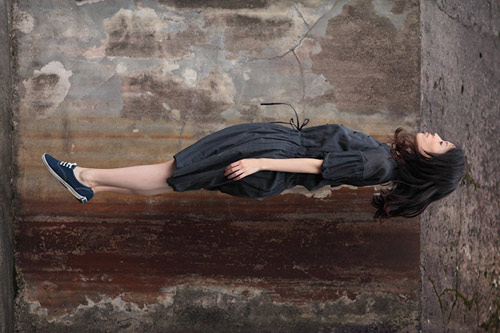 Levitating on this manner is quite creepy looking.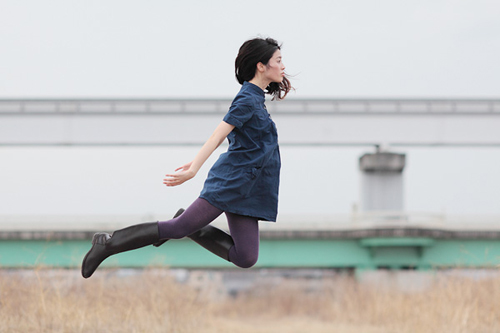 Travel on air and grasps full freedom like what she is doing.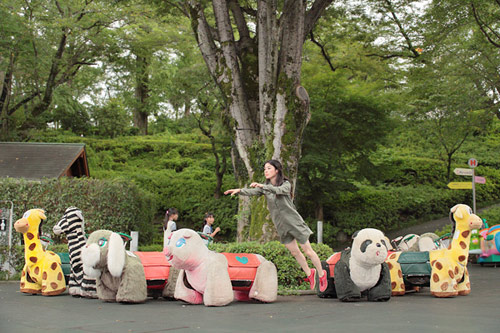 You would certainly be surprised to see a woman floating in a park.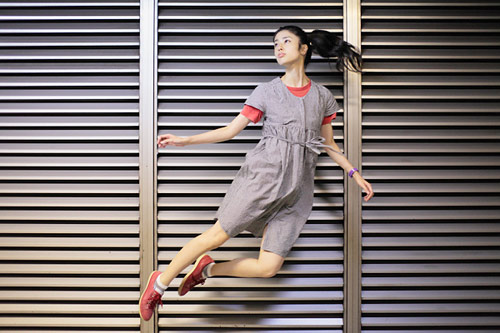 Just simple and beautiful in this indoor levitating shot.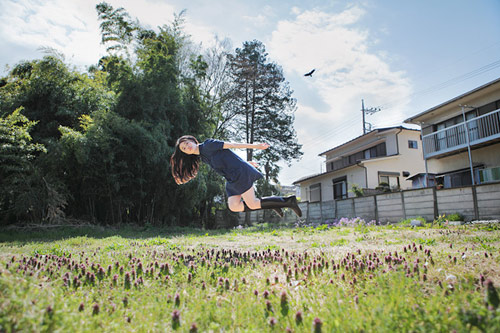 This one is an outdoor picture with the pretty girl floating above the meadow.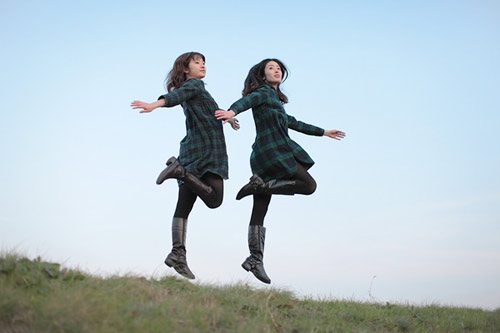 One look would make you think like staring at twins but they are merely wearing identical clothes.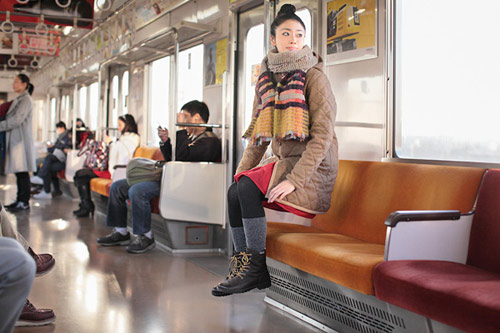 Is the ride bumpy? Or she just loves sitting on air?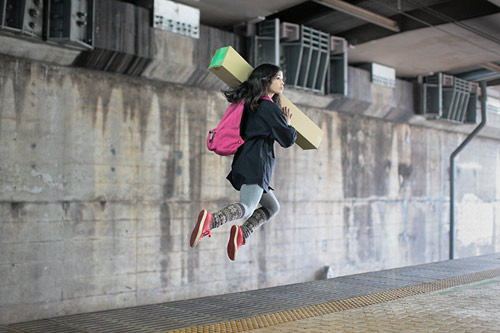 The load she is carrying looks light in this shot.
Hayashi's photography is indeed amazingly different. She does it by setting her camera to shutter speed 1/500 seconds or faster. Then she focuses her lens on the right spot and set it to 10 second timer. This is for shorter distances which can allow her 10 seconds to reach to an area before the shutter releases. Then she jumps when the right moment comes. She would jump over and over again before she could get the right shot. If she is planning to take a levitating photo that is far from the camera, she requests a friend to take the picture which would require lesser tries.
See? There is no magic needed in order to get photos like this one. If you'll give it a try, you will see that it is actually not that simple to do this. But Hayashi was able to perfect this type of photography. The photos above can tell how far she has reached in levitating. No doubt that she received so many compliments on her work and her photo blog as well. You can take a look on her Yowayowa Camera Diary blog so you can see more of her levitating photos.