There had been so many photography techniques that we have seen. Most of them impressed us especially those that are not just unique but could also tell an interesting story through their pictures. But some people really have wild imaginations and can do so much more that what other people could. They have successfully went out of their creativity limit and have shown the world their genius works in terms of photography.
We are talking about people who look for ways in order to come up with totally unique creations and outputs. People like Tim Tadder. Tadder is like any other man who can be a husband and a father but when you get to see his works below, you will certainly say that he is not just like any other man. He has that desire to make unique and powerful images. Obviously, he has so much love for photography producing "highly-stylized images that draw viewers into a decisive moment".
In his desire to present something new and distinct, he came up with a water photography series called Fish Heads. This came to his mind when he saw dogs fetching balls underwater. To realize his goal, he bought a large fish tank and convinced some models who would have the guts to dunk their heads to the water a couple of times in order to get a great shot. So, tet us take a look at his totally drowning Fish Head images.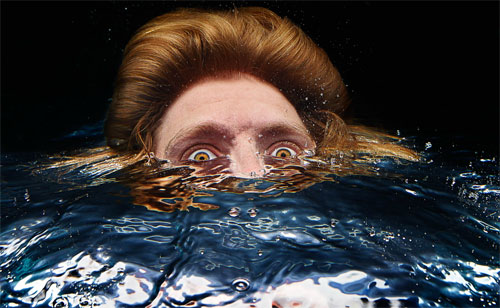 This shot looks easy to take but it is really challenging to get a good picture of both the water and the model especially with the hair floating.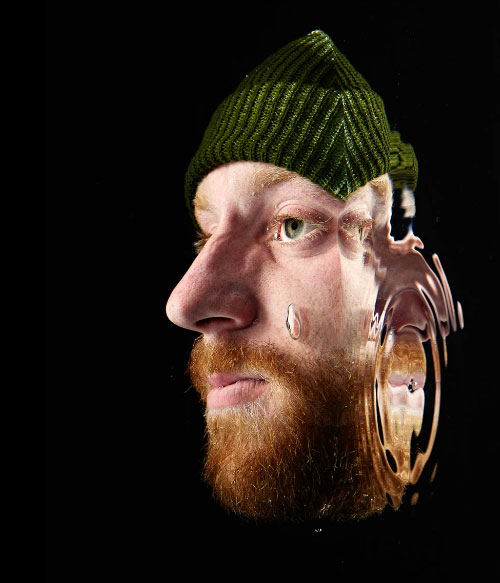 This one appears serious with little movement since the water is still. Also, notice how the water droplet looked like a huge tear from his eyes.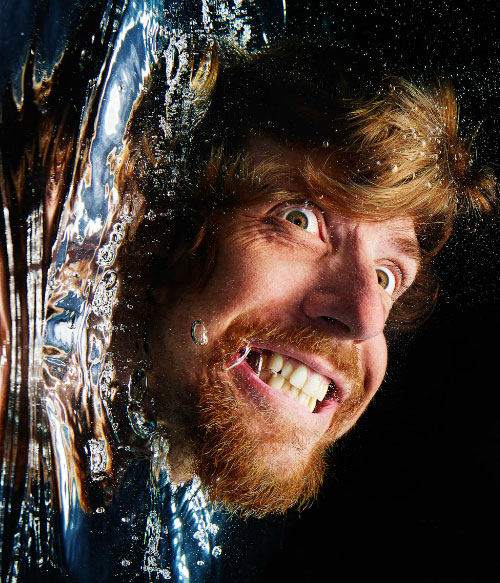 If the previous model looked serious, this one has a naughty grin on his face. The emotion was caught perfectly on camera as well as the tiny water sprinkles around his face.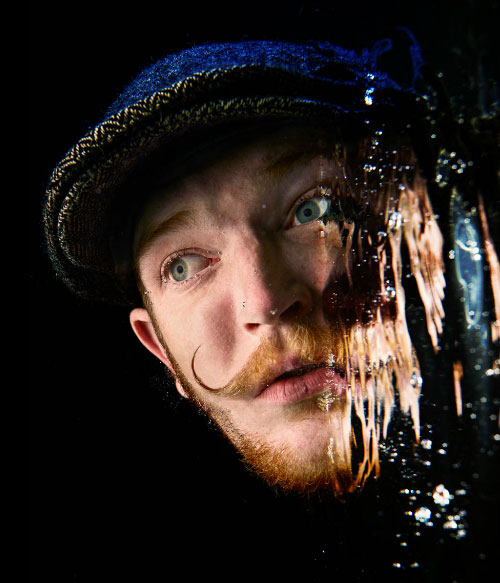 Model is like portraying an artists with a blue flatbill cap and a swrily mustache. He seems to suprisingly look out of the water like seeing through a curtain.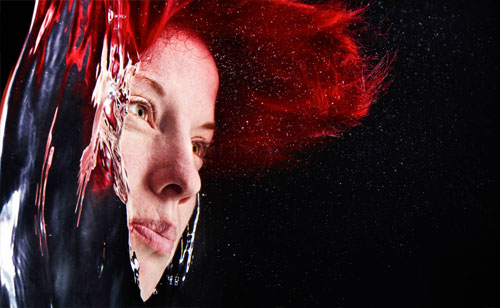 It is her red hair that made this shot breathtaking. Yes, totally breathtaking like how she managed to hold her breath under water for this amazing shot.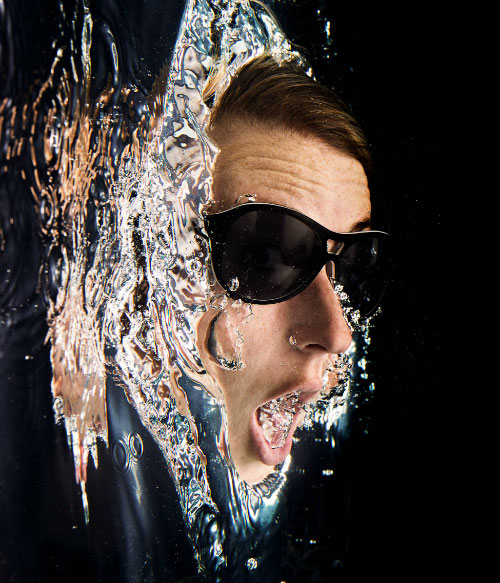 The movement is clearly seen on the water as this groovy looking guy peeped out of it in high spirits.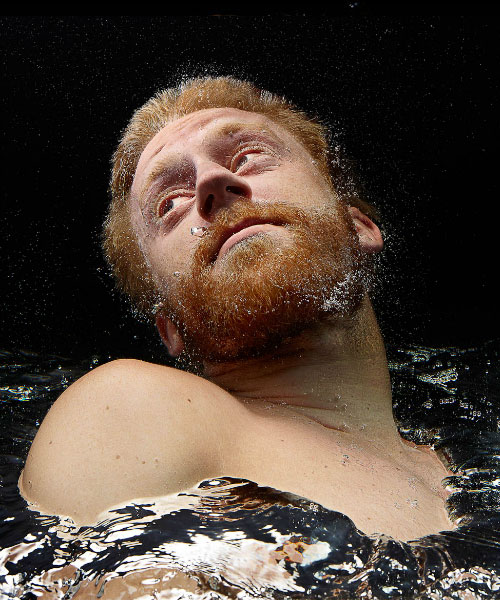 This model seems to be at ease but what makes this shot great are the perfect capture of the tiny water droplets on his face and hair.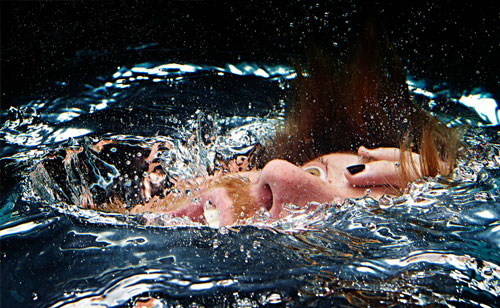 A small portion of the face is seen as it seemed to be pulled down by the hands with black nails. The motion shown by the hair is really fantastic.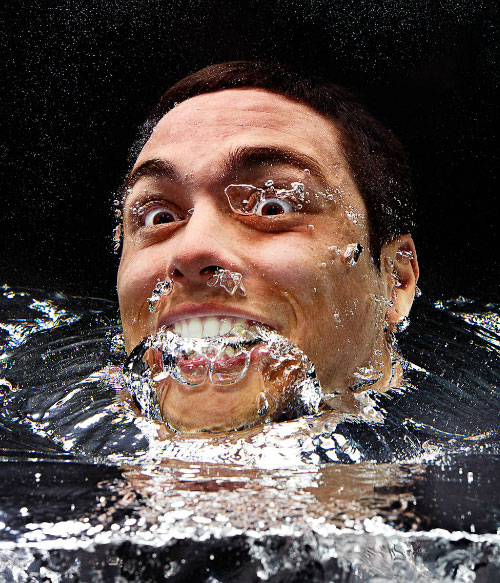 The happy model obviously just got out of the water for there are still water droplets around his face especially the ones on his mouth.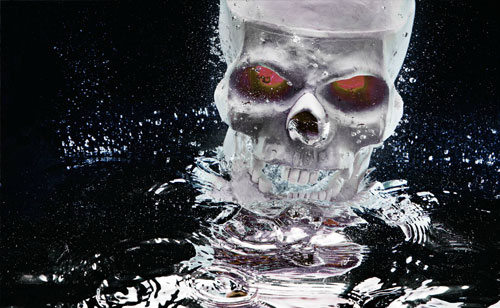 It is said that this skull was jokingly shown by Tadder's fish tank expert but when the result turned out well, he included it in this series. It actually look a bit creepy yet cool.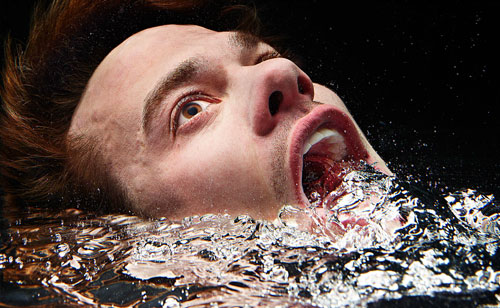 Water seems to come from his mouth making it appear like he is actually drowning. Notice his dry hair which means that he is just about to get under the water when the shot was taken.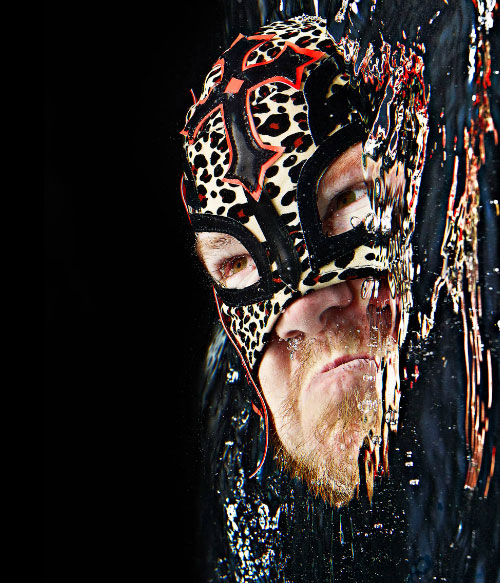 For this shot, the model really had the effort to wear a mask. It added twist to the photo making it appear like a villain came out of the water, ready to get his next victim.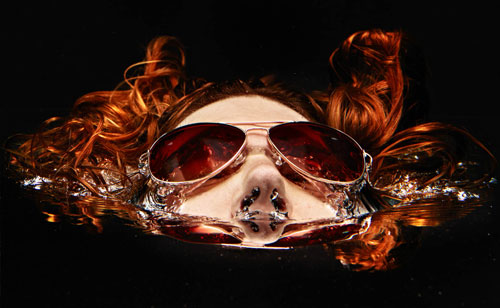 Her floating her looks marvelous especially when matched with her vintage glasses of similar shade to her hair color. Observe the dripping water from her sunglasses and the bubbles under her nose which means that this was indeed a great shot.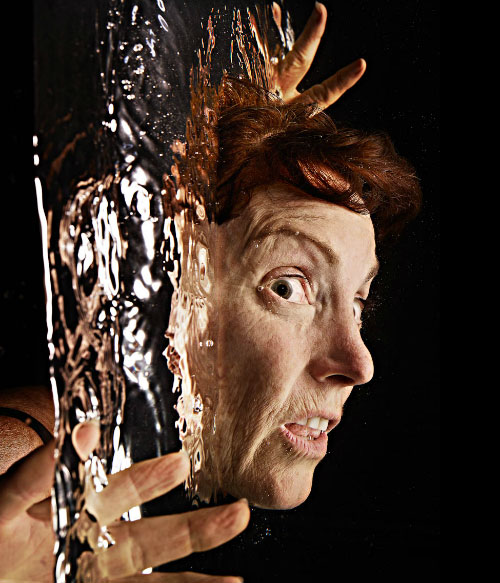 The model here is like eagerly getting out of the water. You can also see the slow movement of the model on the water around her.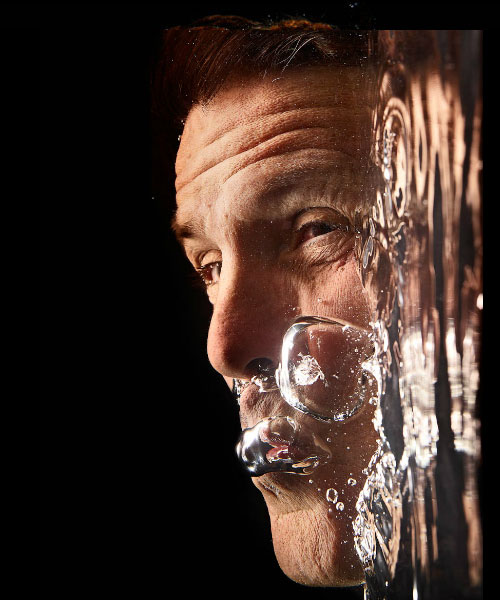 Bubbles came from areas where there is air and these were succesfully seen on the photograph.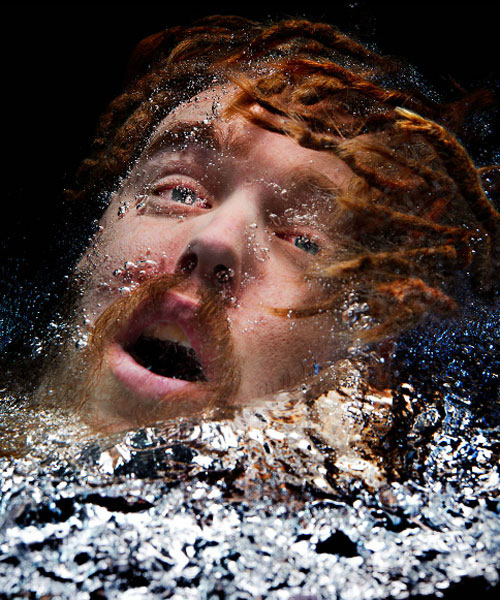 A man in dreadlocks is the model for this photo where the sprinkles and water droplets are clearly seen due to his movement.
Well, you can clearly see how Tim Tadder successfully captured every movement of the model and the sorrounding water. You can even seem to feel their breathing or the holding of their breath. No doubt, it really took a lot of effort in order to come up with these images. It was challenging for Tadder to take a picture through a thick aquarium glass which means that he needed to determine the right angle for the shot. The field of view is also narrow limiting his angles to focus on the face and the water. Even looking for a model was a challenge for him. But despite all the challenges he encountered, the Fish Heads series undoubtedly managed to give the audience "something new".