Seeing a couple so in love with each other is very heart-warming and is even envious for some especially those who are still currently in search for their special someone. Nevertheless, the intimacy and sweetness between couples is an amazing expression of love that seems to exude from each individual. This can be seen not just in everyday photos of couples in love but also in photos of couples who are engaged. Some couples would go for engagement photography before they finally get married. This is sometimes called pre-nuptial photography. The output is usually used for the couple's wedding invitations, books and others.
With that, engagement photography is one of the most in demand forms of commercial photography since most couples would want their photos taken in the most unique, creative and memorable manner. Photographers should be able to know how to come up with great engagement photographs. So, today, we will give you some tips on how to do that. Your clients will surely feel happy if you will be able to give them photos which they can treasure for the rest of their lives. Read on and impress your clients by considering the tips below:
1. Have a meeting with the couple.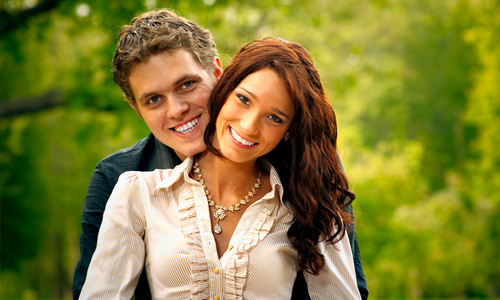 Before you start with the photo session, have a meeting with the client. This is the step where you can establish your relationship with the couple. This is important so that the pair will feel comfortable while doing the photo with you. Also, try to check what the client wants like locations, themes and others. Practice your social skills in this stage and create a good first impression.
2. Good client preparation.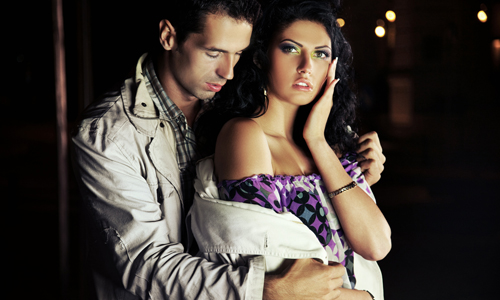 One key for successful engagement photography is how the couple will prepare themselves for the shot. You can let them pack some snacks with them so that they won't go hungry. Or you can let them eat meals first. Let them bring the clothes they will use. Inform them to be ready with everything they need.
3. Matching clothes matter.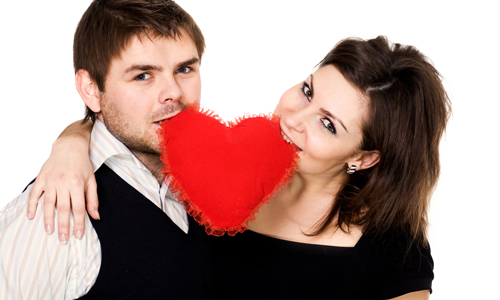 Clothes make a couple. You can let your clients choose the clothes they want to wear. They can wear couple shirts or couples clothing that are matching in colors and design. But they can also wear different clothing as long as they complement with each other. They have to look as one in the photos.
4. Good hair and makeup.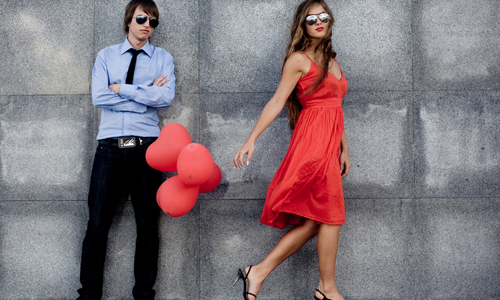 Aside from good clothing, they should also look totally beautiful. For females, a good makeup would make her look more gorgeous in the shots. It should also be paired with good hairstyle or at least the hair is well set for the photo shot. It won't look good if they hair will merely be all scattered, unless you do that in purpose. It actually depends on the kind of look they want.
5. Start with basic portrait.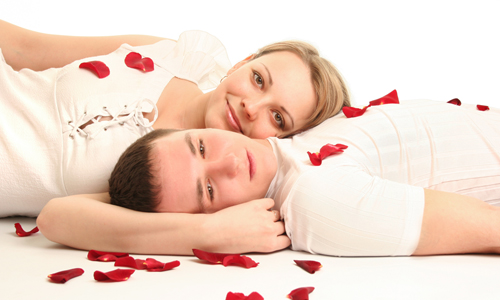 Before you go out, it would be better to take a few basic portraits. Let the couple pose indoors. It could be in their own home or in your studio. This is a good exercise to let them get used with the camera. This is like a warm-up exercise for them. You can also get ideas on what poses will look great for both. You may also spot angles where the couples look better and use that for your next shots. Basic portraits are also useful for wedding invitations and for other purposes.
6. Look for good location.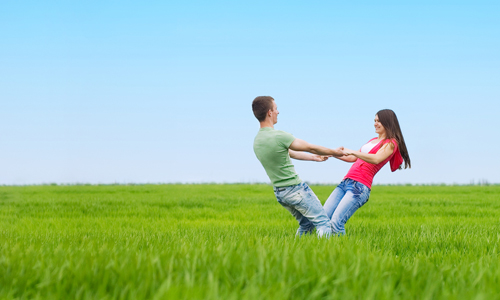 Location is a vital thing since it will not only create different environments for the shot but it will also give your subjects a different feeling. You can notice that their poses and natural actions will be affected by the surroundings. That is why it is important to choose locations that are romantic or are valuable for the couple. Most of the time, engagement photography are held in beaches, gardens, parks and famous landmarks in certain area. But you can also think of a different location. Even the busy city can be a good location for engagement photography.
7. Comfort is a must.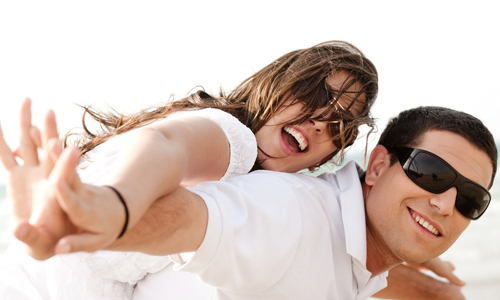 We have mentioned that you need to establish a good relationship with your client so that they will feel comfortable while doing the photo shoot with you. Being comfortable with each other will give better photos. That is why some couple prefers to work with friends whom they can comfortably play with during the photo shoot. But even if you are not friends yet, you can be friends if you'll be a friendly and accommodating photographer who will listen to them and would take interest in them.
8. Relax and have fun.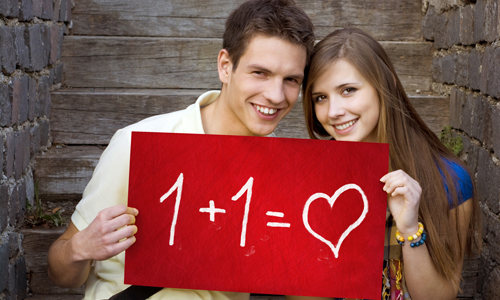 Do not be serious during the photo shoot. You have to show a lively attitude so that the couple will enjoy doing it with you. Just relax and do not place too much pressure on your subject. Give instructions but you should also let them act naturally. Have fun for this will result into better photographs.
9. Get candid shots.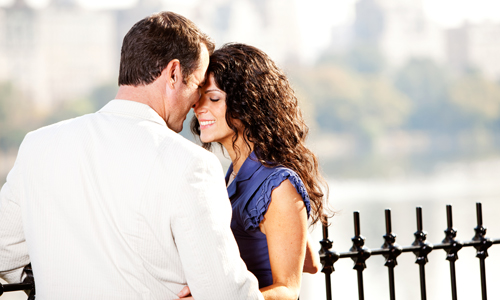 There will be moments that the couple is left alone or maybe you are taking a break. Use this opportunity to take candid shots because both are relaxed and won't be conscious about the camera. Candid shots can let you capture real emotions of laughter, love and a close relationship between the both.
10. Be creative with your focus.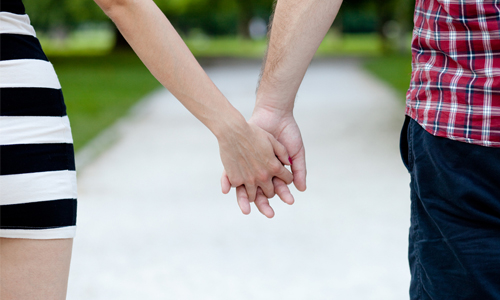 Experiment with your focus. You can zoom in to their hands holding each other or to partial parts of their body like merely half of the face. Make sure that the shots you will take still convey love and would look even more romantic. Use your creativity in doing this.
11. Play with a theme.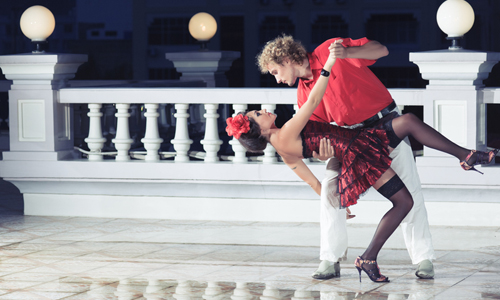 You can ask the couple if they want a certain theme to play with or you can also suggest a theme. It has to be relevant to their relationship or something that is special to them. It can be movies, sports, or just anything that the couple likes. Themes are great to make unique outputs.
12. Take lots of shots.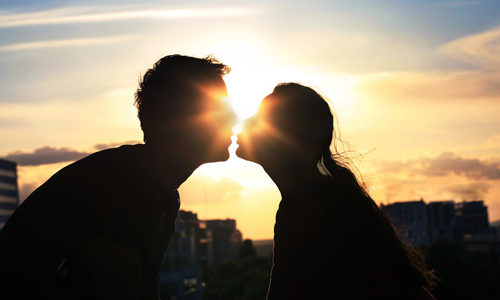 Getting lots of shots will give you more choices. You will surely get the best photo after taking lots of shots. This will also ensure you that you will not miss great posses and emotions from the couple. Do not worry about taking so many shots because you're using digital camera anyway. It will also be nice to be able to put on a sequence shot.
13. Capture emotion.
One amazing thing about engagement photography is the feeling of love and closeness that you can see in the photos. It can be seen in their eyes and in their actions. Hence, it can even be reflected through their posses in the photos. Capture that emotion.
14. Always have plan B.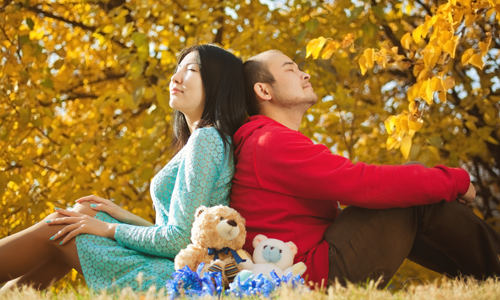 If things go wrong, always have a backup plan so that the moment won't be ruined. When the location you have chosen first is close or you can no longer shot outdoors because of the rain, then think of another plan. This is important for photographers especially for engagement photography because the couple really scheduled that day for this event. So, let it work well for them.
15. Think of the end product.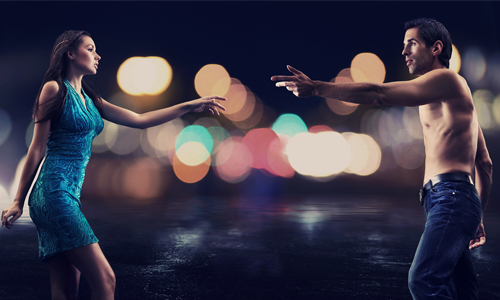 Some couple has photo shoots to use it in their sign in book. Some might even really create a book about their love story. If that's the case, you would need more photos and a variety of locations that would fit the type of book they want. So, make sure that the photos you take are enough and are right for the client's usage.
Give your clients a great photography session experience with the tips we have given you above. This can also aid you to come up with not just pleasing outputs but also memorable ones. The photos you will provide for these couples will not only be a great addition to their photo album and gallery but will also be a good memorabilia that they can show to their siblings. Now, after these tips, we will give you a source of inspiration where you can also get ideas on what to do with your engagement photography. Take a look at some totally sweet and inspiring showcase below:
Creative Focus
Zoom in to different parts of the subjects and get amazinly unique shots like the ones you are about to see.
Engagement Photography Inspiration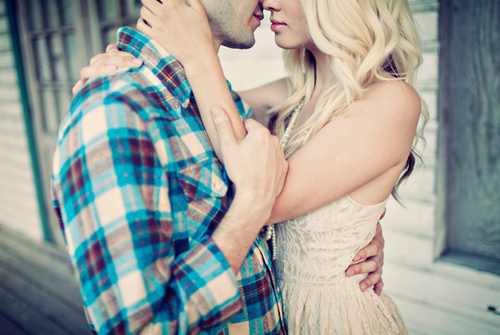 A great shot where the photographer focused on the middle area of the couple including only half of the face.
Evoking You
Engagement Photography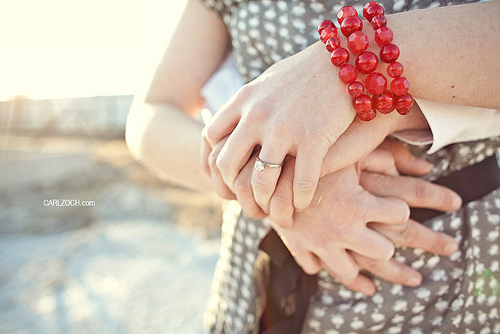 Zoomed in to their hands that intertwined each other seeming showing how spaces can be filled with each other's presence.
Logan + Ryan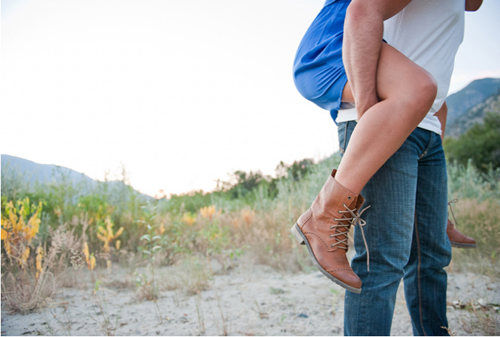 Carrying the woman on the back of the man is one act to show love to his partner.
Heart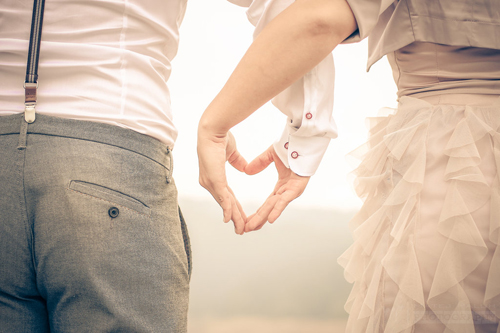 Man loves woman and vice versa. A cute gesture with their hands forming heart shape.
Matejpaluh
Hold Me Tight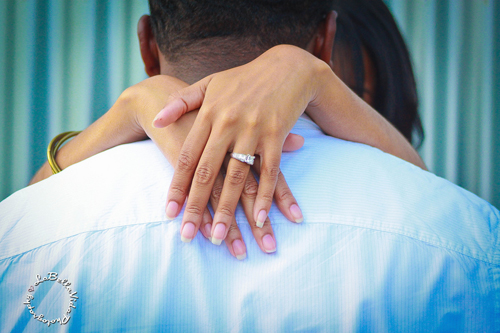 Flaunting the engagement ring in this manner while hugging her partner.
LaBellaVida Photo
M+L 11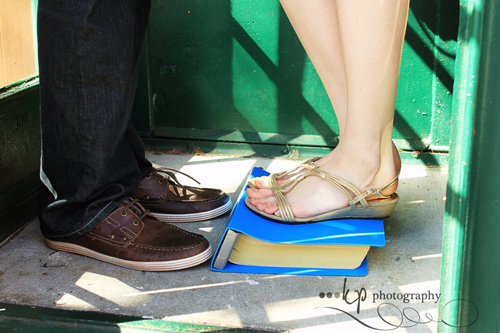 One look and this will make you think that the guy sure is taller than the girl but there is romantic story behind this shot.
Location, Location, Location
Different locations can give a distinct twist to your photos. Check on the locations the couples have chosen for their engagement photogrpahy.
Santa Monica Engagement Photo2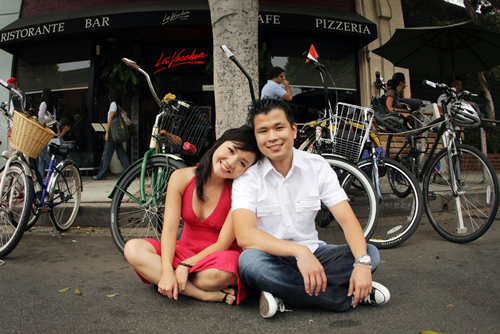 A busy city can also be a good place to take pictures especially with a loving couple like this.
rubixcu8e
An Engagement 3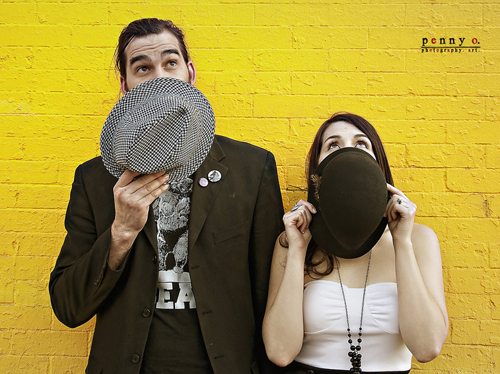 The yellow brick wall gave more highlight to the couple who are wearing in black and white.
PenelopeT
Engagement Photo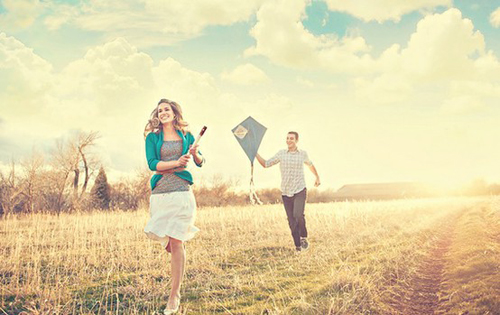 Flying kites must be the favorite hobby of this couple.
Evoking You
Magic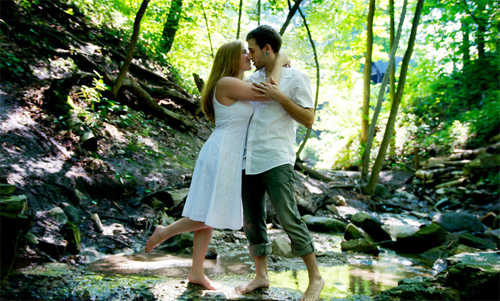 Enchanting forest is just right for the couple who are also enchantingly in love with each other.
Robbie and Mae Leah Engagement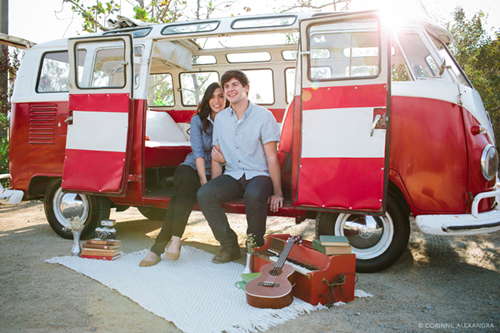 This pair showed what they both fancy and got a picture with their red Volkswagen.
Stuck with Pins
Stacy and Brian Track2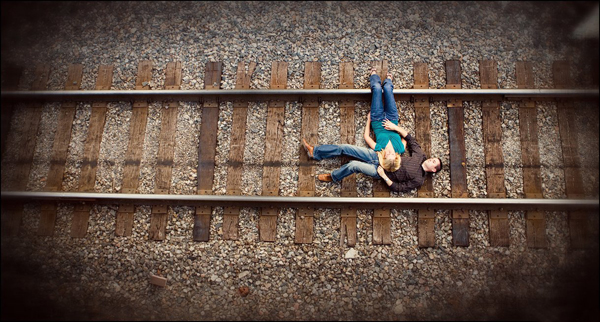 Who would have thought that an old railroad can look great for a shot? Just be careful and always listen for train's coming.
Achfoo
Themed Engagement Photographs
Some couples use themes for their engagement photos. These themes are valuable and special to their relationships. Check on the pictures below and look at the themes the couples used.
March Air Field Engagement 2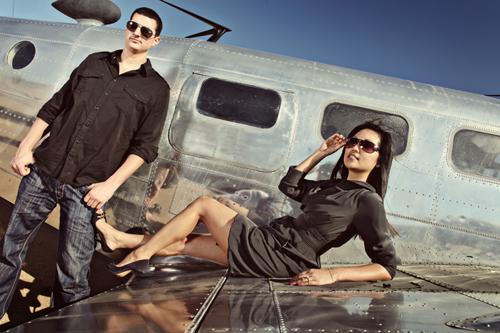 A March Air Field Engagement with planes around them. Quite strong look was produced due to the planes and the black outfits but it still managed to give a romantic photo.
Rubixcu8e
2009-06-19 – S and H 7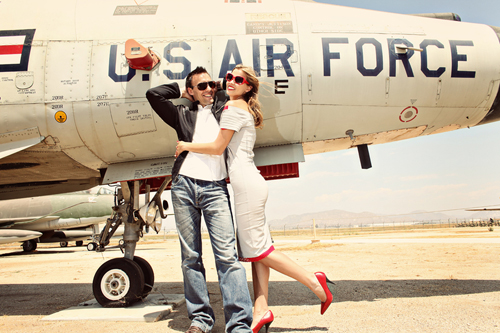 A classic World War II themed photo shoot. Notice the clothes of the couple especially the red colors in the woman's outfit.
Rubixcu8e
100 Parasols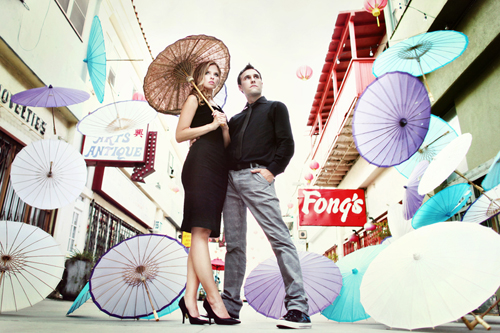 Parasols here are everywhere! The city scene looked good especially with the added parasols around.
Rubixcu8e
Pitt and Daireth Save the Date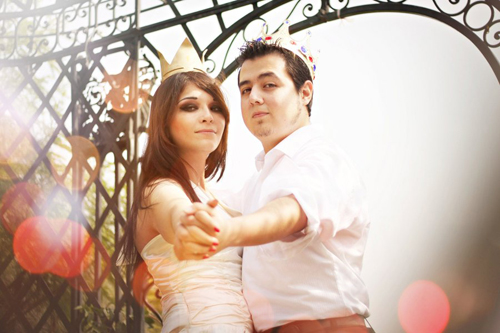 The king and queen of hearts are here. So, save the date when the two will start building their kingdom.
Nao Dignity
Toasting Happiness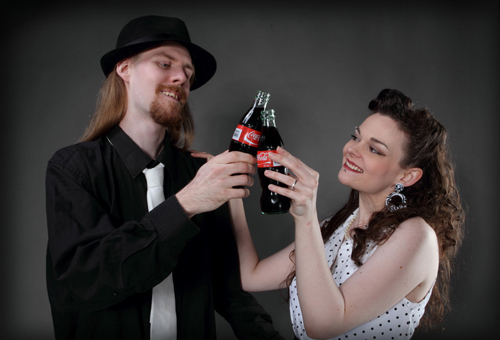 A Coca-Cola pin-up with these couples in vintage look. A nice concept isn't it?
Morbid Kitty Corpse
Super Hero Theme Engagement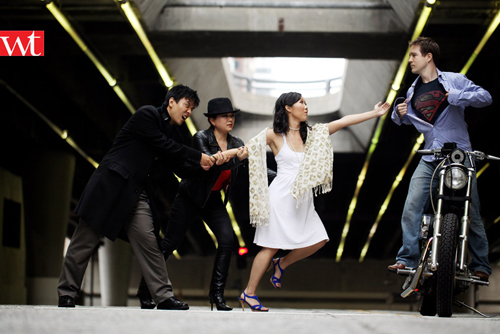 Rescue your girl Superman! What a theme! The girl certainly felt valued upon being rescued by here very own hero.
Wilson Tang
Alice and Mad Hatter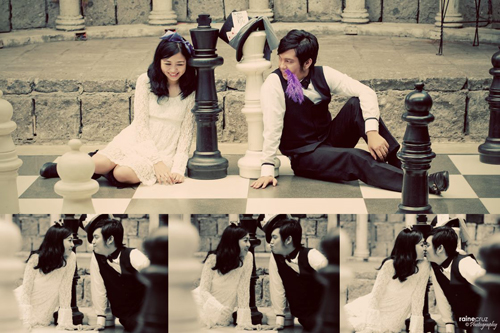 A unique photo which Alice and the Mad Hatter themed. This sure is a sweet bonding for the couple.
Sinagtala
Rail Roads 3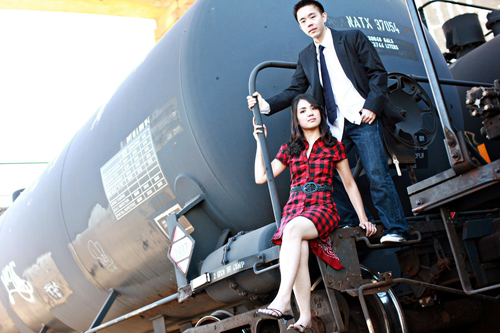 A railroad themed shot with a bit of classic touch is what the couple wanted.
Rubixcu8e
Romantic Kisses
Kissing is a romantic expression of love and would even made photos look lovelier and intimate.
Kelly and Mike DeSoto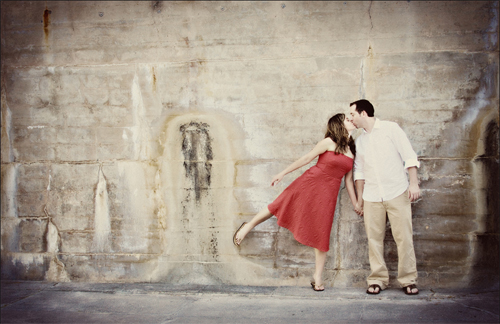 Just a simple brick wall in the city seemed to come to life while the couple expressed their love.
Achfoo
June Lion Engagement Photography Portland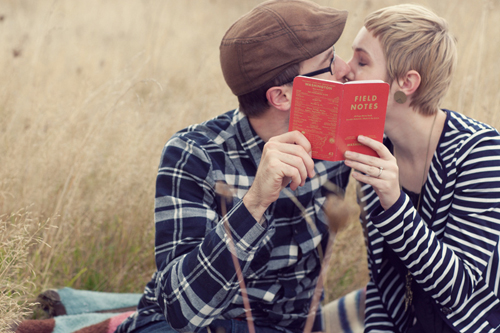 So cute isn't it? The matching clothes added to the beauty of this shot.
Ahamiltonmsh
M and A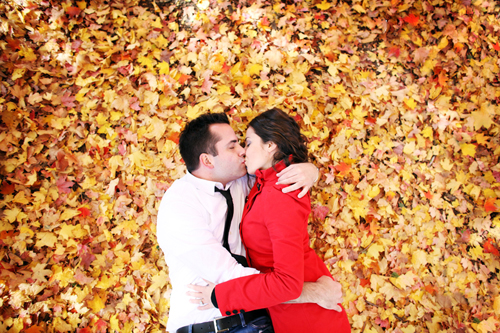 The dried leaves made all the difference in this photo. It made it look more romantic plus the intimate kiss.
Rubixcu8e
City Walk Engagement 1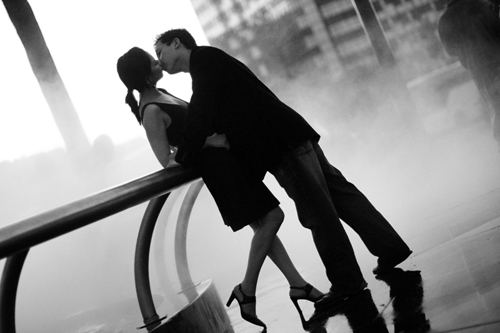 The city is a nice place to have a photo shoot. it can even look great in black and white.
Rubixcu8e
Kev+Christy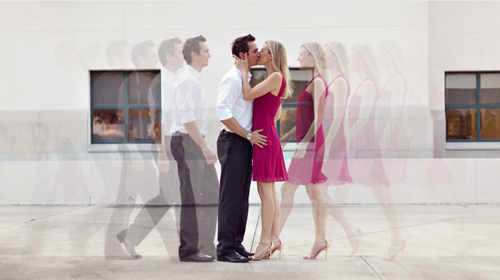 What a shot! The movement as the reach each other is looks stunningly beautiful.
Nicki & Chrissy Vitalic Photo
It's Your Turn Now
Just in time for Valentine's Day! You might want to have a picture with your special someone with similar concepts above. You don't have to be preparing for a wedding to get photos as sweet as the ones above. The mere reason that you love each other is enough to get images where you can express your love. For photographers, we hope that this post have inspired you a lot and could give you ideas on what to do with your next engagement photography. Did you like the showcase and the tips above?