There would always be something that's new and something that's very creative in the world of Art and Design. This is to give more inspiration to aspiring artists and a proof of creative exploration and exceptional talent. We have just crossed paths with a well-renowned artist for his awesome masterpieces. With all great honor and pleasure, we were able to talk him to sharing his thoughts with us… The man behind Drawing vs Photography also known as Pencil vs Camera and Imagination vs Reality… Mr. Ben Heine. We get to know him better today as we showcase 15 of his Best Imagination vs Reality Artworks…
From the 10 long years of taking photos and drawing, this type of artwork was born and also as a result of graphic exploration and the logic consequence of our artist's artistic evolution. The idea just came out just by coincidence while watching television and writing a letter at the same time and reading the letter before putting it inside its envelope, our artist saw the transparency of the television behind the paper. And one great idea was born. Indeed it's great to do something similar for one single photo that portrays 2 different actions. But with all these amazing ideas, who really is Ben Heine?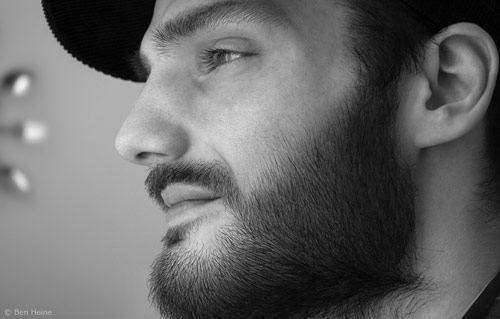 Getting to Know the Man Behind the Artworks
1. How would a Ben Heine be best described thru a short autobiography?
"1983-1990: Birth and childhood in Ivory Coast, Africa. I was a rather difficult and hyperkinetic child.
1990-1996: Primary school in Belgium. I was still a very troubled, anxious and demanding child.
1996-2002: Boarding school in Belgium, I became wiser, disciplined and more implicated in my activities. I started to understand the level of commitment necessary to achieve my goals. I was drawing, painting and writing poems everyday. Tried something new lately?
2002-2003: Studies of English, Painting and Sculpture in Hastings, England.
2003-2007: University in Belgium and Holland (Journalism and Slavonic languages). I kept drawing, painting and writing poems… I discovered Photography. My creative work was influenced by my studies in journalism. I started doing political illustrations.
2007-2009: Lots of different jobs as an employee: Teacher, Journalist, Editor, Coach… But my priority remained in my creative projects. End of my political/activist work.
2009-2011: Full time visual artist. Among others, collaboration with "The Artistery", "Samsung Imaging" and "Art Magna". Pencil Vs Camera, Digital Circlism, Flesh and Acrylic, Painting, Photography… Exhibitions in galleries worldwide."
2. I have read the other interviews and was actually thinking if there would still be a question to ask. This question couldn't have been asked yet but with how talented you are and how busy your schedule seems, how do you balance your passion for art, leisure, time with friends and family and business? For sure in this field, we are indeed on a business.
"I spend 4/5th of my time on my artistic work (creative projects, exhibitions, interviews, emails…). I spend the rest of the time with my family and friends."
3. Have you ever idolized any artist/photographer before you decided to pursue in this field?
"Yes, many dead artists like Picasso, Dali, Warhol, Pollock, Brassai … And other living artists like Banksy, Panamarenko, Hirst, Benari…"
4. What is Ben Heine's life away from pencils and cameras?
"Good question. I don't know. Painting? And of course many good moments with my family and friends."
5. How do you deal with stress and pressure having been well-known for your terrific designs?
"I try working harder, faster and stronger all the time, I don't know when I'll reach the limit. When this happens, I'll just take another direction."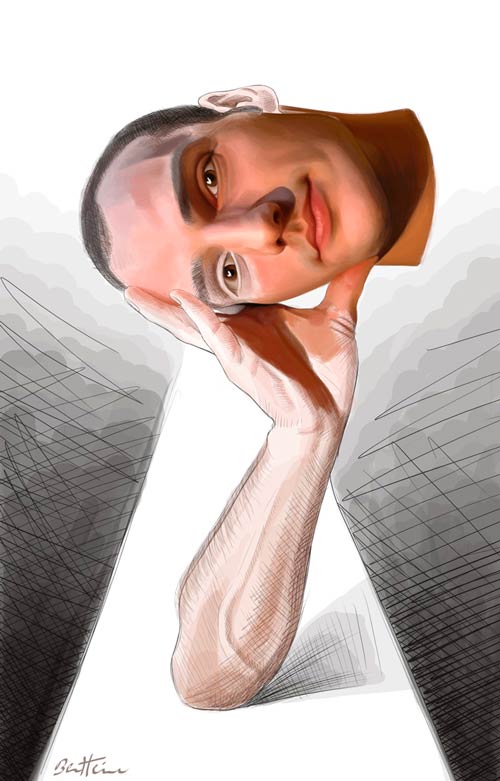 6. Did there ever come a time when you felt you failed? How'd you cope up with it?
"I wish I didn't post some older images. I was too immature and I shared them online. It's dangerous, because I lost control of it. Several of these images do not reflect my current work. The only positive aspect is that people can see there is a strong evolution in my sources of inspiration."
7. While working on something especially on pencil, do you prefer listening to your favorite songs or just silence?
"Silence would drive me crazy. I always listen to something new, mainly music that gives me energy."
8. Being in the field of Photography and Illustration, have you even craved for places to go so to explore the arts and culture of such place? What would the places be and why?
"Yes, I'd like to discover new countries, be more familiar with other cultures and start creative projects with people. I'm more and more interested in interacting with other persons; I'd like to include them in my artwork."
9. How long do you see yourself in this field? Would this something that you'd go for until forever?
"Yes, forever, I think so. But I'll take new paths all the time."
10. Among the many very nice Pencil Vs Camera artworks, what's your Top 15? I believe there's every meaning for every artwork you make. Which among those were the most meaningful to you?
"Usually, my favorite piece is the latest I've been working on. I tend to forget what I've done in the past and I try to focus only on my future projects. But I'll try to answer to your question." Here are my current top 15:
"A Peek to Ben Heine's Top 15 Creations of Imagination vs Reality"
1. Pencil Vs Camera – 4 (for Art Official Concept)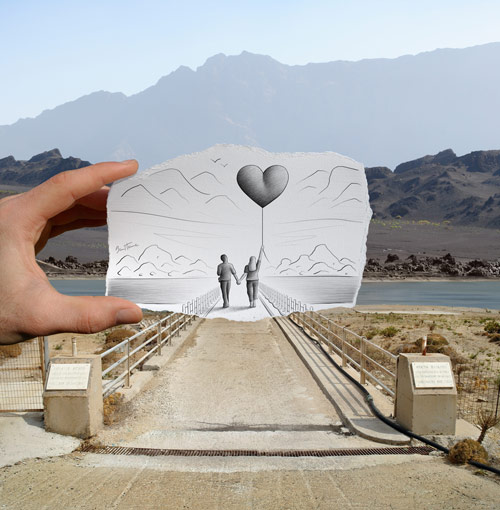 These are lovers taking a strol and waiting for the love they have to bloom.
This artwork is made for an Art Gallery in Cape Verde, Western Africa called Art Official Concept.
2. Pencil Vs Camera – 36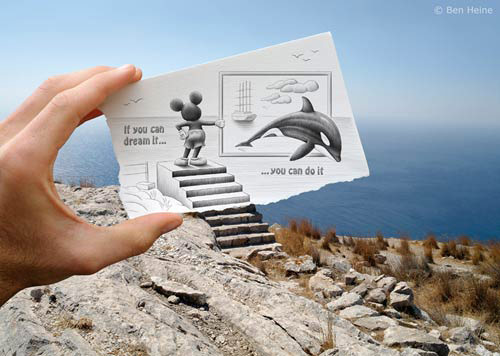 Such masterpiece has been inspired by Walt Disney's famous quotation that goes "If you can dream it, you can do it…" Because of the spectacular view, a meaningful image of Walt Disney's Mickey Mouse which was created in 1928 holds a frame where an orca escapes from it to go to another universe.
3. Pencil Vs Camera – 30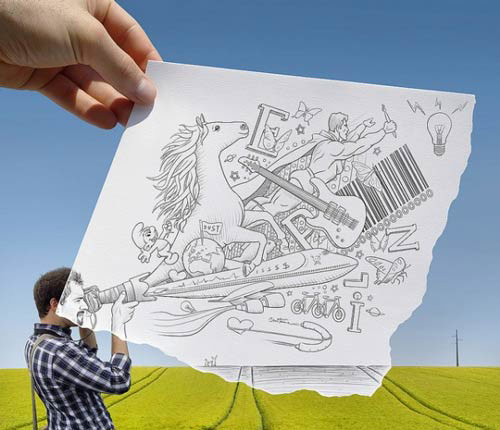 Photo has been taken near Hannut in Belgium where the images drawn were whatever came to Ben Heine's mind.
4. Pencil Vs Camera – 12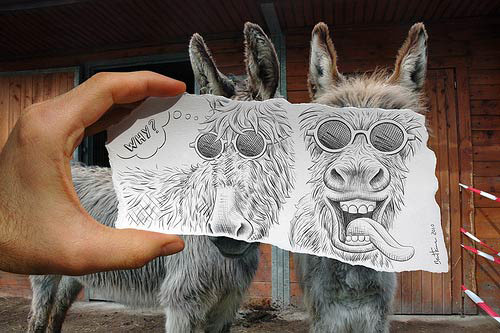 Indeed Ben Heine is right by saying that in every couple, there is always a crazy donkey. Photo has been taken in Braives, Belgium.
5. Pencil Vs Camera – 22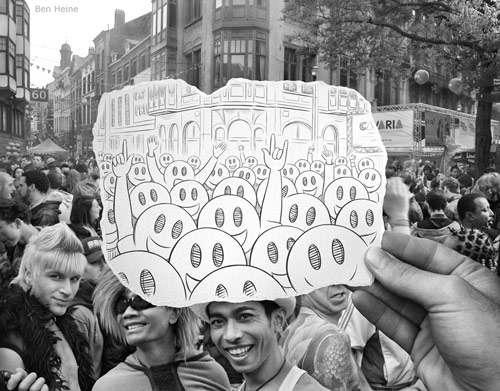 Happy people are good subjects of a photo. This has been taken in Brussels at its Gay Pride Festival.
6. Pencil Vs Camera – 52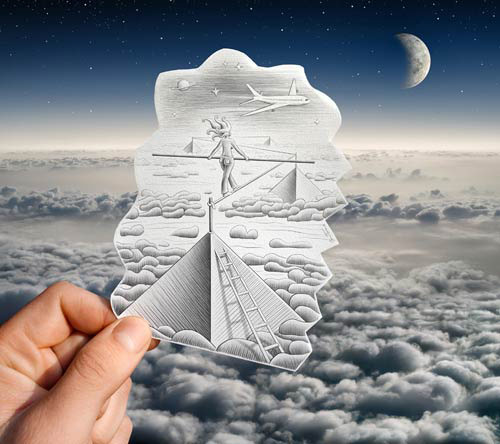 It's really true that "Freedom is not far". A representation of a girl walking from a pyramid's top to another all above the clouds. Photo has been taken from a plane travel to Italy.
7. Pencil Vs Camera – 10 (for Art Official Concept)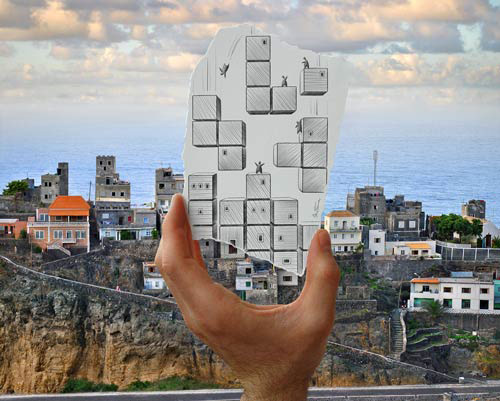 The game of Tetris inspired our artist for this one. One final creation for Art Official Concept.
8. Pencil Vs Camera – 35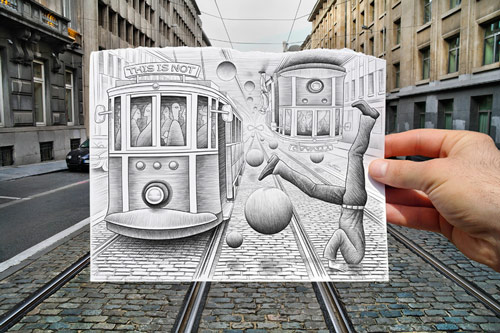 A surreal composition with a slightly more detailed sketch. Another title for this image our artist wishes to call it is "This Is Not Gravity". Photo taken near Palace of Justice in Brussels, Belgium.
9. Pencil Vs Camera – 6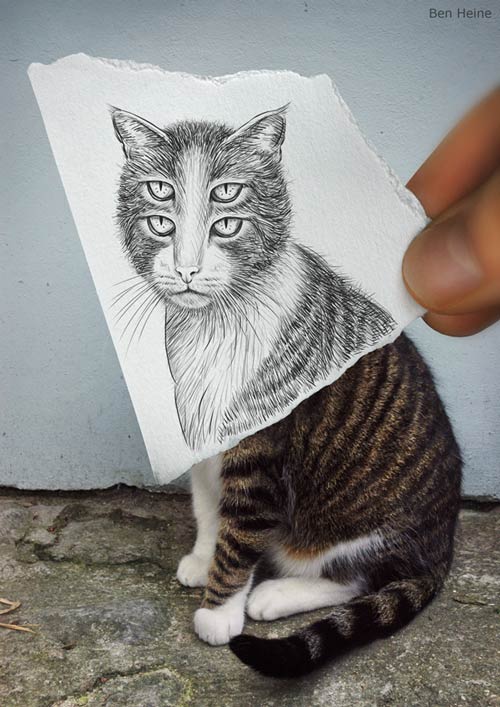 A really creative masterpiece of a cat that shows four eyes to look at the world in a different way. Very conceptual. Photo has been taken near Brussels.
10. Pencil Vs Camera – 41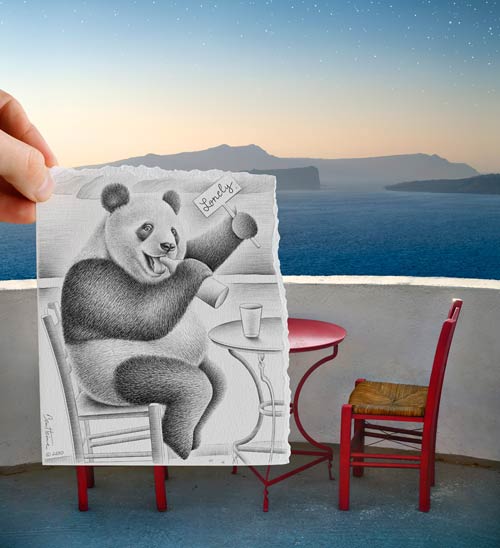 An artwork that conveys hope that even when you're left alone, desperate and drunk, you can still smile. Our artist just got it right. Photo taken in Greece.
11. Pencil Vs Camera – 7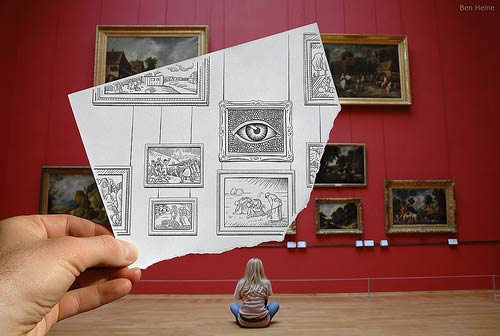 A very clever representation of our artist's favorite paintings sketched plus a big eye in diversion as he believes that without the tool to see, visual art would be nothing. And he adds that the human's eye and brain along with how we interpret art are what's essential than the artworks themselves.
12. Pencil Vs Camera – 2 (for Art Official Concept)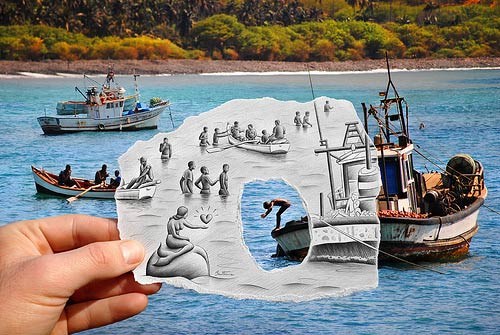 A display of mermaid attraction. Another artwork for Art Official Concept.
13. Pencil Vs Camera – 55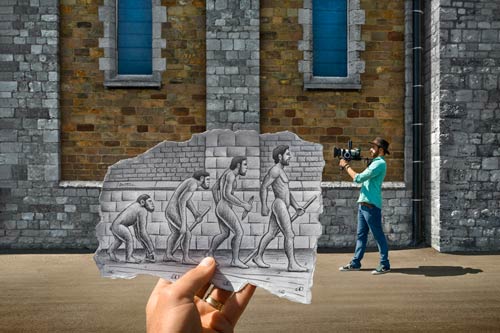 The evolution of man made artistically featuring our artists' friend, Davide Gentile, an Italian film director.
14. Pencil Vs Camera – 16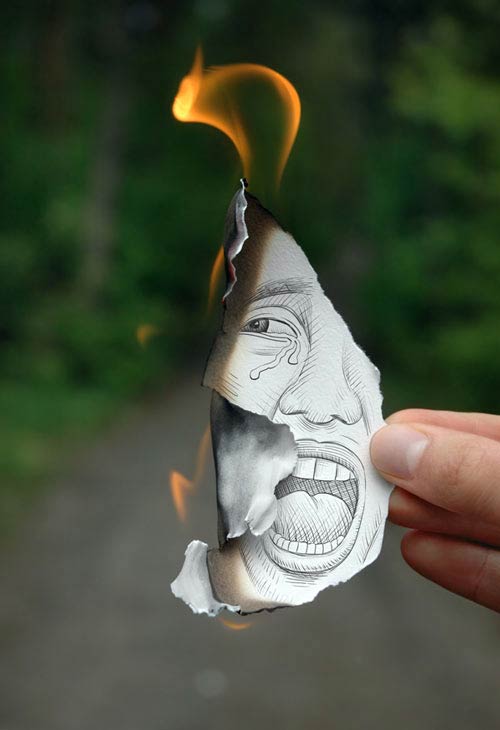 A dedication to all those who are suffering in this world that this picture depicts. It has been made realistic even when only ashes were just left. It's appealing as ever!
15. Pencil Vs Camera – 40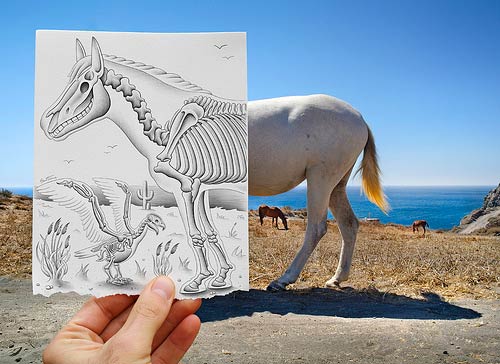 Trying to look through things. Another twist for Pencil vs Camera. This photo has been taken in Greece.
What inspiring thoughts can you share to your fellow designers especially the neophytes?
"Never give it up! Some people will always be criticizing your work, take your criticisms as lessons to improve yourself. Don't escape from problems, many other people will be there to encourage and support you. Find them. Life is love, energy and inspiration. Believe in what you do. Good luck and I wish you all the best."
Where to find Ben Heine