There had been so many artists who are well known due to their unique art works. But it is not just about the distinctiveness of their work that brought them to fame but it is how certain obras can be created by him alone. Every art work is unique since it can no longer be redone. Once repeated, it is no longer the authentic artwork. That is why, every obra of an artist is considered a treasure not just by the artist himself but also by his fans and followers.
Same as any other art work, the 3D art of Nagai Hideyuki is certainly a treasure. Nagai is a young Japanese artist who once dreamed of becoming a cartoonist. But then he realized that comic drawing is not the right track for him. That realization occurred when he saw the 3D street art of Julian Beever in the newspaper. He was inspired by the work and also tried to venture into creating 3D arts. Unfortunately, drawing on the street was not allowed in his location, so he looked for a different way to do it. He then started creating 3D sketches from his very own sketch books. Much better idea, right?
In the birth of Nagai's 3d art, he made use of his pen and pencil with the technique called anamorphosis. Anamporphosis is a distorted projection or perspective requiring the viewer to use special devices or occupy a specific vantage point to reconstitute the image. In Nagai's case, he merely propped two sketchbooks at 90 degrees to one another and did his drawings there. Well, get to see the works of Nagai and you will surely cannot stop your jaws from dropping. With the magical touch of his pen and pencil, Nagai's sketches have come to life! Take a look at a showcase of Nagai's 3d artworks.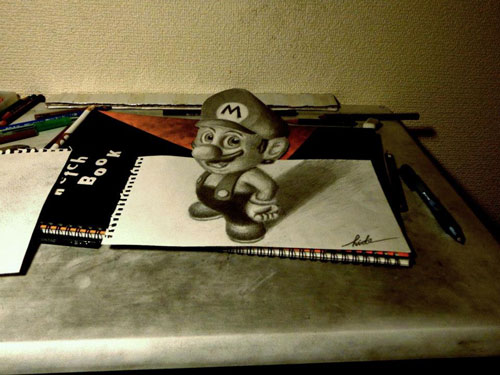 If you are fond of playing video games, you will surely recognize Super Mario.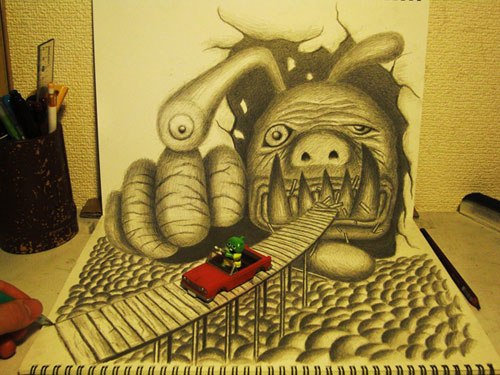 Trying to run away from the big monster that tries to get him!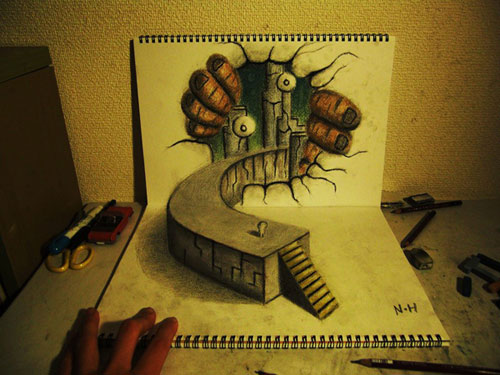 Opening their way to a new and better world to live in.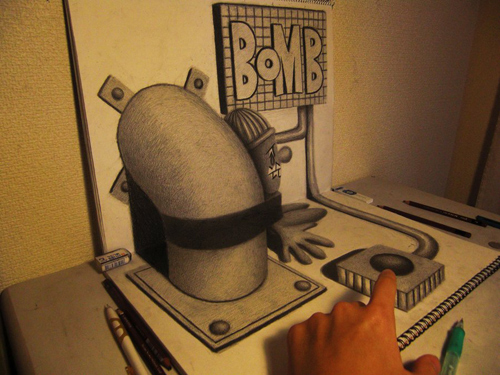 This creature is super afraid of the bomb! Please do not push the button!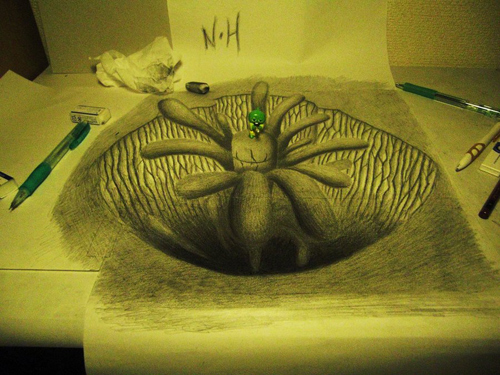 It would be scary to fall in a crater but this character is lucky to be saved from it.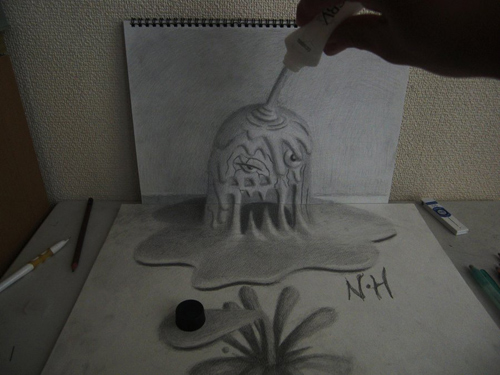 This one looks like a slime falling out from a tube.
Like a real hand giving out something to the artist.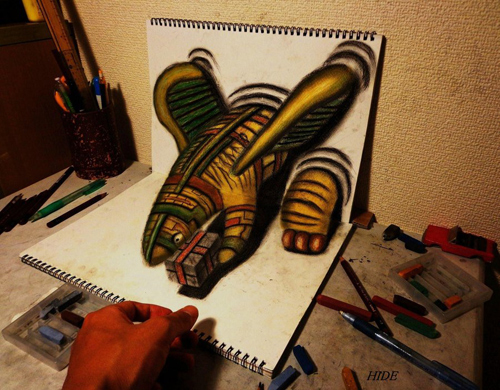 A parcel delivered by this colorful creature right into his hands.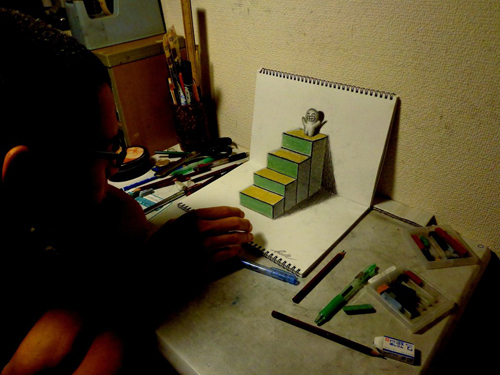 A simple colored stairs which was successfully climbed by the character at the top.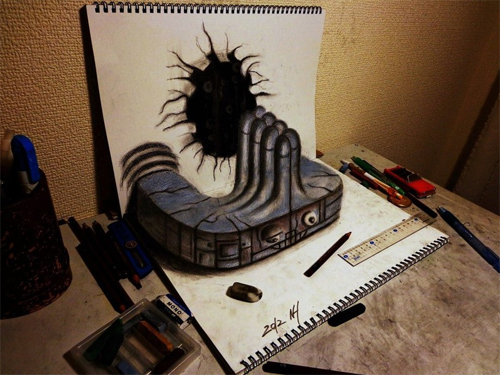 An abstract drawing of someone who is said to be praying.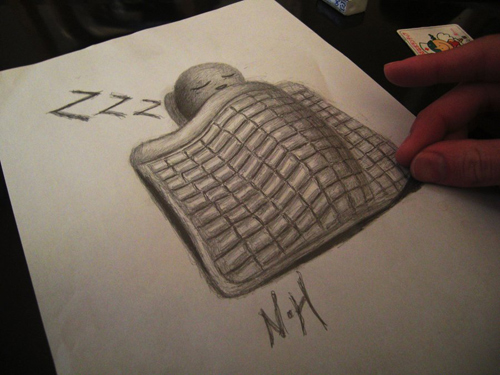 Oh how cute this baby is! He sure is sleeping soundly under a warm blanket.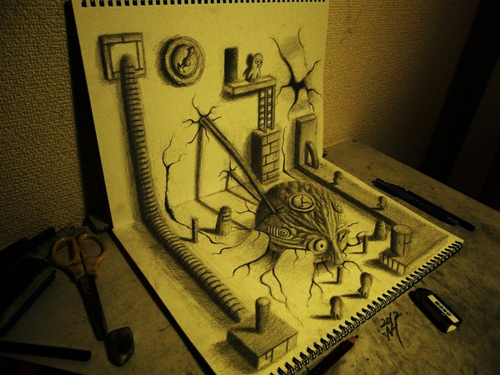 Taken out of the ground to revive this creature once again.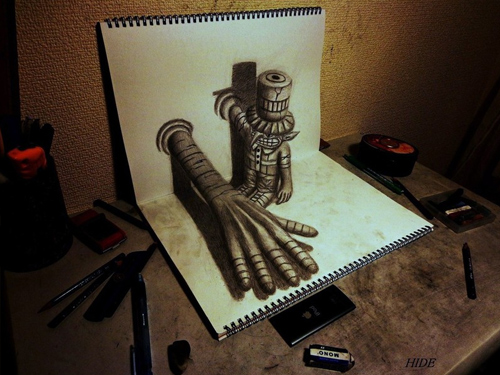 This one is like playing with his own hands by letting it out from the paper.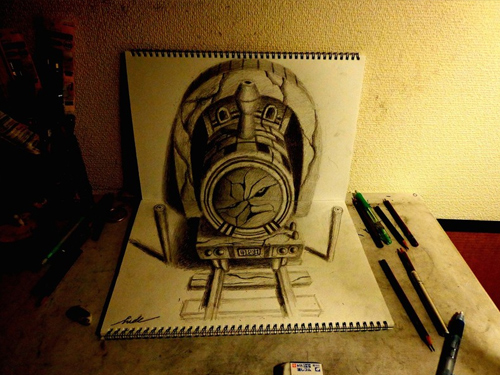 A train that seems like to resemble a face as it gets out of a tunnel.

Check this mysterious dwelling of an equally mysterious creature.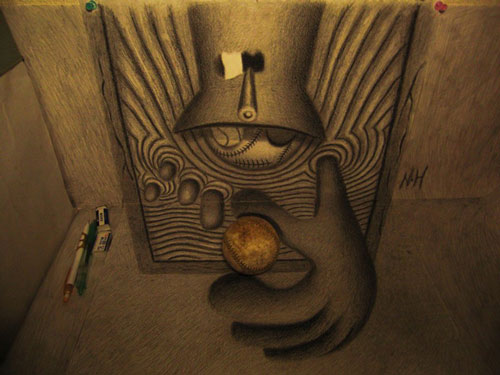 Reaching out for a baseball. Are you ready for a game?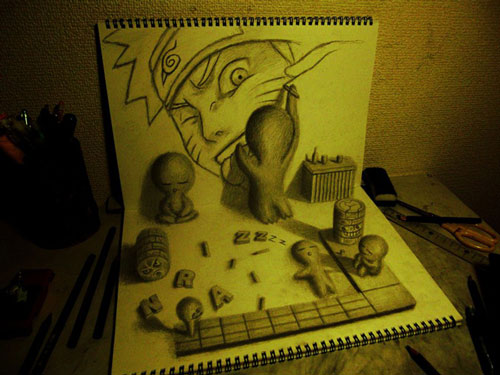 A playground for these little fellows. Notice the other one doing a graffiti of Naruto.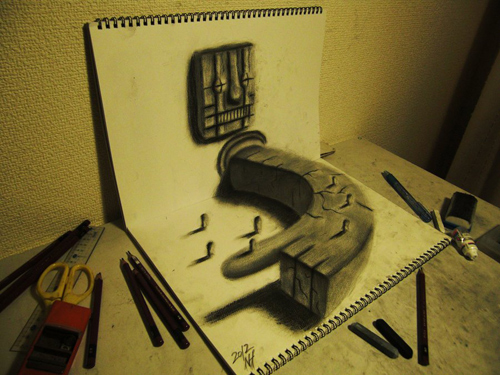 This hand is surely giving a right guidance to anyone who needs it.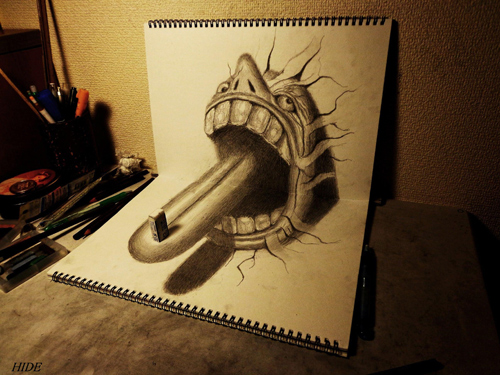 Such a big mouth isn't it? But look at his tiny meal!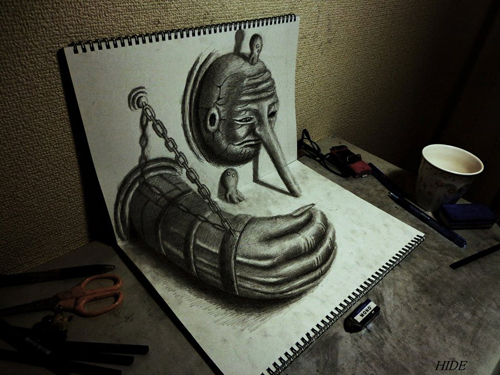 Guarded by this creature would make one feel both scared and secured.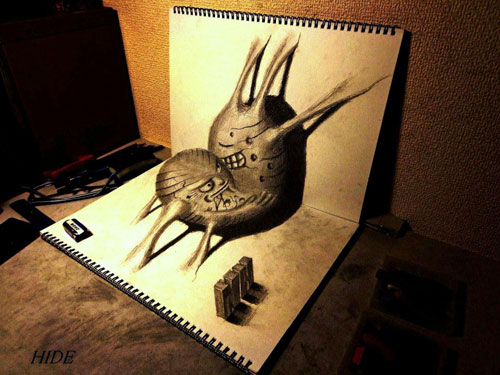 Seems like another creature is ready to be given birth.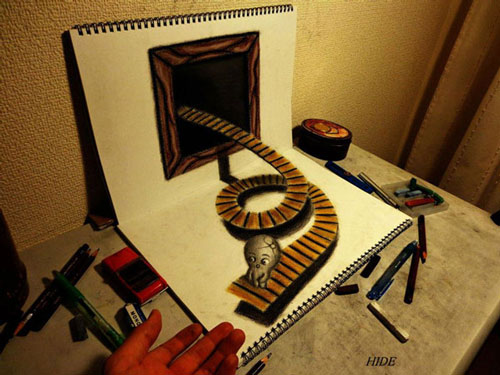 The "caller" appears when there is a message that needs to be relayed.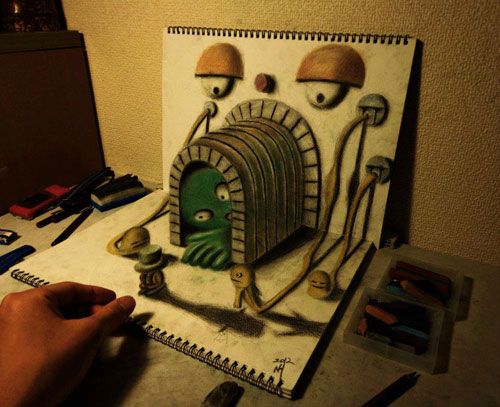 Quite intriguing encounter from various creatures.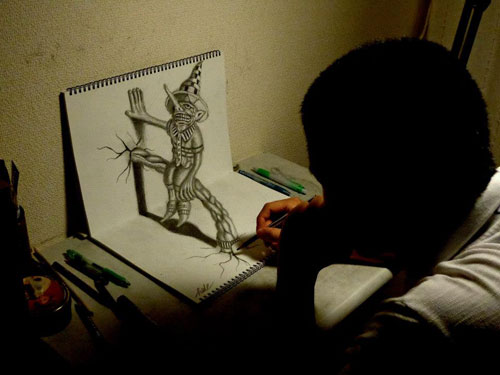 A nymph sitting on something that seemed like sprouted from the paper.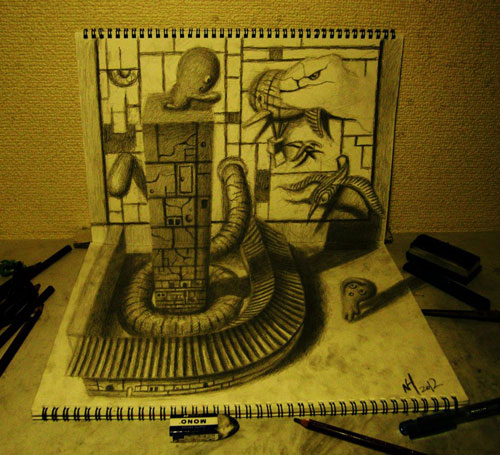 A look at the wonderful world it lives in.
Find the Artist
Aren't these very impressive? Even if these are mere visual illusions, the manner of how Nagai Hideyuki created each artwork is indeed amazing. It takes a brilliant mind to come up with sketches that appears three dimensional to one's eyes. The coordination of the mind and hands are seen in this artwork which is no doubt a product of one's wild and vast imagination. Even just conceptualizing on what to draw is already a big thing. Who would have thought of all those creatures he used for his sketches? Well, Nagai did come up with those creative drawings and he was able to make them look real! Would you like to see more of Nagai's works? Check out his website, his deviantart portfolio and his Facebook page. You will get to see more of his amazing 3d sketches!