Wix: A Free Flash Website Builder
Wix: A Free Flash Website Builder
As a designer, I have always been on a lookout for different design platforms which I can use. There are lots of free website hosts on the internet but not all of them can feed the designer's need to create beautiful and interactive websites. This is when I met Wix – a flash website creation platform that allows any user to create their self-designed flash websites.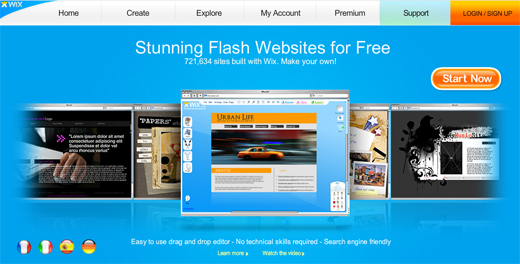 Save Time and Energy
One of the problems of web designers is how they can create websites in a short span of time without sacrificing quality. We all know that designing takes time and care. Even in my experience as a designer, I take my time to make sure that everything looks perfect. With this, a platform that will make it easy for us to create designs is always a plus.
With Wix, any designer can crate flash websites in a snap. This feature is what made it popular. Just imagine that you can create more websites than before. Just imagine how much revenue that will gain. Also, you will be satisfied for the quality of the websites you deliver remains the same.
Take Control of Your Website Completely
With Wix, there is also the power of maintenance. In other websites, there is always that question of whether you can edit the design especially when it is coded. And if ever you are allowed to edit it, you still cannot help to make small adjustments just to make everything perfect. But Wix will not waste your time like that. After all, Wix is all about saving time and energy. Once you create your website with Wix, you will be given the freedom to edit your website at will. Nothing will beat the chance to completely control your website even if you are using another platform.
Be Creative and Get Featured
Wix also gives the chance for designers to get featured. It can act as an online portfolio especially for those freelance designers who are constantly looking for jobs. The difference of Wix from the rest is that it creates a profile for you which will then contain all the works you have done. This can then be viewed by other people.
What a designer can do here is to create quick but beautiful websites then compile them in the profile as a portfolio. Once they are looking for a job, they can show this to their clients. Now that helps the life of a designer by a ton.
Designers Directory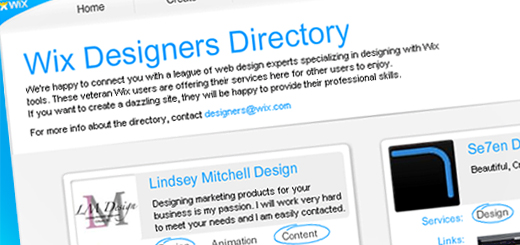 Sometimes we can't deny that we are too  busy and just let others do the work. If you're on this situation, you should check their Designers Directory. Wix gathered very talented web designers that use Wix as a working tool and these proffesional users are willing to do the job for you.
In other word, Designers Directory is a good place for users who need a site but don't have the time or the desire to make one on their own, and it's also a terrific way for web designers to get more work.
Get Support
But Wix is not only reserved to the knowledgeable. It has a support system for those people who have no experience in creating or designing their own websites. This makes it convenient for people who have no experience in designing. This means that Wix is not reserved for designers alone. Even if it has lots of characteristics that can help designers, it also has features to aid non-designers as well.
So have you started with your own flash website? After reading this article, you should have an idea on where you can go if you want to create your very own flash website quickly. Wix will help you every step of the way.