10 Readers to Win a Premium WordPress Theme of Their Choice from MyThemeShop
10 Readers to Win a Premium WordPress Theme of Their Choice from MyThemeShop
While the web is now full of WordPress theme providers, ranging from huge companies to each seller on sites like ThemeForest, not all themes are created equal. What many people forget about WordPress themes is that they should highlight the content, creating the best user experience for the readers, and a WordPress theme should also allow the site owner to monetize the content in the best way possible.
This is where MyThemeShop comes in. Created by bloggers, for bloggers, MyThemeShop provides premium WordPress themes that are not only pixel-perfect, but they are also used and tested on top name blogs such as SloDive.com, CreativeFan.com. With special focus paid to keeping the designs clean and content-oriented, MyThemeShop themes are built to provide maximum functionality while also keeping the theme loading time lightning fast. This special focus is just one of the many ways in which MyThemeShop themes are optimized for maximum readership, advertising results and high search engine rankings.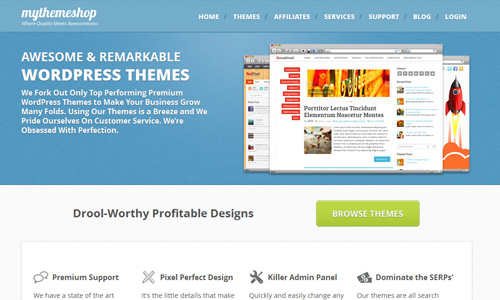 Never again worry about compatibility with mobile devices or smaller screens. All MyThemeShop themes are responsive, with a HTML5 and CSS3 fluid grid that means they work naturally on any device and any browser.
With a custom-built options panel, every aspect of a MyThemeShop theme is customizable. Whether it's controlling the design to make it match your own personal tastes, managing ads and tracking user experience, or customizing post structure for the optimal results, the options panel makes any edits as simple as the click of a button.
Of course, that's not all that it's included. MyThemeShop themes include a variety of custom widgets, shortcodes and post types, all to supercharge your blogging and give you the functionality you need, without having to tinker with untested plugins.
It's clear that the MyThemeShop team put in the extra work and really knows what bloggers need in order to be successful. WordPress themes are more than just design, as it requires a complete package for success, and MyThemeShop delivers exactly that.
One of our friend at MyThemeShop helped us organize the first ever Giveaway of their premium WordPress themes. Not only that, but they are going to giveaway a total of 10 themes worth $350.
How To Win
Tweet/Like this Giveaway.
Leave a comment mentioning the WordPress theme you want.
Make sure to leave a valid email address so I can contact you if you win.
All comments will be accepted until June 30, 2012 and winners will be announced on July 1, 2012.
There will be 10 lucky winners to be chosen using a random generator.
Good luck everyone!!!
Winner Update:
1. leonuts
2. Adrian Paul Gallo
3. Yuni Ardita Sari Dewi
4. Clint
5. Jose Antonio
6. Gautam Doddamani
7. Bart Gatsby
8. Mihla
9. monicqa
10. Yuni Ardita Sari Dewi