BannerSnack Premium Version Giveaway
BannerSnack Premium Version Giveaway

It's time for a Free Giveaway here on Naldz Graphics. Im sure you'll  gonna love this. BannerSnack is Giving out 1 BannerSnack Premium Version Worth $149.
What is Banner Snack???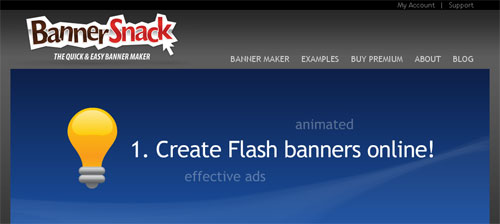 BannerSnack is an online tool that allows you to create flash banner ads and cool flash animations. Not only that it save your time but its also easy to use and no ActionScript knowledge is required. You can Sign up for free account and test the power of this new Online tool. With only $9 you can remove the watermark and do Unlimited banners per month. This Tool is very useful specially if your working as a Freelancer  Online.
Some Features of Banner Snack:
1. It contains tens of transitions, effects and filters that will enable you to easily create text and image animations
2. It has editable banner templates
3. It works like a presentation software
4. No flash programming is required
5. It works 100% online
How to Win???

Simply Leave a Comment to This Post. Comments will be accepted until February 13 and Winner will be announce on February 14. Winner will be chose randomly on www.random.org.
I hope you'll Enjoy this Free Giveaway.Better Join Now Before its Too Late=)
Make Sure To Follow @naldzgraphics on Twitter or Subscribe to Naldz Graphics for Free to Get the Latest Updates on Giveaways, Tutorials and More.