5 Readers to Win a Free Stickers from uPrinting
5 Readers to Win a Free Stickers from uPrinting
Giveaway time everyone. Today our friend uPrinting– a trusted online printing company is back to sponsor another round of giveaway. Its not business cards this time but freestickers!!!. Yeah, each winner will win 250 pieces of Full Color Front and Blank back stickers. What can you do with 250 stickers? Well you can paste it in around your car, on your computer or even in your face. LOL. Kidding aside, Stickers can also be an alternative for business cards. Like if you have a Wine business, this can be used as product labels, or for custom parties name tags, like adding "this is the property of" stickers, you could put your smaller designs in it and promote yourself. Sounds cool? Here's how to win.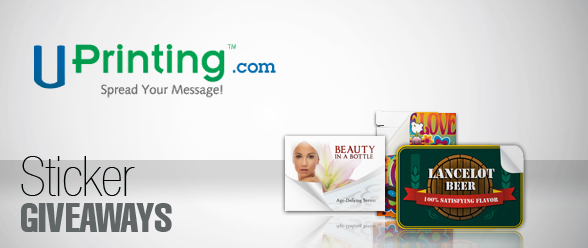 How to Win?
• Just leave a comment below to join.
• This giveaway is Limited to US Residents Only.
• Free UPS Shipping.
• Participant must be 18 and above.
• All comments will be accepted until July 22, 2010. Announcement of winners will be on July 23, 2010.
• Make sure to leave a valid email address so I can contact you if you win.
• 5 Winners will be chose randomly on a random generator.