3 Winners to Win a 1-Year Membership from Elegant Themes
3 Winners to Win a 1-Year Membership from Elegant Themes
Hello guys!!! Again it's time for another round of giveaways. This week,  Our friend from Elegant Themes was very kind enough to give  a free 1-Year Membership to their site where winners can access and download not just one but all of their super high quality Premium WordPress Themes for free. We will choose 3 winners which will be  chose using a random generator and announce the winner after a week.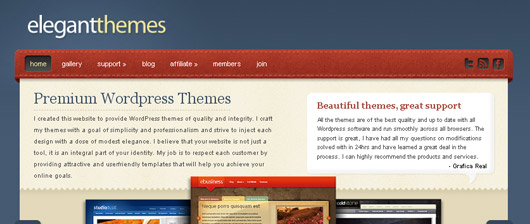 Elegant Themes is one of the best provider of professional and elegant Premium WordPress Theme on the web. They make sure that each template performs flawlessly in each of the most widely used browsers to insure maximum functionality. And they also release new Premium Themes each month like their latest theme eNews that was been added to their gallery a day ago.
How to Win?
* Leave a Comment & Tweet this Giveaway
* All comments will be accepted until August 25, 2009 and Winners will be announce on August 26, 2009.
* Make sure to leave a valid email address so I can contact you if you win.
* 3 Winners will be chose randomly on a random generator.