2 Lucky Readers to Win a Free Billings License
2 Lucky Readers to Win a Free Billings License
Hi guys, You've notice this month, I was hosting giveaways more often. It's because I was on vacation and never have the time to post more quality resources as it takes time. But now I'm back so expect more quality articles to come on the coming days and more giveaways,giveaways and giveaways of course. Now moving to our last giveaway for this month of July, Marketcircle is giving away a Billings License for 2 lucky readers. If you never heard of Billings, it's a time tracking and invoicing application for Mac. Billings logical workflow and intuitive interface make quoting, invoicing, and time tracking simple.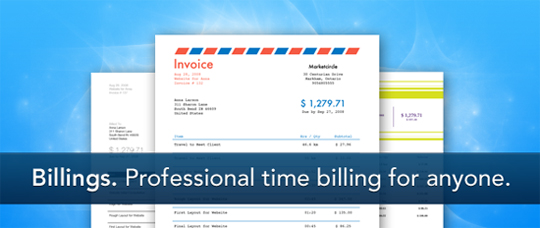 How to Win?
* Leave a Comment to win
* All comments will be accepted until August 1, 2009 and Winners will be announce on August 2, 2009.
* Make sure to leave a valid email address so I can contact you if you win.
* 2 Winners will be chose randomly on a random generator.
Good luck to everyone. More Giveaways every week so make sure to Follow @naldzgraphics on Twitter and Subscribe to our RSS Feed for more updates.